DeShields uses speed to manufacture run
Rangers outfielder continues to impress at plate, on bases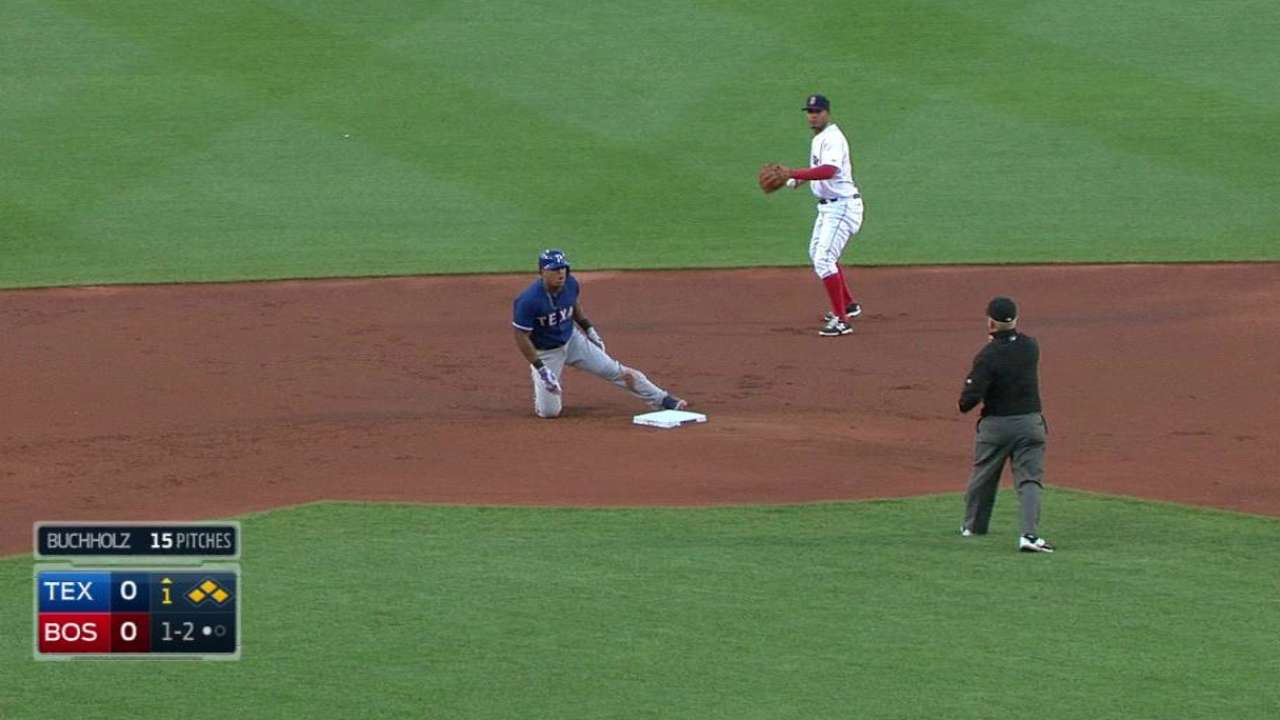 BOSTON -- Rangers outfielder Delino DeShields is in a mode right now where he just keeps finding ways to make things happen. Batting in the No. 2 spot of the Rangers order, DeShields did it again in the first inning on Thursday night and his speed led to a two-run rally in a 3-1 win over the Red Sox.
DeShields is playing left field while the Rangers await the arrival of Josh Hamilton on Monday in Cleveland. Hamilton was 1-for-4 with Round Rock on Thursday night and has two more games left on rehab assignment before likely being activated off the disabled list Monday.
That may mean that DeShields will go back to being a spare part but he has been far from that lately. DeShields is hitting .326 with a .466 on-base percentage, 14 runs scored and nine stolen bases in his last 16 games.
"He's got an instinct for the game," manager Jeff Banister said. "He likes to use his speed and it's nice to have it in the lineup. If we don't get those runs in the first inning, we might still be playing."
Shin-Soo Choo started the Rangers first with a single to right against Red Sox starter Clay Buchholz. DeShields then dropped a bunt down the third-base line and beat it out for a hit as Red Sox third baseman Brock Holt couldn't make a barehanded play.
"If I can put the ball where I want it, 95 percent of the time I have a chance of being safe, no matter where the defense is," DeShields said. "They were playing me in, but I got it where I wanted."
With runners at first and second, Prince Fielder hit a fly to deep right. Choo tagged up and went to third easily, and DeShields did the same to get to second. Adrian Beltre walked to load the bases.
Mitch Moreland followed with a grounder -- not hit particularly hard -- to the right side. Second baseman Dustin Pedroia fielded the ball and threw to second for the force. Shortstop Xander Bogaerts, unable to throw to first, whirled to check on DeShields. As he did, he fumbled the ball and DeShields was on his way home for the second run on the play.
"I wasn't going all the way," DeShields said. "But we're taught when we turn third to look back and read what is happening. As soon as I saw the ball leave his hand, I took off. I took advantage of the opportunity."
He keeps making things happen.
T.R. Sullivan is a reporter for MLB.com. Read his blog, Postcards from Elysian Fields, follow him on Twitter @Sullivan_Ranger and listen to his podcast. This story was not subject to the approval of Major League Baseball or its clubs.