Rodriguez adjusts approach to fight Monster
Rangers starter utilizes two-seamer with success vs. Red Sox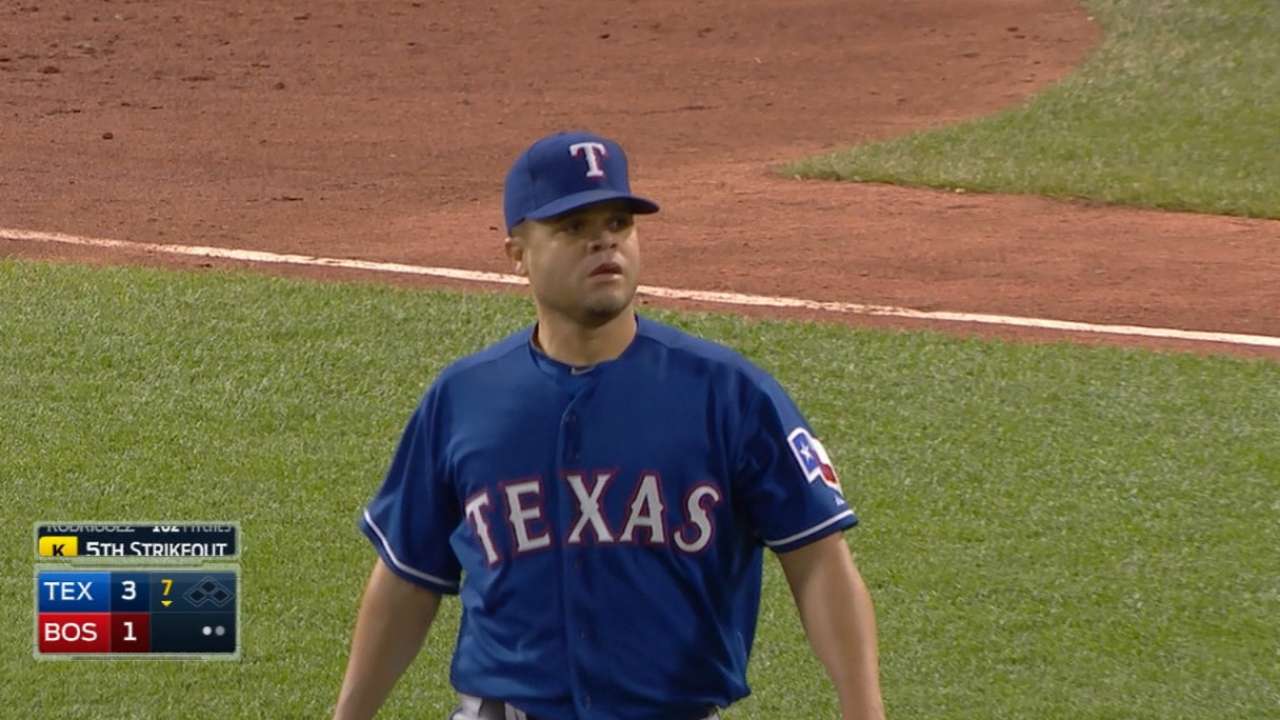 BOSTON -- Fenway Park can be a daunting place for a visiting left-handed pitcher, mainly because of a 37-foot left-field wall sitting just 300-plus feet from home plate. It makes for an inviting target for right-handed hitters.
Rangers pitcher Wandy Rodriguez, in his first career start at Fenway, took one look at the famous wall and made a command decision.
"I just decided to go with my two-seamer more than my four-seamer or my curveball," Rodriguez said.
The two-seamer is a sinking fastball designed to get ground balls. The four-seamer is the traditional fastball. The curve has been Rodriguez's best pitch lately. But the switch to the sinker proved to be the right move as Rodriguez held the Red Sox to one run in 6 2/3 innings in a 3-1 victory on Thursday night.
"A really nice night by Wandy," Rangers manager Jeff Banister said. "That's what we have been seeing from him. He moved the [sinker] in and out, the breaking ball played well, he keeps hitters off balance. His ability to work quick and get through their lineup was big."
Rodriguez retired 20 batters and 13 were the result of ground balls. He is now 2-2 with a 3.38 ERA in six starts. In four of those, he has held the opponents to one run.
"I felt good, everything is working good," said Rodriguez, who signed by the Rangers at the end of Spring Training and has now become a badly needed stabilizer in their rotation.
"The Red Sox have a great lineup, so I feel great about having beaten them," Rodriguez said.
Rodriguez, after his offense gave him two runs right away, faced the minimum nine batters through the first three innings. The only baserunner was an infield single by Xander Bogaerts in the third and he was erased when Sandy Leon grounded into an inning-ending double play.
Rodriguez took a 3-0 lead into the bottom of the fourth after a home run by Mitch Moreland. But the Red Sox got a rally going as Mookie Betts singled and went to third on a double by Dustin Pedroia. David Ortiz drove in Betts with a groundout to the right side as Pedroia advanced to third.
That brought up Hanley Ramirez and he hit a nubber that rolled into the grass just to the left of home plate. Rodriguez hustled off the mound as Pedroia broke for home. Rodriguez scooped the ball up with his glove and shoveled it to catcher Carlos Corporan. Pedroia tried to slide around the plate but Corporan tagged him for the second out.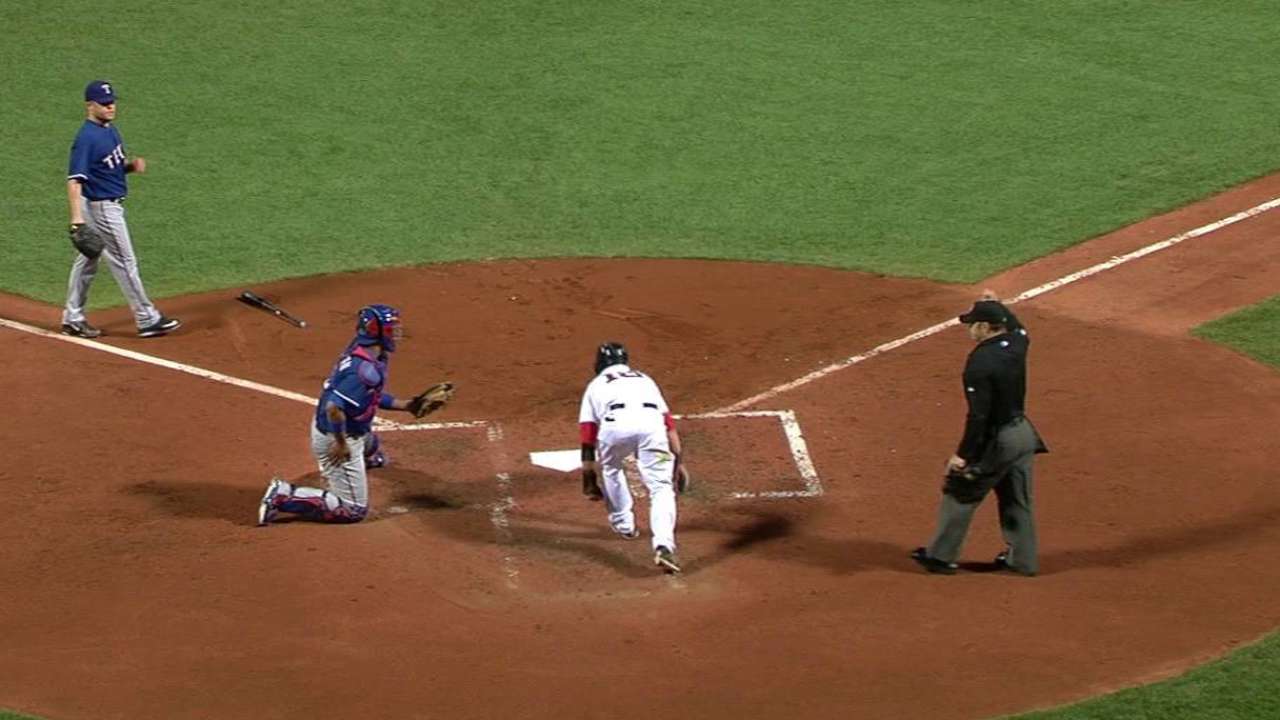 "That was only play he had," Banister said. "He was not able to go to first so he had the presence of mind. A nice play and a nice play by the catcher. It was not a great flip but he held his ground and put a good tag on him."
In the fifth, Rodriguez walked Bogaerts with one out. The Red Sox then worked a hit-and-run on a 2-1 count to Daniel Nava, who hit a grounder headed to the right-side hole. But the ball clipped Bogaerts on the foot on the way to right field. The Red Sox could have had runners on the corners but Bogaerts was eventually called out while Nava stayed at first with a single. This time Rodriguez struck out Leon to end the inning.
T.R. Sullivan is a reporter for MLB.com. Read his blog, Postcards from Elysian Fields, follow him on Twitter @Sullivan_Ranger and listen to his podcast. This story was not subject to the approval of Major League Baseball or its clubs.