World Series champ Giants look the part
San Francisco's shutout sweep of Dodgers highlights team's surge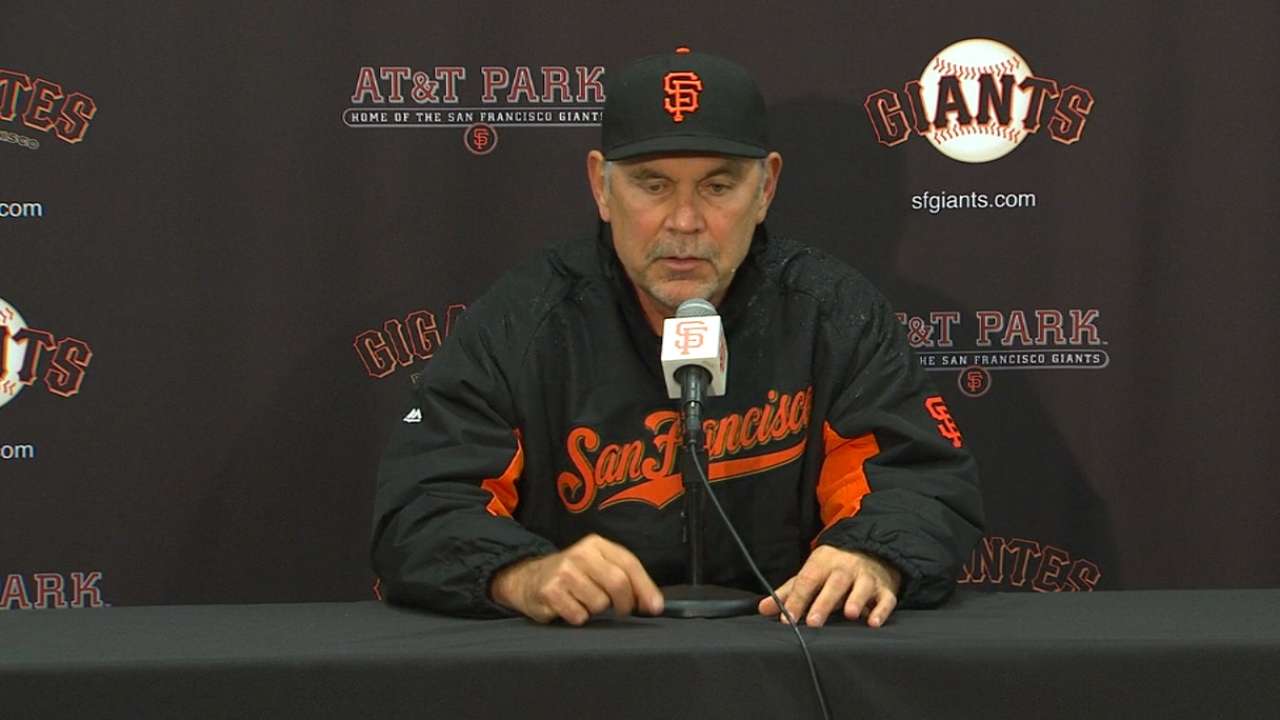 SAN FRANCISCO -- The Giants are performing as if they were caught in a time warp. Every day seems like October.
Maybe that's an exaggeration, but if so, it's only slight. The club that has won three of the past five World Series, including last year's, owns a 19-8 record since April 21 -- the best in the Major Leagues during that span.
San Francisco's surge began with a three-game sweep of the Dodgers at AT&T Park. It accelerated this week with another trio of victories over archrival Los Angeles, except this time the Giants shut out the Dodgers in each game. Los Angeles still leads the National League West, but the Giants, who lurched to a 4-10 start, trimmed their deficit to 1 1/2 games with Thursday's 4-0 triumph.
The Giants thrive on a time-honored combination. They rely on pitching and defense, while striving to score at least four runs a game so their execution in other areas isn't wasted. It's hardly profound. But if it were easy to achieve, they wouldn't be the first NL team since the 1942-44-46 St. Louis Cardinals to win so many titles in such a relatively short period.
And they wouldn't be ascending as they have for the past month, collectively and individually.
"I think we've become who we are," Giants manager Bruce Bochy said.
The Giants have accumulated a Major League-high eight shutouts. They excel in the clutch, as demonstrated by their .365 batting average with runners in scoring position during the past nine games.
Tim Lincecum (2.08 ERA) is experiencing a renaissance. Madison Bumgarner (5-2) has displayed none of the fatigue that skeptics said would drain him after his record-setting 2014 postseason. Rookie Chris Heston and veteran Ryan Vogelsong have filled in nicely for injured starters Jake Peavy and Matt Cain. The bullpen, led by the "Core Four" of Jeremy Affeldt, Sergio Romo, Javier Lopez and Santiago Casilla, have remained effective.
Right fielder Hunter Pence has returned from a fractured left arm to anchor the club offensively and emotionally.
"He's our mascot," right-hander Tim Hudson said. Angel Pagan, Buster Posey, Brandon Crawford, Brandon Belt, Nori Aoki and Joe Panik are hitting above or close to .300.
Asked if he and his teammates are playing "Giants baseball," Crawford said, "We're playing good baseball. I don't think it's necessarily Giants baseball. We're playing good defense. Our pitching's been outstanding, both the starters and the bullpen. And we're getting hits when we need them. It's just good baseball."
The Giants don't consider themselves invincible. Referring to the club's dull start, Bochy acknowledged that the Giants almost surely will endure more doldrums.
"It's a long season," he said.
Echoed Crawford, "We'll go through a stretch where we're not scoring runs or maybe not pitching well or playing good defense.
"Right now, we are playing well, so we'll just try to ride it out."
Chris Haft is a reporter for MLB.com. Read his blog, Haft-Baked Ideas, follow him on Twitter at @sfgiantsbeat and listen to his podcast. This story was not subject to the approval of Major League Baseball or its clubs.