Howard, Utley driving Phillies' offense again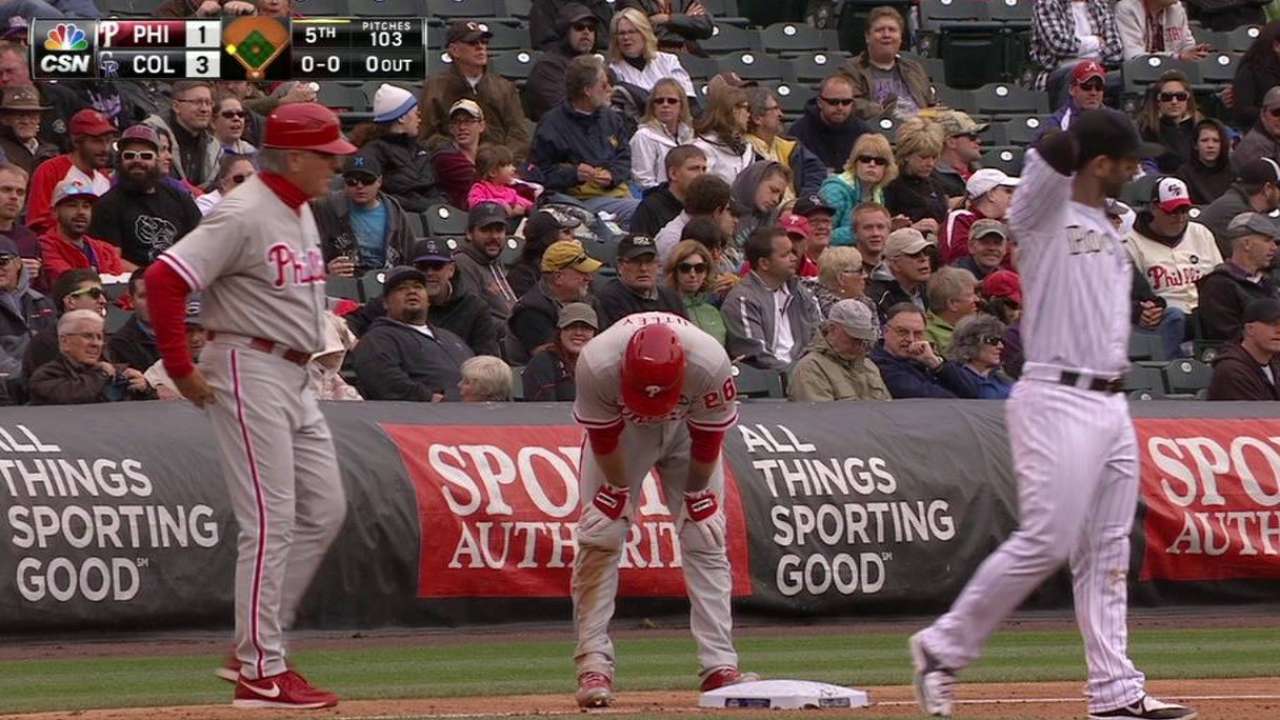 DENVER -- The Phillies lost Thursday at Coors Field, but they have to like what they see from Ryan Howard and Chase Utley.
Howard hit a game-tying home run in the fifth inning in a 7-3 loss to the Rockies. He has homered nine times in his last 28 games. Bryce Harper (11) and Giancarlo Stanton (10) are the only two hitters in baseball with more home runs since Howard hit his first homer April 21.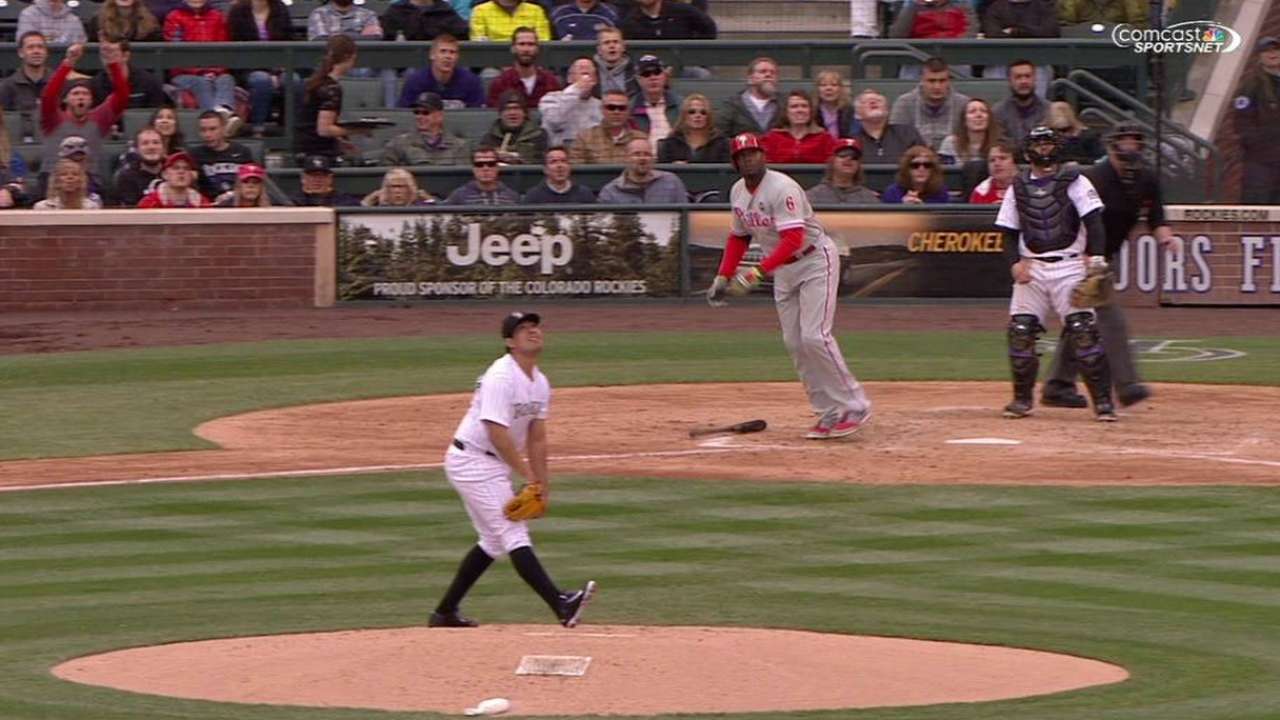 Utley went 2-for-4 with a triple. He is hitting .450 (9-for-20) with four doubles, one triple, three RBIs, four walks, one strikeout and a 1.292 OPS in his last six games, which started with four consecutive games batting sixth in the lineup. Utley has raised his batting average from .118 to .169, which means he no longer has the lowest batting average in Major League Baseball.
Houston first baseman Chris Carter sits alone in the basement at .161.
"I don't know if I'm necessarily sleeping better, but anytime you can get positive results, it can build your confidence," Utley said.
So did dropping to sixth for four games help?
Utley smiled at the question.
"I try to take the same approach wherever I hit in the lineup," Utley said.
Howard seems entrenched in the cleanup spot again after dropping as low as seventh last month. Since then he has slowly been moving up the home run chart.
"I mean all that stuff is cool," Howard said. "For me, it's just a matter of just getting back to playing ball and just playing my game. That's been my focus all year, is just playing ball. Everything that comes with it, you have good days, bad days, just try to stay even keel and just do what you do."
But it certainly is no coincidence the offense has been firing better recently with Howard and Utley hitting well together. Thursday snapped a streak of seven consecutive games of the Phillies scoring four or more runs. It was the their longest streak since a nine-game run in August 2011.
"That's hard to believe," Utley said. "But we have been swinging the bats fairly well. We've been driving some balls, putting some good at-bats together. We're doing all of the things that lead to success. That's a good sign."
The Phillies have won seven of their last nine games, but they get a big test beginning Friday when they open a three-game series in Washington. The Nationals are back on top in the National League East and playing well. They will pose a much greater challenge than Arizona and Colorado, whom Philly has played over the past week.
"It will be a challenge," Phillies manager Ryne Sandberg said. "We're going up against three good starting pitchers. Then again, we'll have Cole [Hamels] and [Aaron] Harang going also, so there will be some good matchups there. But I think that we're swinging the bats better so I feel better about it than a month ago when we played them."
Todd Zolecki is a reporter for MLB.com. Read his Phillies blog The Zo Zone, follow him on Twitter and listen to his podcast. This story was not subject to the approval of Major League Baseball or its clubs.