MLB.com Columnist
Lyle Spencer
MadBum, Kershaw a compelling rivalry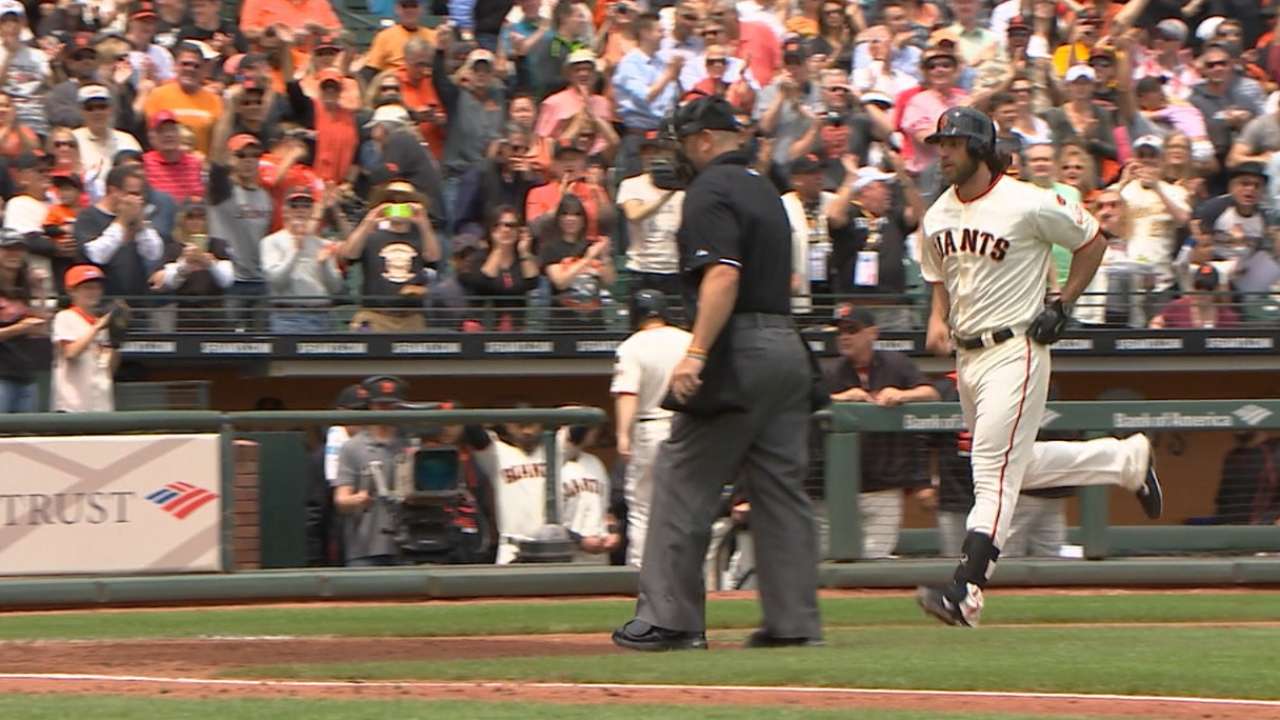 SAN FRANCISCO -- Clayton Kershaw didn't call the shot, but he might have unwittingly hinted at it four weeks ago. Before they hooked up the first of three times this season, on April 22 at AT&T Park, Kershaw acknowledged that Madison Bumgarner had one advantage in their classic confrontations: his dangerous right-handed bat.
Bumgarner, the Giants' ace, brought that edge to living color with one swing in Thursday's matinee at AT&T Park. His mammoth, 415-foot homer launched a 4-0 victory that completed a three-game sweep and brought San Francisco to within 1 1/2 games of Los Angeles in the National League West.
"Early on, Clayton was really good -- and he was really good the whole game," Dodgers manager Don Mattingly said, moving away from the magnitude of the Bumgarner blast. "He gave up two runs in eight innings. That should be enough."
Held scoreless in all three games, the Dodgers fell to 0-6 in the Giants' home yard and 2-7 overall against the reigning World Series champions.
"We don't score, we don't win -- pretty simple," Mattingly said, his team having gone 0-for-17 in the series with men in scoring position and stranding 29 runners.
The Giants have taken all three of the Bumgarner-Kershaw showdowns this season and five of six career meetings between the game's premier southpaws.
What's curious is that Kershaw essentially has been just as good, but he is 1-4 against MadBum's 4-1, with each drawing a no-decision. Bumgarner has a 2.27 ERA across 39 2/3 innings head-to-head with Kershaw, who rose to 2.57 in 42 innings after two runners he left on the basepaths with one out in the eighth scored.
These peripheral numbers will do nothing to lift Kershaw's spirits. The only thing that could do that would be giving him one pitch back from an effort that left the reigning NL Most Valuable Player and Cy Young Award winner 2-3 with a 4.32 ERA to open a fitful 2015.
Bumgarner, after shaking off early struggles, is 5-2 with a 2.84 ERA. The irony of their latest showdown is that Kershaw was more efficient and precise. Fiercely competitive, Bumgarner made pitches -- and got excellent defensive support -- under duress.
The 2014 NL Silver Slugger Award winner, MadBum swings with uncommon force from the right side. Kershaw is among a select few left-handed hitters even allowed to hack at Bumgarner's slingshot deliveries.
Therein lies the advantage Kershaw alluded to before the first showdown in April.
"He's a big guy -- enormous," Kershaw added. "He's 'country strong,' as they say."
Kershaw, imposing in his own right at 6-foot-4 and 225 pounds, is keenly aware of the threat Bumgarner carries with his 235 pounds and 6-foot-5 frame. The country boy from North Carolina made Kershaw look painfully clairvoyant when he unloaded his seventh career homer on a crisp afternoon.
In and out of trouble over the first three innings, when the Dodgers went 0-for-5 with runners in scoring position, Bumgarner walked up ready to rip in the bottom of the third. He launched a first-pitch fastball about one-third of the way into the left-field grandstand, bringing a sustained roar from the hometown crowd.
It was Bumgarner's second hit in 13 career at-bats against Kershaw, who has struck him out eight times.
In one dramatic moment, the Giants' all-conquering October hero made an emphatic case for the league resisting the swelling tide of popular support for the installation of the designated hitter to conform with the American League.
"It's part of the game I enjoy," said Bumgarner, who was known as much for his booming home runs as his strikeouts at South Caldwell High School in Hudson, N.C., before the Giants took him in the first round, 10th overall, in the 2007 First-Year Player Draft.
"We do anything we can as pitchers to help ourselves out. There's no reason why we shouldn't put a little effort into it."
Bumgarner hit .258 last season, going deep four times with 15 RBIs and a .477 slugging percentage. Most Giants players put him in a class with Hunter Pence in terms of raw power. Manager Bruce Bochy adds Buster Posey and outfielder Justin Maxwell to the discussion.
"We don't have a lot of guys who swing like Madison, with that force," Tim Hudson said. "He's not up there to hit singles."
Bumgarner's bomb, in one sense, got the Giants even with Kershaw, whose first career home run was decisive in a shutout of the Giants on Opening Day in 2013.
Kershaw, who had three hits in his first five career at-bats against MadBum, went 0-for-3 on Thursday but made solid contact in flying out to center in the fourth.
The Sandy Koufax and Juan Marichal of the new age, Kershaw and Bumgarner are fast becoming the most compelling individual rivals in the sport.
Lyle Spencer is a national reporter and columnist for MLB.com. Follow him on Twitter @LyleMSpencer. This story was not subject to the approval of Major League Baseball or its clubs.