Returning to Fenway, Richards recalls injury
Right-hander looks back on night his left knee gave out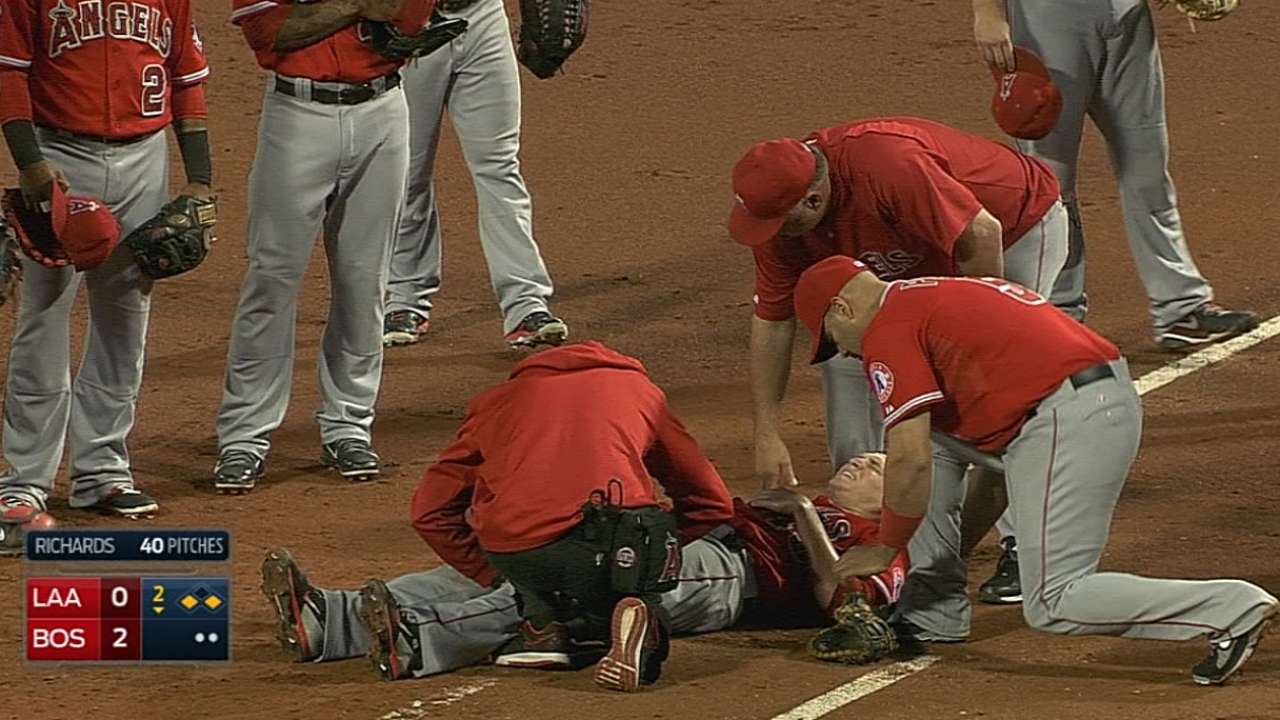 TORONTO -- Garrett Richards' most vivid memory from Fenway Park on Aug. 20, the night he suffered the gruesome knee injury that ended his season and sent him on a prolonged rehab?
"The sound of my knee unraveling," Richards said. "It sounded like a Pillsbury biscuits tube. You know when you open it and it explodes? That's what it sounded and felt like, the release of pressure. ... It wasn't cool. When I was lying on the table, that was the first thing I could compare it to. It was gross. And the vibration all the way up your leg when it popped -- it's not something I want to do again."
But in some way, he will have to relive it.
Over the weekend, Richards will return to Boston for the first time since his left knee buckled while covering first base. He'll start Friday's series opener for the Angels, entering with a 2.29 ERA through the first six starts of what has been an impressive return post-surgery.
That knee injury is behind him now, though.
In Richards' mind, Friday will be just like any other start.
"My injury is in the past," Richards said. "I don't even think about it anymore. I just focus on my start every five days. The work in between, the preparation, that's all I'm concerned with right now."
Alden Gonzalez is a reporter for MLB.com. Read his blog, Gonzo and "The Show", follow him on Twitter @Alden_Gonzalez and listen to his podcast. This story was not subject to the approval of Major League Baseball or its clubs.