Semien welcomes chance to work with Wash
A's shortstop hoping new coach helps iron out defensive difficulties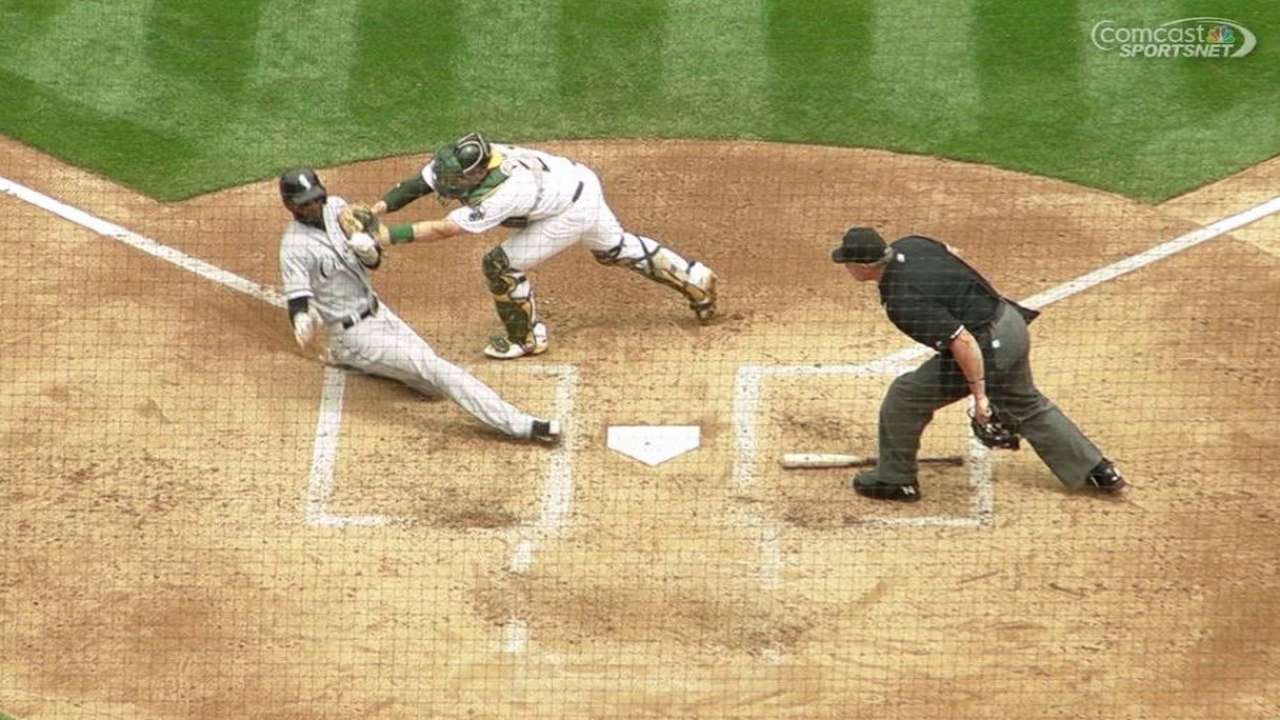 ST. PETERSBURG -- When it comes to infield defense, newly hired Athletics coach Ron Washington has one of the most impressive teaching resumes in recent baseball history.
And there's nobody who stands to benefit from Washington's knowledge more than A's shortstop Marcus Semien. The club hopes it proves to be a winning partnership.
During an 11-year run as the Athletics' infield/third-base coach that began in 1996, Washington was credited with developing third baseman Eric Chavez into a six-time Gold Glove winner, and in helping the A's lead the league in fielding in 2004 and '05.
Semien, who had started a total of four big league games at shortstop prior to this season, has struggled at the position this year, having committed a Major League-leading 16 errors. The Athletics as a team had committed 44 errors and allowed 29 unearned runs -- both Major League highs entering Thursday's action.
"Ron has been known as a defensive wizard over the years, so it will be good to have him," said A's manager Bob Melvin, whom Washington invited to coach on his All-Star Game staff in 2012. "He's obviously familiar with Oakland, a lot of people within our organization, so it will be good to have that good a baseball man with us."
Melvin was quick to point out that Washington's return to Oakland should not be viewed as a commentary on the work of current A's infield coach Mike Gallego.
"It's not an indictment on [Gallego]. If you ask Marcus, there's nobody that works harder with him," Melvin said. "It's just a matter of having another resource, another pair of eyes, and now we have two of them."
Semien, a focused athlete who brings a consistently positive attitude to the Oakland clubhouse every day, was even more upbeat than usual on Thursday when discussing Washington's pending arrival.
"I've heard nothing but great things about Wash. With the way things have been going lately, it's great not only for myself but for everybody to have somebody who's there for us," said Semien, who was particularly impressed with the work that Washington had performed with Chavez. "Ron and Eric did a great job working together. I'm going through a tough time right now, and I'm sure they worked through some tough times that Eric may have had and got through them.
"We all strive to win a Gold Glove one day and be an elite defender because that helps you be an elite team."
Semien feels that a new coaching voice will speak volumes.
"I'm excited to work with anybody who wants to come in and work with us ... work with me. We have the great pitchers in this clubhouse already, but without the defense, you see what the results are. I take a lot of responsibility for that.
"As a young kid I never had much instruction, so now that I'm here in the Major Leagues, there's people coming out of their way to help. ... It's awesome."
Worth noting
• Starting pitcher Drew Pomeranz, who was placed on the disabled list Wednesday, received a cortisone shot in his ailing AC joint on Thursday. The 26-year-old left-hander will resume throwing after the weekend.
• Kendall Graveman will be called up from Triple-A Nashville to start Saturday's game against the Rays. The 24-year-old right-hander has made four starts for the Athletics this season, allowing 15 earned runs and 24 hits in 16 1/3 innings. He allowed two runs in 19 1/3 innings over his last three starts for the Sounds.
• Coco Crisp was scheduled to undergo an MRI on Thursday in Dallas, and he will see a neck specialist on Friday. The 35-year-old outfielder, who has been battling neck soreness for nearly a year, is unlikely to see any action this weekend, particularly on Tropicana Field's artificial surface.
Michael Kolligian is a contributor to MLB.com. This story was not subject to the approval of Major League Baseball or its clubs.