deGrominance by Mets righty on full display
Reigning NL Rookie of the Year retires 23 in a row, K's 11 over 8 shutout innings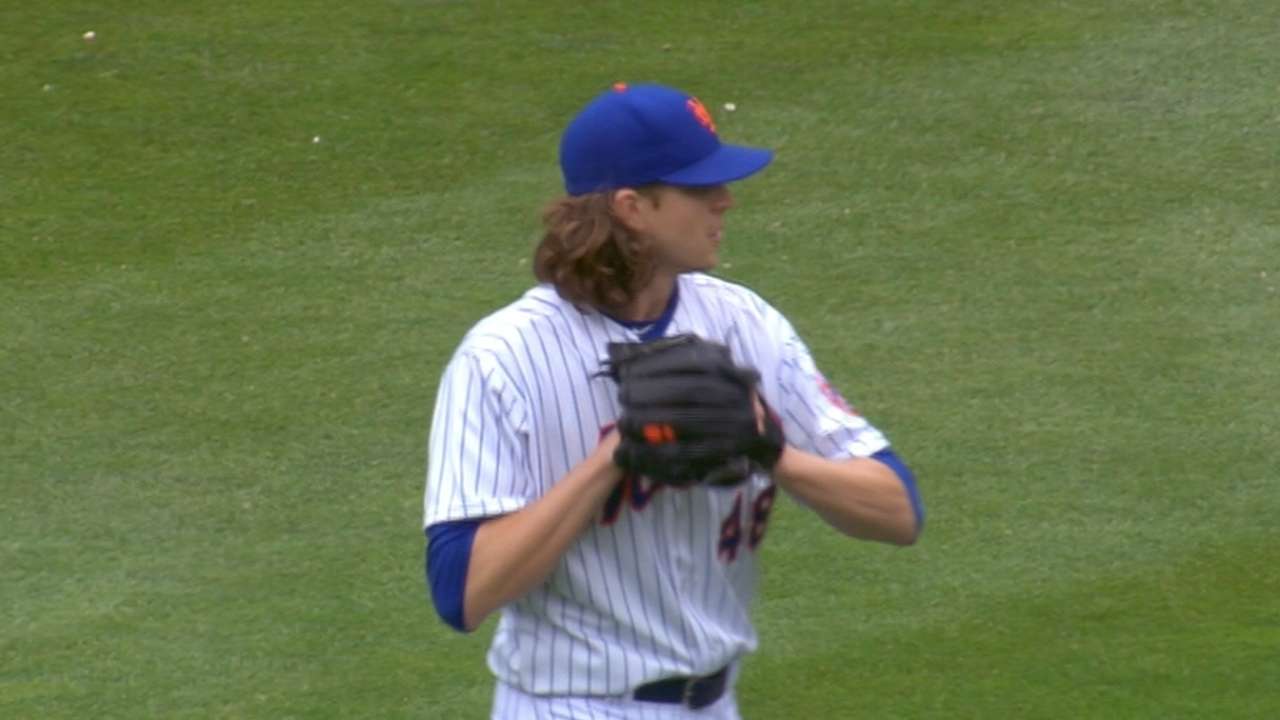 NEW YORK -- At some point during his stretch of 23 consecutive outs, the Mets' longest by any pitcher in 22 years, Jacob deGrom noticed that it had been a while since he had pitched out of the stretch. deGrom swears he did not realize the Cardinals were hitless against him since the first inning -- only that it had been longer than he could apparently remember.
"I was just thinking, 'Go right after guys,'" deGrom said.
The result was the best game of deGrom's career and, by any measure, one of the best-pitched games in Major League Baseball this season. Striking out 11 over eight shutout innings, deGrom held the Cardinals to a single baserunner all afternoon -- a Matt Carpenter single in the first. From that point forward, deGrom retired 23 consecutive batters, leading the Mets to a 5-0 victory Thursday.
"I could tell in the bullpen it was going to be an easy day," catcher Kevin Plawecki said. "He had everything going."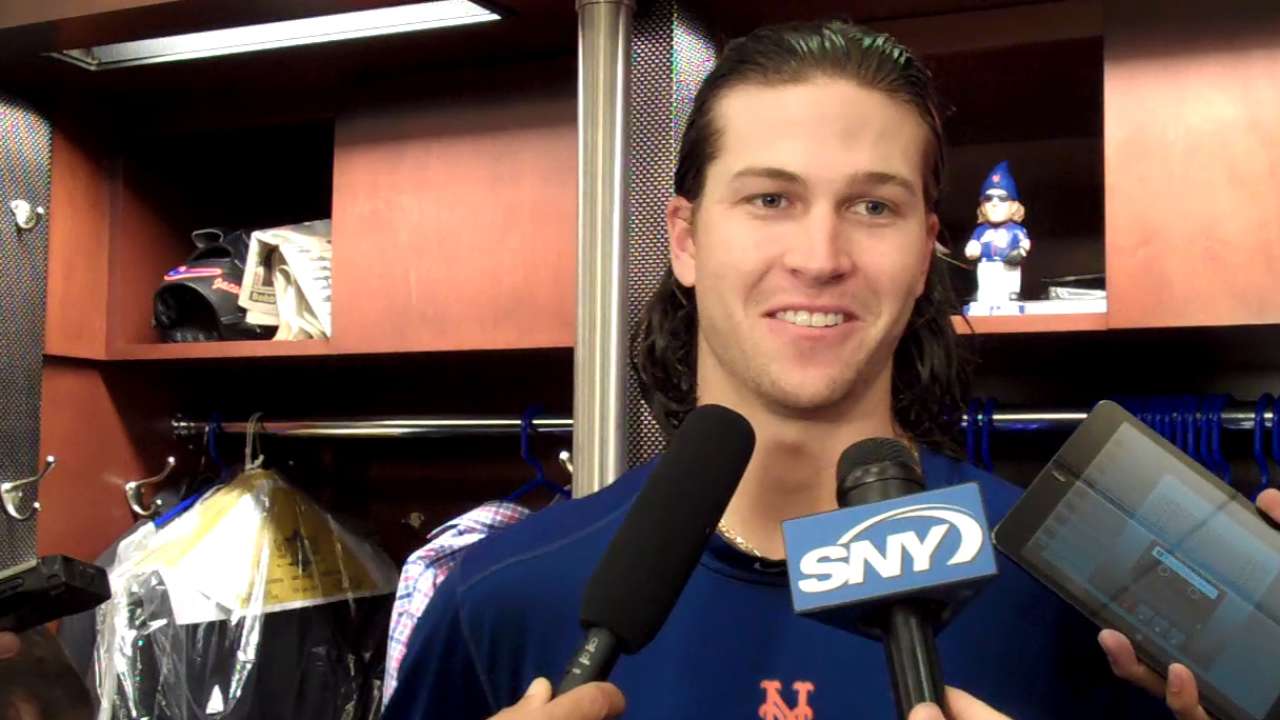 deGrom's dominance came as significant relief for a Mets team that watched him post a 5.64 ERA over a four-start stretch from April 24 through May 11, battling right hip soreness and shoulder stiffness for at least some of that stretch. Following his last start, deGrom camped out in the Citi Field video room, before working on a pair of mechanical tweaks with pitching coach Dan Warthen.
The results on Thursday were plain to see. In addition to becoming the first Mets pitcher since Anthony Young in 1993 to retire 23 straight batters, deGrom joined Tom Seaver, R.A. Dickey and Matt Harvey as the only pitchers in franchise history to strike out double-digit batters with no walks and no runs allowed. In terms of Game Score, a Bill James-devised statistic that attempts to quantify the effectiveness of individual pitching performances, deGrom's effort ranked second this season behind only Corey Kluber's 18-strikeout game for the Indians last week.
"To shut down an offense that has been swinging the bat like we have the last couple days, he made his adjustments," Cardinals manager Mike Matheny said. "He didn't just do it with the fastball, but the fastball was pretty overpowering today."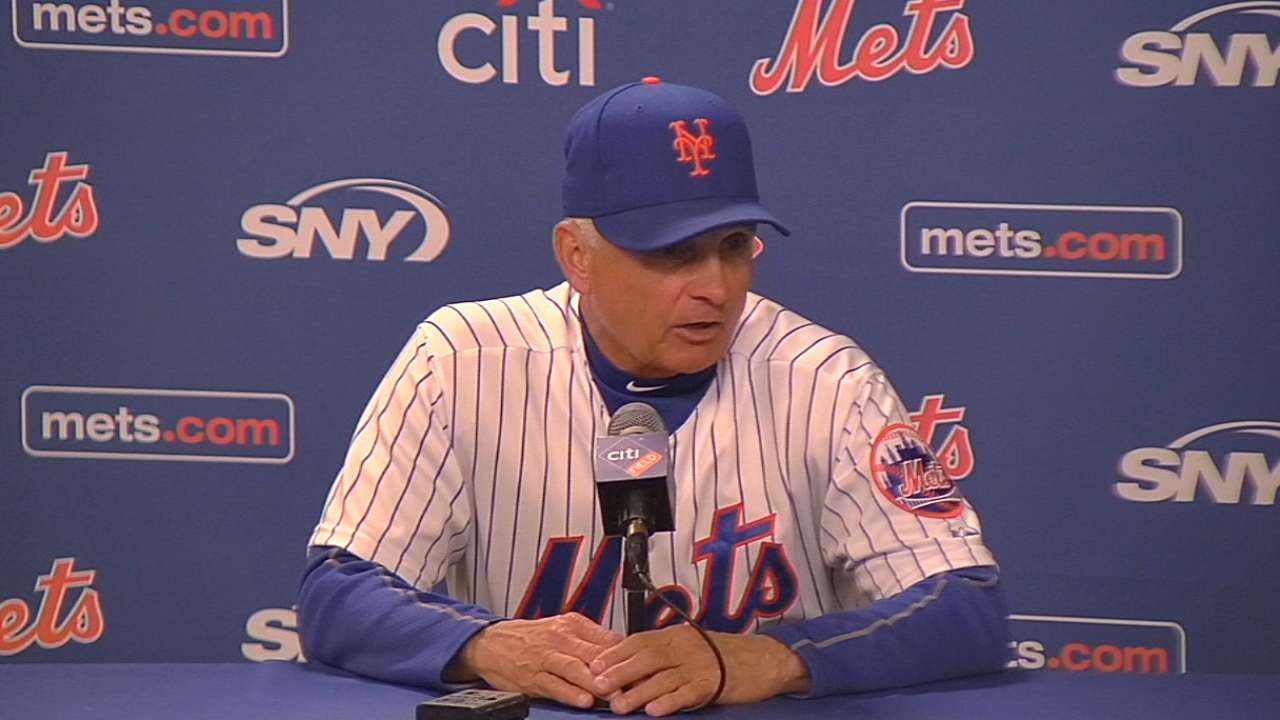 "I've talked to umpires, and the umpires talk about the late life he's got," Mets manager Terry Collins said. "His delivery is so nice and easy, but he's got that late life that just jumps on you."
Because of deGrom's recent history of minor physical ailments, Collins said he had no intentions of letting him come out for the ninth, despite a relatively low pitch count of 104. And the manager received no argument from deGrom. He and the Mets were happy enough with what they received: a dominant pitching performance against one of the best teams in baseball, at a time when the Mets so desperately needed it.
"I wanted to go out there and put the team in position to win," deGrom said. "And that happened."
Anthony DiComo is a reporter for MLB.com. Follow him on Twitter @AnthonyDiComo and Facebook, and listen to his podcast. This story was not subject to the approval of Major League Baseball or its clubs.