Smyly needs 8 weeks of rehab for shoulder
Rays lefty avoids surgery, hopes to follow path of Dodgers' Bolsinger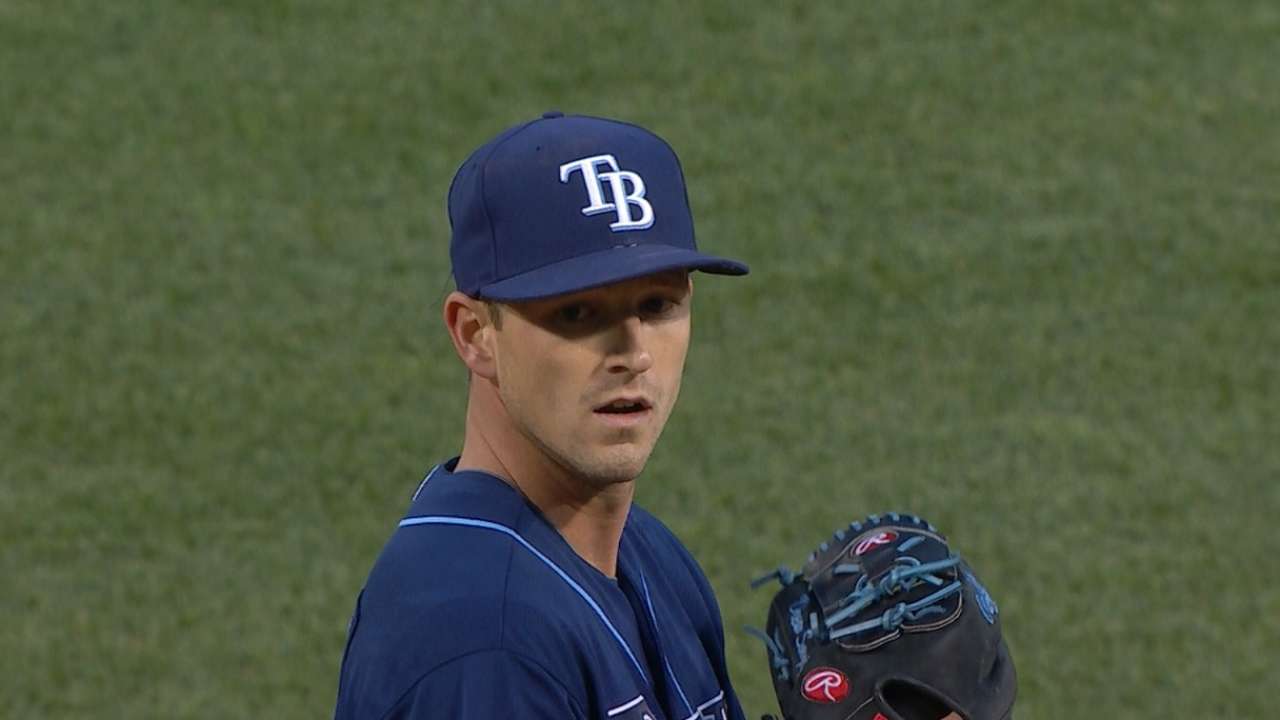 ST. PETERSBURG -- After more than a week of deliberation, Rays starting pitcher Drew Smyly has decided not to end his 2015 season. Smyly announced Thursday that he will not undergo surgery on the torn labrum in his left shoulder, electing to instead rehab the injury.

"After talking with a few of the doctors that I've met with, we've decided to rehab [the shoulder]," Smyly said. "Everyone seems very optimistic that is the route to take. It's not choosing that over surgery. They act like surgery is not even really an option right now, so that is the route I'm taking."

Smyly said the rehab process should take about eight weeks and believes he could pitch again for the Rays by late July or August, but added that there is a possibility surgery may be needed later if the rehab does not work.

"We'll know whether it works or not in eight weeks," Smyly said. "In eight weeks, I might say 'It's not working, we'll explore other options.' There still is a lot of unknown, but the best doctors in the country have looked at my MRIs and seen me personally, examined it, and everyone seems confident that surgery isn't needed."

The decision to undergo rehab instead of surgery was helped by the experiences of Smyly's former college teammate and current Dodgers pitcher Mike Bolsinger, who went through a similar situation several years ago.

"[He] was diagnosed with a torn labrum, rehabbed for two months -- that happened when he was in the Minor Leagues -- and he hasn't had a problem with it since, and it has been three or four years," Smyly said. "He's doing great for the Dodgers, and he has said, 'You'll be fine, man.'

"Talking with other doctors, I'm not the first guy who will try to pitch through it. It's something that happens when you pitch at this level. A lot of pitchers' MRIs look abnormal. There's stuff going on in there and you work through it and keep playing."

The first step in Smyly's rehab will be playing catch, which he expects to be doing come early June.

In three starts this season, Smyly is 0-1 with a 2.70 ERA, allowing five runs in 16 2/3 innings while walking three and striking out 21. He was placed on the disabled list May 9. Smyly was transferred to the 60-day disabled list on May 13 after the Rays confirmed the torn labrum.

"It is a good thing that there is a chance that he pitches for us this year," Rays manager Kevin Cash said. "That's a lot better than maybe what we were thinking a couple of weeks ago."

In other injury news, Cash said Matt Moore (Tommy John surgery) will pitch "two innings, roughly 35-40 pitches," in an extended spring game Saturday.
Troy Provost-Heron is an associate reporter for MLB.com. This story was not subject to the approval of Major League Baseball or its clubs.