Sandoval likely to return for series vs. Angels
Victorino scratched from Red Sox's lineup Thursday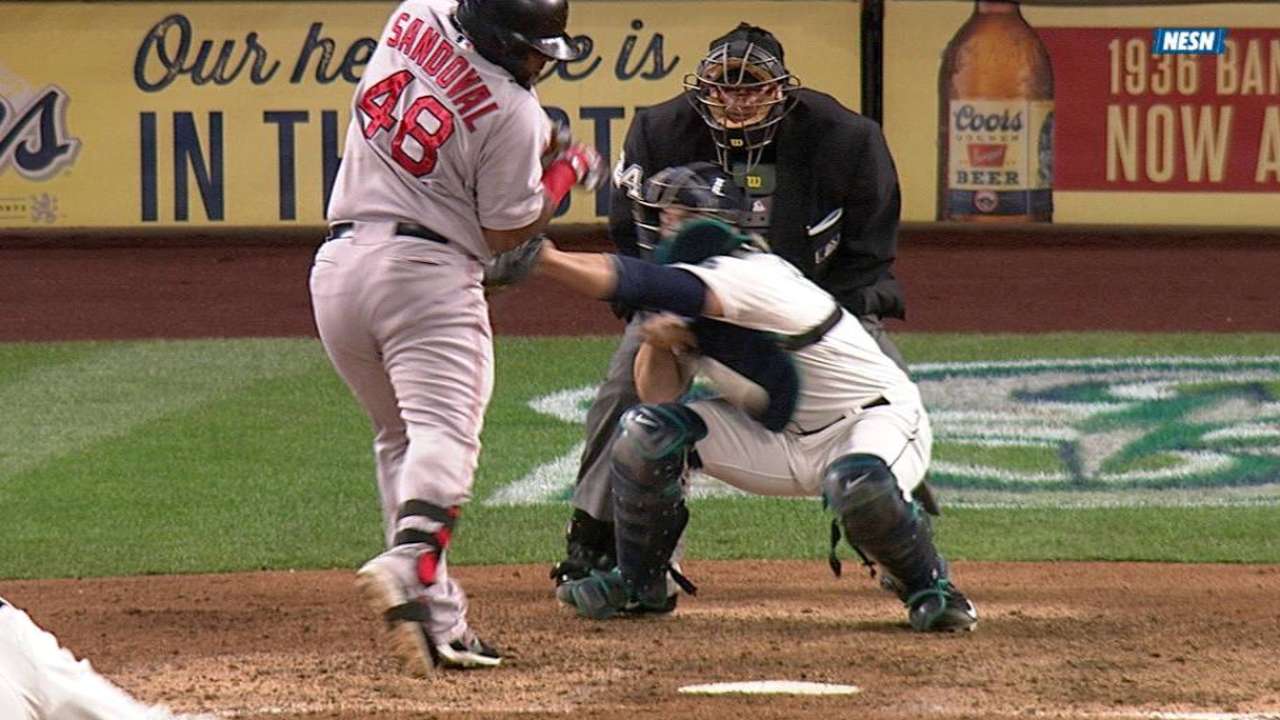 BOSTON -- For a few minutes, Shane Victorino was in the lineup that Red Sox manager John Farrell had posted for Thursday's game. But the right fielder wound up being a scratch due to general soreness centralized to the left calf.
Victorino was 6-for-18 lifetime against Rangers lefty Wandy Rodriguez. Instead, Farrell had to turn to Daniel Nava, who hadn't started against a southpaw this season -- his first as exclusively a left-handed batter.
Nava opted to hit right-handed in his first start against a lefty this season, after trying to make the switch to left on left. Nava batted left-handed in his five previous plate appearances against lefties this season.
"Not anything related to the low back or hamstring that he's dealt with in the past," said Farrell about Victorino. "Precautionary. He's held out tonight."
The good news for the Red Sox is that third baseman Pablo Sandoval, who was belted on the left knee by a pitch Tuesday, should return to the lineup for the opener against the Angels on Friday night.
"Pablo is much improved today," said Farrell. "There's still some soreness there. We're giving him another day, particularly with a left-handed starter on the mound."
Victorino got off to a slow start at the plate before going on the disabled list on April 23 with a right hamstring strain. Upon his return, Victorino started getting more comfortable at the plate, belting a home run last week in Seattle.
The Red Sox figured there would be certain days nagging injuries made Victorino unavailable, and that's one reason Farrell has been platooning him against lefties of late.
"You know you're going to have to run him out there a few days, back off even on days where he feels like he's capable, almost to protect him from himself," said Farrell. "This is a little bit of an unforeseen one, but like you said, ideally you walk in the clubhouse every day knowing that there's 25 guys at your disposal and that's not always the case."
Ian Browne is a reporter for MLB.com. This story was not subject to the approval of Major League Baseball or its clubs.