Moreland's bat more than enough vs. Red Sox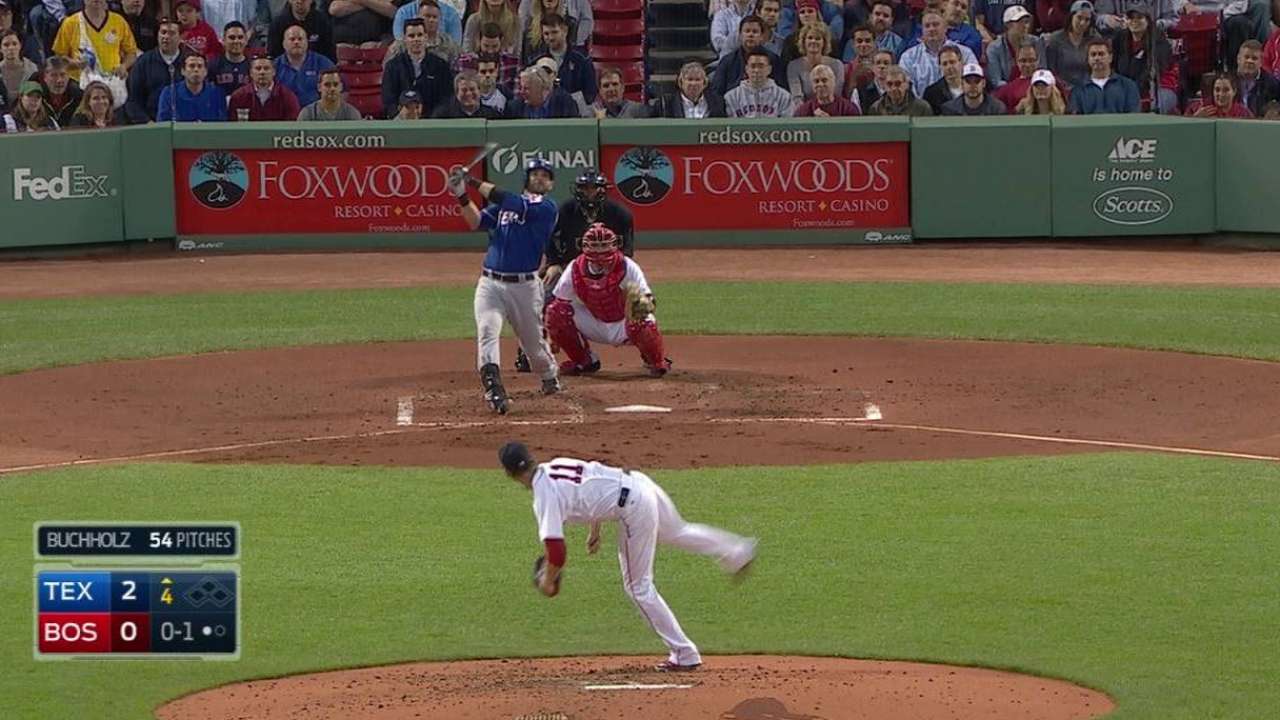 BOSTON -- Wandy Rodriguez kept the Red Sox in their offensive funk while leading the Rangers to a 3-1 victory Thursday night in the rubber match of a three-game series.
Over 6 2/3 innings, Rodriguez gave up four hits and a run, walking two and striking out five. The Rangers, getting 2 1/3 scoreless innings from their bullpen and another save from Shawn Tolleson, took two of three from the Red Sox.
"It was big, especially after losing the first one," first baseman Mitch Moreland said. "Wanted to get some going and the next two games were close, but we did a good job playing good baseball. It was a big series for us."
Red Sox starter Clay Buchholz also turned in a strong performance, holding Texas to five hits and three runs (two earned) over 7 1/3 innings.
The Rangers put up two runs in the first and got an insurance run on a home run by Moreland in the fourth, and that proved to be enough.
The only run the Red Sox generated came on a fielder's choice grounder by David Ortiz in the fourth.
"We've got to start hitting at some point, right?" Ortiz said.
MOMENTS THAT MATTERED
DeShields speed pays off: Delino DeShields' speed in the No. 2 spot helped the Rangers manufacture two runs in the first. Shin-Soo Choo led off with a single and DeShields beat out a bunt for a hit. Both runners moved up on Prince Fielder's fly to deep right and Adrian Beltre walked. With the bases loaded, Mitch Moreland hit a grounder to Dustin Pedroia, who got one out with the force at second. But shortstop Xander Bogaerts fumbled the ball on the transfer as Choo scored from third and DeShields came all the way around from second. More >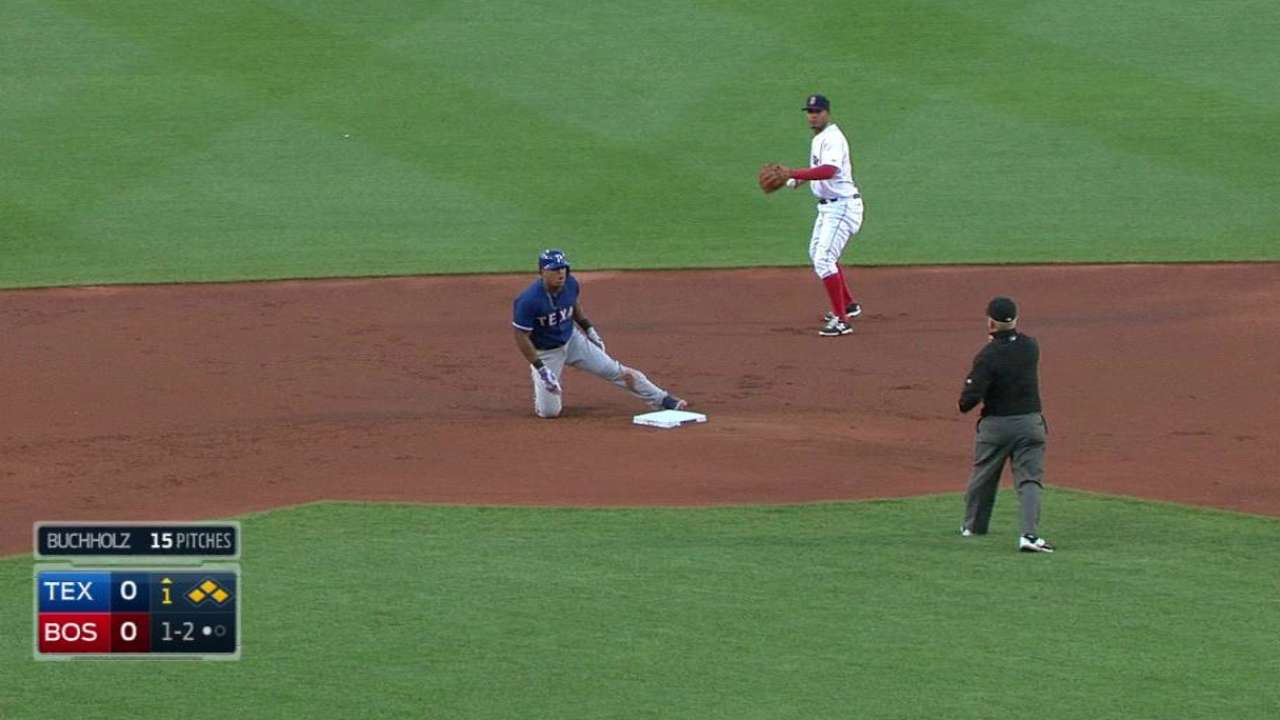 "Pedey threw it a bit wide. I went and got it and I should've made a good transfer at least," said Bogaerts. "I knew I wasn't going to make a double play but I should've at least transferred it good, but it was a bit away and just came out of my hand right there. I mean, I just made sure I got one out right there play and it just went out [of the glove]."
Bogaerts clipped by Nava: The Red Sox had a hit-and-run go awry in the fifth. Bogaerts, with one out, was running when Daniel Nava hit a grounder to the right side. The ball clipped Bogaerts in the back foot as it headed to right field. Second-base umpire Mike Muchlinski didn't see the ball hit Bogaerts and he ended up at third. Rangers manager Jeff Banister went out to discuss the play and first-base umpire Marty Foster did see the ball hit Bogaerts. By rule, Bogaerts was out and Nava was on first with a single. More >
"I was never aware the ball touched me until I came back down and I saw the video, it might've just scratched the bottom of my heel or something like that, but I never know it hit me at all," said Bogaerts.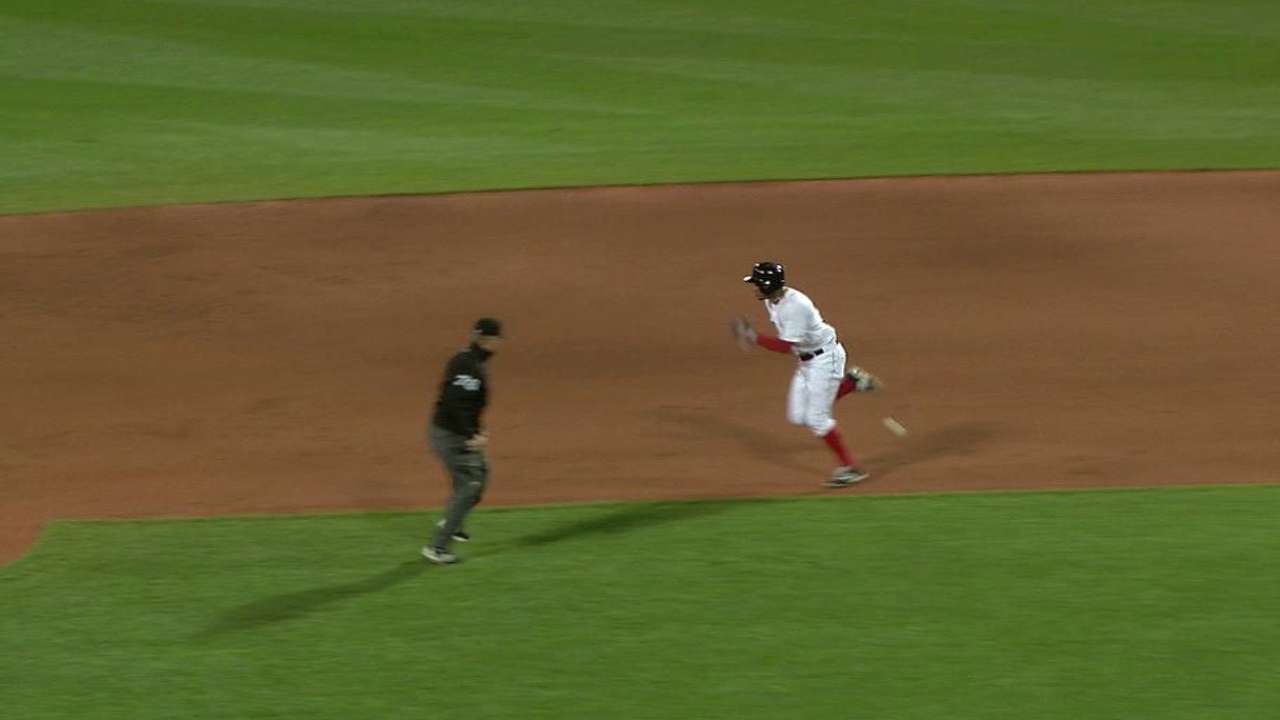 "It's not a reviewable play," Banister said. "But these Major League umpires are the best. They want to get it right and they did."
Rodriguez hustles after Pedroia: The Rangers led 3-0 into the fourth but the Red Sox got going with a single by Mookie Betts and a double by Pedroia, putting runners on second and third. Ortiz's groundout to the right side scored Betts and moved Pedroia to third. Hanley Ramirez then hit a nubber out onto the grass just to the left of home plate. Rodriguez got off the mound, scooped the ball up with his glove and shoveled it to catcher Carlos Corporan to get Pedroia trying to slide around the tag at home. More >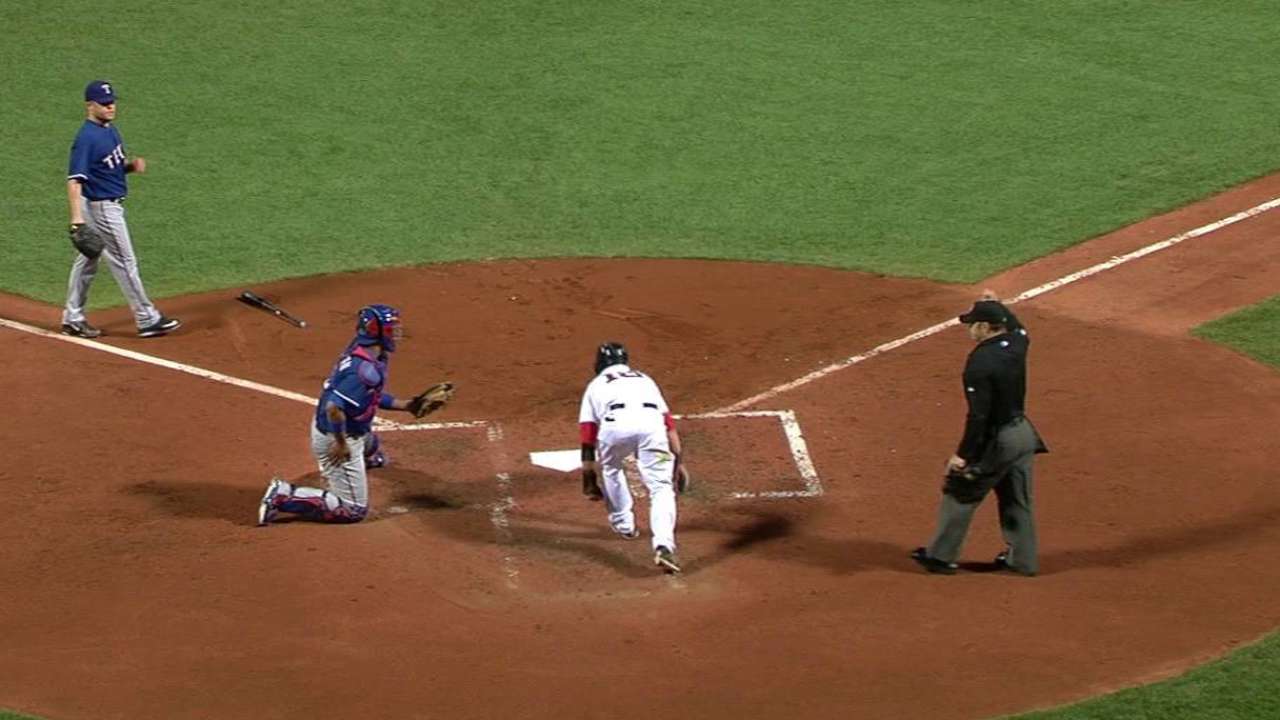 "He was at third base, I don't know why he decided to go home," Rodriguez said. "I just got the ball and threw it."
Buchholz keeps momentum going: In an encouraging sign for the Red Sox, Buchholz turned in his third solid performance in a row. The wiry righty has gone at least six innings while giving up three earned runs or fewer on all three occasions. More >
"I've been trying to mix my pitches each time out and each time through the order," said Buchholz. It's a little bit easier whenever you have your pitches working. It's the times you go through when you've got one or two pitches working and you have to filter out the other pitches."
SOUND SMART WITH YOUR FRIENDS
Rangers relievers had thrown 13 scoreless innings in their last four games. They allowed 10 hits, four walks and struck out 11. That lowered the bullpen ERA from 4.75 to 4.32.
Red Sox starters have thrown at least five innings and given up two earned runs or fewer in eight straight games for the first time since June 29-July 7, 2013.
WHAT'S NEXT
Rangers: The Rangers open a three-game series with the Yankees on Friday at 6:05 p.m. CT in the Bronx. Colby Lewis will be on the mound for the Rangers. The Rangers have lost 15 of their last 20 games against the Yankees on the road.
Red Sox: Right-hander Rick Porcello, the most consistent starting pitcher the Red Sox have had this season, gets the nod in Friday night's opener of a three-game series against the Angels at 7:10 p.m. ET. It's an MLB Network Showcase game, which features the revolutionary tracking technology of Statcast™. Last time out, Porcello outdueled Felix Hernandez, giving up five hits and two runs over 6 2/3 innings at Safeco Field.
Watch every out-of-market regular season game live on MLB.TV.
Ian Browne is a reporter for MLB.com. T.R. Sullivan is a reporter for MLB.com. Read his blog, Postcards from Elysian Fields and listen to his podcast. This story was not subject to the approval of Major League Baseball or its clubs.