Offense breaks out with 12 hits in loss to D-backs
Marlins score at least five runs for first time since May 13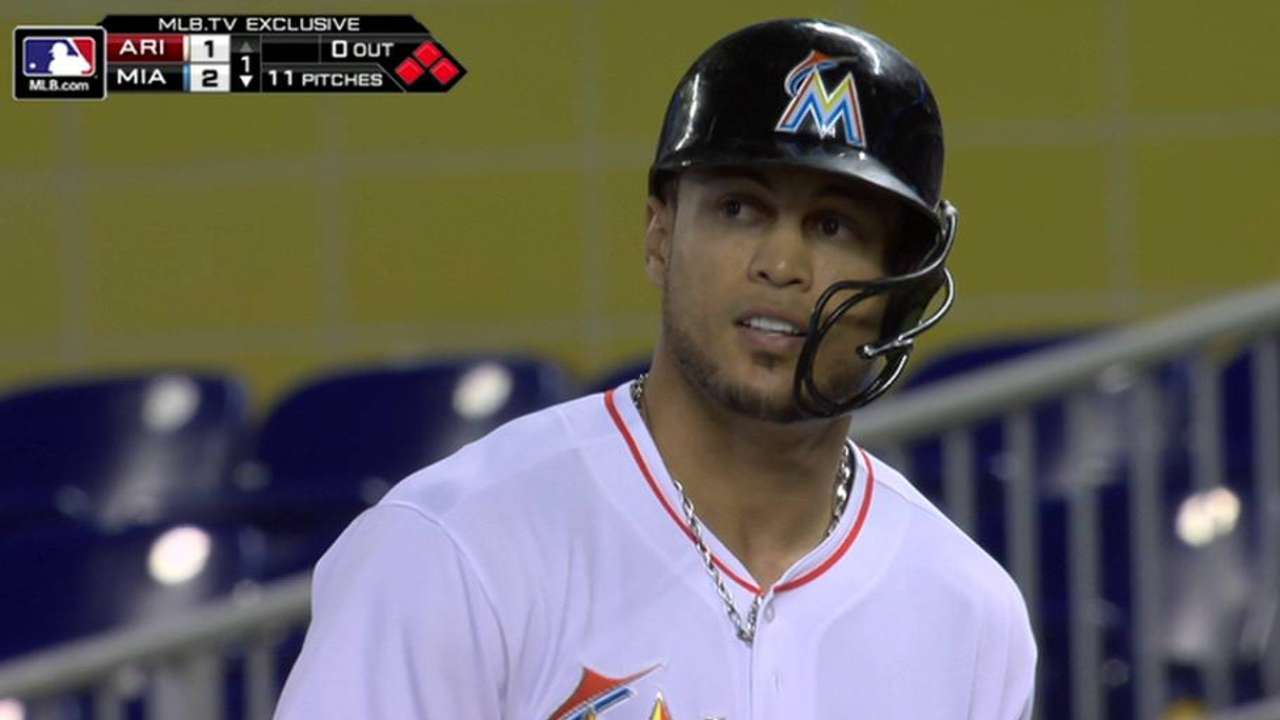 MIAMI -- They didn't result in a win, but the Marlins' offense banged out 12 hits in their 7-6 loss to Arizona on Thursday, leading to the most runs Miami has scored since a 5-4 win against the Dodgers on May 13.
It's a drastic change for the struggling offense that produced just four hits and one run in Wednesday's loss. The Marlins were also nearly no-hit on Sunday and totaled only 11 runs through the first six games of the 10-game homestand.
"It's nice to finally get some production out of our offense," said catcher J.T. Realmuto, who hit a triple. "We have a lot of good hitters on this team. If we all start clicking together, we're going to put up some runs."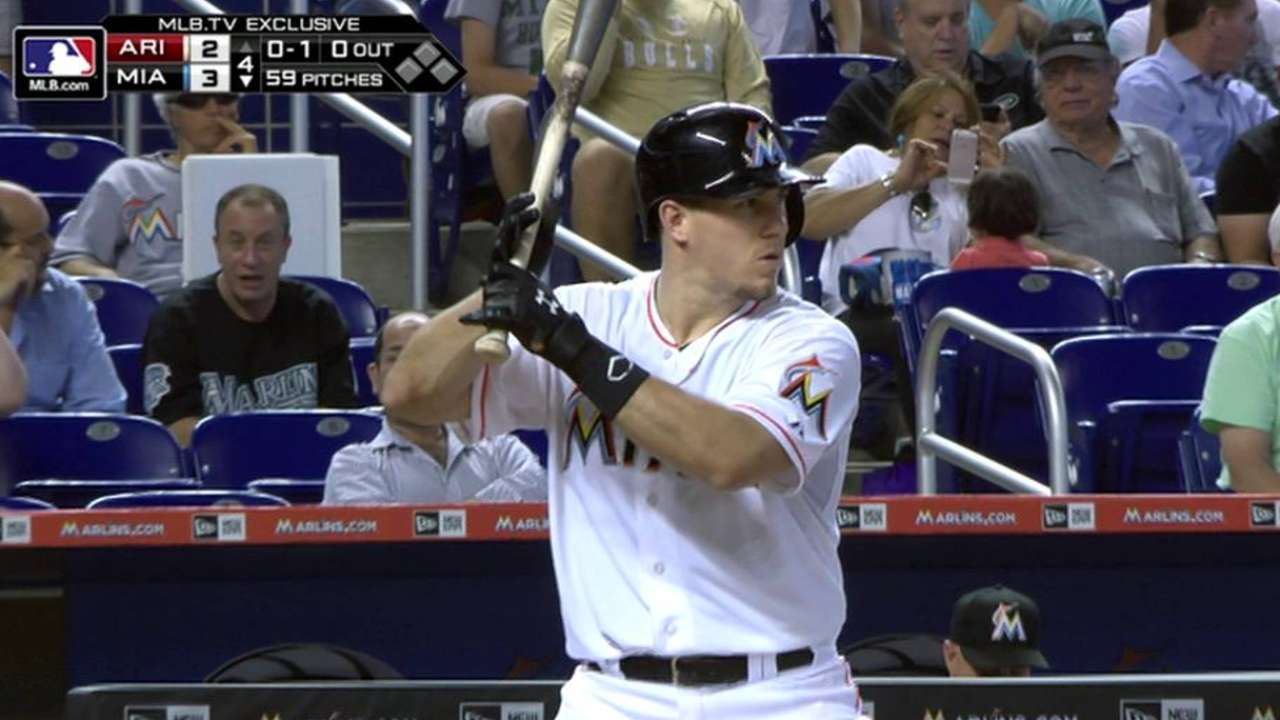 Miami matched Wednesday's four-hit total with four first-inning hits that led to three runs. Giancarlo Stanton and Justin Bour each notched RBI singles to spark the mini-outburst.
The Marlins then tied the game in the sixth thanks to RBI singles from Marcell Ozuna and Martin Prado, who led the way with three hits.
"We jumped out, we lost the lead, and we battled back," said manager Dan Jennings. "Guys are out there fighting. They're grinding it out."
But while the Marlins piled up the hits on Thursday, 11 of the 12 knocks were singles and eight runners were left on base.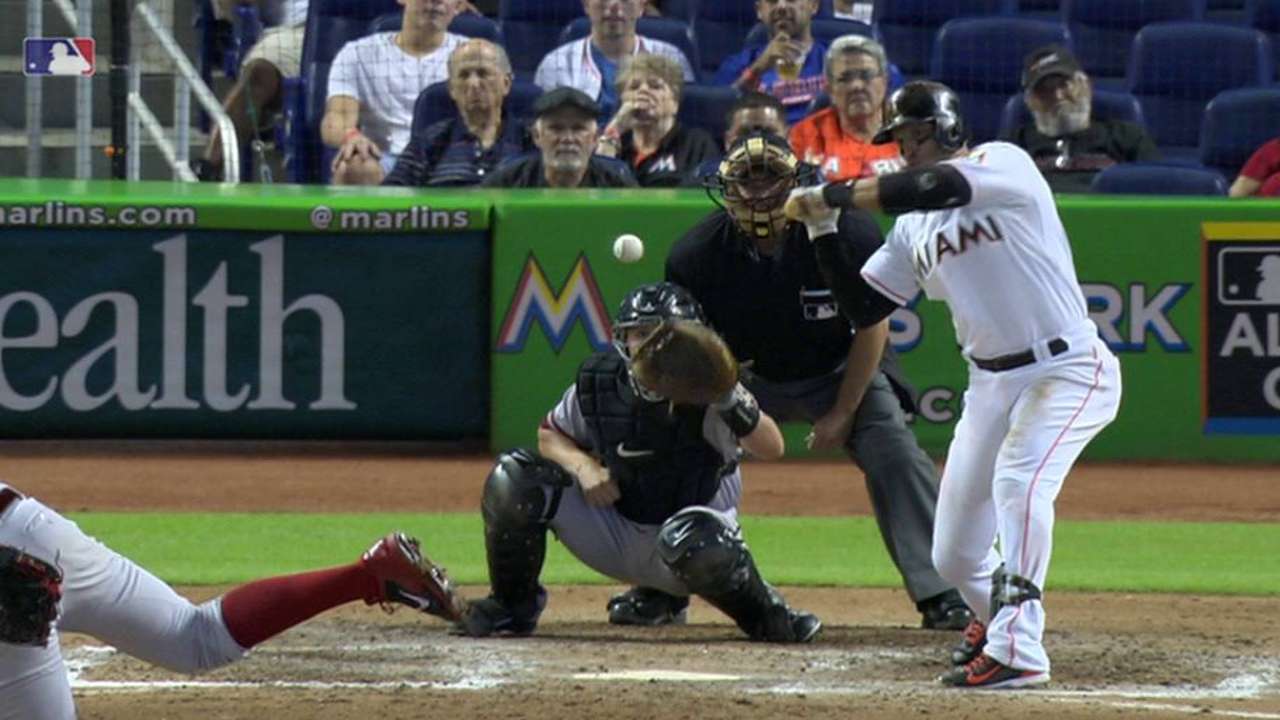 "The big hit is avoiding us right now when we have guys in those scoring positions for those add-on runs," Jennings said.
The Marlins got to D-backs starter Archie Bradley for four runs on nine hits in five innings. They also scored two runs in two-thirds of an inning off of reliever Randall Delgado. However, Miami couldn't threaten for the final three innings, as D-backs closer Brad Ziegler went through the 4-5-6 hitters in order in the ninth.
Jennings insists the offense is due for a major breakthrough soon.
"It's frustrating," Jennings said. "Again, it's one of these storms that is going to disappear because of the quality of the at bats and the 'never say die' spirit that these guys are showing. That part of it we're pleased with. We're working through this, but it's aggravating to play with the quality and do the things that you see and not get the results you want."
Steve Wilaj is an associate reporter for MLB.com. This story was not subject to the approval of Major League Baseball or its clubs.