MLB.com Columnist
Richard Justice
Many small strides add up to quicken pace
Commissioner Manfred encouraged by players' adjustments to new guidelines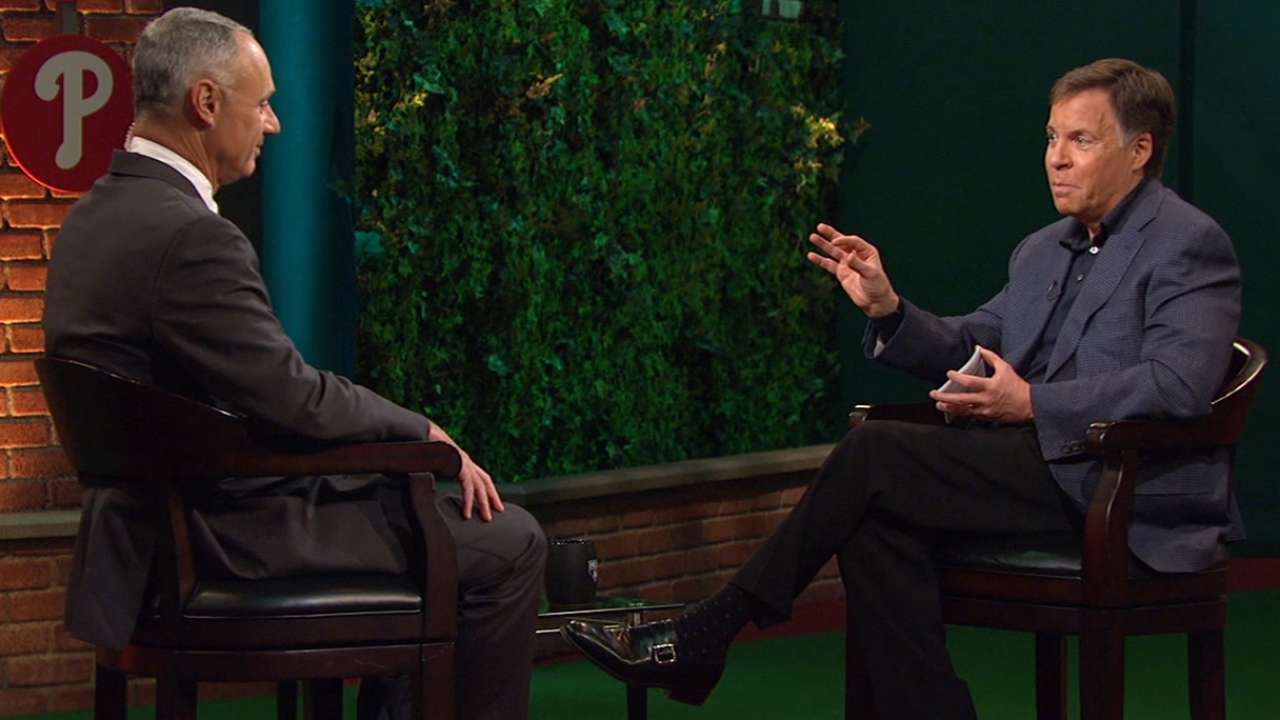 NEW YORK -- Two months in, there has been significant progress in quickening the pace of play in baseball. Even without dramatic changes, the average time of a game has dropped almost nine minutes since last season.
Let's go to our big board:
2014:
3 hours, 2 minutes, 21 seconds
2015:
2 hours, 53 minutes, 19 seconds
Playing games in less than three hours is an important benchmark for Commissioner Rob Manfred. While this may be only a first step, it's an encouraging one.
This isn't a reflection of a decline in offense, either. Runs per game are up from 8.14 to 8.4 from 2014. Likewise, on-base plus slugging percentage has increased from .700 to .710.
"I have to say we are very encouraged by the early returns," Manfred said on Thursday at the quarterly Owners Meetings in Manhattan.
These first changes were modest, common-sense adjustments. Among them: resuming games shortly after commercial breaks between innings and asking hitters to stay in the batter's box after taking a pitch.
Fans may not have even noticed a difference. More change could be coming, including a 20-second pitch clock, which is being used in the Minor Leagues this season.
But progress is progress.
There was an optimism that if batters stayed in the box, pitchers would work more quickly. That, too, has happened, with the average time between pitches dropping from 23 seconds to 21.9.
So what's next?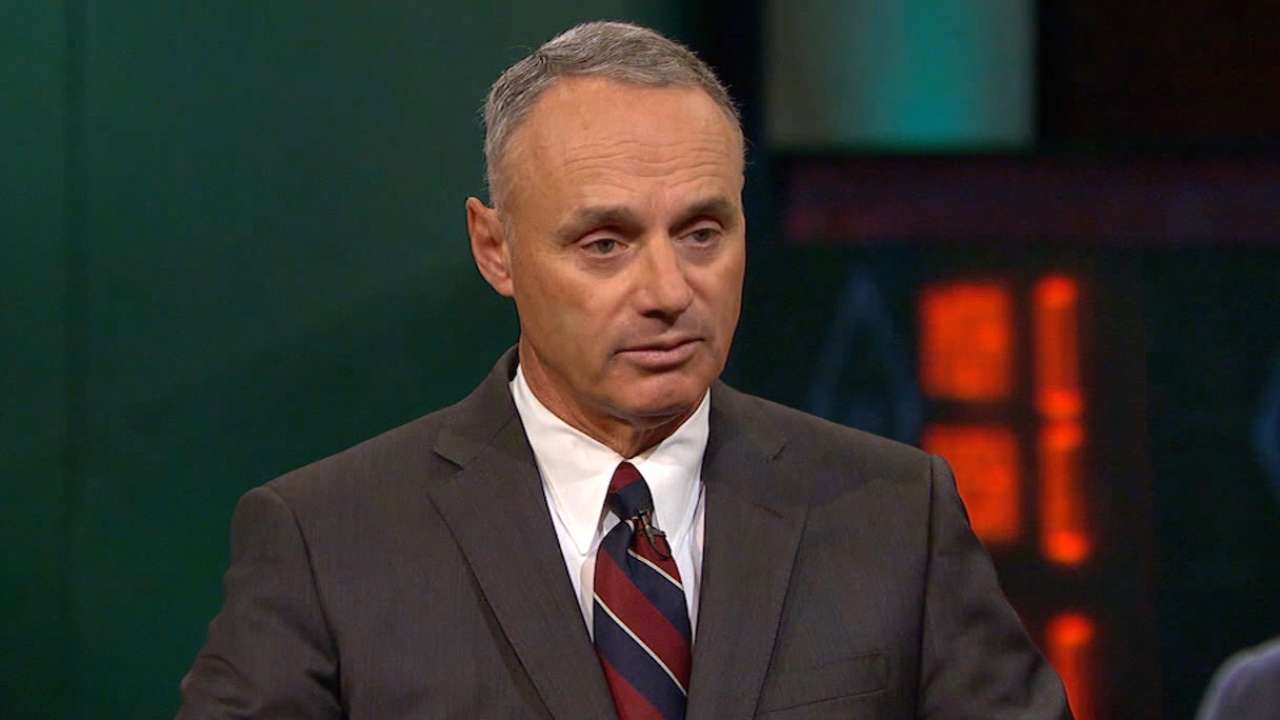 There are actually two efforts going on. One is to speed up games at the Major League level. Asking some of the world's greatest athletes to dramatically change the way they do things was never going to take effect quickly.
Instead, the effort was to work around the edges, to clip a second or two off here, another three or four there. Meanwhile, there's hope that players become accustomed to the 20-second pitch clock at Double-A and Triple-A.
At the moment, Triple-A games are being played at an average of 2 hours, 50 minutes. Players are adjusting, too, with many of them saying the clock hasn't been intrusive.
If players become accustomed to a quicker pace, Major League games could be influenced. Or if a pitch clock is adopted, it won't be nearly as big a change as it would be, say, this season.
Besides that, what's the ultimate goal? Manfred is thrilled to be under 3 hours in his first season as Commissioner and says he doesn't have a target time. He simply wanted to see progress.
Baseball may not return to the 2 1/2-hour games of 1974, but 2:45 certainly seems possible, if not ideal. Beyond a specific number, Manfred wants crisper games.
Game times with the pitch clock averaged 2:39 in the Arizona Fall League last year, and players adjusted to it then, just as they're adjusting to it in the Minor Leagues now.
That's a larger discussion for another day. Players and owners will sit down again after the season and decided on what the next step should be, or if a next step is even needed.
After wrapping up his first Owners Meeting as MLB's 10th Commissioner, Manfred praised everyone involved in the process.
"We think that those early returns are due in no small measure to the level of cooperation we've received from the players and candidly from the good job that our umpires have done in encouraging people without being confrontational," Manfred said.
Manfred praised the MLB Players Association, saying, "I think the player cooperation is due in part to a really good process where we involved [executive director] Tony Clark and the MLBPA from the very beginning. We gave him a really active role, not just in the bargaining with him over the changes, which we did, but actually in the formulation of what those changes were going to be."
When these changes were first adopted back in the offseason, plenty of people wondered if players would be cooperative. Beyond that, would asking them to remain in the batter's box be too much a change in routines for some?
After two months, those worries have mostly gone away. What's left is a plan that's working and a sport that's better off for it.
Richard Justice is a columnist for MLB.com. Read his blog, Justice4U. This story was not subject to the approval of Major League Baseball or its clubs.