Rosario a changed hitter since return to Rockies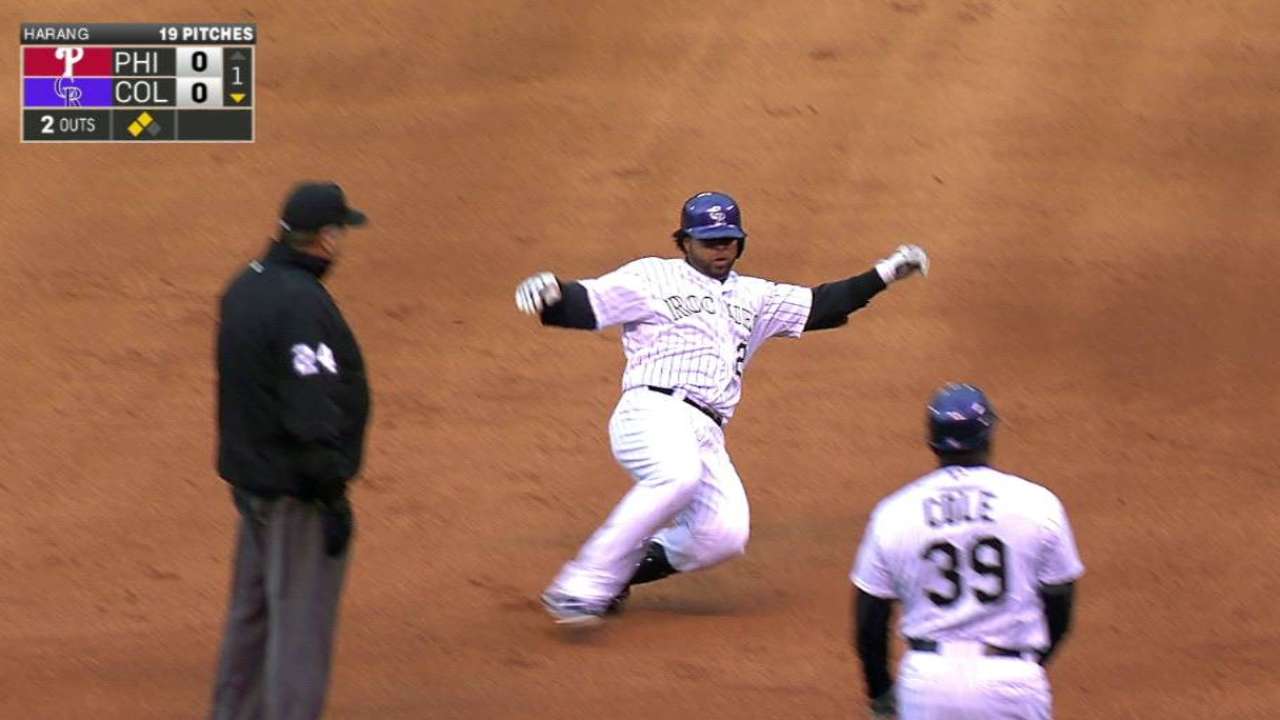 DENVER -- Rockies catcher Wilin Rosario says he doesn't pay attention to his numbers, but that may become harder to do if his current surge keeps going.
After spending a little more than two weeks in Triple-A Albuquerque, Rosario is hitting .293 (12-for-41) and has more than tripled his season hit total since rejoining the Rockies on May 8. Much of that damage has arrived within the last week -- Rosario entered Thursday having produced nine hits in his previous seven games, including four multi-hit affairs.
"I've seen him lay off some tough breaking balls, and I think he's made an adjustment there," Rockies manager Walt Weiss said on Wednesday. "It's a dangerous bat. Any time he gets his swing off, he can do damage. But I feel like his at-bats are more under control right now."
Part of Rosario's recent success simply can be attributed to his name appearing more regularly on the lineup card. With Justin Morneau on the 7-day disabled list because of concussion symptoms, Rosario has started the last 10 games. That's eight more than he had prior to being sent down on April 22.
Unsurprisingly, the demotion left Rosario displeased. But he knew the only ticket back to Colorado was a successful Minor League stint. In 36 Triple-A plate appearances, Rosario batted .343, including nine hits in his final four games.
"I knew if I did well [in Triple-A], I could help my team here," Rosario said. "And that's why I went there and worked. I think it was good what we did there with manager Glenallen Hill and hitting coach Dave Hajek down in Triple-A. Those guys were working good with me every day."
It's unclear, though, whether or not Rosario's ample playing time will continue. Weiss said Morneau won't be immediately activated when he's eligible to come off the DL on Friday, but the Rockies' manager doesn't expect Morneau to need much more time.
Rosario says he's ready either way.
"If you think like that -- maybe I'll play, maybe not -- you're wrong," Rosario said. "My mentality every time I come into the stadium is, 'I'm going to play today and I'm going to do good.' I'm going to be ready for that moment even if I'm not in the lineup.
"One day maybe will be bad, but the next day isn't going to be the same. I've got to do something good. The only goal here is to help the team."
• Weiss didn't officially announce a starter for Game 2 of Saturday's doubleheader against San Francisco, but he did peg long reliever Christian Bergman as "an option."
Bergman hasn't started since April 14. But his last outing was a 5 1/3-inning relief appearance, when he took over for injured starter Jordan Lyles in the second frame.
"Now that I've been relieving, it doesn't take me as long to get ready, so maybe that's one thing I'll change if I'm starting," Bergman said. "I probably won't throw as many pitches in the bullpen, just because I'm kind of used to having to get ready quick."
Dargan Southard is an associate reporter for MLB.com. This story was not subject to the approval of Major League Baseball or its clubs.