Manfred backs hiring of newest managers
Minority candidates remain a priority; Commissioner pleased with pace of play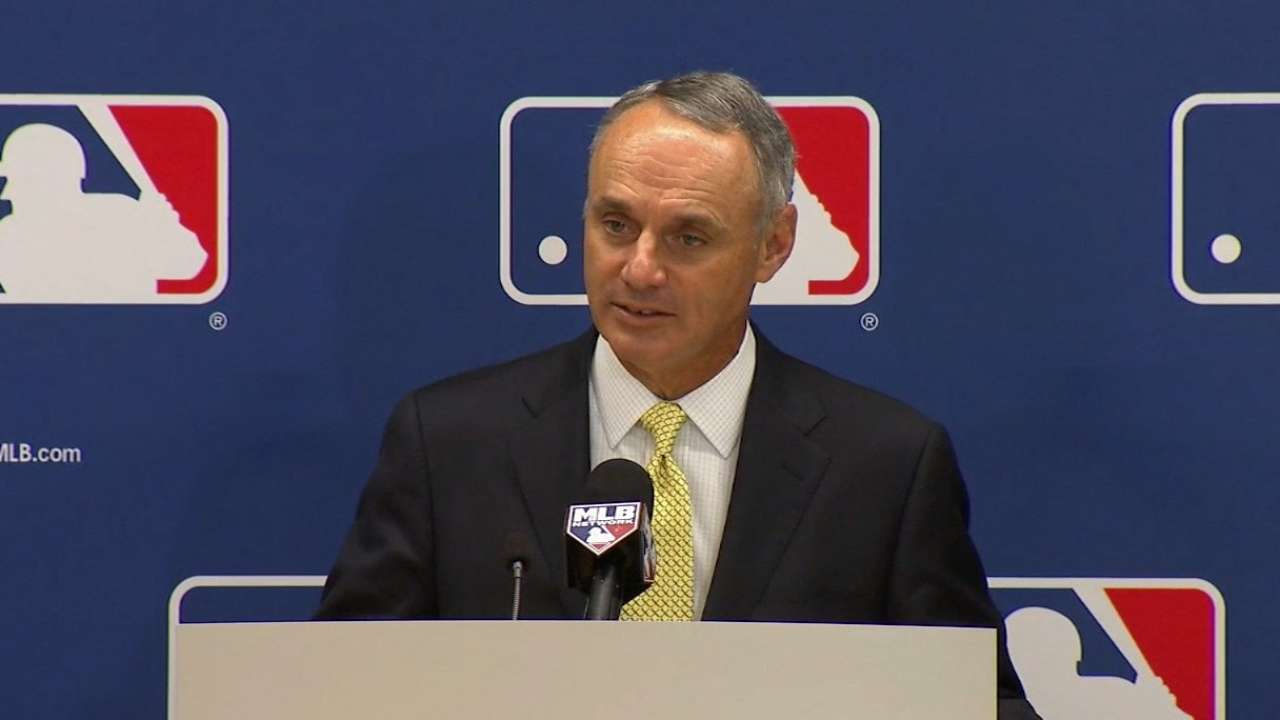 NEW YORK -- Two teams have changed managers this season, and those clubs, the Brewers and Marlins, filled their vacancies without considering a minority candidate. Commissioner Rob Manfred, after presiding over his first Owners Meetings at Major League Baseball's Park Avenue headquarters, reaffirmed the sport's commitment to employing minorities in leadership positions.
Manfred made it clear on Thursday that he strongly supports the "Selig Rule," which requires minorities to be interviewed, adding that he intended clubs to "not only adhere to but scrupulously adhere to" the spirit of the directive.
"We also have some ideas we're working on that go beyond that rule," Manfred said. "And we'll have more to say about that, providing additional support for candidates, in terms of not only getting an interview, but getting a job."
At the same time, Manfred pointed out that common sense has to apply.
"You have to bear a couple of things in mind with respect to the two situations that we had," Manfred said. "No. 1, they were in-season changes. Those are always more difficult because time, obviously, is of the essence.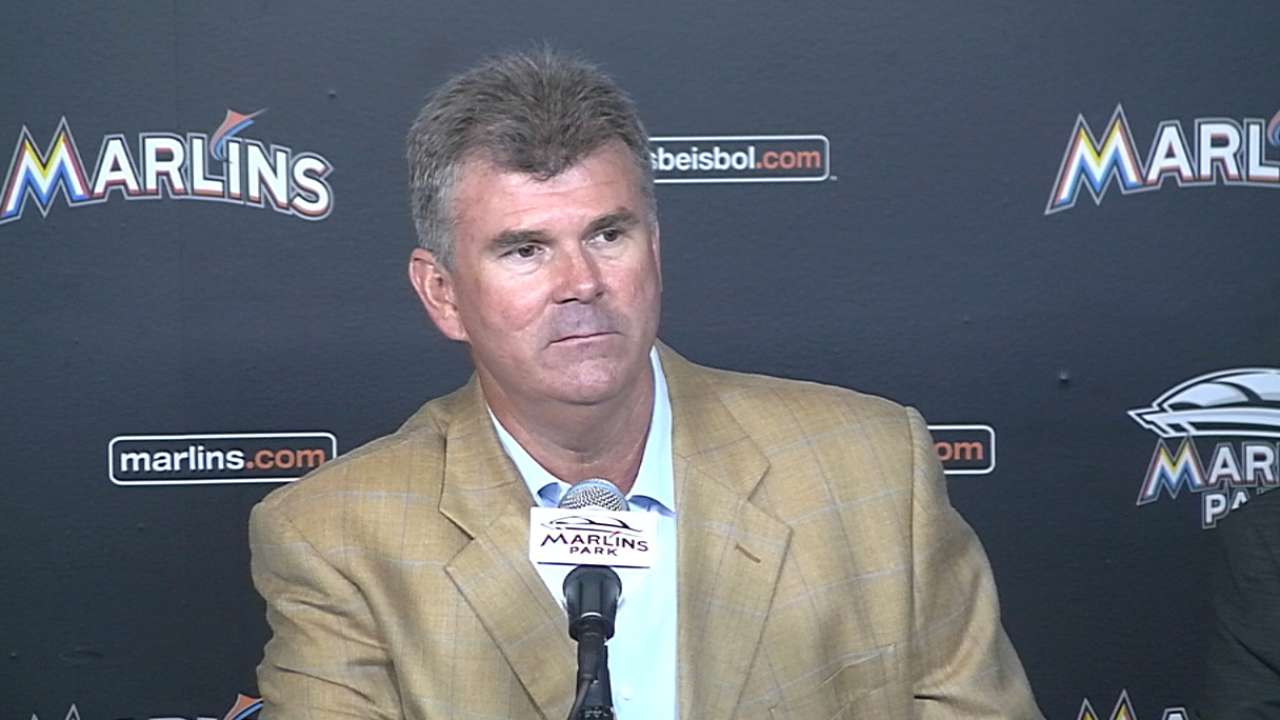 "Point 2, if a club has an internal candidate that they're so sure about that they're willing to forgo the opportunity to interview anyone, forcing people through an interview process really doesn't make a lot of sense. The idea that a club would make a sub-optimal decision with respect to its next manager to avoid an interview requirement makes no sense to me."
Manfred covered a variety of topics during a 15-minute media session after the two-day Meetings ended, including the possibility of reducing the regular season to 154 games, expansion, the possibility of exhibition games in Cuba as early as next spring and Pete Rose.
Manfred couldn't say much about the frequently discussed idea of shortening the regular season, since it's an area that must be collectively bargained with the Major League Baseball Players Association, but he made it clear there are hurdles.
"I'll say this: A 154-game schedule is a huge economic issue, and it will require a lot of analysis before we would be prepared to bargain on it," Manfred said.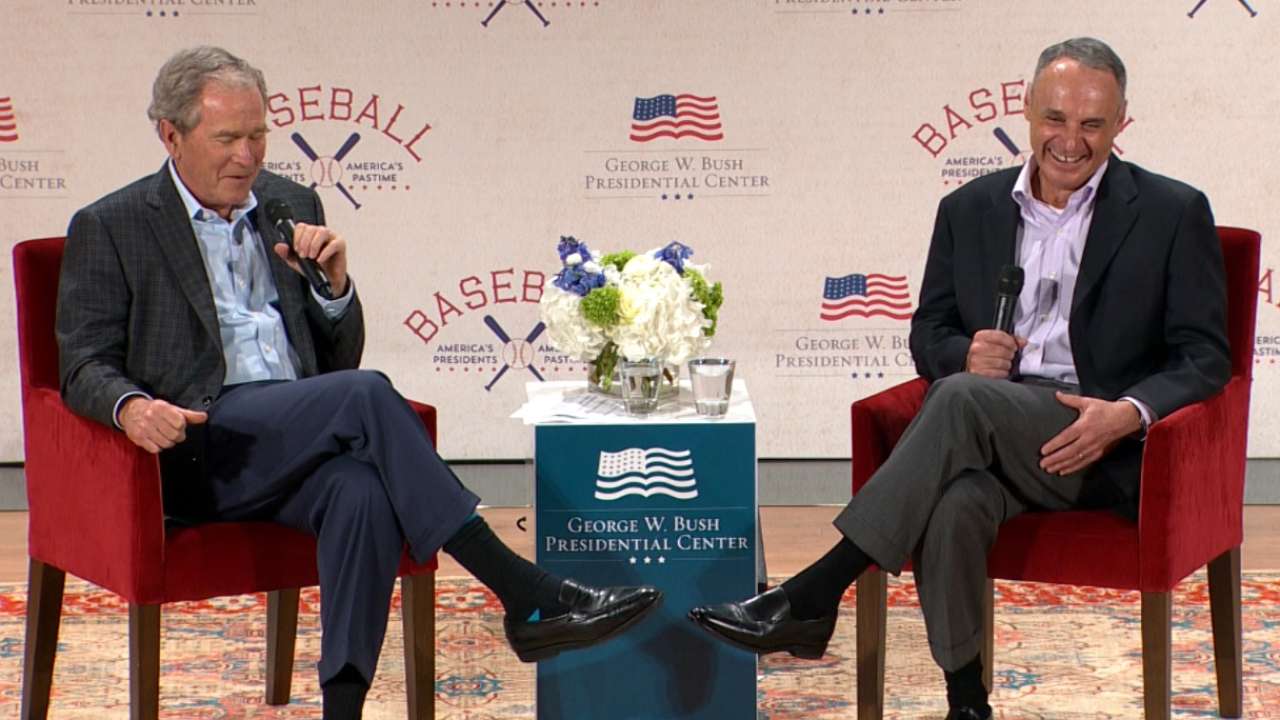 Manfred said that expansion is not being seriously discussed, although he couldn't rule out that such a stance could change over the next five to 10 years, with an eye on Canada and Mexico.
"I have great confidence in the fundamentals of our game and the ability of our game to grow," Manfred said, adding that MLB is doing a "wholesale review" of its international strategy.
Manfred gave no updates on Rose, who has applied for reinstatement from a lifetime ban he received nearly 30 years ago for betting on baseball. MLB continues to discuss the role Rose will have at this year's All-Star Game in Cincinnati.
Manfred is bullish about the chance of playing exhibitions in Cuba in 2016. "I remain optimistic," he said.
Manfred touched other bases as well.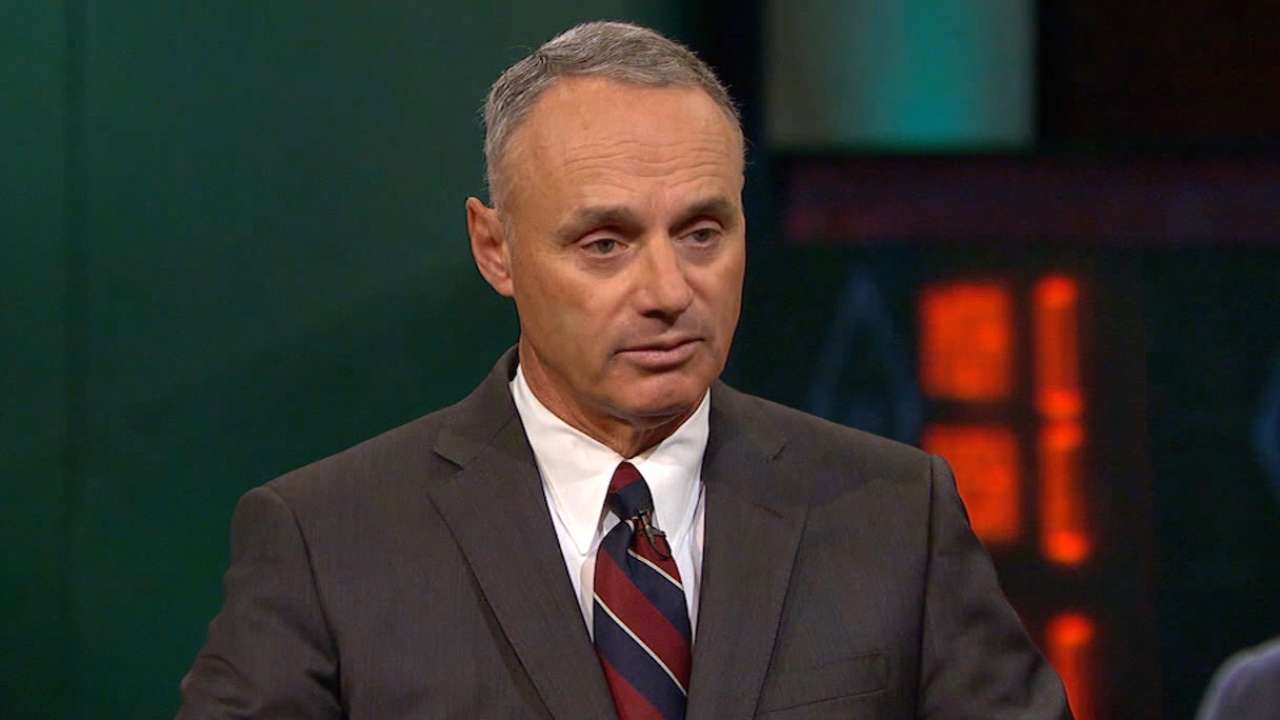 Pace of play:
The average time of a game is down a little more than nine minutes from last season, Manfred said, which is encouraging. As he always does when discussing the issue, the Commissioner praised the cooperation of the players and umpires.
Alex Rodriguez:
"I think Alex has done a great job re-entering in a difficult situation," Manfred said. "Whenever a player is suspended, it's difficult to return to the field, but he's played well and good for him."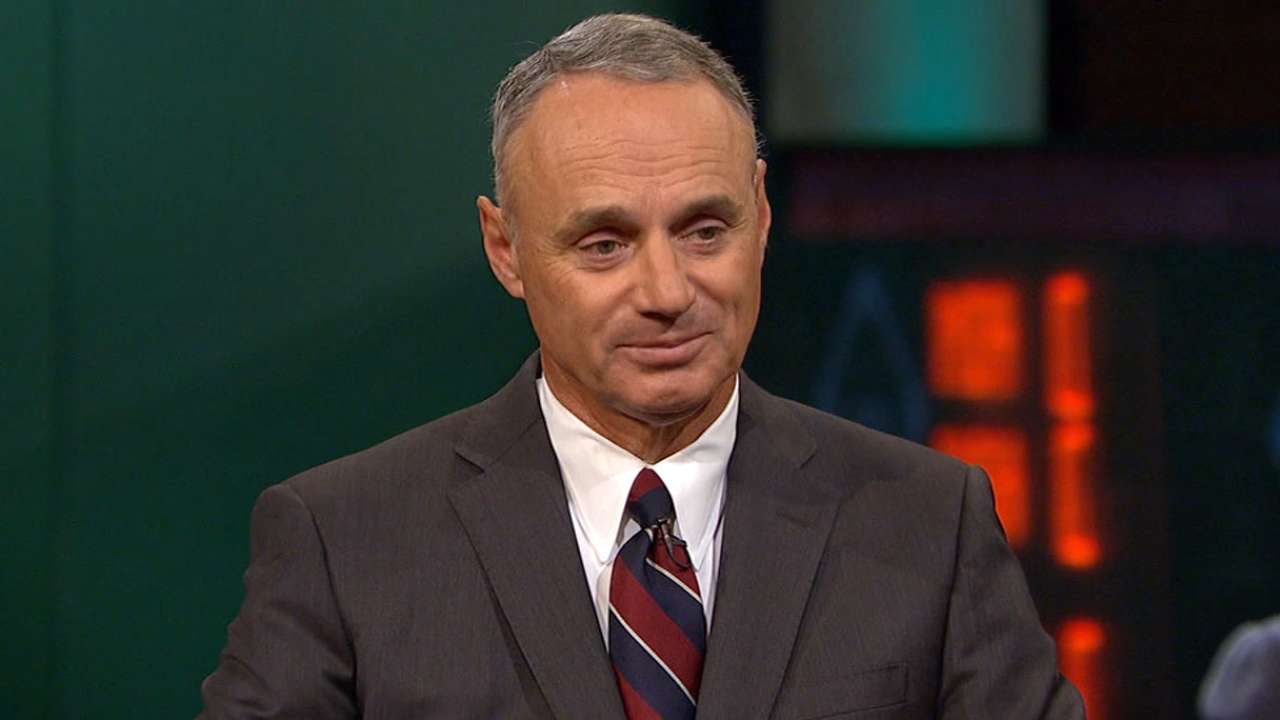 Instant replay review:
The Commissioner foresees only "changes in the margins" moving forward.
Youth initiatives:
Manfred made it clear that he hopes to stimulate the interest in baseball both at home and around the world. "Domestically and internationally, youth is the bedrock of the growth of the game," Manfred said.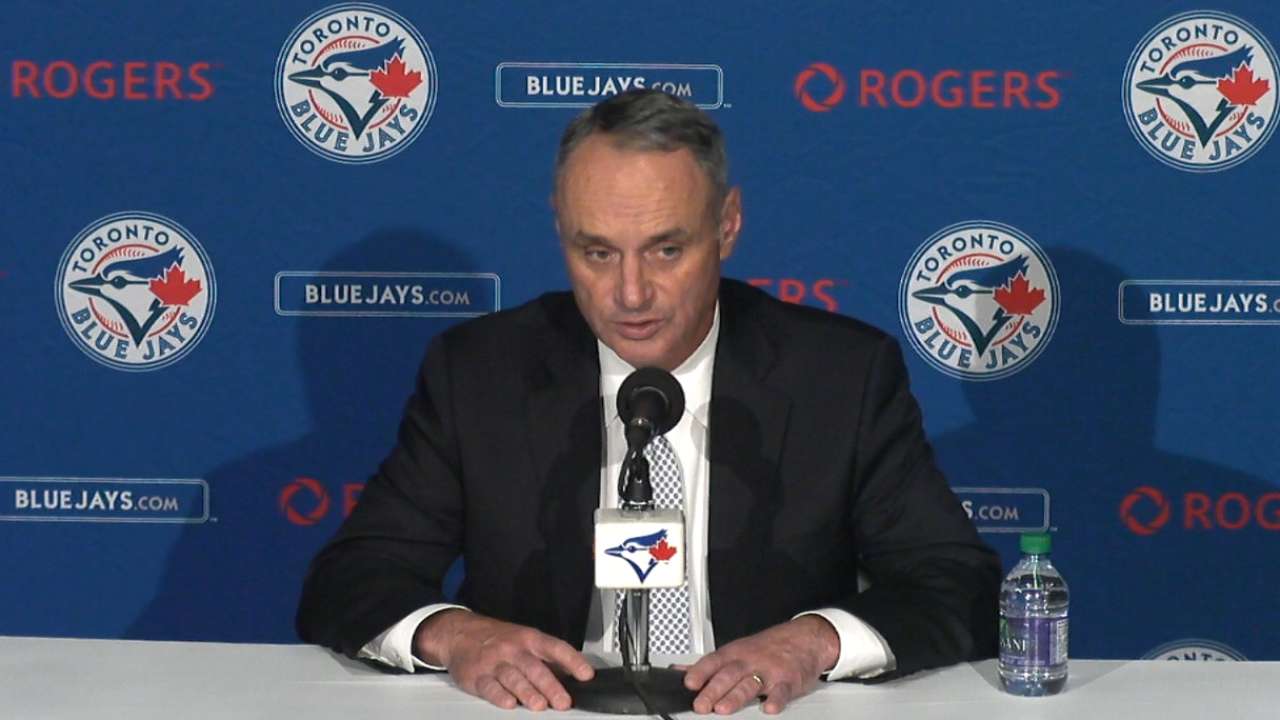 State of offense:
"I think that's an end-of-the-year thing; I think we're looking for another year of data at least," Manfred said of the game's low-scoring trend. "We're obviously watching what's going on, but, realistically, that's an evaluation we'll make at the end of the year."
Orioles-Nationals hearing:
A hearing was held Tuesday on the dispute between the O's and Nationals over dividing the money generated by the Mid-Atlantic Sports Network. "I think the agreement is clear," Manfred said. "I think the RSDC was empowered to set rights fees. That's what they did. I think, sooner or later, MASN is going to be required to pay those rights fees [to the Nationals]."
Paul Hagen is a reporter for MLB.com. This story was not subject to the approval of Major League Baseball or its clubs.