Quicken, Pollock can help you 'Steal A Home'
Fans can win free mortgage payment up to $1,500 after speedster swipes plate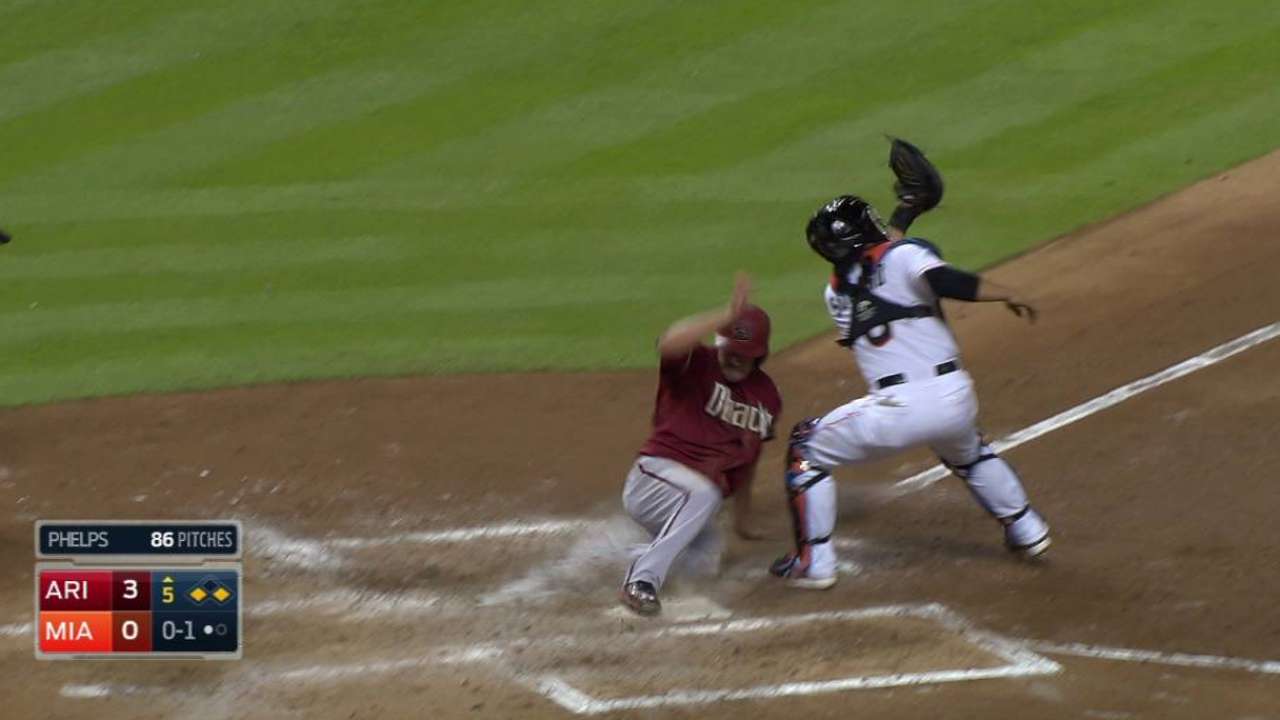 There was big news on the U.S. mortgage lending front in recent hours, as the average rate on a 30-year fixed-rate mortgage ticked down to 3.84 percent and A.J. Pollock stole home.
While real estate buyers and sellers digest the news of Freddie Mac's key figures released on Thursday, the real upside here for Major League Baseball fans is the chance to win a free mortgage payment of up to $1,500 from Quicken Loans thanks to one of those club-record-tying seven stolen bases by the D-backs in their 6-1 victory a night earlier in Miami.
The Quicken Loans "Steal A Home" program was activated when Pollock became the first player this season to steal home, and you can enter by 11 p.m. ET on Friday for the monthly prize. Get used to this opportunity and watch closely, because the entry window will always be 48 hours immediately after any Major Leaguer steals home during this regular season.
"It's a good chance, good try right there," Pollock said.
He was talking about his decision to bolt for home during that game, as teammate David Peralta got into a rundown on a first-and-third situation and Marlins second baseman Dee Gordon tried to throw home but was too late. It was one of three steals by Pollock that night.
But he might as well have been talking about your next move. Whoever wins the monthly mortgage payment also will receive two tickets to see the team of their choice, two MLB jerseys, two MLB.TV subscriptions and a $150 Fathead.com gift card from the MLB.com Shop.
It could get even better. By entering the sweepstakes for this opportunity, you also are eligible for the Quicken Loans "Steal A Home" grand prize drawing after the regular season ends. The winner will receive one year's worth of mortgage payments (up to $12,000) and an all-expense-paid trip to the 111th World Series opener. Fans can enter that sweepstakes anytime before 11:59 p.m. ET on Oct. 4.
Someone definitely was due to steal home when Pollock came across. We're at roughly the one-quarter mark this regular season, and that was the first such accomplishment in 2015. As you can see from the chart on the bottom of the Quicken Loans "Steal A Home" page, the MLB total has declined each year since 2011, from 14 steals of him in '11 to eight in '13. Eight has been the low-water mark three times since 1999, when home was stolen on 21 occasions.
"If it's there, we'll take it," said Pollock, who has nine steals. "We really could be forcing something that's not there. We do a good job; if they give us something, we'll take it. If not, then we'll hold off."
It might be wise to avoid holding off to enter later, given the paltry projected pace of four steals of home for the season. Hall of Famer Ty Cobb is the all-time leader with 54 steals of home, and he set the single-season mark with eight in 1912. Back then, you could buy at least two new Ford Model T cars ($690 each) for less than the cost of the average monthly mortgage payment in some cities in 2015.
Mark Newman is enterprise editor of MLB.com. Read and join other baseball fans on his MLB.com community blog. This story was not subject to the approval of Major League Baseball or its clubs.