MLB.com Columnist
Jim Callis
Two shortstops headline latest mock draft
Vandy's Swanson edges out high school phenom Rodgers as top choice of Arizona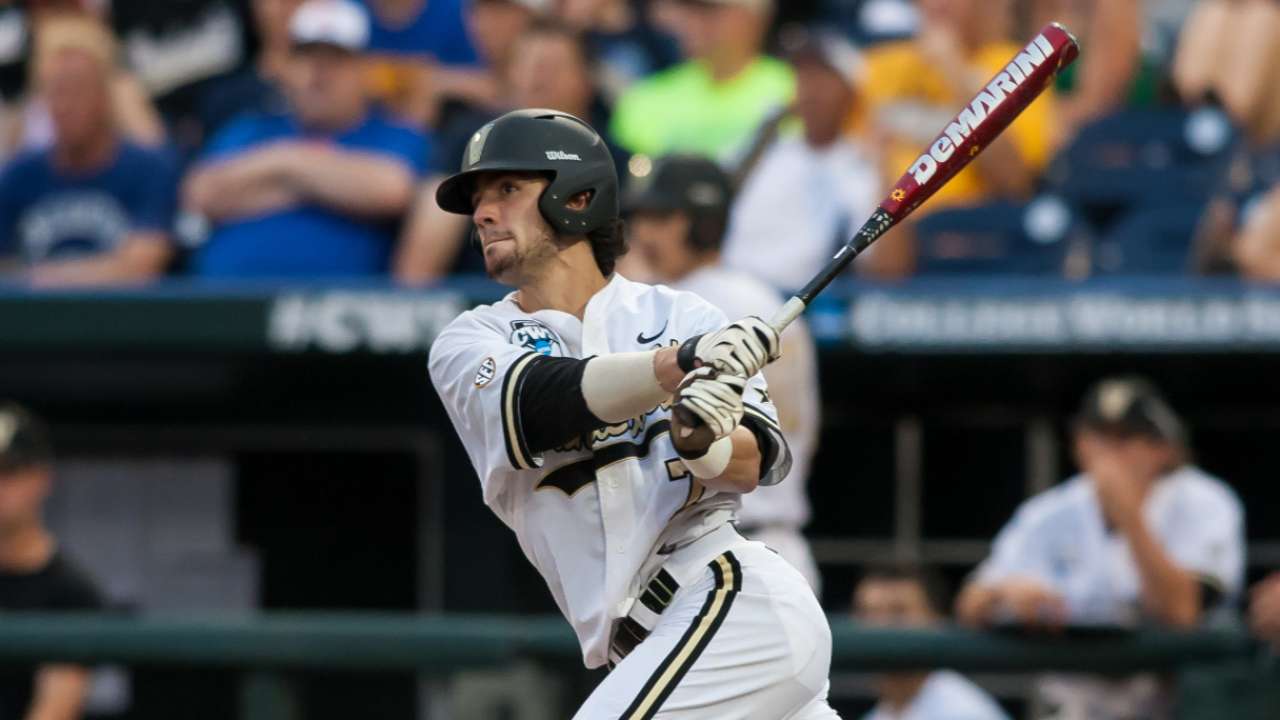 The Southeastern Conference tournament in Hoover, Ala., is the hottest scouting destination this weekend. The two players making the biggest charges into the first 10 picks in the First-Year Player Draft are Vanderbilt right-hander Carson Fulmer and Arkansas outfielder Andrew Benintendi. Fulmer, who will draw a flock of scouts to his start today, is passing UC-Santa Barbara righty Dillon Tate as the best pitcher available.
Also on hand are three other potential top-10 selections in Vanderbilt shortstop Dansby Swanson, Louisiana State shortstop Alex Bregman and a third Commodore, right-hander Walker Buehler. There's a growing sense that Swanson is the preferred choice of the D-backs, Astros and Rockies, who hold the first three picks.
Below are our latest projections for the 26 regular first-round choices, following Jonathan Mayo's projections last week. In our next edition, we'll expand our predictions to cover the 10 free-agent compensation picks at the end of the first round.
The 2015 Draft will take place on June 8-10, beginning with the Draft Preview show on MLB.com and MLB Network on June 8 at 6 p.m. ET. Live Draft coverage from MLB Network's Studio 42 begins at 7 p.m., with the top 75 picks streamed on MLB.com and broadcast on MLB Network. MLB.com's exclusive coverage of the second and third days will begin with a live Draft show at 12:30 p.m. ET on June 9.
1. Arizona Diamondbacks
Dansby Swanson, SS, Vanderbilt
The D-backs have actively scouted mid-first-round talents who would take deep discounts, including Kennesaw Mountain High (Kennesaw, Ga.) catcher Tyler Stephenson and Niskayuna (N.Y.) High outfielder Garrett Whitley, though that might just be some misdirection to try to create extra leverage with the guy they really want. That appears to be a position player rather than a pitcher, and Arizona clearly likes Swanson more than the top-rated prospect, Lake Mary (Fla.) High shortstop Brendan Rodgers.
2. Houston Astros (Compensation for not signing 2014 first-rounder Brady Aiken)
Brendan Rodgers, SS, Lake Mary (Fla.) HS
The two best prospects in this Draft are Rodgers and Swanson, and Houston figures to grab whichever one remains on the board. Scouts are a little less enthused about Rodgers than they were last summer, so it's not a lock that he'll go here. The Astros are hot after Fulmer, so if Swanson goes No. 1 they could take the pitcher first and assume they'll get a shortstop -- Rodgers or Bregman -- three picks later.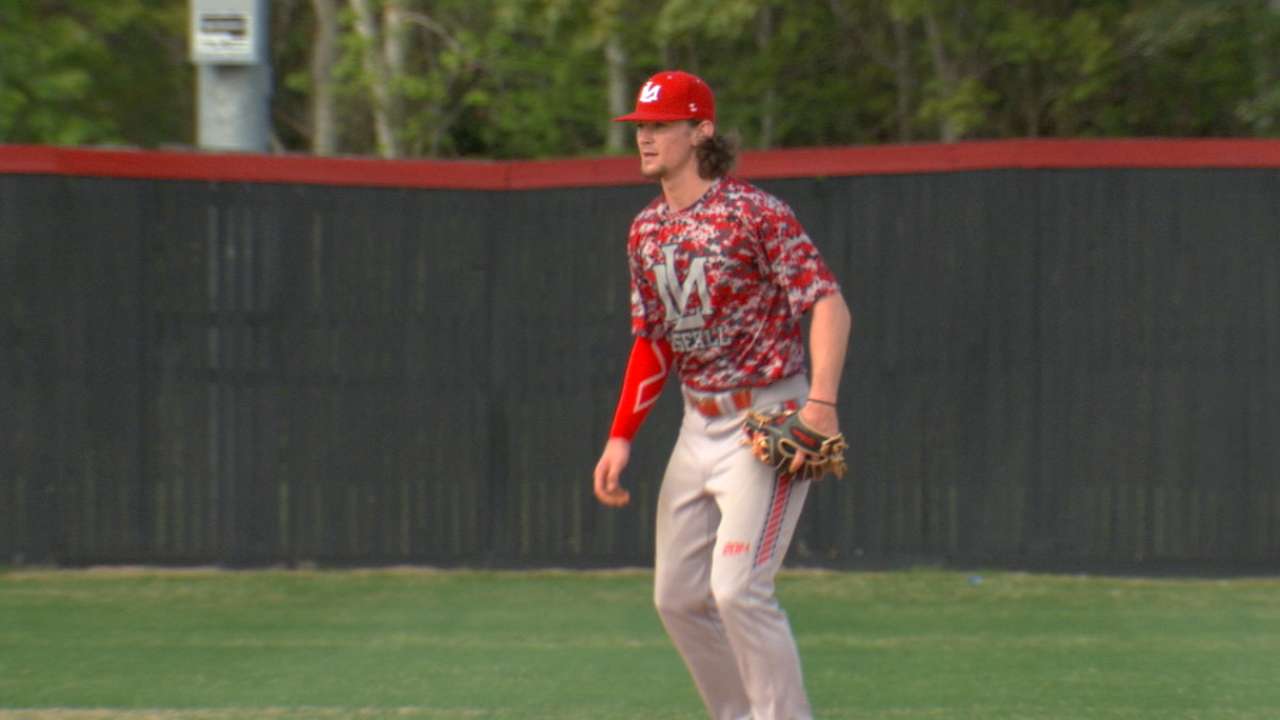 3. Colorado Rockies
Tyler Jay, LHP, Illinois
If Swanson and Rodgers are gone, the Rockies likely will look at pitching. Tate would have been the obvious choice a month ago, but his stuff has faded some down the stretch in his first season as a college starter, which could clear the way for Jay. Colorado also is the first team that would consider taking Benintendi.
4. Texas Rangers
Daz Cameron, OF, Eagle's Landing Christian Academy (McDonough, Ga.)
Assuming the two shortstops are unavailable, the Rangers could turn to high school outfielders over college pitchers. Cameron seems to be in play for every team in the top five, though his reported $5 million price tag could affect where he goes. Texas also likes Plant High (Tampa, Fla.) outfielder Kyle Tucker and could opt for Tate if it wants an arm.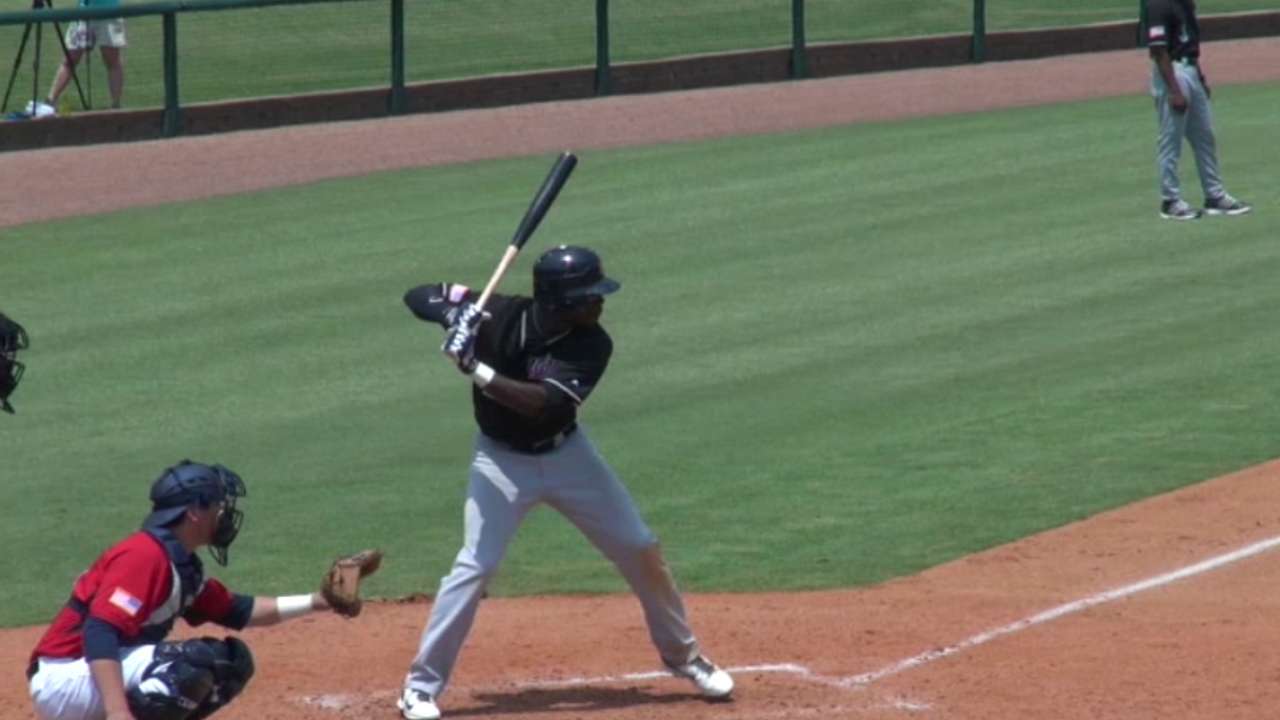 5. Houston Astros
Carson Fulmer, RHP, Vanderbilt
Word was the Astros were going to take two position players with the highest pair of picks in Draft history, but Fulmer is changing that thinking. If they do opt for a second bat, Cameron, Tucker (whose brother Preston is an outfielder on Houston's big league club) and Bregman would be candidates.
6. Minnesota Twins
Dillon Tate, RHP, UC-Santa Barbara
If this scenario plays out, the Twins would choose between Tate and Bregman. Minnesota also likes Tucker and left-handers Jay and Kolby Allard from San Clemente (Calif.) High. Allard was the top-rated prep pitcher until a stress reaction in his back sidelined him in mid-March. He should be able to work out for teams in the next couple of weeks, and his stock could soar again if he looks healthy.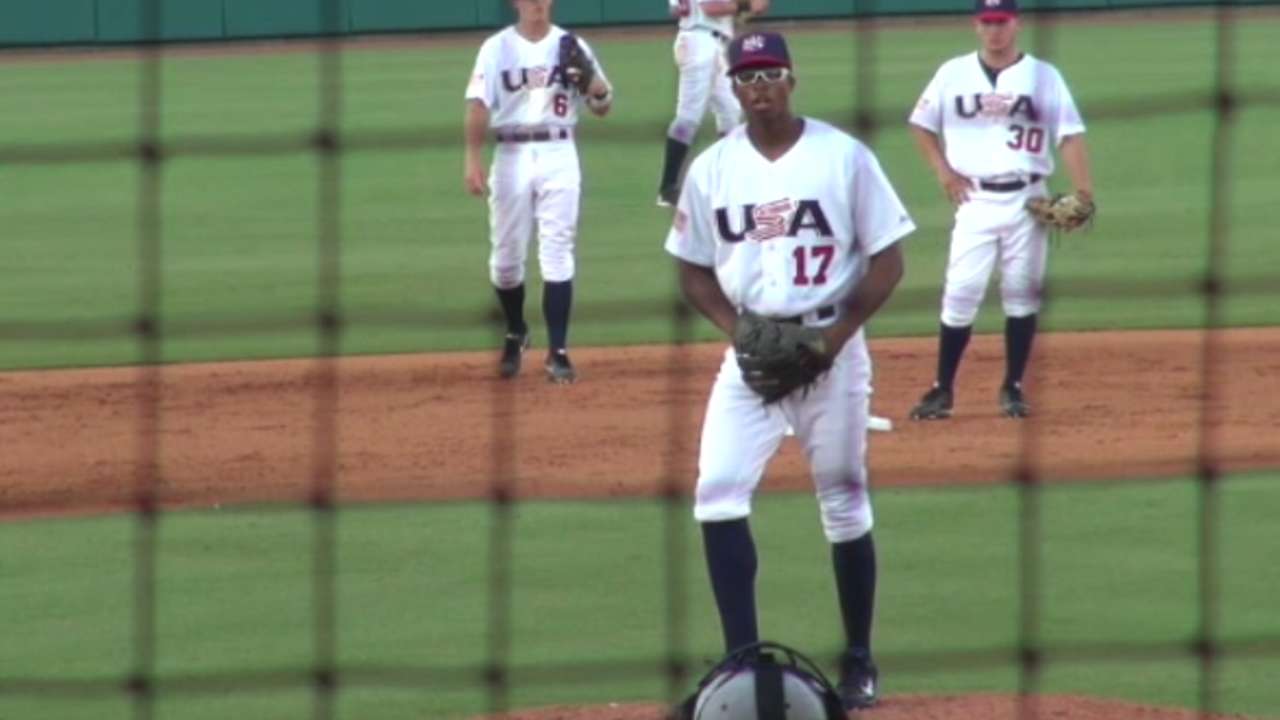 7. Boston Red Sox
Alex Bregman, SS, Louisiana State
Boston's pecking order of players with a realistic chance of getting to this spot is Fulmer, Bregman and Benintendi. They could have had all three if they could have signed Fulmer (15th round) and Bregman (29th) out of high school three years ago.
8. Chicago White Sox
Jon Harris, RHP, Missouri State
Chris Sale (2010) and Carlos Rodon (2014) are the White Sox's two best first-rounders in the past decade, and they're on the hunt for more college pitching. They'll probably opt for Fulmer, Jay, Harris or Buehler, in that order.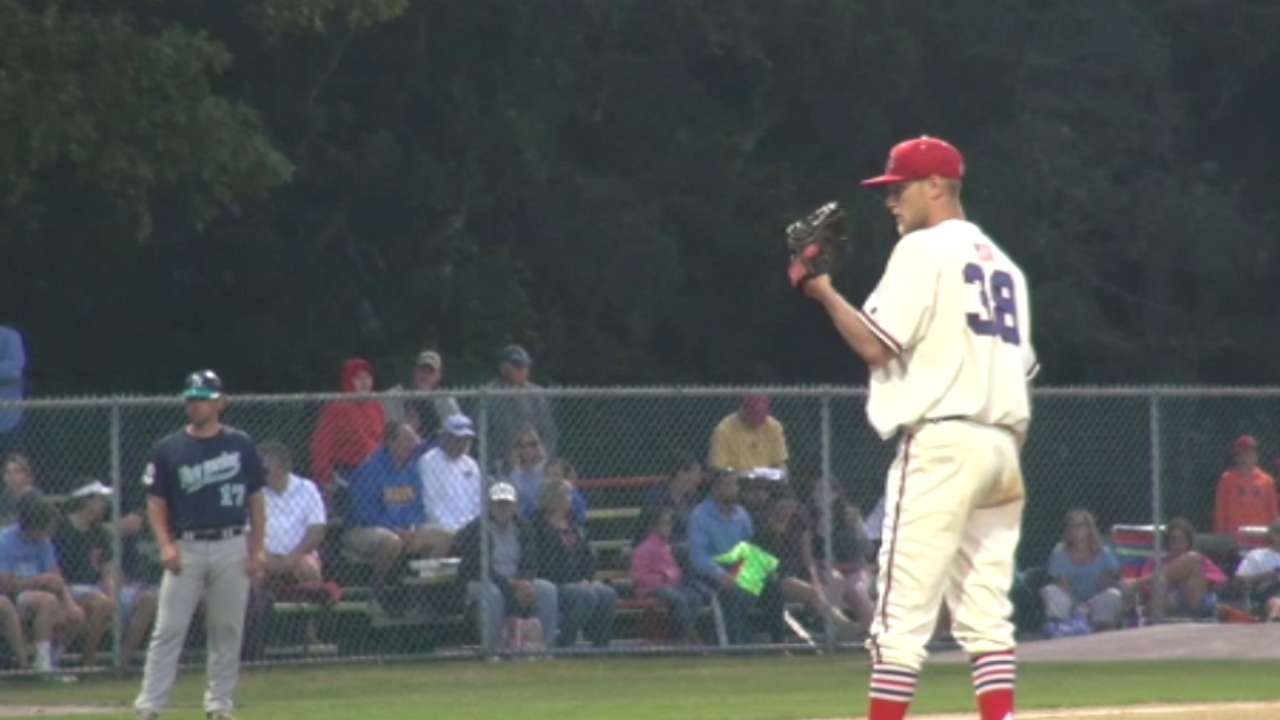 9. Chicago Cubs
Andrew Benintendi, OF, Arkansas
Chicago needs pitching a lot more than it needs hitting and will consider the same arms as its crosstown rival. But the Cubs may not be able to resist Benintendi if he gets past the Red Sox, and they also have spent a lot of time on high school hitters such as Cameron, Tucker, Richland High (North Richland Hills, Texas) outfielder Trenton Clark and Griffin (Ga.) High shortstop Cornelius Randolph.
10. Philadelphia Phillies
Walker Buehler, RHP, Vanderbilt
After years of gambling on toolsy but raw athletes, the Phillies spent their 2014 first-round pick on a college performer, Aaron Nola. They're expected to go the same route again with Jay, Buehler or Benintendi.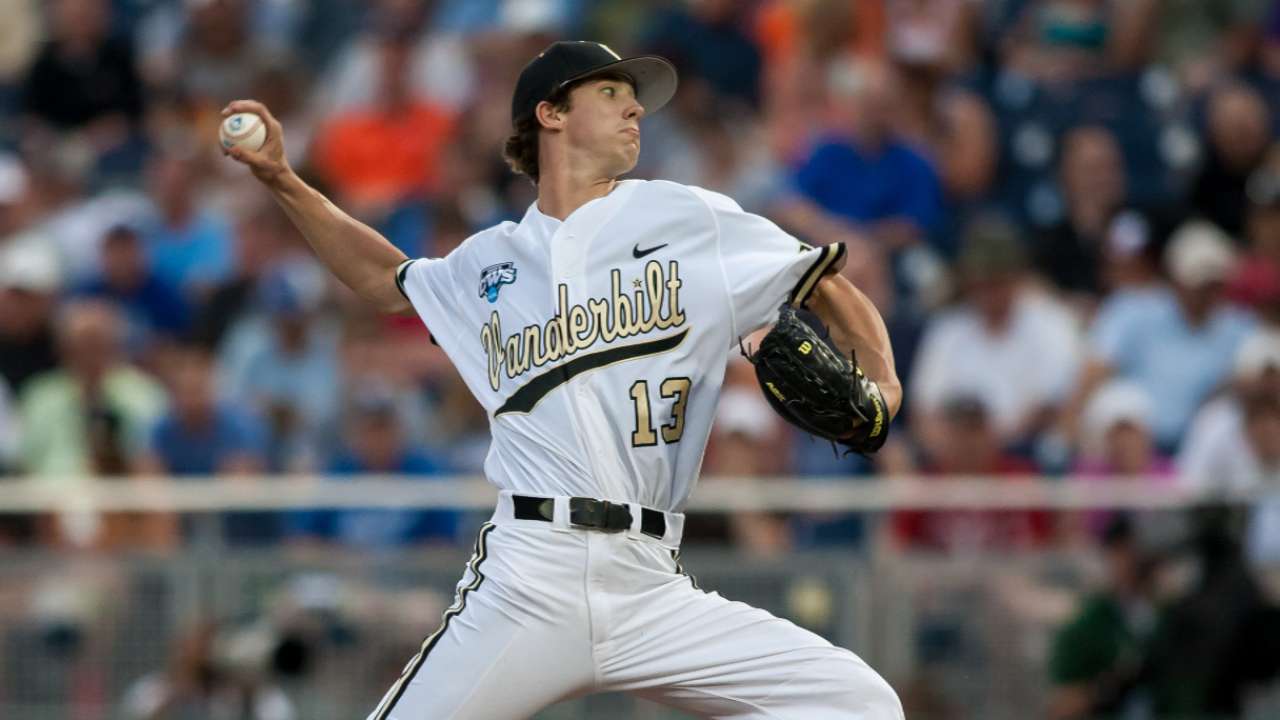 11. Cincinnati Reds
Kyle Tucker, OF, Plant HS (Tampa, Fla.)
The Reds would love a shot at Fulmer or Benintendi, which probably won't come to fruition, but Tucker would bring a nice value, too. Stephenson appears to be Plan B.
12. Miami Marlins
Trenton Clark, OF, Richland HS (North Richland Hills, Texas)
High school outfielders are the primary targets here. Assuming Cameron and Tucker are gone, the Marlins would take Clark over Whitley.
13. Tampa Bay Rays
Kyle Funkhouser, RHP, Louisville
The Rays appear to be zeroing in on college pitchers and could wind up with Funkhouser, a possible top-five selection until he began slumping a month ago. His slide could extend further if Harris or Buehler is still available.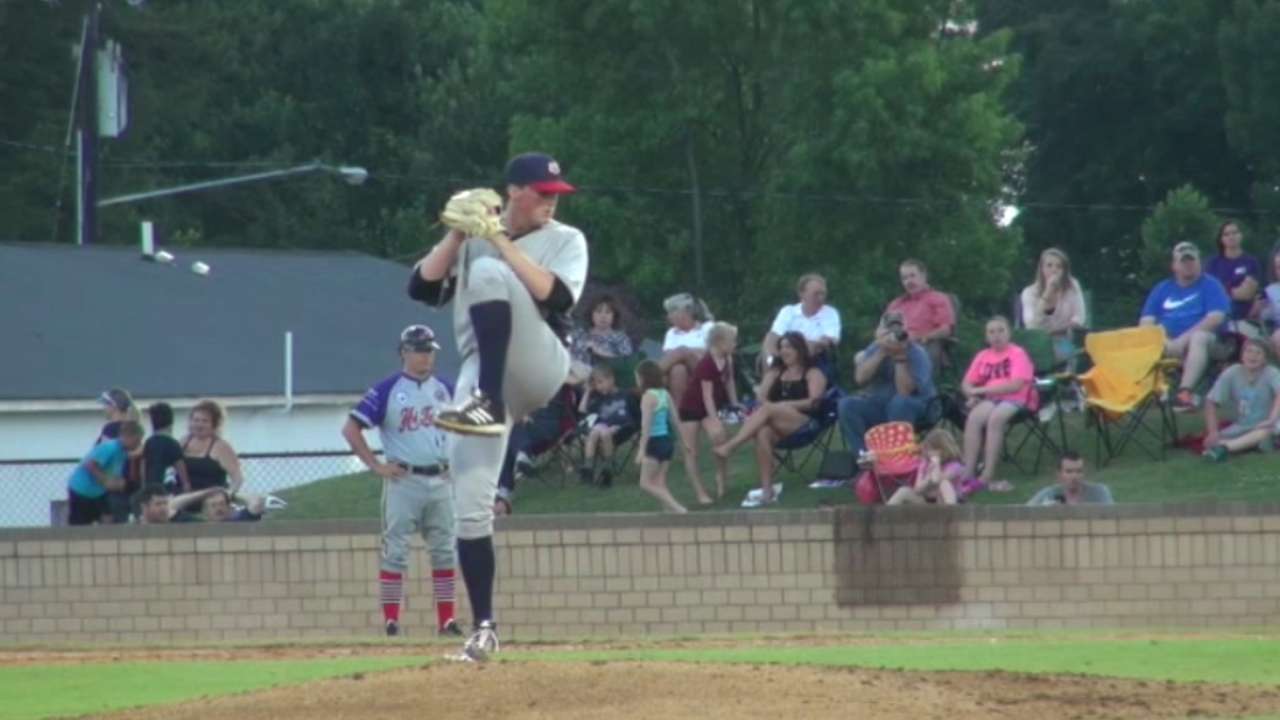 14. Atlanta Braves
Tyler Stephenson, C, Kennesaw Mountain HS (Kennesaw, Ga.)
Barring someone surprising falling here, the Braves want Stephenson. If he's gone, they could grab another in-state product in Randolph or become the first team to take a prep pitcher -- Cathedral High (Indianapolis) right-hander Ashe Russell or Stroudsburg (Pa.) High righty Mike Nikorak.
15. Milwaukee Brewers
Kolby Allard, LHP, San Clemente (Calif.) HS
The Brewers would like a college arm yet might miss out on Harris, Buehler and Funkhouser. If Allard is healthy, he'll move very fast for a high schooler. Russell or Nikorak could fit here, too.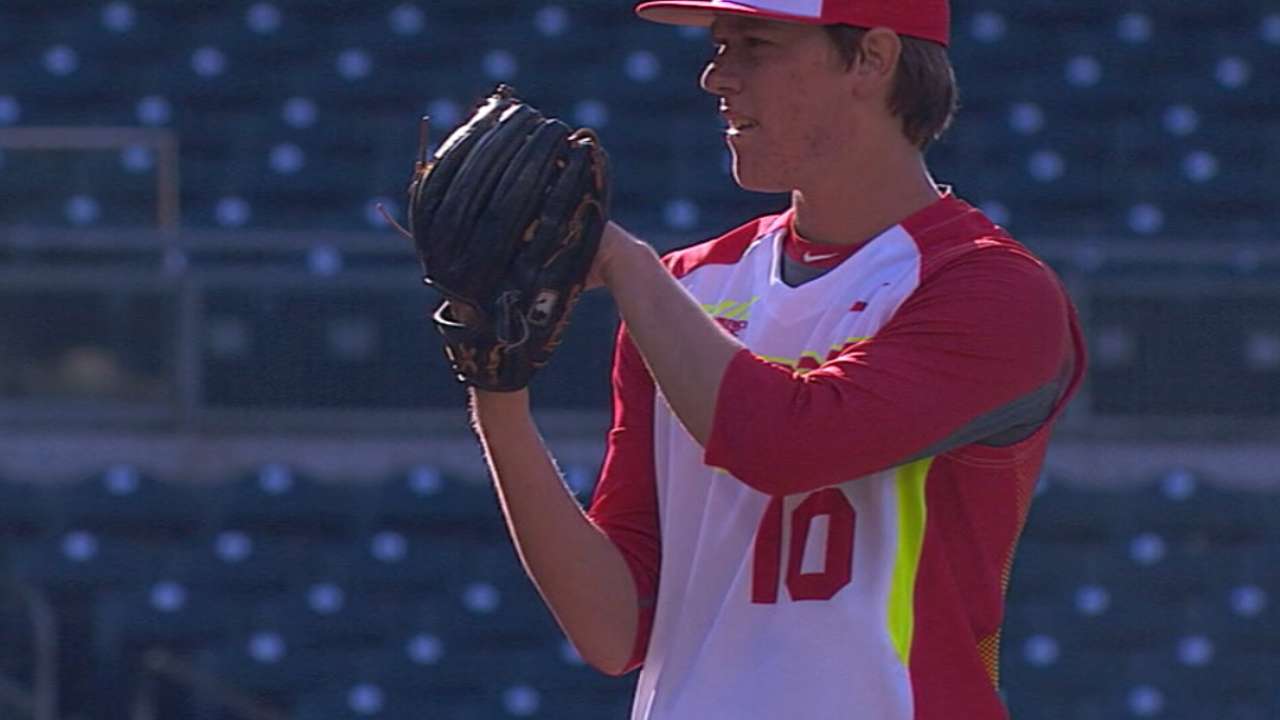 16. New York Yankees
James Kaprielian, RHP, UCLA
The Yankees are looking for college pitchers as well, and the polished Kaprielian would be the best definite starter remaining. College of Southern Nevada right-hander Phil Bickford, the No. 10 overall choice in 2013, is another option. Hitters under consideration include Whitley, Cincinnati outfielder Ian Happ and Wilson High (Long Beach, Calif.) catcher Chris Betts.
17. Cleveland Indians
Garrett Whitley, OF, Niskayuna (N.Y.) HS
Add the Indians to the list of clubs in the middle of the first round that are on the prowl for college arms and hoping Funkhouser falls to them after that seemed impossible a month ago. Instead, Cleveland probably will have to choose between outfielders Whitley and Happ and high school pitchers Allard, Russell and Nikorak.
18. San Francisco Giants
Ashe Russell, RHP, Cathedral HS (Indianapolis)
A lot of teams won't draft high school pitchers in the first round, but the Giants have hit on Matt Cain, Madison Bumgarner and Zack Wheeler. They might have their pick of Allard, Russell, Nikorak or Clarksville (Tenn.) right-hander Donny Everett, who has some helium.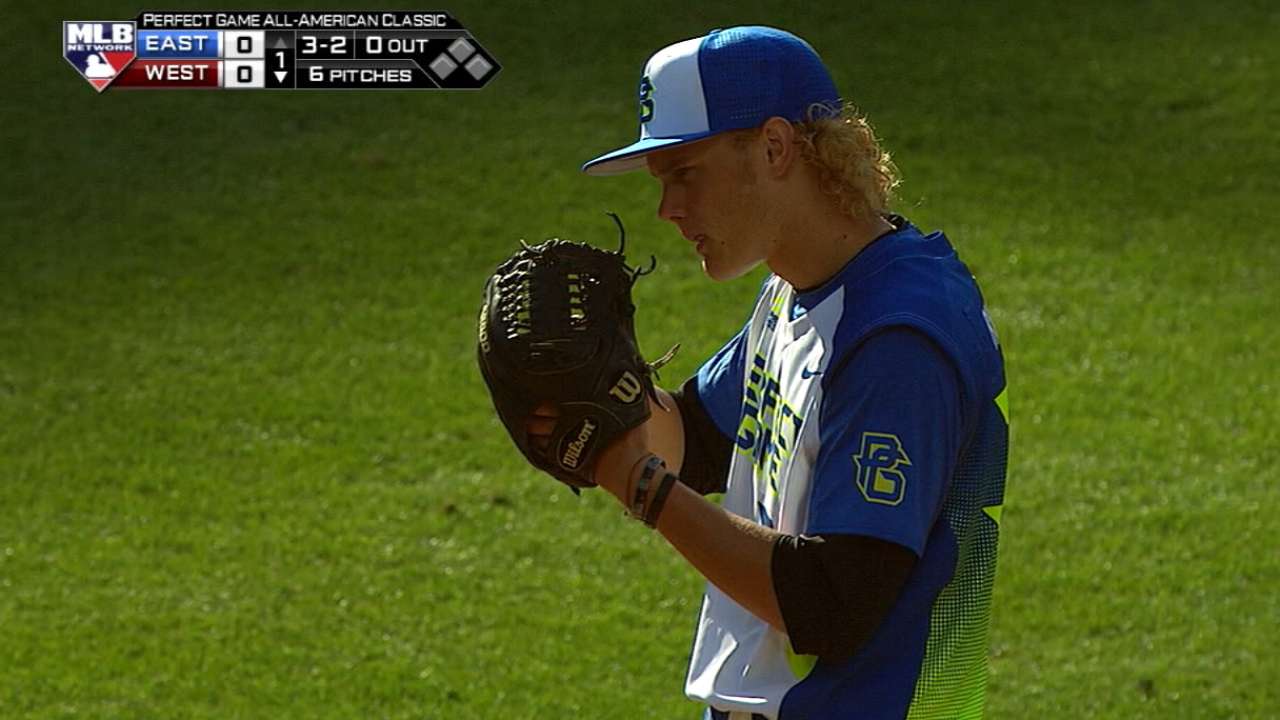 19. Pittsburgh Pirates
Mike Nikorak, RHP, Stroudsburg (Pa.) HS
Nikorak has looked like the best high school pitcher at times, and a month ago he had realistic top-10 aspirations. He'd be a nice fit for his home-state Pirates, who love athletic prep pitchers and do a good job of developing them.
20. Oakland Athletics
Donnie Dewees, OF, North Florida
The A's were on Benintendi early but now have no chance at him. They'll sift through some other hitters, such as Dewees, Randolph and Happ.
21. Kansas City Royals
Cornelius Randolph, SS, Griffin (Ga.) HS
Though the industry generally believes Randolph won't get past the Royals, they're also bullish on the top tier of high school arms. Kansas City also strongly considered taking Bickford at No. 8 two years ago, so he could be in their mix again.
22. Detroit Tigers
Donny Everett, RHP, Clarksville (Tenn.) HS
It's no secret that the Tigers have an affinity for flamethrowers, and Everett has one of the best fastballs in the Draft. Bickford, Weatherford (Texas) High right-hander Beau Burrows and Cal Poly Pomona righty Cody Ponce can light up radar guns as well.
23. St. Louis Cardinals
Ian Happ, OF, Cincinnati
The Cardinals have been associated with the best college position players left on the board. Happ has a proven track record of production, as does Arizona shortstop Kevin Newman. Florida shortstop Richie Martin can't match their offensive potential but is a superior defender.
24. Los Angeles Dodgers
Brady Aiken, LHP, IMG Academy (Bradenton, Fla.) post-graduate program
The No. 1 overall pick in 2014, Aiken saw his $6.5 million deal with the Astros fall apart when a post-Draft physical revealed concerns about his elbow. He got hurt in his first start this spring and had Tommy John surgery. A healthy Aiken would easily be the first choice again in 2015, and Los Angeles can afford to bet on him making a full recovery. The Dodgers are going to spend wildly to rake in a lot of talent on the international market this summer, so they have less riding on their first-round pick than most clubs. They also know him better than most clubs because vice president of amateur and international scouting David Finley's son Drew pitched with Aiken in summer ball. (Disclaimer: Figuring out who will draft injured players such as Allard, Aiken, Virginia left-hander Nathan Kirby and Duke righty Michael Matuella is pure guesswork because the clubs that do never tip their hand.)
25. Baltimore Orioles
Kevin Newman, SS, Arizona
The Orioles might be leaning toward a college position player. That pool of candidates could include Happ, Newman, Martin, Dewees and Florida State outfielder D.J. Stewart.
26. Los Angeles Angels
Phil Bickford, RHP, College of Southern Nevada
There's more buzz about the Angels taking a pitcher than a hitter. Bickford or one of the top high school arms should get to them. This also could be the high-water mark for Arizona second baseman Scott Kingery and Louisiana-Lafayette shortstop Blake Trahan.
Jim Callis is a reporter for MLB.com and writes a blog, Callis' Corner. Follow @jimcallisMLB on Twitter. This story was not subject to the approval of Major League Baseball or its clubs.