Credit Wada with a fine start to his season
Lefty fans 9, finds credit card on walk to dugout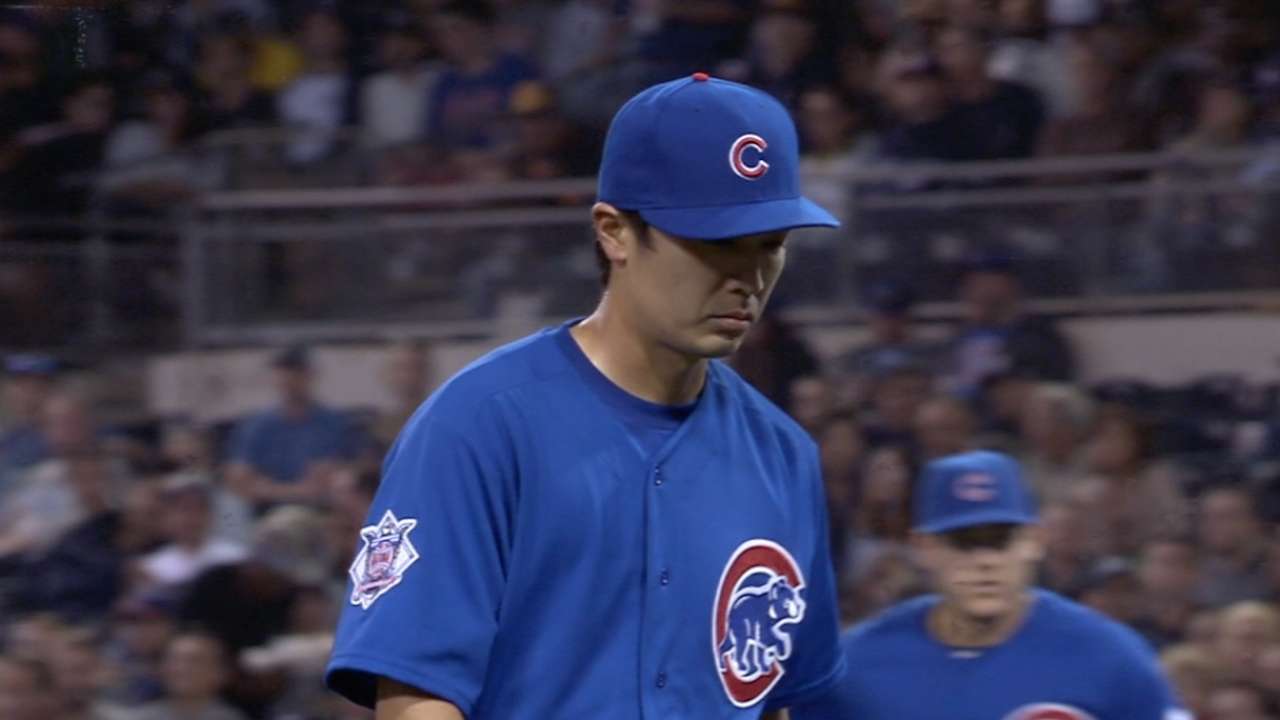 SAN DIEGO -- As Tsuyoshi Wada walked off the mound after the third inning, he stopped to pick up a credit card that was on the grass in foul territory. The left-hander didn't recognize the name on it and gave it to a security guard.
Cubs manager Joe Maddon didn't see what happened.
"I'll check my wallet," Maddon said. "He's going to go out and have a good time tonight."
Wada has reason to celebrate. Making his first start of the season Wednesday, he struck out a career-high nine batters over 4 2/3 innings in the Cubs' 3-2 win over the Padres.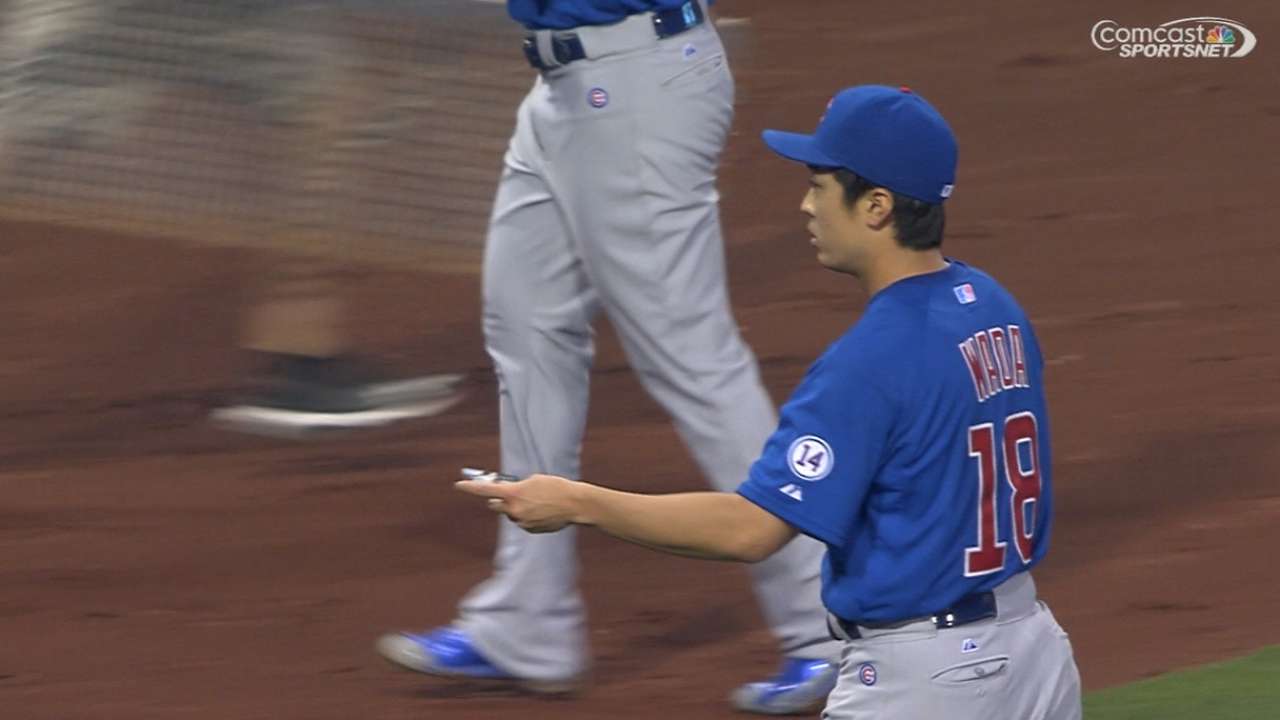 The lefty fanned the first four batters he faced, and, according to STATS Inc., is the first Cubs pitcher to fan the first four in his first start of the season since Frank Castillo did so April 10, 1992, against the Cardinals. Wada is the first starting pitcher in the Major Leagues to do so to start the season since the Pirates' Brandon Cumpton struck out the first four he faced June 15, 2013.
"Early on, the fastball had a little giddy-up to it," said Cubs catcher Miguel Montero, who was catching Wada for the first time. "He kept the ball down. When he elevated, he was effective."
But the Cubs also knew Wada's history. The Padres had two on and two outs in the fifth when Maddon opted to pull his starter. Why? Part of the reason was that Derek Norris was due up, and he was batting .433 against left-handed pitchers this season.
Last season, batters hit .204 against Wada the first time through the lineup, .255 the second time, and .360 the third time. When Abraham Amonte flied out to center, that was enough for Maddon. Wada was done after 69 pitches.
"He'd done his job," Maddon said. "I'm more about the Cubs winning as opposed to any particular pitcher winning. You can let him go for one more third of an inning, maybe it works, maybe it doesn't. I thought it was a great game for him to build off of."
Maddon called on right-hander Justin Grimm, who walked Norris, and then struck out Matt Kemp to end the threat.
Wada also had run from first to third in the Cubs half of the fifth to score on Dexter Fowler's triple. The last time he did that? Wada says it's been nine to 10 years. This spring, he was sidelined because of a left groin strain, so his running was limited.
"I wasn't tired or anything like that," Wada said about pitching in the Padres fifth. "The coaches and manager were watching closely, and I think it was the right decision."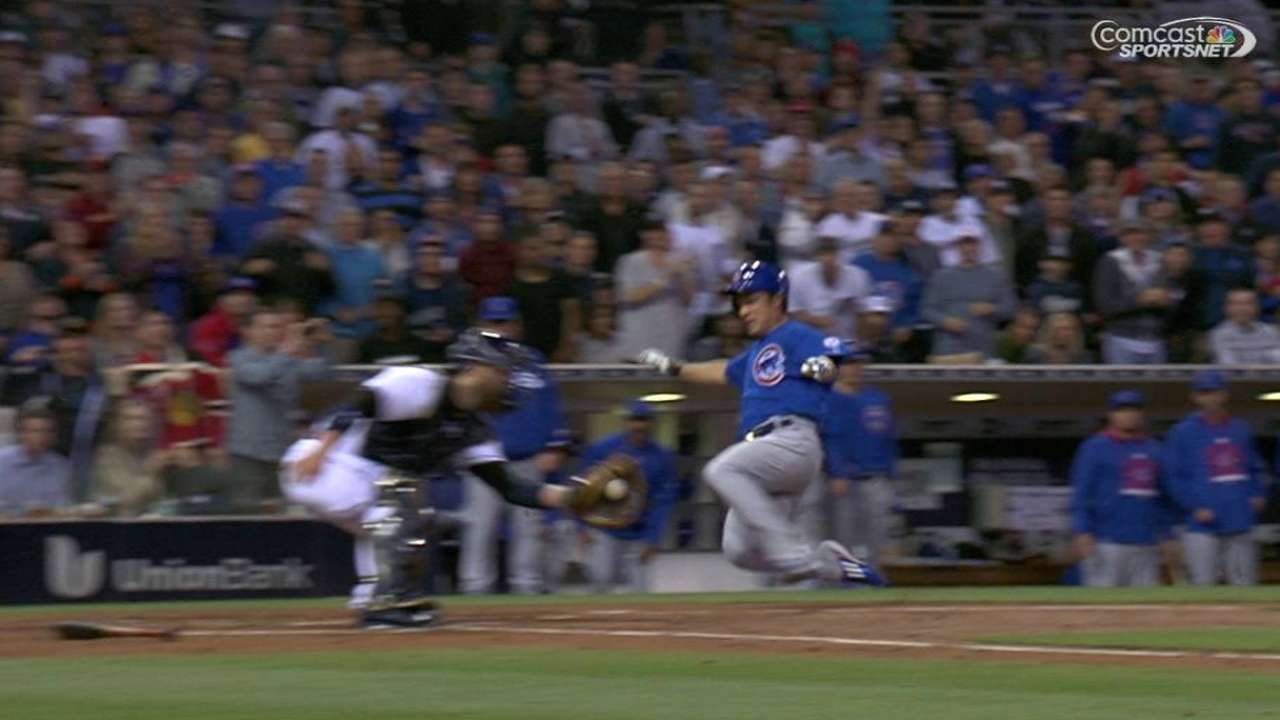 Was he surprised? Yes, Wada said.
"Hopefully, the next time, they will let me pitch," he said. "I'll have to earn that respect."
He also didn't expect third base coach Gary Jones to send him home.
"I was surprised to look at 'Jonesy,' and he was waving his hands, and I'm thinking, 'I have to go,'" Wada said.
Five of Wada's first seven strikeouts were called.
"I don't think many people know him," Montero said. "It's a little hard when you're facing a guy you've never seen. You don't know what to expect."
At least we know he's honest, having returned the card. Otherwise, Wada could've used it to pay for the post game spread.
Carrie Muskat is a reporter for MLB.com. She writes a blog, Muskat Ramblings. You can follow her on Twitter @CarrieMuskat and listen to her podcast. This story was not subject to the approval of Major League Baseball or its clubs.