Angels continue to ride nail-biters to victory
Team notches 13th win by two runs or less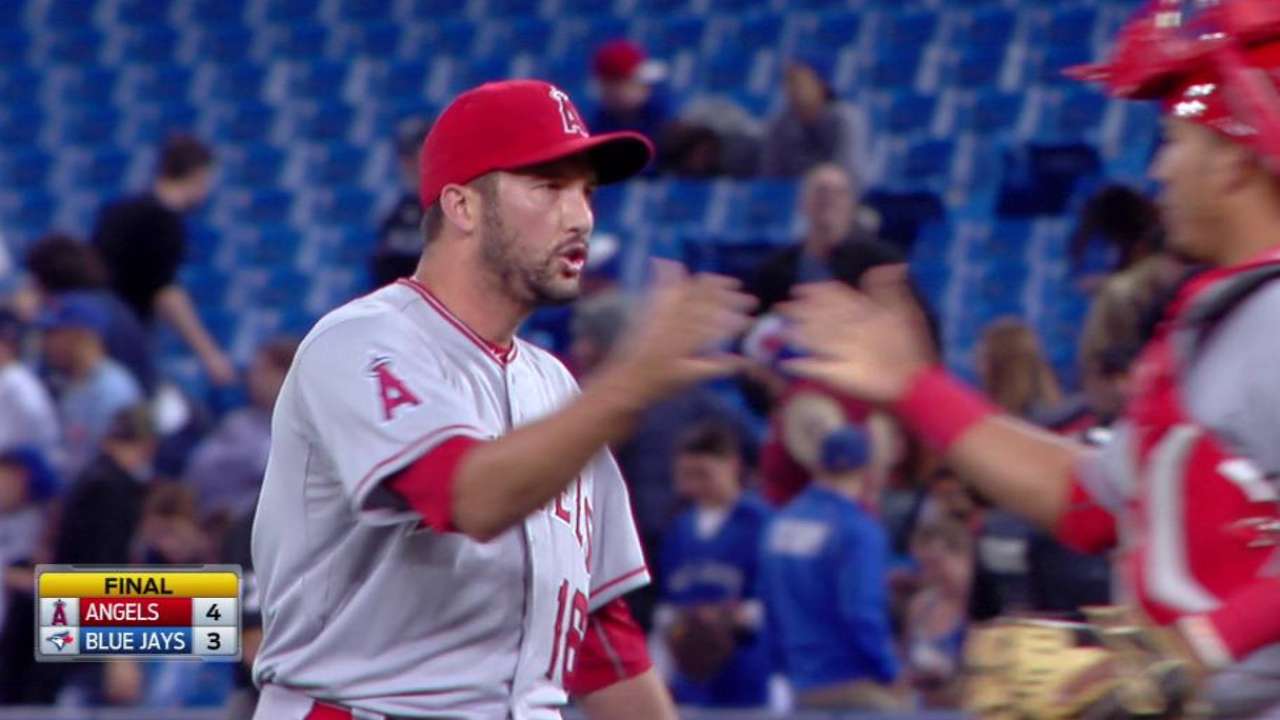 TORONTO -- The Angels have now won 21 games, and 14 of them -- or two-thirds -- have finished with Huston Street recording a save. They're only one game off their pace from 2014, which finished with a Major League-leading 98 wins. But through 40 games last season, the Angels' run-differential was an impressive plus-32. This year, they've combined to outscore their opponents by only three runs.
The reason is simple: They're pitching well, but not hitting much.
"You have to give it up to the pitching staff -- they've been keeping us in ballgames," Mike Trout said after Wednesday's 4-3 victory, which marked the 13th time the Angels had won a game by two runs or less.
"Better to win them than lose them," Angels manager Mike Scioscia said of all the close games, "but we're playing an incredible amount of one- and two-run games and holding our own."
Jered Weaver's performance on Wednesday night -- three runs, four hits, three walks and four strikeouts in seven innings -- marked the sixth time in the last eight games that an Angels starter had gone at least seven innings while giving up three runs or less. The Angels' rotation leads the American League with a 3.53 ERA, while Joe Smith and Street -- a combined 10 earned runs in 36 1/3 innings -- continue to lock down the eighth and ninth innings.
"It's good to see," Weaver said. "We just have to keep going out there and battling, try to put up zeros."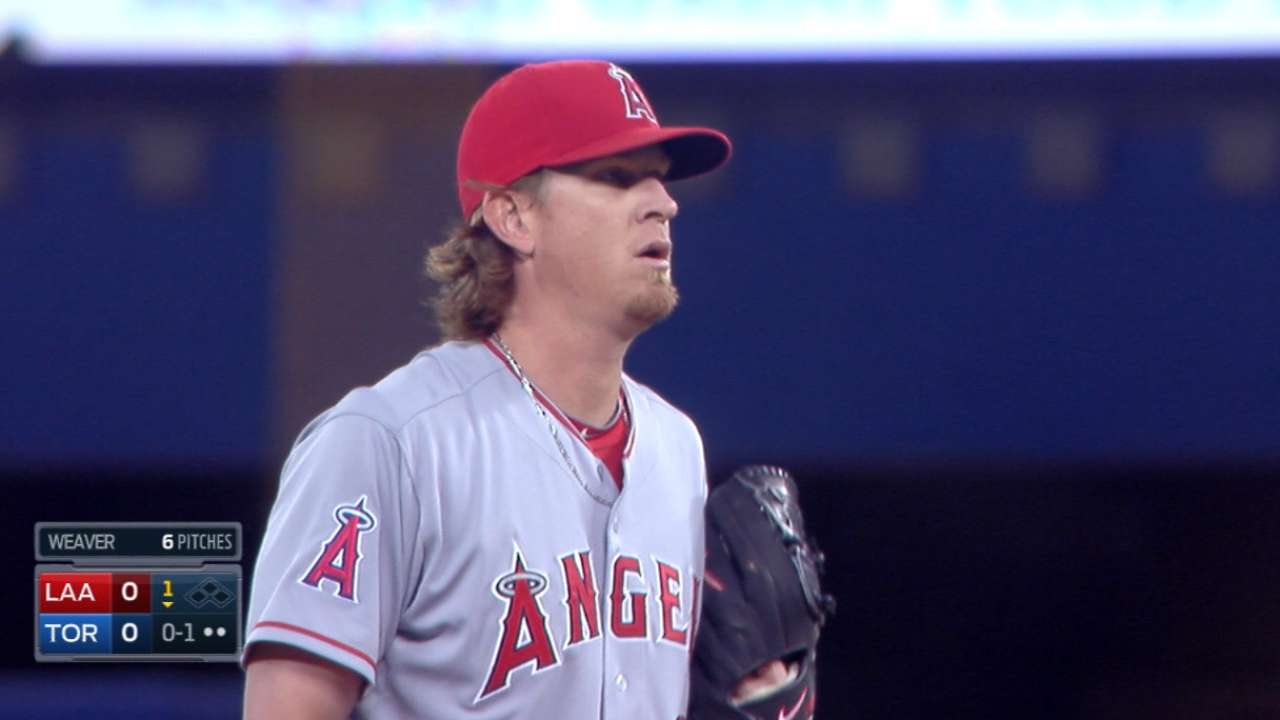 But at some point, the Angels' offense -- last in the Majors in OPS, while scoring three runs or less in 22 of 40 games -- is going to have to step up.
Wednesday night may have provided some encouragement.
Albert Pujols exited early after a scary injury to his left wrist, but X-rays were negative.
"He's OK," Angels general manager Jerry Dipoto said in a text message. "Day to day with a bruised hand."
Trout entered with one hit in his last 13 at-bats, but he hit a sharp single in the fourth and drove a line-drive homer to straightaway center field in the fifth.
"The biggest thing for me is getting my foot down," Trout said. "I've been a little late on everything, just not recognizing pitches. That involves getting my foot down. I had been working on it in BP. I felt good at the plate tonight."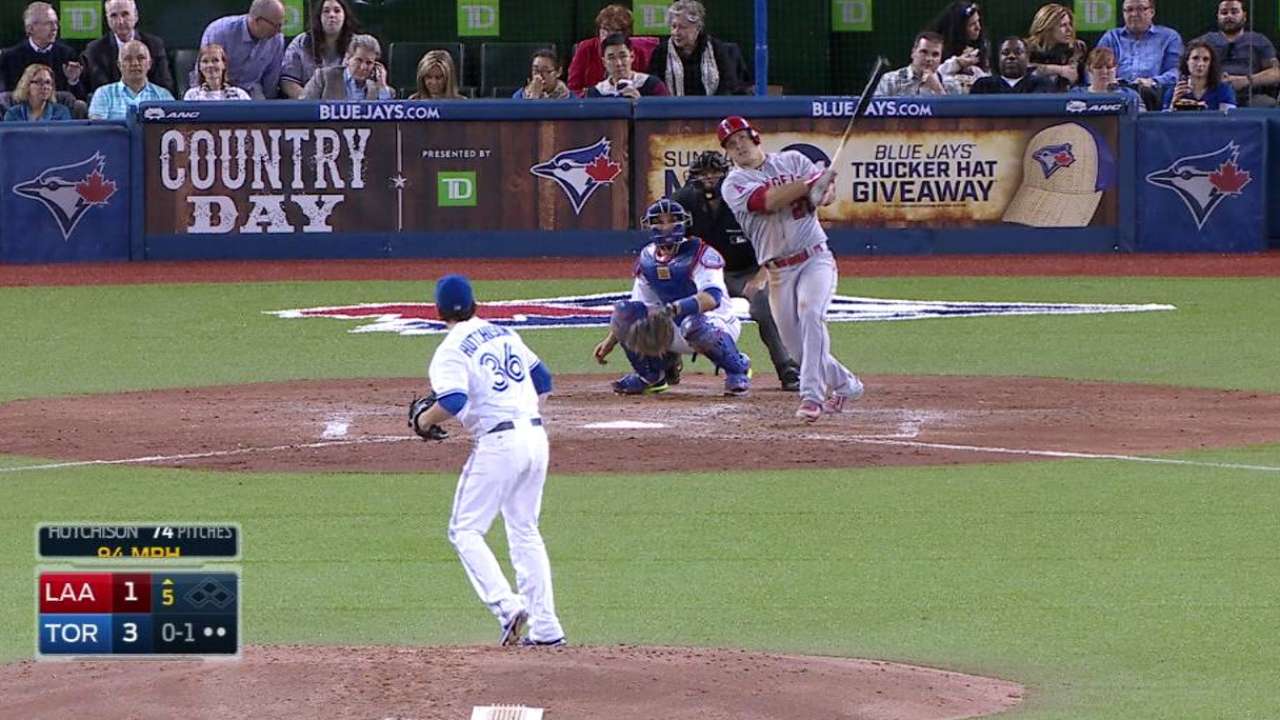 Matt Joyce, the big left-handed bat the Angels need to come around, carried a .148/.191/.222 slash line through his first 33 games. But he doubled in the left-center field gap, drew a bases-loaded walk and flied out to deep left field on Wednesday.
"I think his last 15, 20 at-bats we're starting to see him on more pitches," Scioscia said, "and we're going to need it."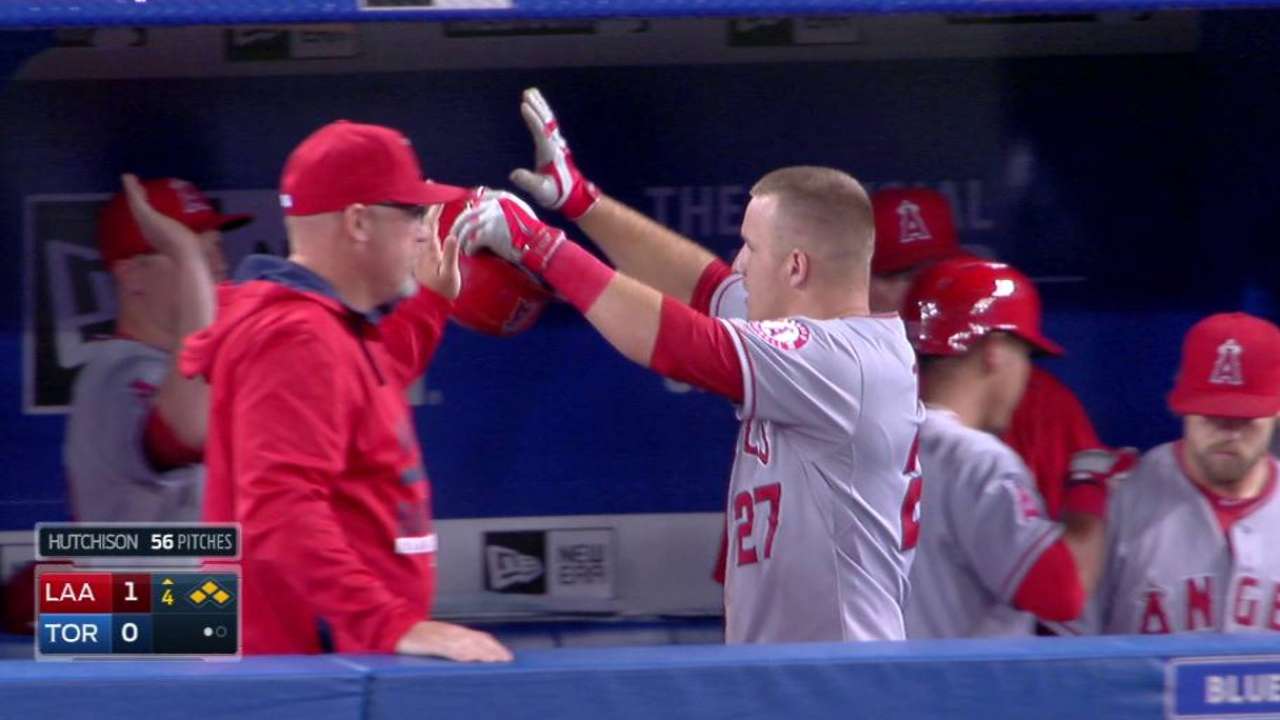 And then there's Marc Krauss, who pinch-hit for Pujols in the fifth and won the game in the seventh, lacing a two-run double in the left-center-field gap to notch his second hit in 15 at-bats this season.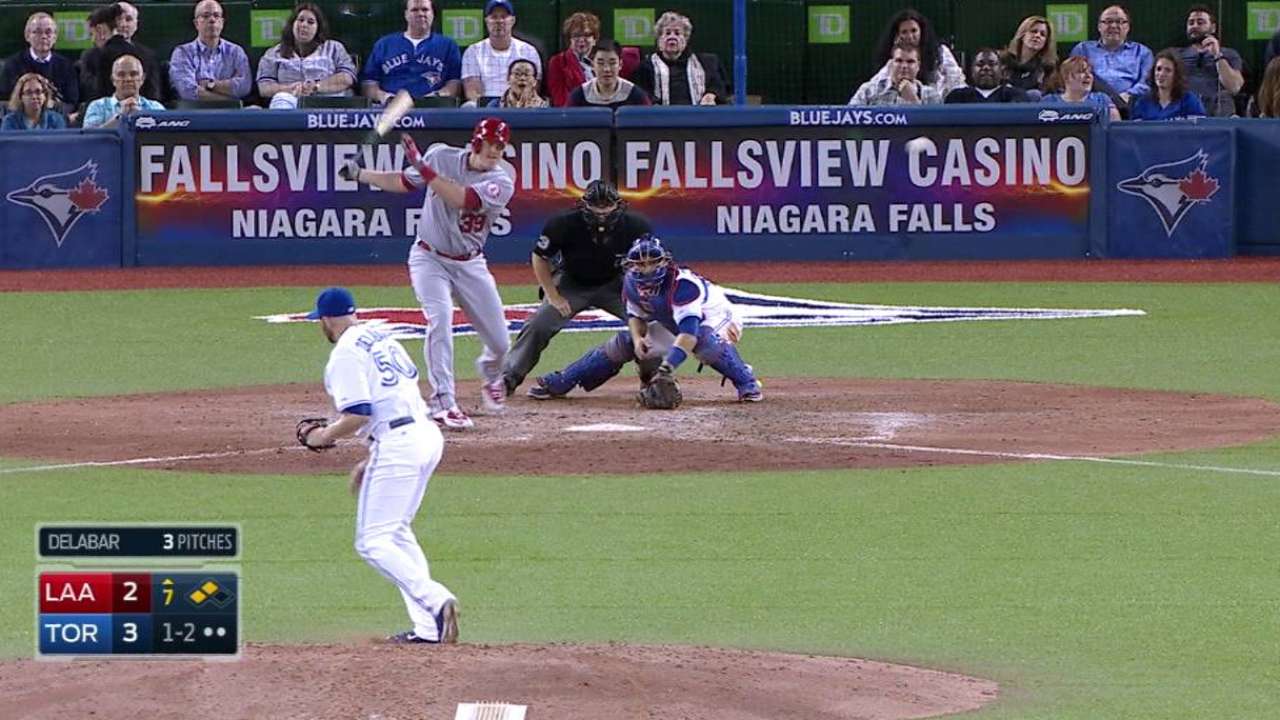 The Angels need plenty more of those.
"We're trying to get our offense in gear," Scioscia said. "We know we don't have quite the depth we had last year, not only in our lineup but in the options we have on the bench. Marc Krauss, big hit tonight. We need C.J. Cron [.202/.224/.277] to start swinging it. That needed to happen anyway, independent of Albert's injury."
Alden Gonzalez is a reporter for MLB.com. Read his blog, Gonzo and "The Show", follow him on Twitter @Alden_Gonzalez and listen to his podcast. This story was not subject to the approval of Major League Baseball or its clubs.