Collins: 'No panic' after two tough losses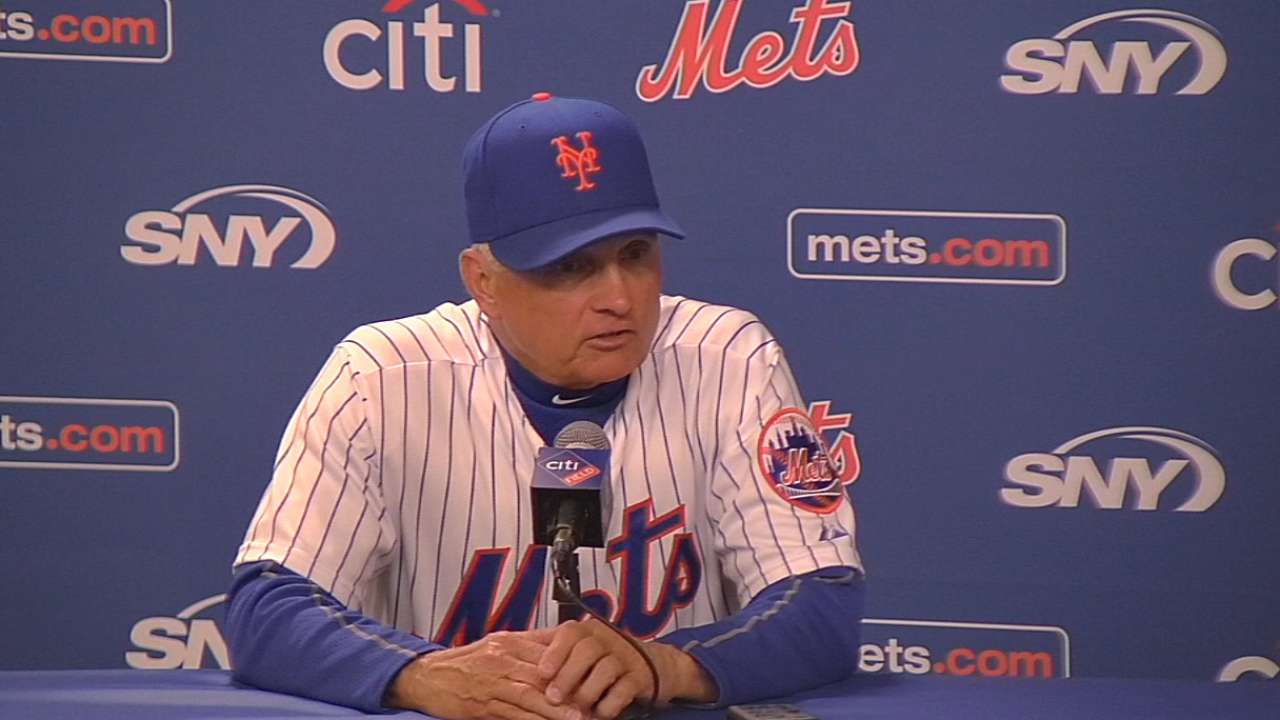 NEW YORK -- The Mets began the season with lofty expectations that were only heightened after an 11-game winning streak in early April. That streak rocketed them into first place in the National League East, and they had at least a share of the division lead since April 15.
But on Wednesday night at Citi Field, moments before they fell, 9-0, to the Cardinals -- their seventh loss in their last 10 games -- the Nationals wrapped up a 3-2 victory over the Yankees. Washington took sole possession of first place, and New York's 4 1/2-game lead at the start of the month was gone.
The Mets still have 121 more games to play, but they have been dealing with a plethora of injuries, have two struggling starters in their rotation and the offense has gone quiet.
Meanwhile, the Nationals, who began the season as the heavy favorite to win the division, have rebounded from a slow start to win 17 of their last 21 games.
"There's no panic here, believe me," manager Terry Collins said. "Not in the clubhouse, not any place else."
Even so, Wednesday's shutout marked the 16th time in the last 23 games that the Mets did not score more than three runs.
The offense does expect a boost from third baseman David Wright (back) and catcher Travis d'Arnaud (hand), both of whom are expected to return sometime in the next two weeks.
"We're not hitting the ball hard," Collins said. "We talk about ... home runs, but we're not even barreling up some balls. And I don't know what the reason is, but other teams don't have any problems hitting suckers out of this ballpark."
With the offense scuffling, the pitching staff has little room for error.
And as stellar as Bartolo Colon was to start the season, he struggled in his last three starts. The Cardinals jumped on his fastballs quickly on Wednesday, ripped line drives all over the field and chased him with one out in the fifth inning. He was tagged for nine runs (eight earned) on 11 hits.
Over his last three starts (15 1/3 innings), Colon has surrendered 17 runs on 21 hits, for a 9.98 ERA.
"I got my behind whipped," Colon said through an interpreter.
The Mets had higher expectations going into the season than being in first place in late May, so left fielder Michael Cuddyer quickly dismissed any reason to panic. The Mets could rebound with a victory on Thursday and come away with a winning homestand.
"By no means are we scoreboard-watching on May 20," Cuddyer said.
Jamal Collier is a reporter for MLB.com. Follow him on Twitter at @jamalcollier. This story was not subject to the approval of Major League Baseball or its clubs.