Butler has second abbreviated outing in a row
Rockies starter has struggled with command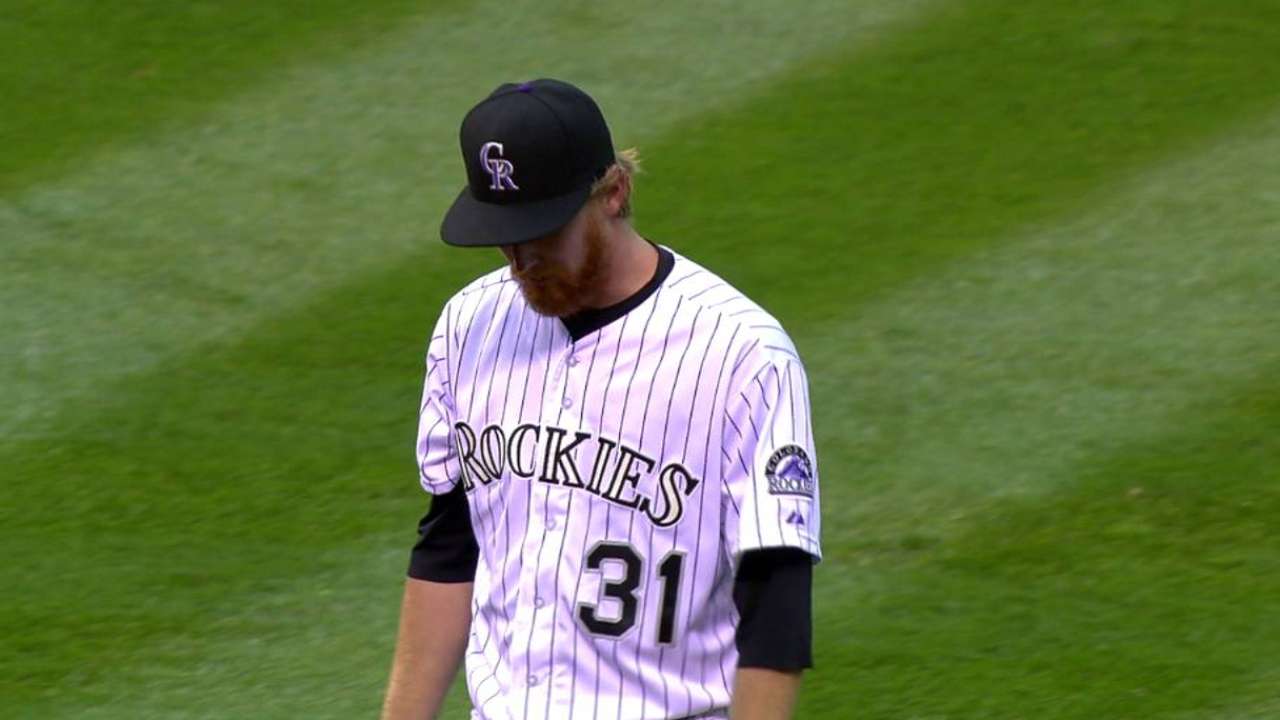 DENVER -- Rockies right-hander Eddie Butler knows he isn't as good as he needs to be.
Unable to put hitters away because of inconsistent command, Butler threw 43 first-inning pitches Wednesday night and was gone after 77 pitches in three innings of a 4-2 loss to the Phillies at Coors Field.
Butler (2-5) committed two throwing errors and gave up a 454-foot homer to Ryan Howard. The previous outing, Butler lasted just 2 2/3 innings in a loss to the Dodgers on Friday. Butler has become the sore spot in a rotation that has shown signs of improvement for a club that has won just three of its last 18 games.
"It's frustrating; you don't go six innings in two starts?" Butler said. "Your objective is to go six innings every time you go out.
"It's killing the bullpen. It's not helping the team. So many bad things go with that. It's something I've got to turn around."
The first inning spiraled out of control with two outs when Butler bounced a throw to first base through the legs of Wilin Rosario -- after Butler had barehanded Maikel Franco's grounder -- to hand the Phillies a run. But it was heading that way even before that.
The upper part of the Phillies' lineup was patient. It took 11 pitches to retire leadoff man Ben Revere and second hitter Freddy Galvis, and Chase Utley and Howard extracted 12 more pitches before Franco's fateful bouncer. After the error, Butler gave up Jeff Francoeur's RBI single and walked Odubel Herrera before finally striking out Carlos Ruiz.
Butler has a heavy sinker and is capable of extreme movement. But he is falling behind in counts and unable to finish at-bats. A supplemental first-round pick in 2012 who battled shoulder soreness when called up last year, Butler has had some flashy sequences. He went between five and six innings in his first four outings, and five of his first six, before the last two short starts. Efficiency is the challenge. Butler's 18.6 pitches per inning represent the fourth-highest average among Major League pitchers with at last six starts.
Butler appeared to right himself in a spotless, 13-pitch second. But in the third, Howard homered on an 81-mph slider.
"It was middle-away, a couple inches above the knees -- that was the only problem with it," Butler said. "If that ball was three inches farther down, it's probably a chopped ball somewhere in the infield or swung through."
Francoeur doubled and Herrera singled in a run for a 4-0 Phillies lead.
"There are challenges for young players, young pitchers, in this league and he's going through some of them now," Rockies manager Walt Weiss said.
The shoulder issue last year cost Butler sink and movement. That's no longer a problem.
"I finally got the movement back that I had when I was younger," Butler said. "I'm trying to re-harness it and be able to get consistent with it and throw it in the zone."
Thomas Harding is a reporter for MLB.com. Follow him on Twitter @harding_at_mlb, and like his Facebook page. This story was not subject to the approval of Major League Baseball or its clubs.