Pain continues for 'pen in another close loss
Blue Jays fall to 2-8 in 1-run games after Angels rally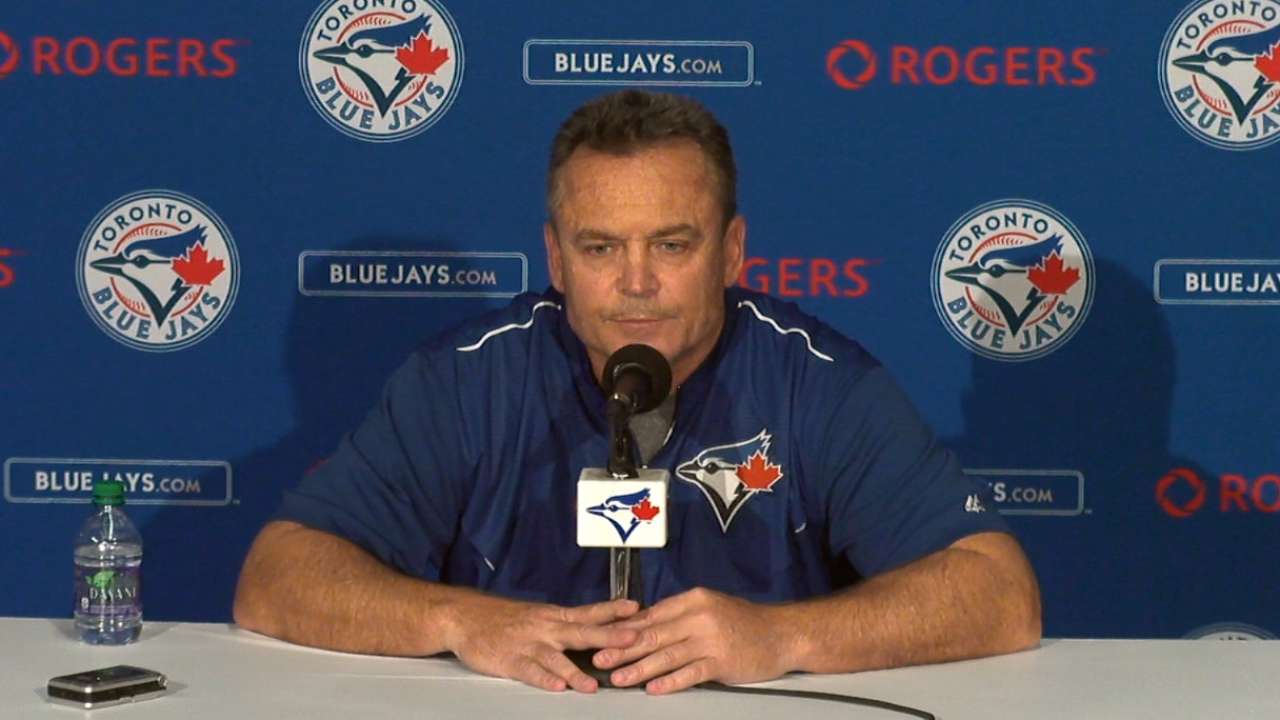 TORONTO -- The last week has been a painful one for the Blue Jays bullpen. For the third time in the past seven days, Blue Jays relievers were unable to shut the door as the Angels took a 4-3, come-from-behind win at Rogers Centre on Wednesday.
Steve Delabar was charged with a blown save after surrendering a two-run double in the top of the seventh, giving the Blue Jays their seventh loss in their last eight games.
Toronto relievers have blown saves in three of those contests, and own a total of seven on the season. Inherited baserunners have come around to score at a rate of 40.6 percent -- the highest mark in the Major Leagues -- highlighting a difficult stretch for the bullpen.
"Right now, it's not a lot of fun," Delabar said after the Blue Jays fell to 2-8 in one-run games. "Starter's out there doing his job, and we come in and end up giving it up. It's not a lot fun. ... It's not a good feeling."
Drew Hutchison -- who tossed 6 2/3 innings while allowing four earned runs with two walks and five strikeouts -- was on his way to his fourth win of the season when he ran into trouble in the seventh. He turned the ball over to Delabar with runners on first and second, two outs and a one-run lead.
Facing Marc Krauss, Delabar uncorked a wild pitch, allowing the runners to advance into scoring position, before hanging a splitter on what turned out to be the game-winning hit.
"It's been a struggle," Blue Jays manager John Gibbons said. "I thought we had the perfect matchup. Delabar has especially been getting lefties out. ... I think he hung a split, got a big hit to put them up. Still a one-run game but we couldn't get anything late. "
A challenge for Gibbons has been getting a predictable performance out of anyone other than closer Brett Cecil or 20-year-old Roberto Osuna, who's been the closest to a sure thing the Blue Jays bullpen has to offer. The rookie right-hander has allowed two earned runs in 17 appearances for a 0.83 ERA, but after pitching the past two nights, he wasn't available Wednesday.
The loss dropped the Blue Jays to a season-high six games below .500 as they head into the series finale on Thursday.
Jamie Ross is an associate reporter for MLB.com. This story was not subject to the approval of Major League Baseball or its clubs.