Castellanos gives Tigers much-needed boost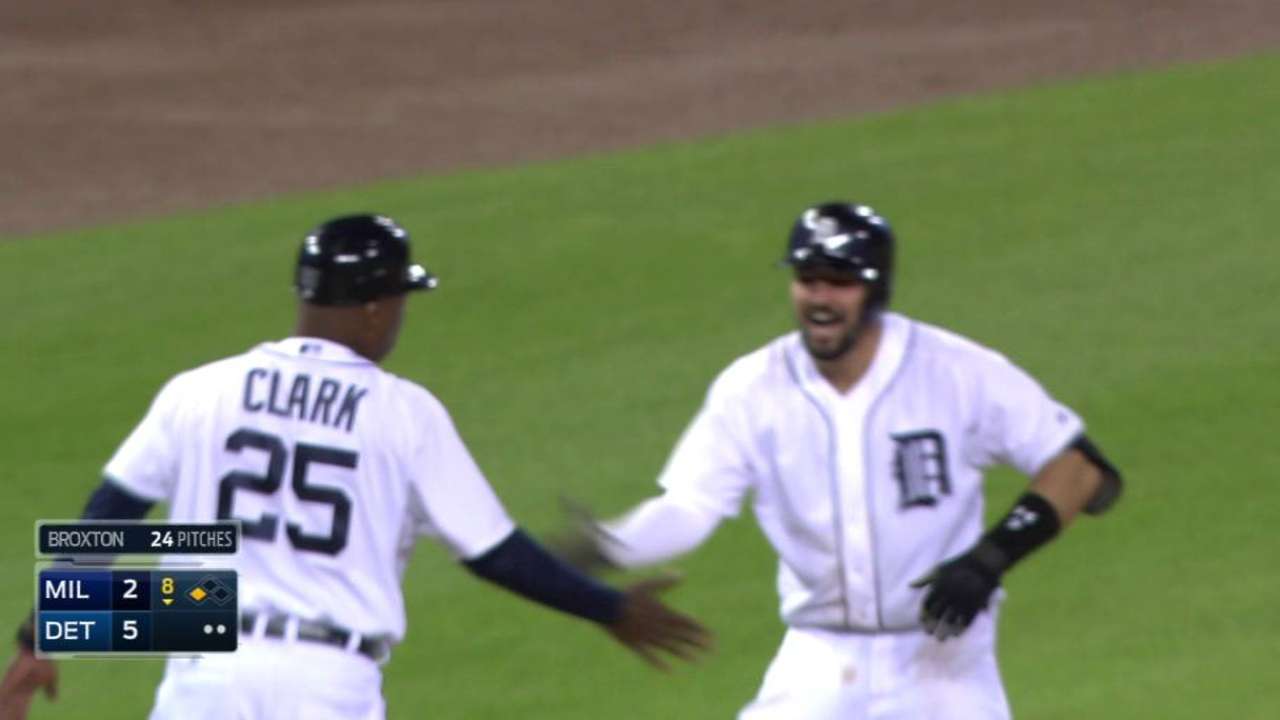 DETROIT -- The Tigers' triples leaderboard includes speedsters Rajai Davis and Anthony Gose. It now includes Nick Castellanos.
The way Castellanos felt rounding second base Wednesday night on his third triple of the season -- clearing the bases, breaking open a tie game and sparking the Tigers' dormant offense to a 5-2 win over the Brewers -- speed didn't matter. He had the legs.
"I could've run from third base back to first base and then back to third base again," Castellanos said. "I was just excited."
He wasn't the only one.
The Tigers were staring at a third straight game with two runs or fewer against a team with the third-highest ERA in baseball. They were searching for a big hit. They found it in the sophomore third baseman who has done some searching himself.
"That's exactly what we were talking about, somebody to step up," manager Brad Ausmus said.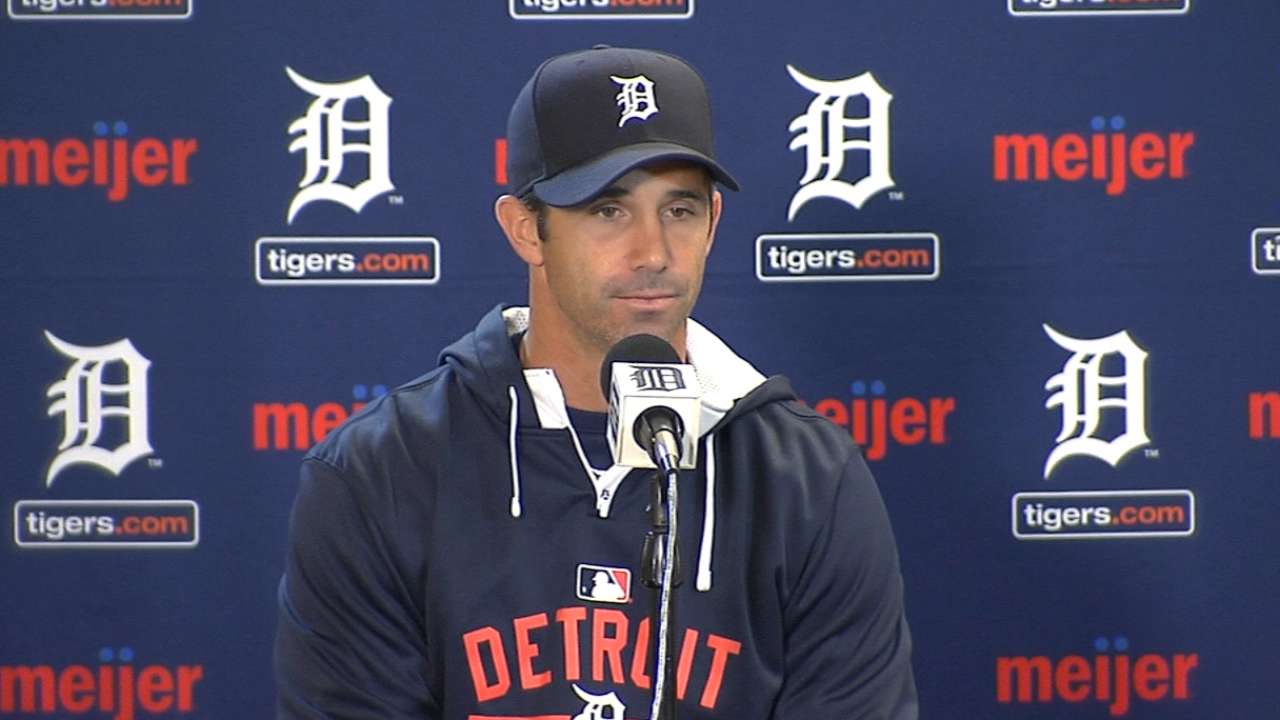 He had a hint. There was an aggressiveness, Ausmus said, to Castellanos' batting practice. Castellanos said it was getting back to himself.
"I was talking to my dad, I was talking to the hitting coaches, Wally [Joyner] talked to me, just saying to me, 'You're a good hitter. Just go out there and hit,'" he said. "Lately, I've been getting really mechanical, trying to have the perfect swing. You see the way J.D. Martinez swings, and the way Miguel Cabrera swings, and you see how good hitters they are, and you want to, obviously, you want to hit like them. It's no secret why they have success.
"But [they] made a great point that, 'Hey, they're great at what they do. You're great the way you do it. You don't have to try to adjust to the way they do it. You can have success with the way you're [accustomed to] hitting.' So that's what I did. Coming up, I've always been kind of tall, free and easy, and I went back to that, and I felt pretty comfortable."
The results weren't instant. After a second-inning single, Castellanos came up in the fourth inning with bases loaded and nobody out in a 1-1 game and had to beat out a double-play throw on a soft grounder. It was the Tigers' only run from the opportunity, and it looked destined to haunt them.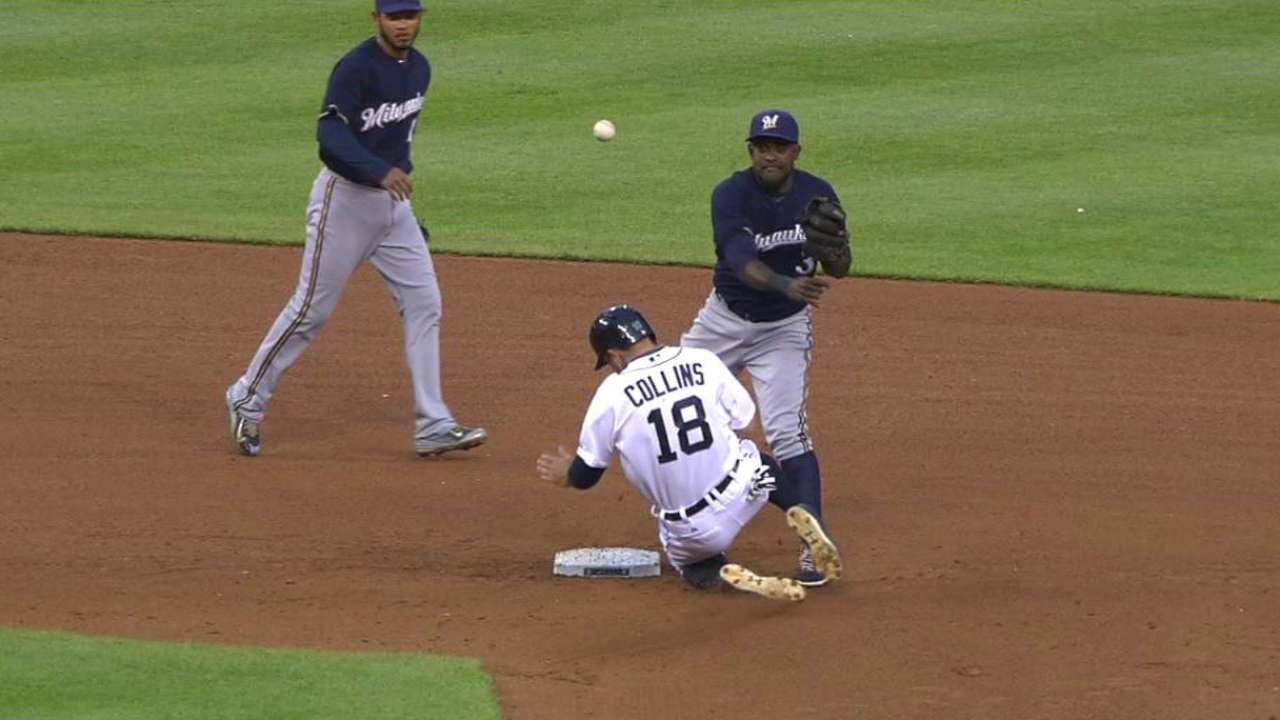 "Yeah, you think about it," Ausmus admitted, "because it's happened so frequently lately."
Castellanos got his second chance with two outs in the eighth and hard-throwing reliever Jonathan Broxton reeling after back-to-back singles and a walk.
"When guys throw really hard breaking pitches, it's easier for me to lay off the sliders down or whatnot," Castellanos said. "And he throws everything hard. So the more fastballs I saw, the more comfortable I felt with every pitch. And to be honest, I don't know how much he wanted to throw his offspeed stuff, in case he bounced one and it got away."
Castellanos shrugged off a 1-2 slider down and away, then fouled off fastballs at 97 and 96 mph. Broxton threw his seventh pitch at 97, but over the middle of the plate. Castellanos lined it past Gerardo Parra into the right-field corner, and took off.
"Man, I've been waiting for that all season," he admitted. "I needed it. The team needed it. The whole organization, the fans -- everybody needed it. Just blessed that I was able to deliver."
Jason Beck is a reporter for MLB.com. Read Beck's Blog, follow him on Twitter @beckjason and listen to his podcast. This story was not subject to the approval of Major League Baseball or its clubs.