Two-out hits sting Broxton in bumpy eighth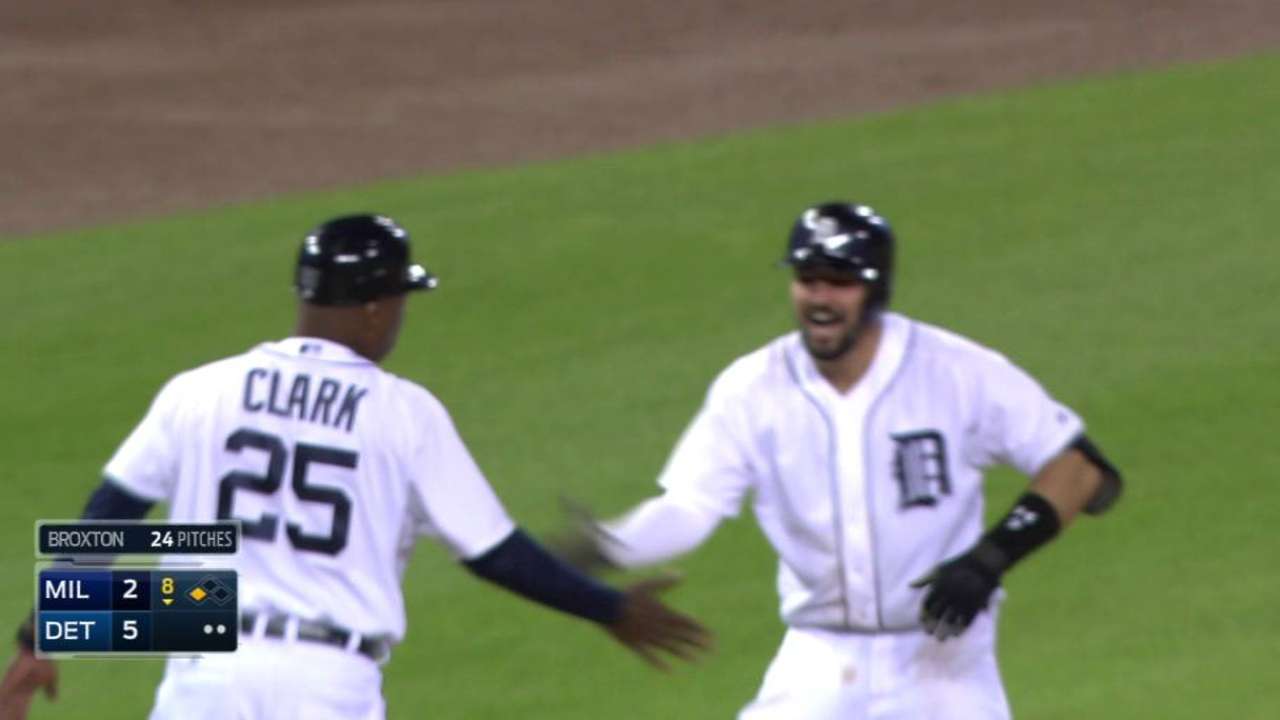 DETROIT -- New Brewers manager Craig Counsell has shrugged off veteran reliever Jonathan Broxton's early-season statistics as a mere "slump," an annoyance that appeared headed for a correction when Broxton touched 98 mph while holding a one-run lead in Monday's series-opening win against the Tigers.
On Wednesday, the Tigers pushed Broxton back into the slump, as four consecutive runners reached base with two outs in the eighth inning of what had been a tie game. The fourth was Tigers third baseman Nick Castellanos, who punched the bases-clearing triple that beat the Brewers, 5-2, and dashed Milwaukee's hope for a series sweep.
"I felt his stuff is back where it should be," Counsell said of Broxton. "I thought tonight was a night where I think they earned it in those at-bats. I really do. It is a night where they got him."
Broxton retired Ian Kinsler and Miguel Cabrera before J.D. Martinez and Yoenis Cespedes singled and Tyler Collins loaded the bases with a walk. Broxton then battled Castellanos for seven pitches -- including consecutive fastballs in a 2-2 count that Castellanos flicked foul.
Broxton then came back with another fastball that Castellanos pushed into the right-field corner past Gerardo Parra, who tried a desperate barehanded grab after the ball bounced.
"I threw fastballs by him and he was fouling some stuff off late," Broxton said. "It almost looked like he was late on some pitches, but he put a good at-bat together and shot one down the line. … You have to bear down right there when you've got two outs and get the job done."
Said Castellanos: "He has very electric stuff. You can't really cheat to his fastball, because his breaking stuff complements it so much. I wasn't focusing on pulling the ball at all. I was just focusing on staying in the middle part of the field, and end up being short enough to get to a fastball. Worked out well."
Broxton's ERA grew to 8.22 when he was charged with three earned runs in two-thirds of an inning. He has been charged with multiple runs in three of his last six appearances.
But his stuff looks good, Counsell said, a sentiment with which Broxton concurred.
"I've been feeling like that pretty much all year," Broxton said. "I've just been having some bad luck on some stuff. I have to go out there and bear down and get the guys out that I need to."
Adam McCalvy is a reporter for MLB.com. Follow him on Twitter @AdamMcCalvy, like him on Facebook and listen to his podcast. This story was not subject to the approval of Major League Baseball or its clubs.