Lohse continues resurgence with solid effort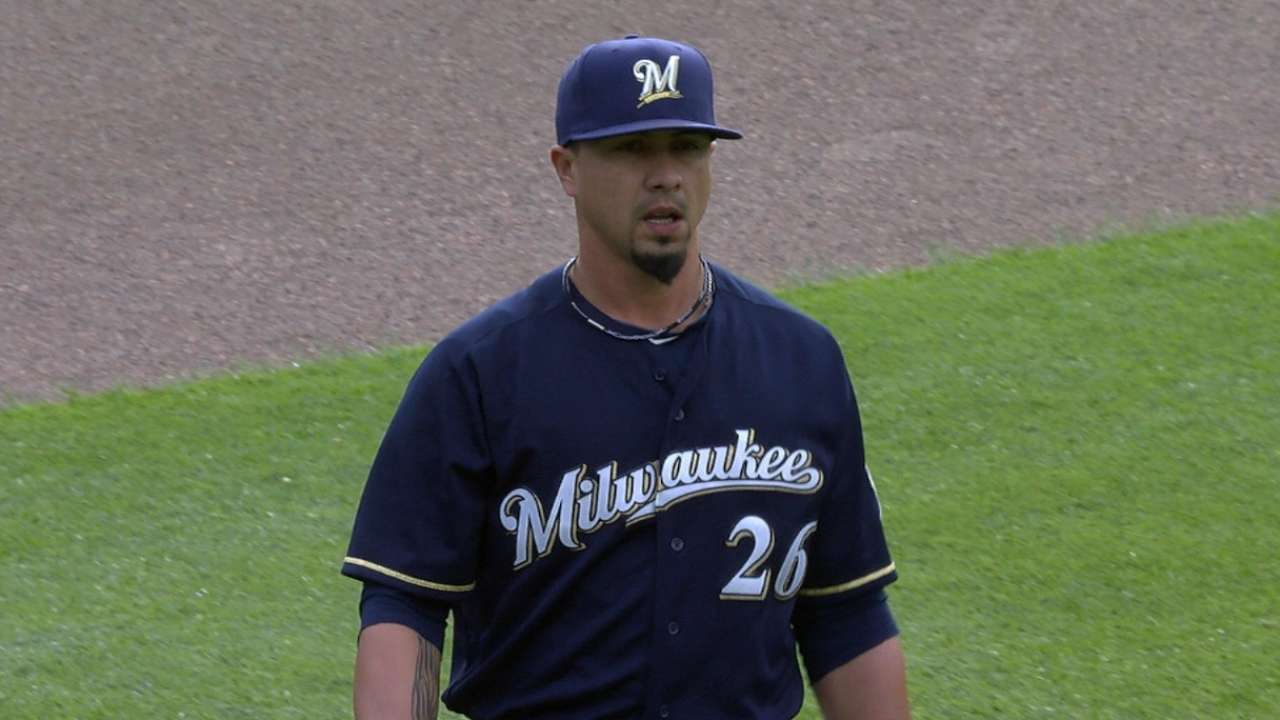 DETROIT -- For the first time this season, the Brewers' choice for Opening Day is working on a streak of quality starts.
Five days after breezing through eight innings against the Mets, Kyle Lohse practiced damage control for six innings against the Tigers, giving the Brewers a chance to tie the game late in what became a 5-2 loss at Comerica Park. The Brewers missed a chance to sweep a series for the first time this season, but that was no fault of Lohse.
"I think I said a start or two ago that I felt the results were eventually going to start showing, the way I've been feeling," Lohse said. "Keeping the ball in the park has been a huge thing for me this year. I've been able to do that and keep the crooked numbers off the board."
Lohse had surrendered at least one home run in every start this season until the last two. He limited the Tigers to two runs on seven hits in six innings, with two walks (one was intentional) and four strikeouts.
The Tigers' first run came across in the second inning when Yoenis Cespedes stole third base and catcher Martin Maldonado's throw on the play sailed past Aramis Ramirez and into left field. The run wound up as earned on Lohse's line because of a Nick Castellanos single later in the inning.
In the fourth, the Tigers took a 2-1 lead with a rally that could have been worse. J.D. Martinez, Cespedes and Tyler Collins opened the inning with singles, Cespedes' a hot shot deflected by Ramirez, to load the bases with nobody out. Lohse limited the damage by inducing consecutive ground balls, capped by James McCann's inning-ending double play.
"When Kyle was in some jams, he made some great pitches, he really did," manager Craig Counsell said. "He gave us a chance."
The outing marked the second straight Lohse start of at least six innings with three or fewer earned runs. He now has three such quality starts this season.
"I look more at how you keep your team in the game, how you pitch," Lohse said. "Sometimes you go seven, eight innings and give up four, and that was a good outing. But that was a tough lineup and I made some tough pitches when I had to, getting out of that bases-loaded jam with just one run. They took advantage of a couple mistakes, but overall, I felt OK with the way I went about it."
Adam McCalvy is a reporter for MLB.com. Follow him on Twitter @AdamMcCalvy, like him on Facebook and listen to his podcast. This story was not subject to the approval of Major League Baseball or its clubs.