Not thrown by early blip, Zimmermann cruises
Nats righty allows two runs in first, blanks Yanks over next six to win second straight start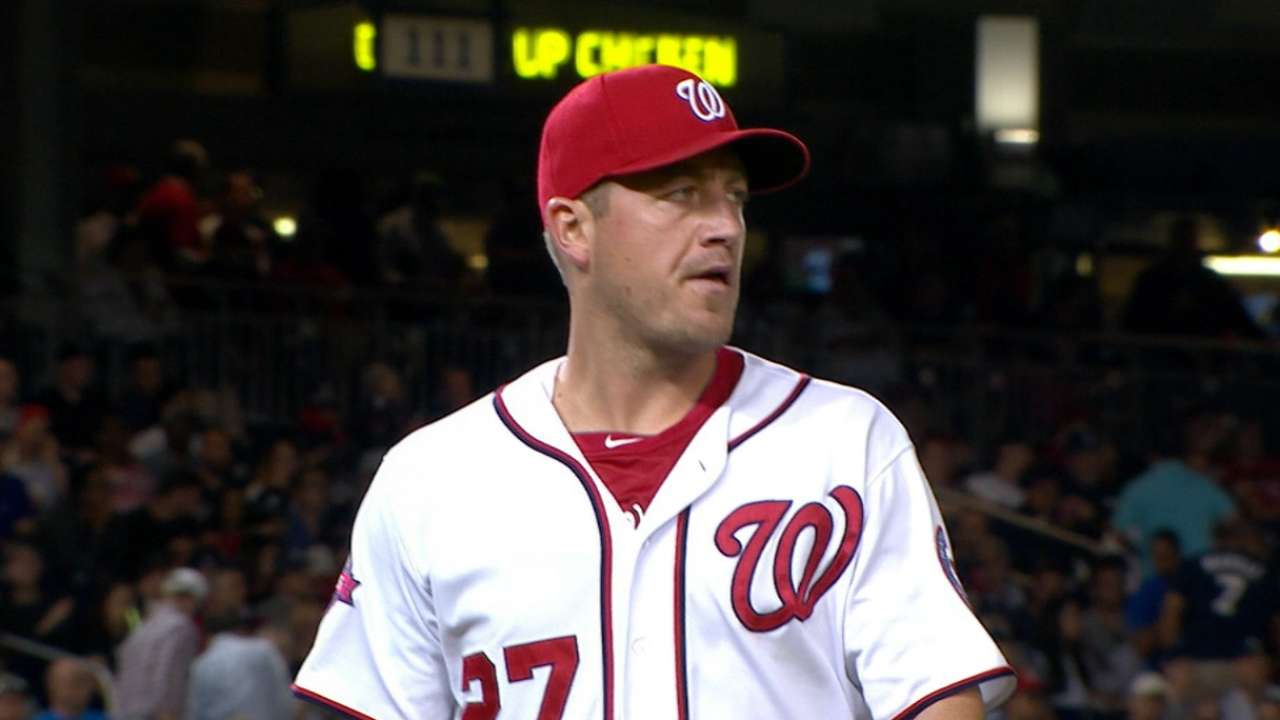 WASHINGTON -- Jordan Zimmermann's Wednesday night outing against the Yankees did not start as he hoped it would.
Brett Gardner and Carlos Beltran, the first two batters he faced, both hit safely and scored. After that, however, Zimmermann was brilliant, blanking the Yankees for his remaining six innings en route to a 3-2 win that propelled the Nationals into sole possession of first place in the National League East.
"I threw all fastballs, and Gardner had a broken-bat hit and then a double in the gap," Zimmermann said. "Then they obviously moved him over and got him in and played good baseball in the first."
Zimmermann, who improved to 4-2 on the season, threw 17 pitches in the first inning. Fourteen of them were fastballs.
"I just told myself, 'You have to start mixing it up, and you can't throw first-pitch fastballs to all these guys,'" said Zimmermann. "They're all good fastball hitters, and I started throwing the curve and the slider and got them off-balance and was able to go seven."
He struck out six Yankees, including Gardner and Chase Headley twice each. Over his last two outings, both wins, Zimmermann has allowed two earned runs in 13 innings while striking out 12 and walking two.
"Jordan was really good today," said manager Matt Williams, who, along with Bryce Harper, was ejected by home-plate umpire Marvin Hudson in the third inning. "He was on the corners, down in the zone."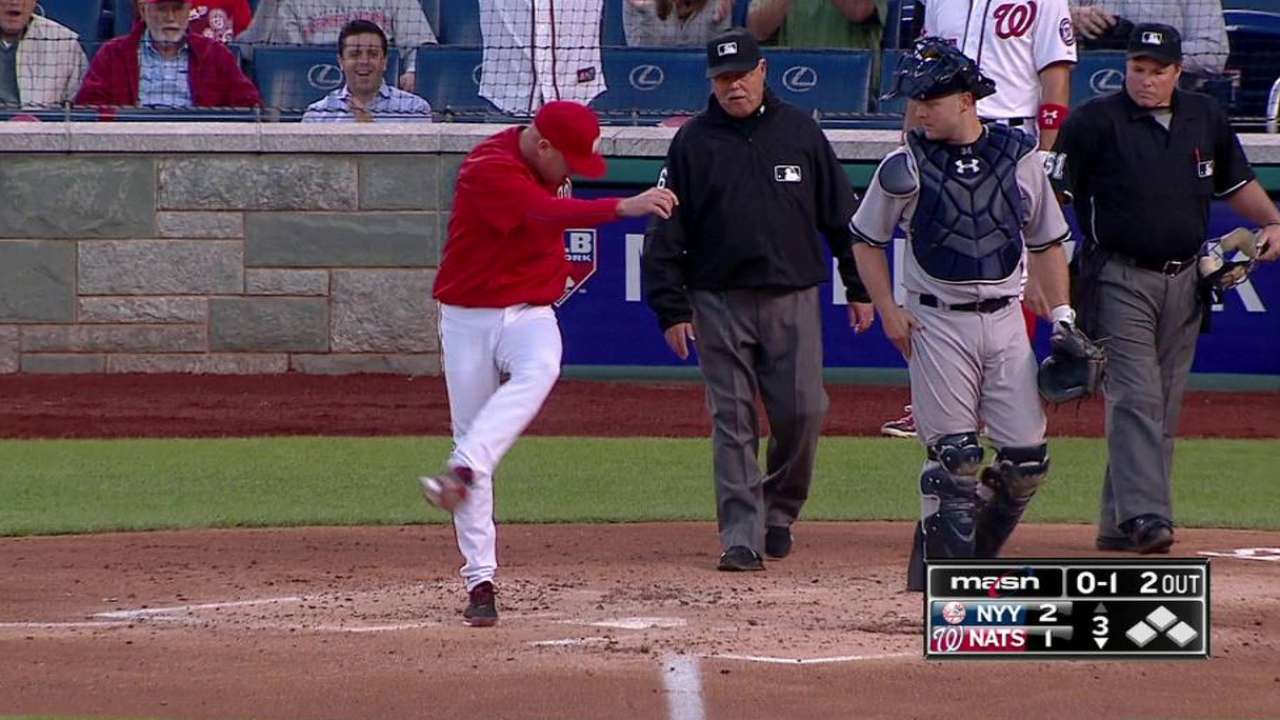 Dan Uggla pinch-hit for Zimmermann with two men on and one out in a tied game in the seventh. He walked to load the bases, and the next batter, Denard Span, singled in Wilson Ramos to put the Nationals ahead, 3-2.
Left-hander Matt Grace worked a scoreless eighth inning out of the bullpen, and closer Drew Storen struck out Alex Rodriguez with a runner on first and two outs in the ninth to notch his 12th save of the season.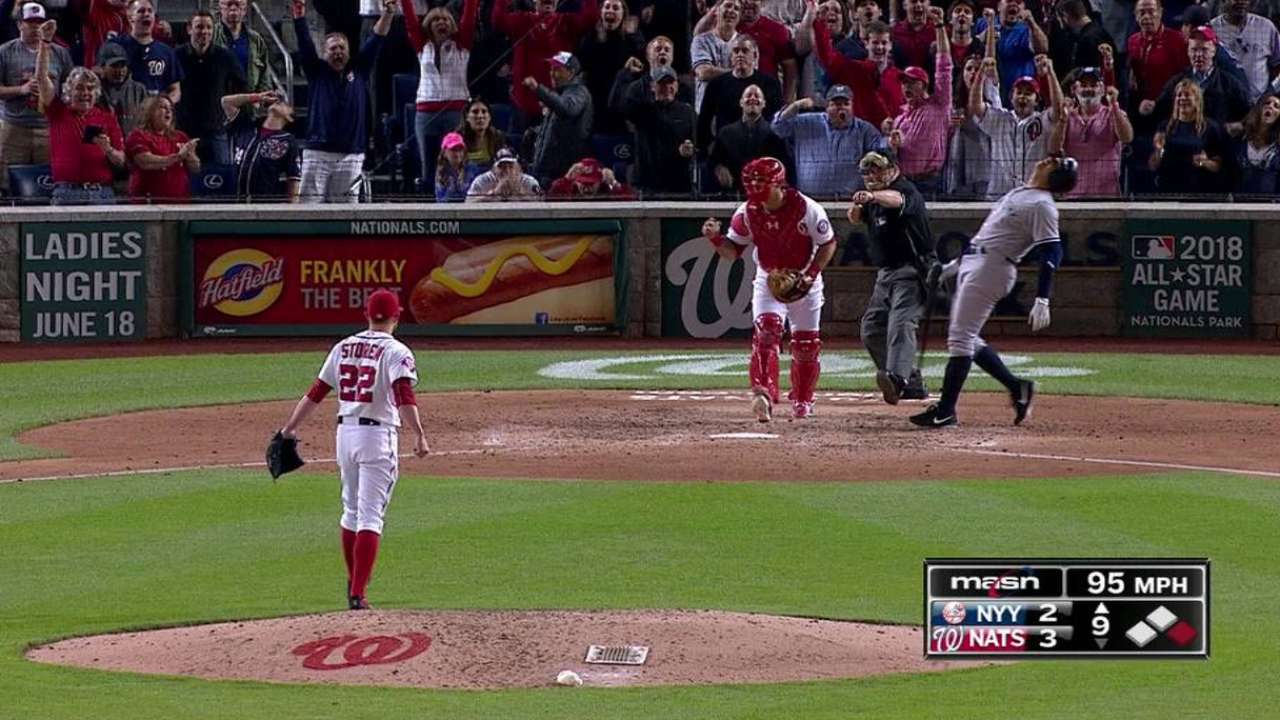 Jacob Emert is an associate reporter for MLB.com. This story was not subject to the approval of Major League Baseball or its clubs.