Posey, Freak push Giants' win streak to 5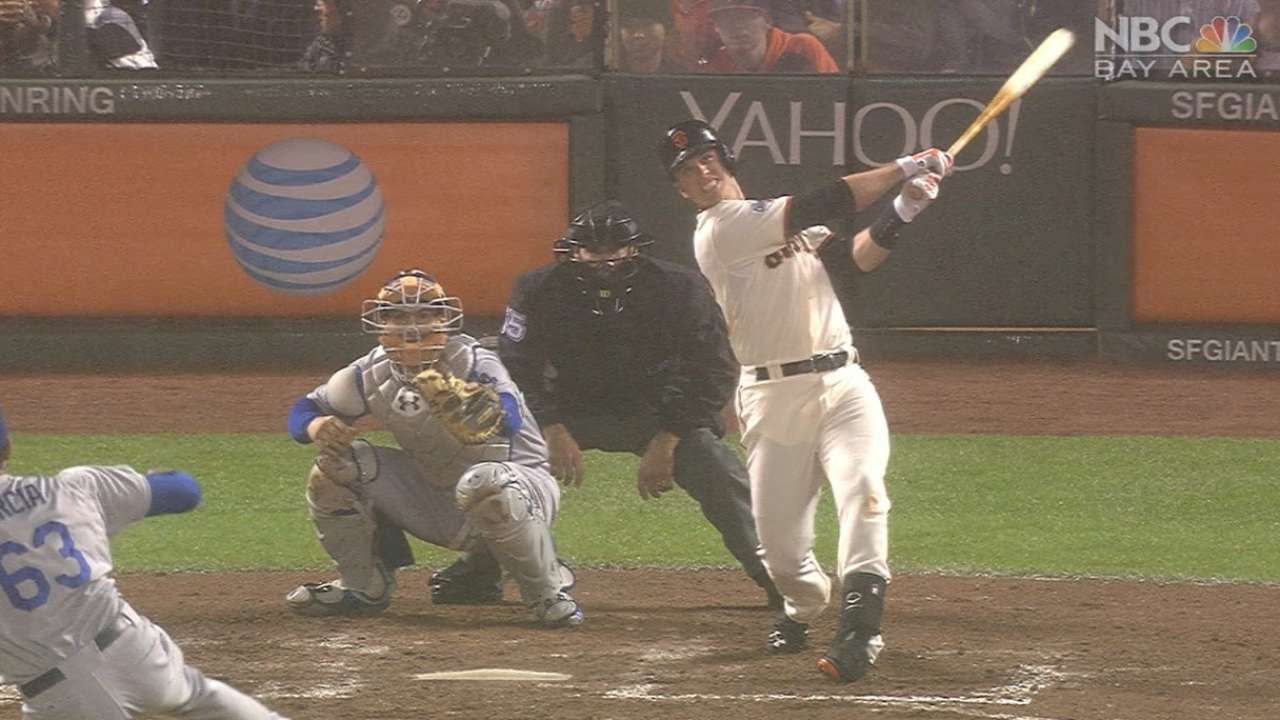 SAN FRANCISCO -- Conjuring the magic he displayed during his Cy Young Award-winning years, Tim Lincecum allowed three hits in seven innings to lead the Giants to their second straight shutout victory over the Dodgers, a 4-0 verdict on Wednesday night. San Francisco lengthened its winning streak to five games while improving to 6-2 this season against its archrival.
Buster Posey went 3-for-4 with a homer and scored twice to back Lincecum (4-2), who won his fourth consecutive start at AT&T Park, a streak he last built from July 4-Aug. 1, 2009. Lincecum has allowed one run in his last 27 innings at home, including a current stretch of 22 shutout innings in a row.
"He keeps on doing the same thing," Dodgers catcher Yasmani Grandal said of Lincecum. "He throws a fastball high and then six breaking balls and we are swinging at every pitch."
Dodgers starter Brett Anderson (2-2) matched Lincecum's zeroes until the sixth, when Posey doubled off the right-field wall and scored on Brandon Crawford's third hit of the game, a two-out single that made it 1-0. Joe Panik added a seventh-inning RBI single that was set up by Anderson wild-pitching Casey McGehee to third base. Posey followed by greeting reliever Yimi Garcia with his team-high seventh homer of the season.
"I got that one pretty good," Posey said. "I've hit some balls to that spot before that haven't gone out, but I thought that one would."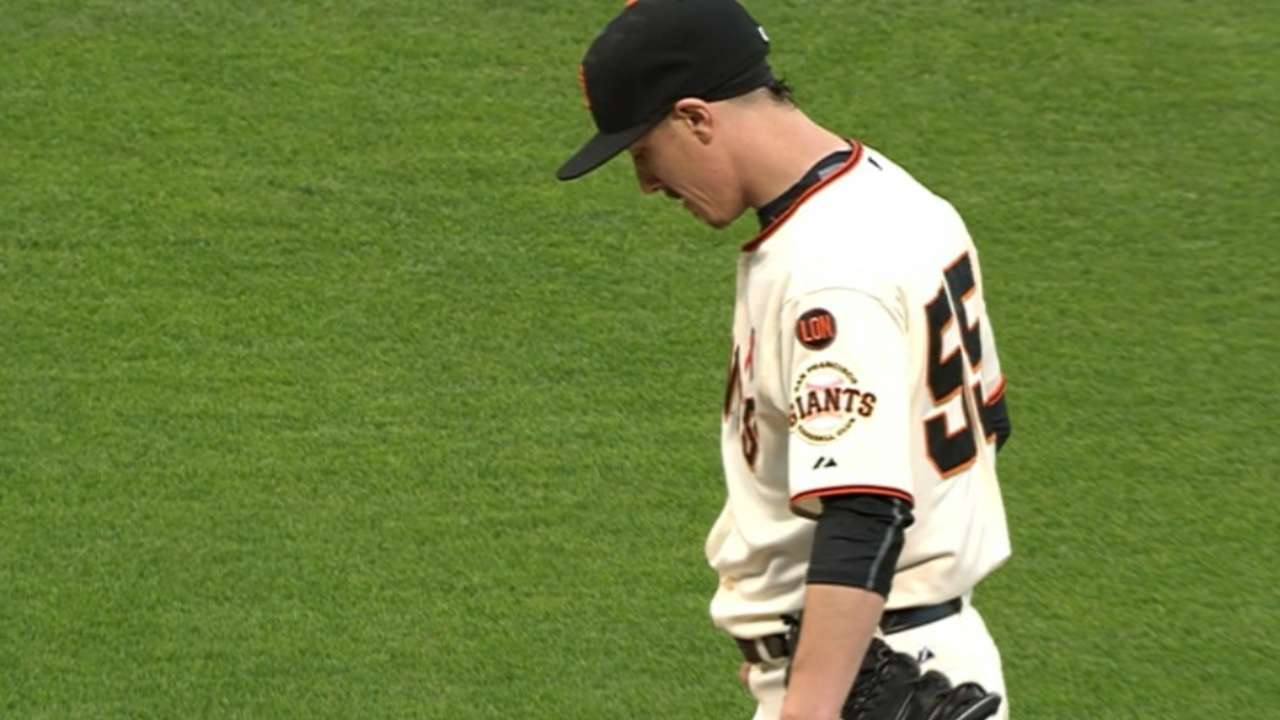 MOMENTS THAT MATTERED
Great grab: Angel Pagan moved from the third spot in the batting order to leadoff, but fortunately for the Giants, he didn't leave center field. Pagan recorded the defensive play of the game in the seventh inning, leaping to the top of the wall in left-center to snare Grandal 's drive. Lincecum saluted Pagan by raising his right arm in acknowledgment.
"Another game of great defensive plays behind me," Lincecum said.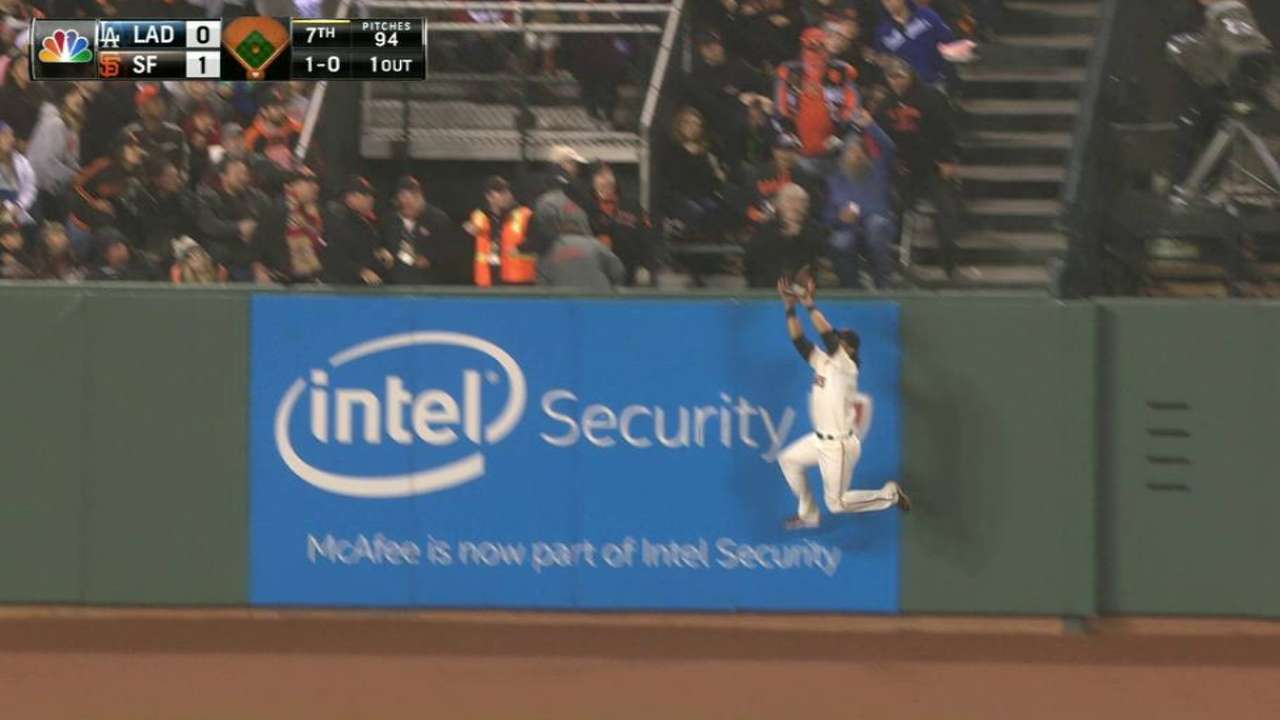 Posey's play: The two-time All-Star catcher distinguished himself at first base as he raced to the railing in front of Los Angeles' dugout and reached over to grab Joc Pederson's eighth-inning popup. Posey had to guess the ball's flight, due to the fog and drizzle that enveloped AT&T Park at the time.
"I saw it go up and tried to go to the spot where I thought it was," Posey said.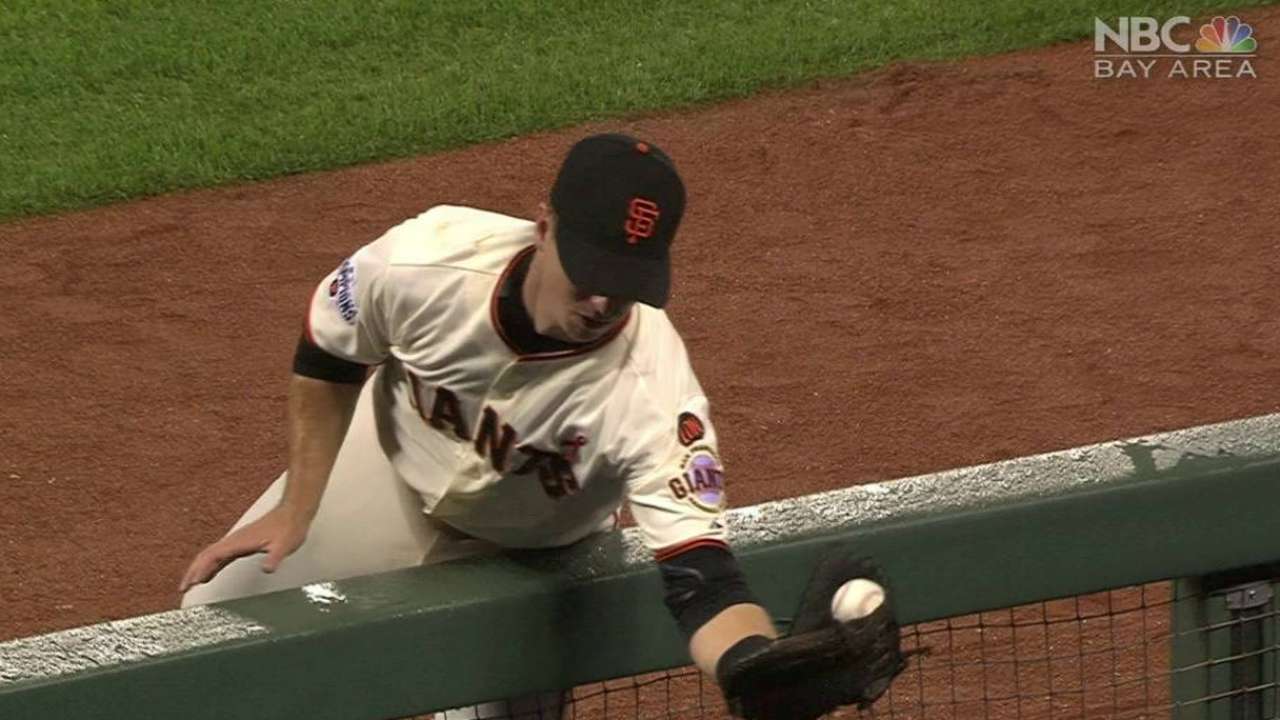 That's a balk! That was in the opinion of plate umpire Angel Hernandez, who called one when it appeared Anderson had picked off Crawford with two out in the second inning. Hernandez ruled that Anderson's front knee moved toward home plate.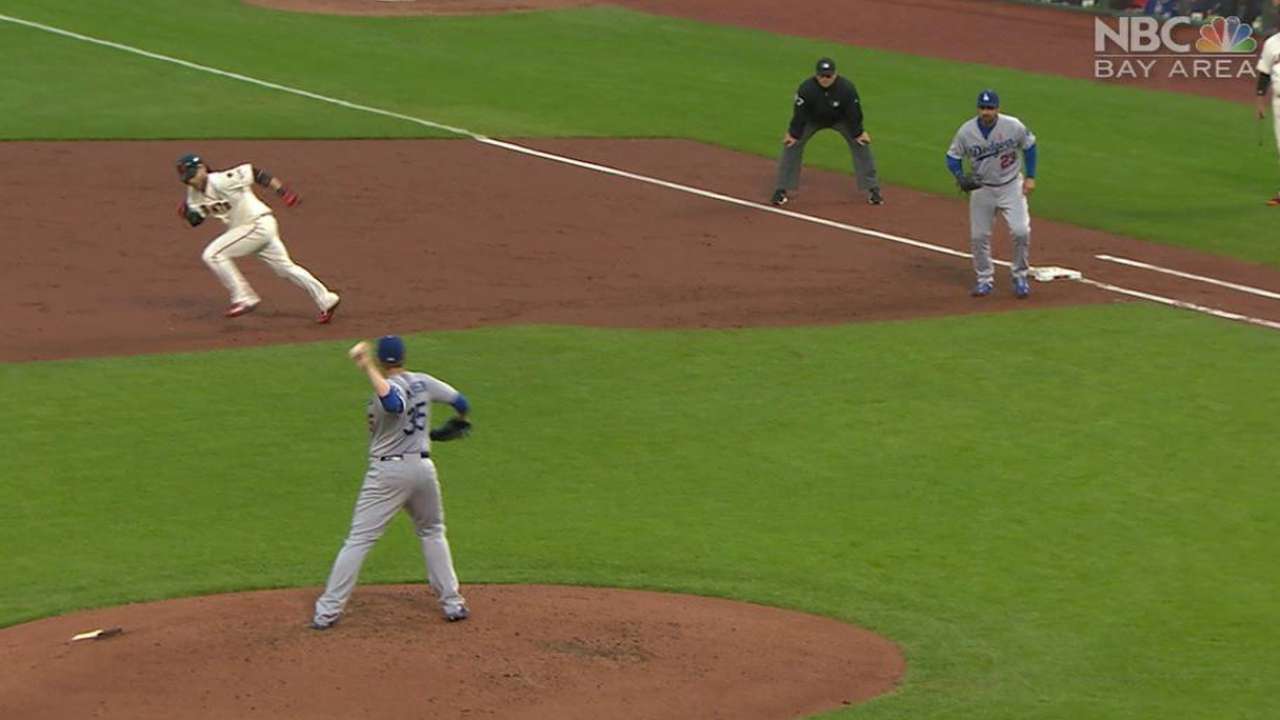 It's not that easy: The home run Dodgers rookie reliever Garcia allowed to Posey was the third he's served up in his last five appearances, after not allowing an extra-base hit in his first 14 games.
"You've got to hit your spots," manager Don Mattingly said of Garcia. "Make mistakes and they make you pay. Not sure if the ball leaked back over the plate. Obviously, you can't leave the ball up to Buster."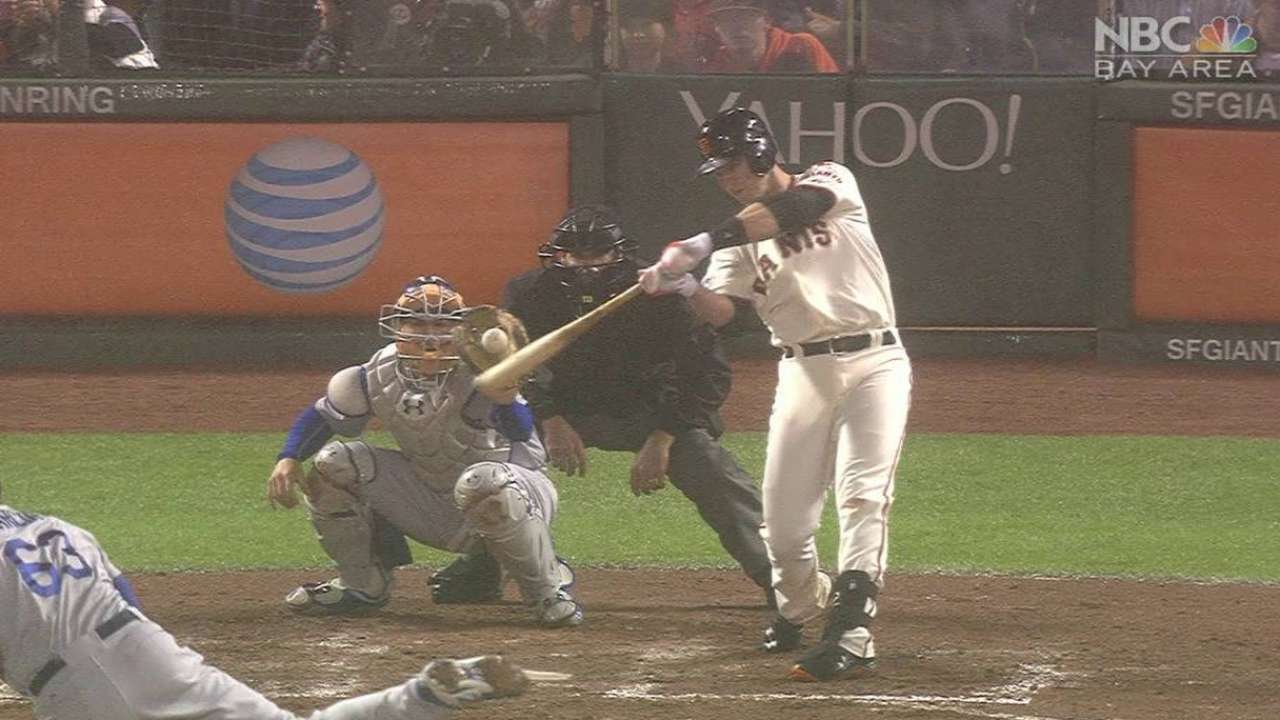 QUOTABLE
"I don't know who said it. ... 'That's a tough one.'" --Posey, when asked whether anybody in the Dodger dugout said anything to him as he pursued Pederson's foul
"At this point, if your city/area is in a desperate need of precipitation...just pay me to come for a few days and it's bound to rain." -- tweet by Anderson, after pitching in the rain for a third consecutive start
SOUND SMART WITH YOUR FRIENDS
The Giants are 5-0 against the Dodgers this year at AT&T Park. That hadn't happened since 2003. Los Angeles has mustered six runs off San Francisco pitching in those games.
UPON FURTHER REVIEW
Mattingly finally won a review when he successfully challenged a call in the bottom of the first inning. Pagan was ruled safe at first by umpire Adam Berry on a chopper off the plate to third baseman Juan Uribe, but the call was overturned. The Dodgers are 3-for-11 in challenges this season.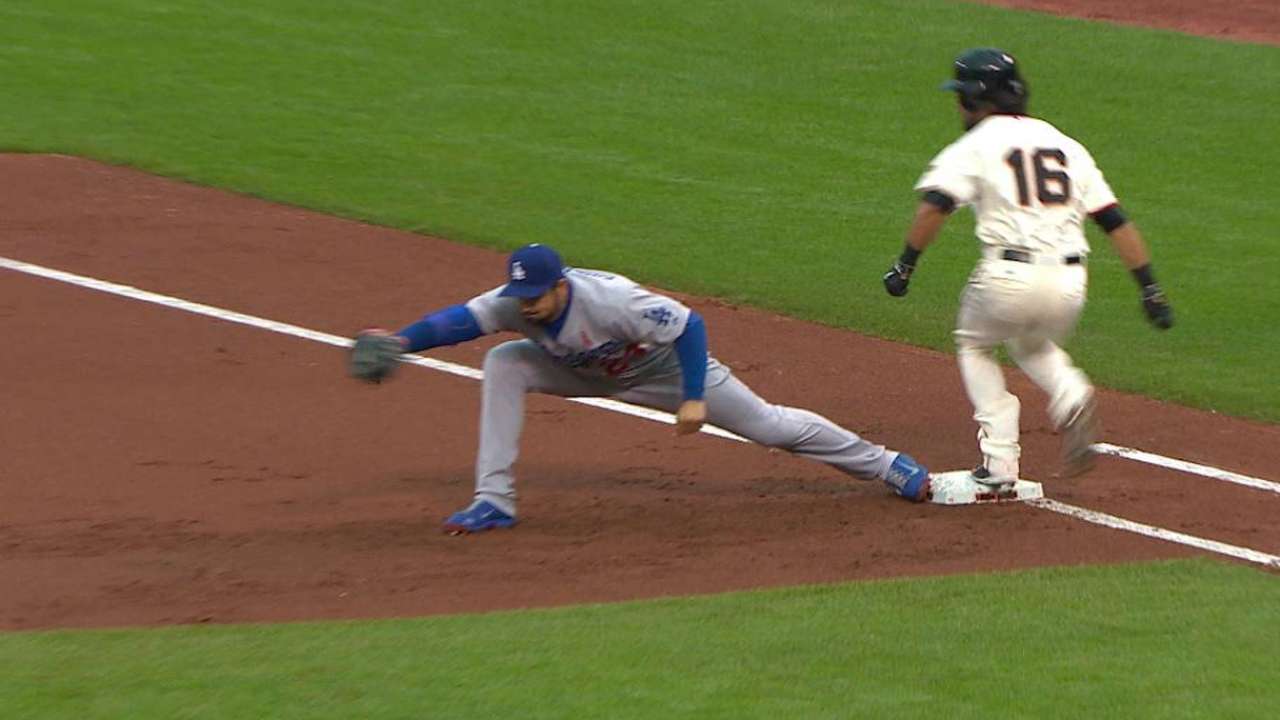 WHAT'S NEXT
Dodgers: Fresh off his 100th career victory, Clayton Kershaw meets Madison Bumgarner for the third time this year in Thursday's 12:45 p.m. PT series finale. Kershaw is 14-6 in his career against the Giants and 8-2 at AT&T Park.
Giants: San Francisco owns a 6-4 record in day games, a somewhat encouraging sign for the hosts as they try to sweep their National League West rivals. For his career, Bumgarner has fared slightly better under the sun (28-18, .609) than under the lights (43-33, .566).
Watch every out-of-market regular-season game live on MLB.TV.
Ken Gurnick and Chris Haft are reporters for MLB.com. This story was not subject to the approval of Major League Baseball or its clubs.