MLB.com Columnist
Bill Ladson
Harper, Williams baffled after being ejected
Views differ after Nationals star, manager are tossed amid arguments, batter's box dispute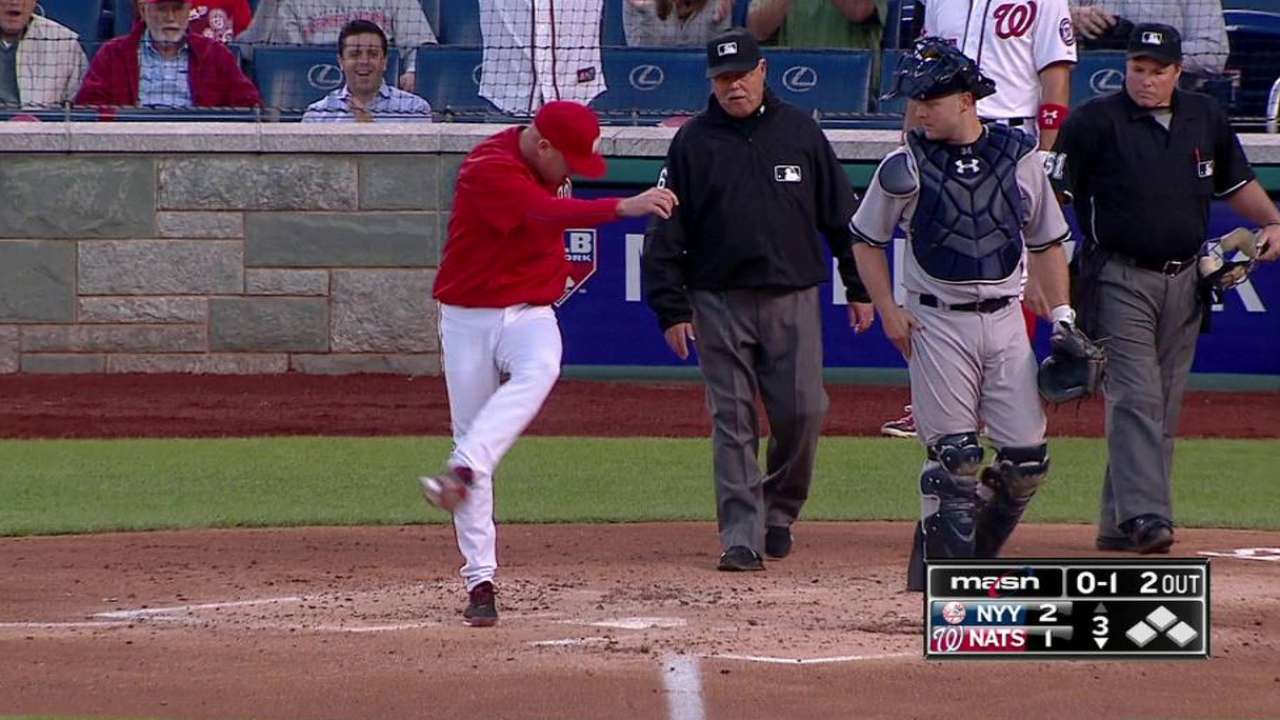 WASHINGTON -- The Nationals took an unconventional route to first place this season and, especially, on Wednesday night.
Bryce Harper, arguably "the best player on the planet" right now as his manager, Matt Williams, put it, was ejected after a relatively quick exchange that involved a borderline pitch, a show of frustration and some second-guessing from the dugout. And even so, the Nationals went on to a 3-2 win against the Yankees that left them alone in first place in the National League East.
Williams also was tossed from the game. This all happened with two outs and nobody on base in the bottom of the third with the visiting Yankees ahead, 2-1.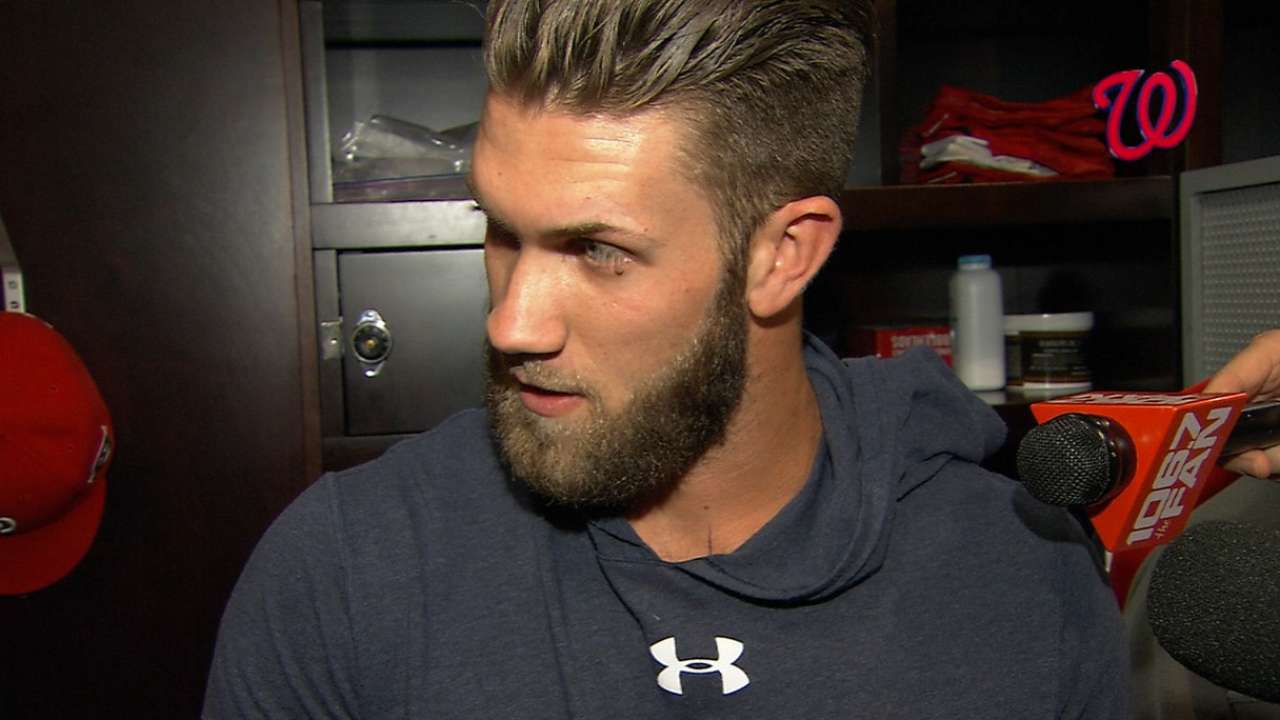 Still, Washington rallied to win, and climbed into first place by a full game over the other team from New York, the Mets. The Nats, who dug a hole for themselves to start the season, were angry that Wednesday's big win also became an uphill battle early.
It marked the second time in a week that Harper was ejected from a game. Last Wednesday, against the D-backs, Harper was ejected for arguing balls and strikes.
This time, while facing Yankees right-hander Adam Warren in the third inning, Harper took a called first strike, showed a flash of disdain, and there appeared to be some arguing between Williams and home-plate umpire Marvin Hudson. Harper stepped out of the batter's box, and when directed to get back in by Hudson, Harper gestured toward the plate and was ejected.
Williams then came out and argued, and he, too, was ejected. Williams then kicked dirt toward Hudson on his way out.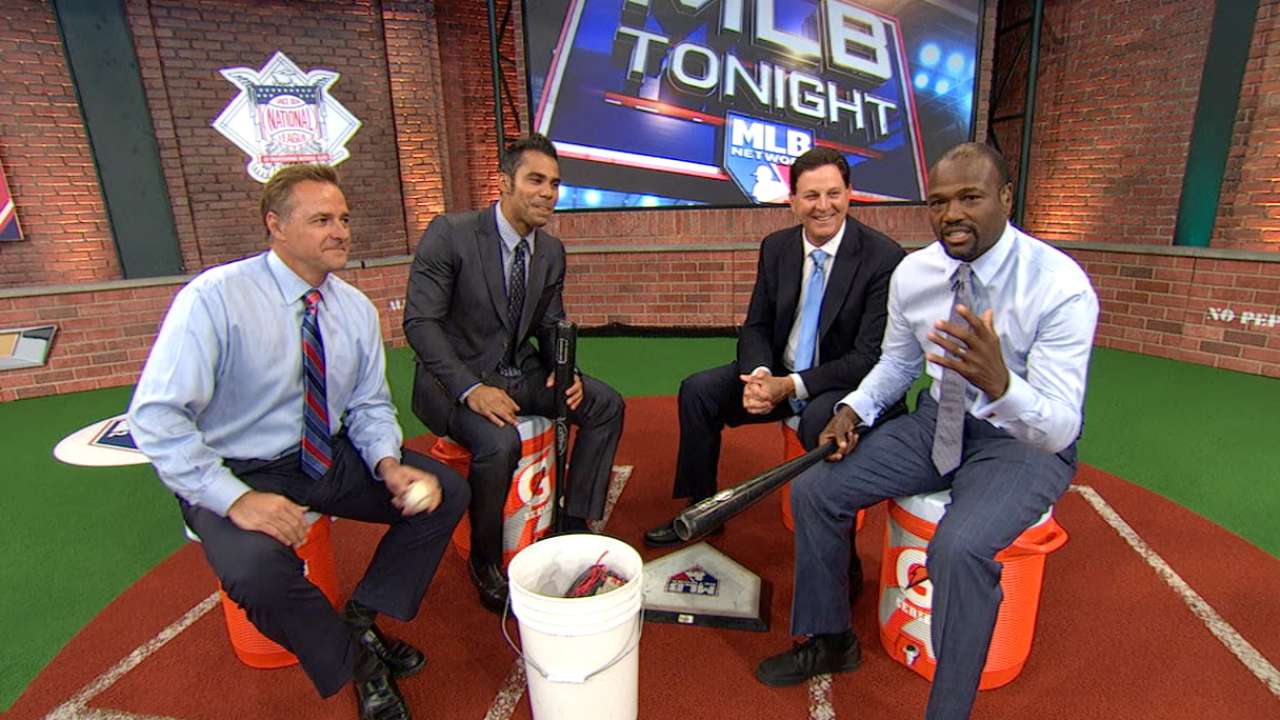 "I feel like he was more mad at Matt than he was me," Harper said. "I was just standing there. He called the strike, and I didn't even care, really. I just looked off, pulled my head over and was just like, 'A little down.'
"And he told me to get in the box. I was already in the box. And then I was standing there, looking at the pitcher, and he took his mask off to talk to Matt. That's when I stepped out. I didn't need to be in the box when he was chirping at Matt. I was taking my time, and once I put my foot back in the box, I said, 'This is where I was.' He rung me."
Michael Taylor replaced Harper and struck out looking to end the inning.
After the game, Williams was visibly upset. He didn't have any explanation as to why Harper was ejected.
"I don't think there is anything that warrants throwing him out of the game right there," Williams said. "He took the pitch, he disagreed with the call, he [went] back in the box, Marvin took his mask off, talked to me in the dugout. Once he was done with that, he motioned for Harper to get back in the box. Harper attempted to, and he threw him out. That's what I saw. ...
"Doggone it, [Harper] is our best player and arguably the best player on the planet, and we need him in the game, and I don't feel there was any means to throw him out. That's why I went out and argued."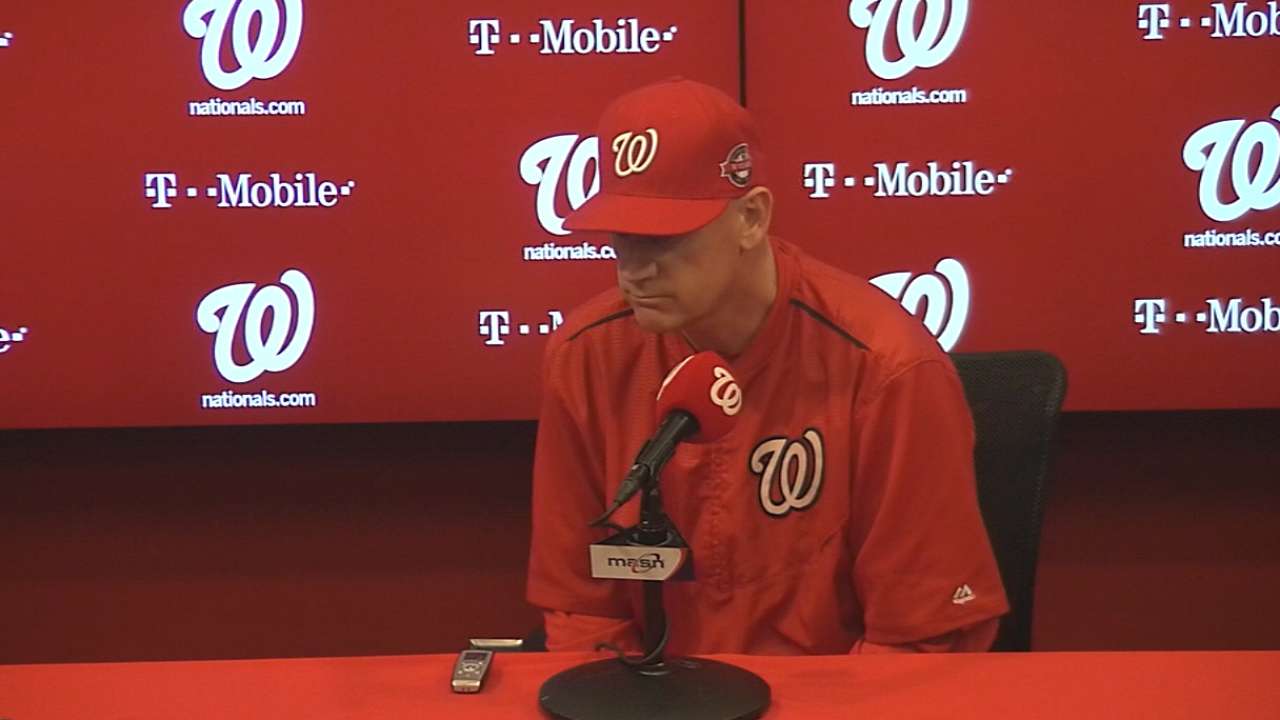 Hudson saw things differently, saying he didn't eject Harper because he wouldn't get back in the box.
"He didn't like the pitch, and I let him have his say going and coming," Hudson told a pool reporter. "The dugout didn't like it, and one thing led to another and I had to run him. I had to eject him."
Harper was measured after the game, and seemed more befuddled than angry.
"I don't think 40,000 people came to watch him ump tonight," he said. "Plain and simple. I really don't think they did. Especially when we're playing the Yankees. The Yankees are a good team, we're a good team. We're rolling. The way I'm hitting, I don't want to get tossed. No reason for me to get tossed in that situation. I don't think I really did anything bad to really get tossed. But maybe he just had a bad morning. Maybe he didn't get his coffee."
Bill Ladson is a reporter for MLB.com and writes an MLBlog, All Nats All the Time. He also can be found on Twitter @WashingNats. This story was not subject to the approval of Major League Baseball or its clubs.