Joyce apologizes for tardiness on Monday
'It's a terrible feeling,' Angels outfielder says of late arrival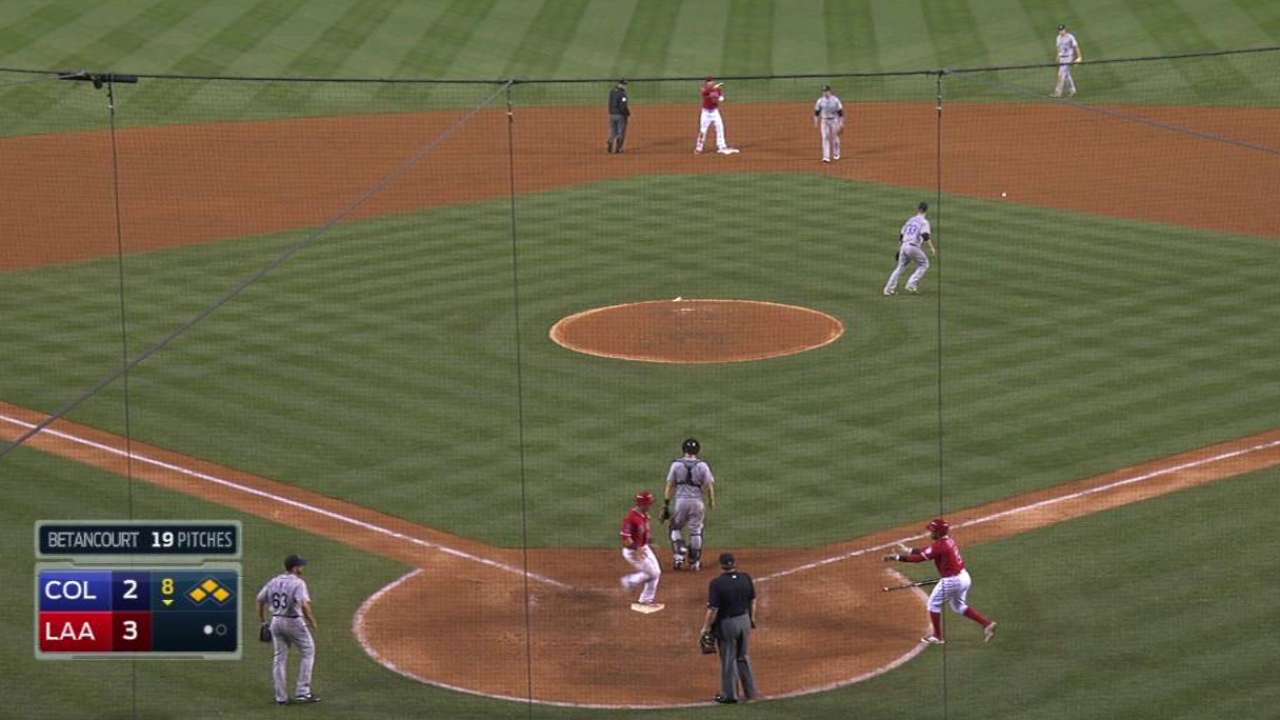 TORONTO -- Angels outfielder Matt Joyce took to his Twitter account Wednesday to make light of Monday's scheduling confusion, which prompted him to arrive late to the ballpark, get scratched from the lineup, pay a fine and draw the ire of his manager.
But to Joyce, it's still no laughing matter.
"I figured I had to say something, respond in some way, because I know people were kind of unhappy about the situation," Joyce said. "This is my life, this is my career. I take it very seriously. I've never been late for anything like that, ever before. It's a terrible feeling."
Joyce tweeted an apology to fans, the organization and the league, noting that being late "is no joke."
I know being late is no joke, I take my job very seriously. I apologize to the Fans, Angels, and the League. pic.twitter.com/P9qSlTTxg5

- Matthew Joyce (@sweetswingin20) May 20, 2015
Joyce thought Monday's series opener from Rogers Centre was a night game, as they usually are. But the nation was celebrating Victoria Day, so first pitch was at 1:07 p.m. ET, instead. Joyce was oblivious until he got a call from head athletic trainer Adam Nevala two hours before first pitch. He showed up during batting practice, was removed from the lineup -- the first time he didn't start against a right-hander -- and didn't pinch-hit in the Angels' 10-6 loss.
Since publicly admitting to his mistake on Tuesday, Joyce has received the usual barrage of criticism on social media and was even taunted by Blue Jays fans during Tuesday's game.
He's more concerned about what Angels manager Mike Scioscia thinks of him.
"I know he wasn't happy, obviously," Joyce said. "I just have to work my butt off and earn the respect back. That's it."
He can start by producing. Joyce -- in his first season with the Angels, and his last before entering free agency -- entered Wednesday with a .148/.191/.222 slash line, drawing just six walks in 115 plate appearances.
A tardy slip was the last thing the 30-year-old left-handed hitter needed.
Scioscia tried to protect Joyce, saying after Monday's game that he was scratched merely because of "a lineup decision." But Joyce felt a responsibility to own up to his mistake -- even if it meant absorbing the backlash that came with it.
"In this game," Joyce said, "you're going to make mistakes. And I think as a man, you have to be able to admit your mistakes and move on, learn from it. That's it. Sometimes it's not always the easiest decision, and there's always going to be a lot of criticism and a lot of people that aren't going to be happy with you. But you're a grown man."
Alden Gonzalez is a reporter for MLB.com. Read his blog, Gonzo and "The Show", follow him on Twitter @Alden_Gonzalez and listen to his podcast. This story was not subject to the approval of Major League Baseball or its clubs.