Castillo ready for new start with Mariners
Catcher to start in finale vs. O's after being traded from Cubs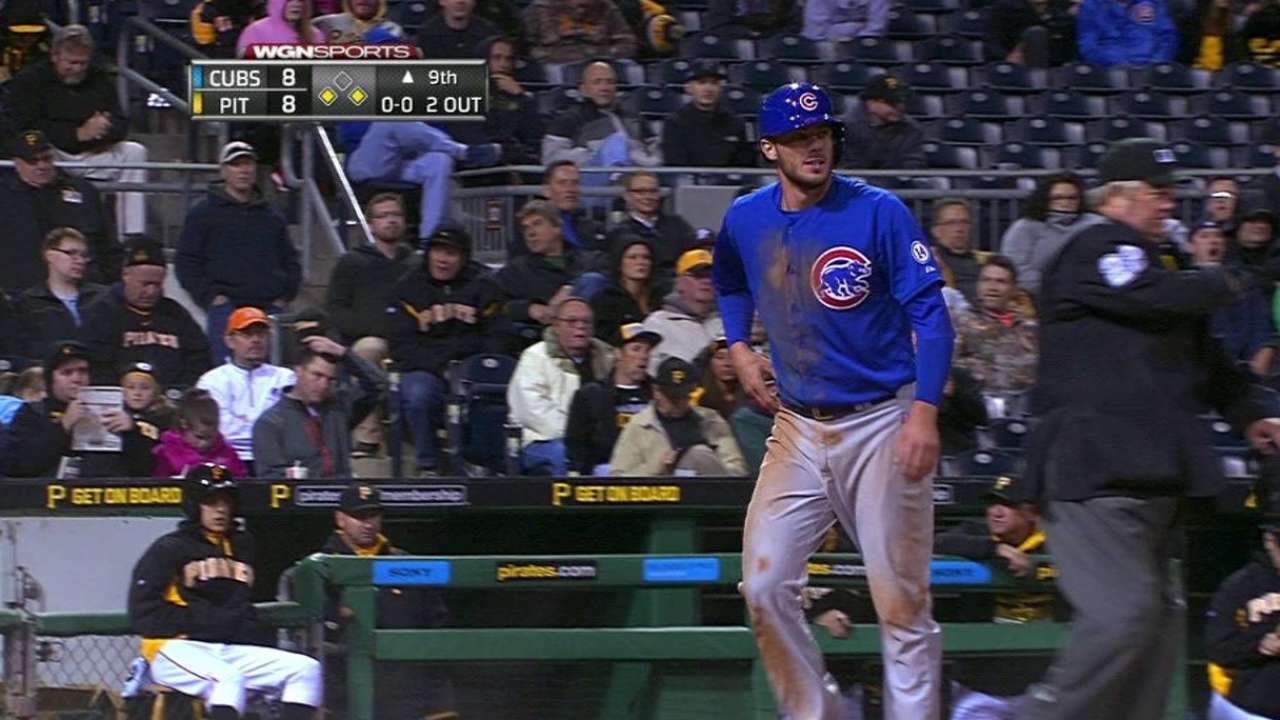 BALTIMORE -- Welington Castillo said he was "shocked" after being traded from the Cubs to the Mariners for right-handed pitcher Yoervis Medina this week.
Castillo, 28, signed with Chicago as a non-drafted free agent on Dec. 8, 2004, and spent his entire 11-year professional career with the organization. So there was some initial anxiety about moving to a new team.
Once he was able to process the news, Castillo looked forward to a new beginning and having the opportunity to make an immediate impact. He will get that chance Thursday, as manager Lloyd McClendon named him the starter for the series finale against the Orioles.
"I am ready to go," Castillo said. "I'm really excited to be here."
To make room for Castillo, backup catcher Jesus Sucre was optioned to Triple-A Tacoma.
Castillo started eight games and made a total of 24 appearances for the Cubs this season. He batted .163 with two home runs and 5 RBIs in 43 at-bats. He was stellar defensively, allowing just one stolen base in 64 innings.
The biggest challenge for Castillo is getting to know the tendencies of the Mariners' pitching staff. He will be matched up Thursday with J.A. Happ (3-1, 2.98 ERA), who has been one of Seattle's most dominant starters this season.
"I think that's the hard part of this," Castillo said. "I'm new. Everybody is new to me. I am going to go out, and maybe during the game, just talk to them to see what they like to do. I want to go with what they feel comfortable."
Castillo made his debut with the Cubs in 2010 and appeared in 310 games over six seasons. He is a lifetime .252 hitter with 29 homers and 110 RBIs. He threw out 47 of 171 attempted basestealers in 2013-14 (27.5%), the eighth-best percentage in MLB during over that two-year stretch.
"I like to compete," Castillo said. "I like to play hard. I like to win games."
McClendon expects Castillo to mainly serve as the backup to Mike Zunino, at least in the short term.
"Obviously, he gives us a lot more depth within organization," McClendon said. "From that perspective, it's a pretty good darn baseball move. To think how physical and tough catching is, and the number of catchers that have gone down this year. If something were to happen to Zunino, I don't think we had the depth in our Minor League system to perform at this level."
Other moves
The Mariners made two other moves Wednesday. Left-handed pitcher Edgar Olmos was reinstated from the disabled list after suffering through a left shoulder impingement. He will likely report to Tacoma over the weekend.
In addition, Seattle signed right-hander Kevin Gregg to a Minor League deal. He will also report to Tacoma and be on the active roster Thursday. Gregg was released by the Reds on May 11 after going 0-2 with a 10.13 ERA in 11 appearances. He has 177 career saves in 13 Major League seasons.
Jackson still on the mend
Center fielder Austin Jackson played nine innings for Tacoma on Tuesday and his injured right ankle was a "little swollen," according McClendon. Jackson will fly with the Rainiers to Iowa on Thursday to continue his rehab.
"We'll see how he feels tomorrow, and we'll go from there," McClendon said. Jackson was initially placed on the 15-day disabled list May 4.
Todd Karpovich is a contributor to MLB.com. This story was not subject to the approval of Major League Baseball or its clubs.