Wilson excited to pitch on big league stage
After being recalled, rookie pitches scoreless ninth in debut vs. M's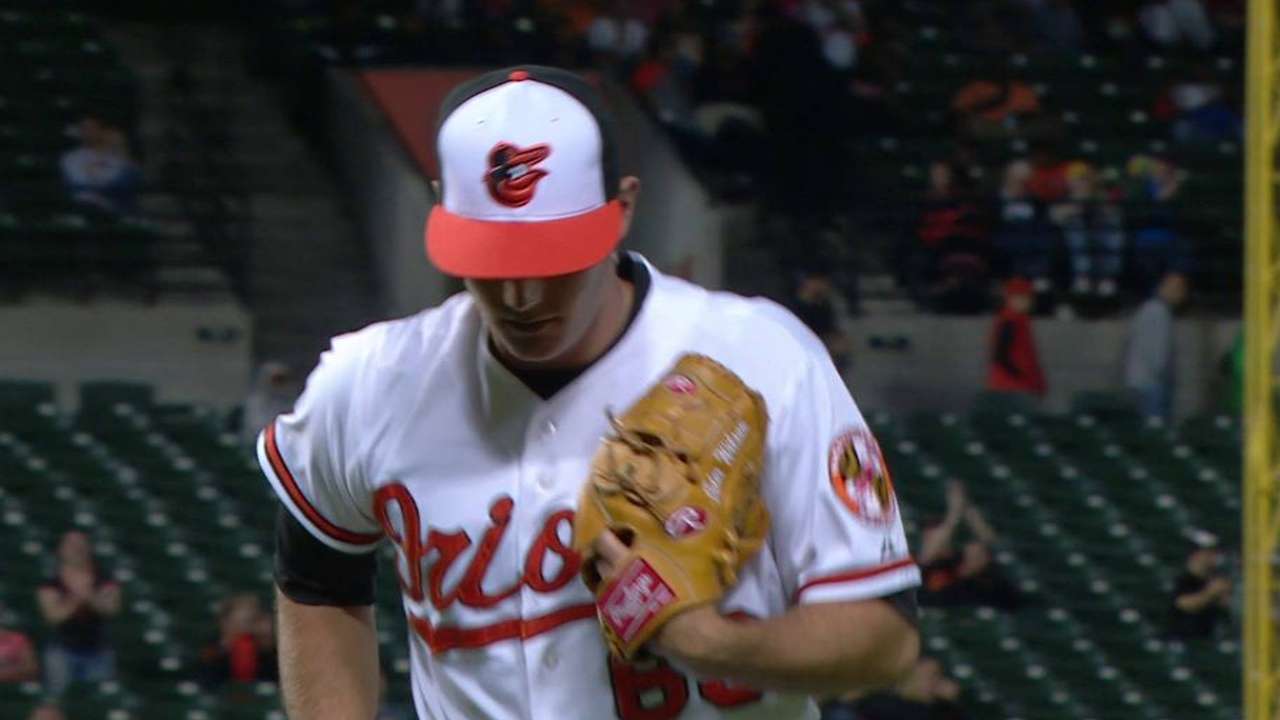 BALTIMORE -- Buck Showalter sought out Darren O'Day in the Orioles' workout facility after Baltimore's 9-4 victory on Tuesday.
He wanted to inquire about Tyler Wilson, who had warmed up alongside O'Day in the bullpen, as the rookie pitcher readied for his first ever appearance at the Major League level.
"He was definitely going a different speed than I was," O'Day told Showalter.
O'Day wasn't talking about Wilson's velocity, but his routine in getting ready for the outing. It's to be expected, as Wilson had never pitched in the Major Leagues after spending the past five seasons in Baltimore's Minor League system.
Wilson was recalled from Triple-A Norfolk on Monday to fill a roster spot when the Orioles placed Bud Norris on the disabled list due to a case of bronchitis. He was moved to the bullpen once in Baltimore after being named the Orioles' Minor League Pitcher of the Year in 2014, when he recorded a 14-8 record and a 3.67 ERA in 28 starts.
Wilson, 25, is ranked by MLB.com as the Orioles' No. 8 prospect. The right-hander is 2-4 this season with a 3.43 ERA in seven starts in Norfolk, but after being a starter for his entire career, Wilson welcomes the transition to the bullpen.
"I'm open to it," Wilson said. "If they want me to catch, I'd be happy to."
Wilson entered the Orioles' 4-2 loss to the Mariners in the ninth inning on Wednesday, pitching a scoreless frame. The righty allowed a pair of one-out singles but got Robinson Cano to ground into a double play to get out of the jam.
Prior to Wednesday, Wilson had said that it'd been tough to sleep not knowing when he would get his chance to take the mound at Camden Yards.
"I'm going to be excited," he had said. "This is the moment you've waited your whole life for, is for that chance to finally spike up out there and get out and compete on the highest stage."
Connor Smolensky is an associate reporter for MLB.com. This story was not subject to the approval of Major League Baseball or its clubs.