Gattis rewards Astros' faith with power display
Decisive blast in finale vs. A's knots DH with Altuve for team lead in RBIs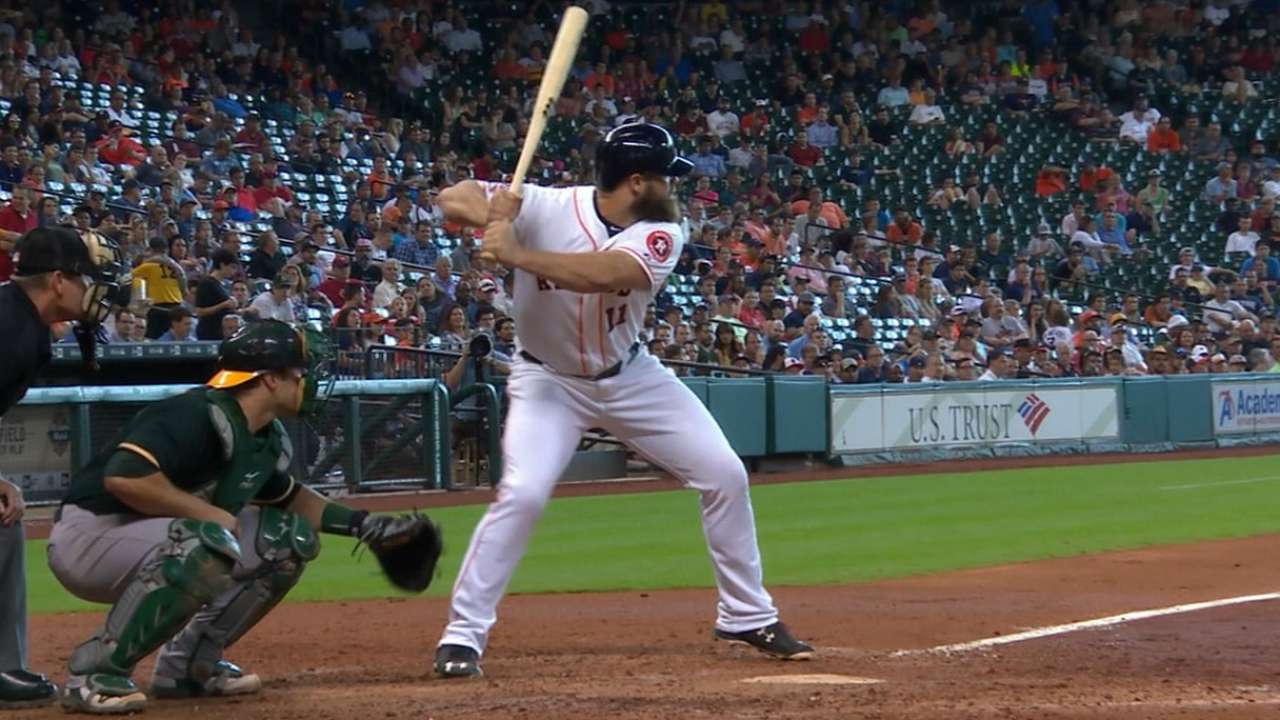 HOUSTON -- Had the roof been open Wednesday afternoon at Minute Maid Park, there would have been no accurate estimate of how far Evan Gattis' no-doubt homer in the sixth inning would have traveled. The official count was 414 feet, though it all but went out of sight when the ball rocketed off his bat.
Those are the kinds of majestic blasts the Astros hope to see more of out of Gattis, the bare-knuckled designated hitter who changed the complexion of the 6-1 win over the A's by breaking a tie with his two-run homer off A's starter Jesse Hahn.
Gattis, whose early-season struggles and strikeouts were a source of frustration, is suddenly tied with Jose Altuve for the team lead with 24 RBIs. And the reason they stuck with him was because of his game-changing raw power.
"It's good to be hitting the ball again, and it's good that actions speak louder than anything that anybody said that's running me out there," Gattis said of the Astros' faith in him. "I'm grateful for that."
Gattis has been mainly an all-or-nothing type hitter this year, but the team is 10-2 when he drives in a run, which speaks to the impact he can have on the game.
"I think our offense is competent enough to know if we can hang in there long enough, somebody is going to do something, and then once somebody does that one thing, it seems to propel everybody else to have good at-bats and continue some innings," manager A.J. Hinch said.
Astros starter Dallas Keuchel was in the tunnel when he heard the crowd roar in the sixth. He peeked up the stairs to see what the fuss was all about.
"Whenever I hear the crowd roar, I know somebody hit a bomb, and sure enough, Gattis was rounding the bases and doing his little caveman dance and all that stuff," Keuchel said.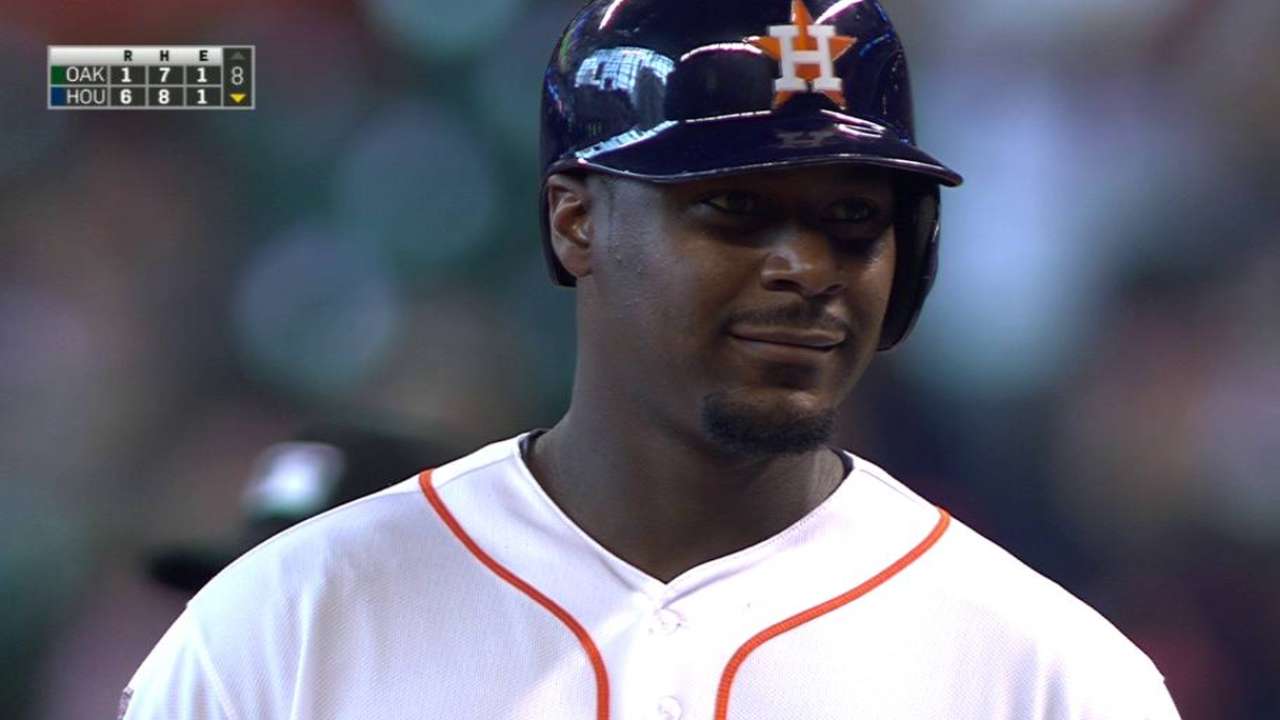 The Astros, who lead the Majors with 61 home runs, showed they can score in other ways, too, when they used a double, four singles and two walks in the eighth to score three runs to take a 6-1 lead. Hinch said hitting coaches Dave Hudgens and Alan Zinter have done a great job helping the batters' pitch recognition.
"We have a lot of guys that could be considered bad-ball hitters, but that doesn't mean you want to chase every bad ball," Hinch said. "Our guys are starting to get the idea that they can hang in there during the at-bats. We've taken some borderline strikes and borderline balls, and both of those are to your advantage if they can't handle the pitch.
"When we're doing damage, we've gotten ourselves in good counts or we've waited long enough in at-bats to get a pitch to hit. Up and down the lineup, we can do some damage when we get a pitch to hit."
Brian McTaggart is a reporter for MLB.com and writes an MLBlog, Tag's Lines. Follow @brianmctaggart on Twitter. This story was not subject to the approval of Major League Baseball or its clubs.