MLB.com Columnist
Jesse Sanchez
International Showcase in Panama wraps up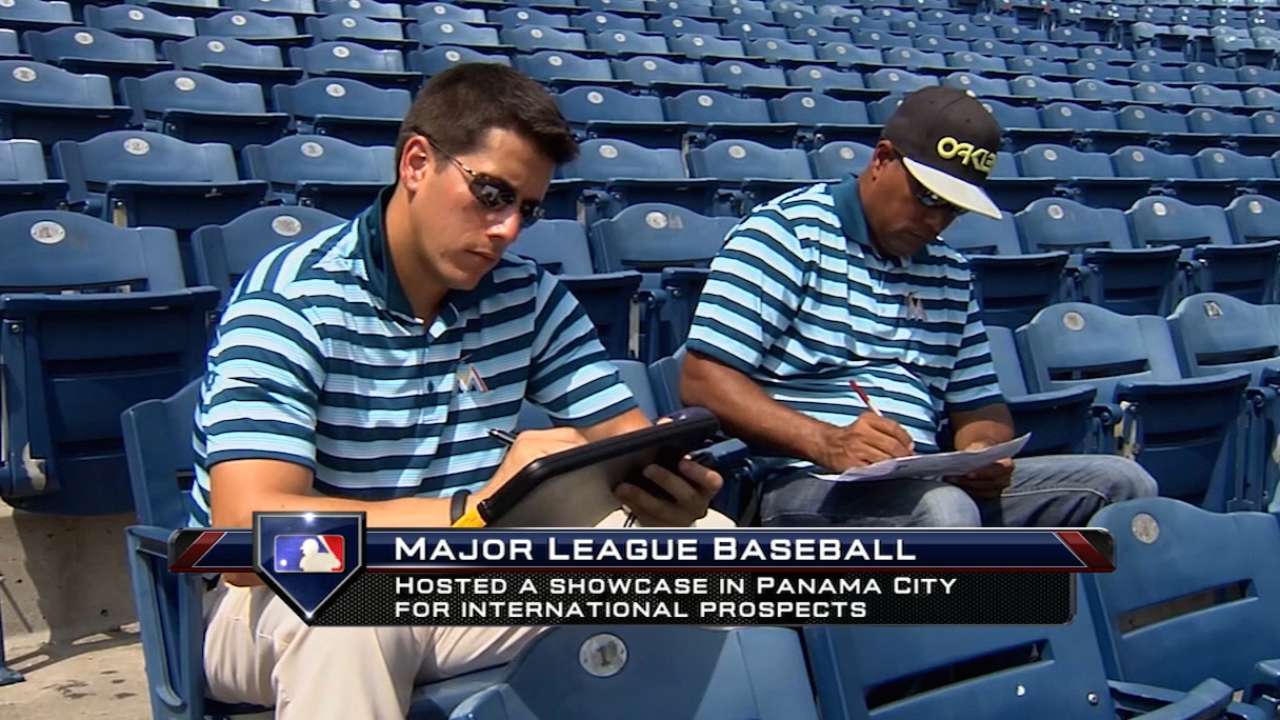 PANAMA CITY -- From the moment the international prospects stepped on the field at Rod Carew Stadium this week, they knew they were being watched by scouts from every Major League team perched in the bleachers.
It's part of an international scout's job to evaluate a prospect's tools, project body types, get a feel for a player's makeup and pay attention to game play, so naturally, every move the 17- and 18-year-old prospects from Colombia, Curacao, Nicaragua and Panama made this week was documented.
Ultimately, that type of exposure was the driving force behind the two-day International Showcase started by MLB and the MLB Players Association for prospects who are eligible to sign professional contracts during the international signing period.
"We all want to get to big leagues, but we all have to get to the first step and that first step is to sign a professional contract," said 17-year-old Colombian catcher Gustavo Castellanos. "This is all about an opportunity, a chance to not only get money, but a way to grow up and stay healthy as a person. We all have the same dream here."
The Showcase began Tuesday with timed 60-yard runs, infield and outfield drills, batting practice and one game. The event wrapped up Wednesday with two more games.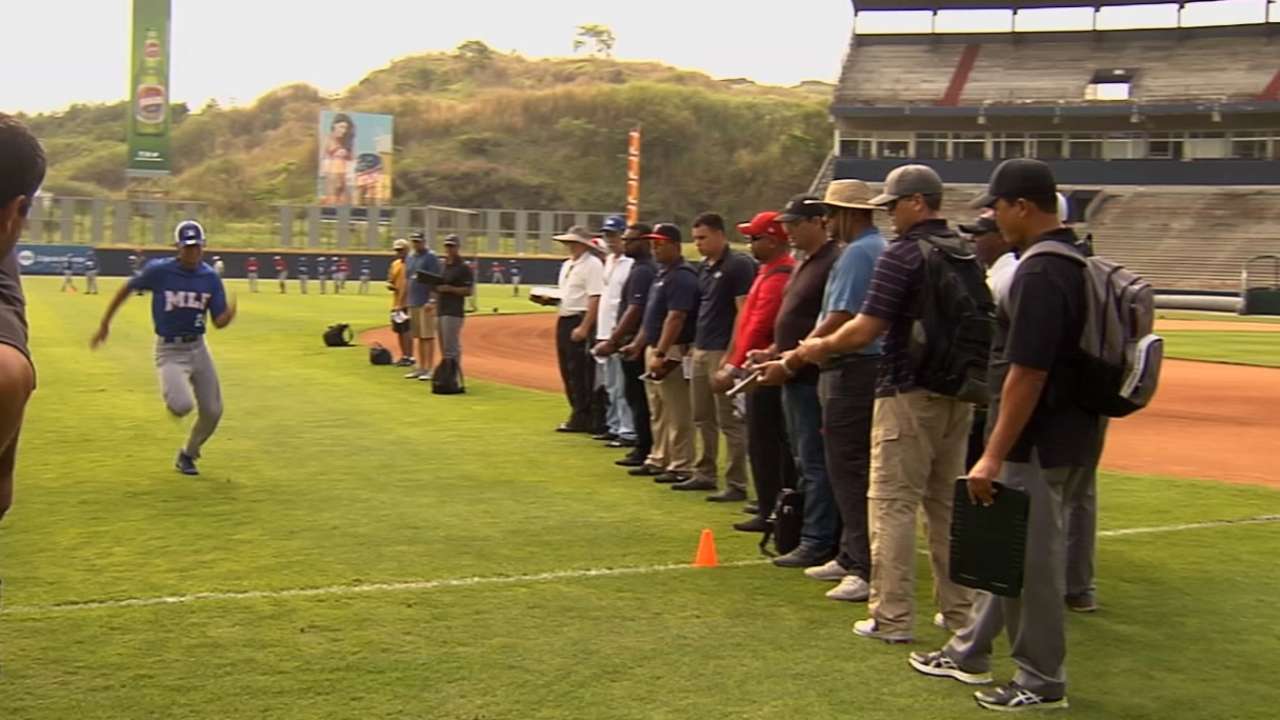 "The kids all got into games and were able to get enough at-bats. The pitchers were able to throw their innings so scouts could evaluate them," said Joel Araujo, the manager for Latin American game development for MLB. "The feedback we are getting from scouts is that there are some interesting players, and our hope is that it translates into a couple of kids getting signed and living out their dream."
In all, there were 16 prospects from Colombia, 19 from Panama, five from Nicaragua and three from Curacao in the Showcase.
"This is a motivation tool for a lot of kids. It's also good to get out the routine a little bit," said former Major League infielder Olmedo Saenz, who is from Panama and has been promoting baseball in his country since he retired in 2007. "These players back in their home countries are working out and working hard each day, but when you get a chance to come to this type of event, a Showcase in front of scouts, it gets them excited. They see what could happen if they keep working hard. They see the future."
This is the present: There were 230 players on 2015 Opening Day 25-man rosters and inactive lists who were born outside the United States. That list included four from Colombia (Tampa Bay's Ernesto Frieri, Miami's Donovan Solano, Atlanta's Julio Teheran and Jose Quintana from the White Sox) and four from Curacao (Atlanta's Andrelton Simmons, Baltimore's Jonathan Schoop, Jurickson Profar from the Rangers and Dodgers closer Kenley Jansen).
Nicaragua was represented by Baltimore's Everth Cabrera and Tampa Bay's Erasmo Ramirez. The four players from Panama on Opening Day rosters were Atlanta's Christian Bethancourt, Arizona's Randall Delgado, Philadelphia's Carlos Ruiz and Ruben Tejada of the Mets.
"What we want to figure out with all countries, but with those specifically, is how to add to those numbers and what we as a central office can do," Araujo said. "We are giving the players from these countries exposure, and we believe the opportunities are components that can help that cause and grow the game."
These are the names to watch from this week's International Showcase.
Kenny Hernandez, 17, Panama: The 6-foot-1, 187-pound left-handed pitcher allowed one hit in two scoreless innings Wednesday. He struck out four and issued one walk.
Antonio Frias, 17, Panama: The 5-foot-7, 203-pound left-hander allowed one hit in two scoreless innings Wednesday, striking out two.
Roberto Caballero, 18, Panama: The 6-foot-2, 163-pound right-handed pitcher allowed one hit in two scoreless innings Wednesday. He struck out two and walked one batter.
Carlos Sanchez, 17, Panama: The 5-foot-11, 165-pound right-handed pitcher threw two perfect innings Wednesday. He struck out three.
Boris Villa, 18, Colombia: The right-hander allowed one hit in one scoreless inning Wednesday. The 5-foot-10, 163-pound pitcher struck out two.
David Lozano, 17, Colombia: The 5-foot-9, 166-pound second baseman went 3-for-4 on Tuesday.
Jesse Sanchez is a national reporter for MLB.com. Follow him on Twitter @JesseSanchezMLB. This story was not subject to the approval of Major League Baseball or its clubs.