MLB.com Columnist
Fred Zinkie
10 players to eye on the fantasy wire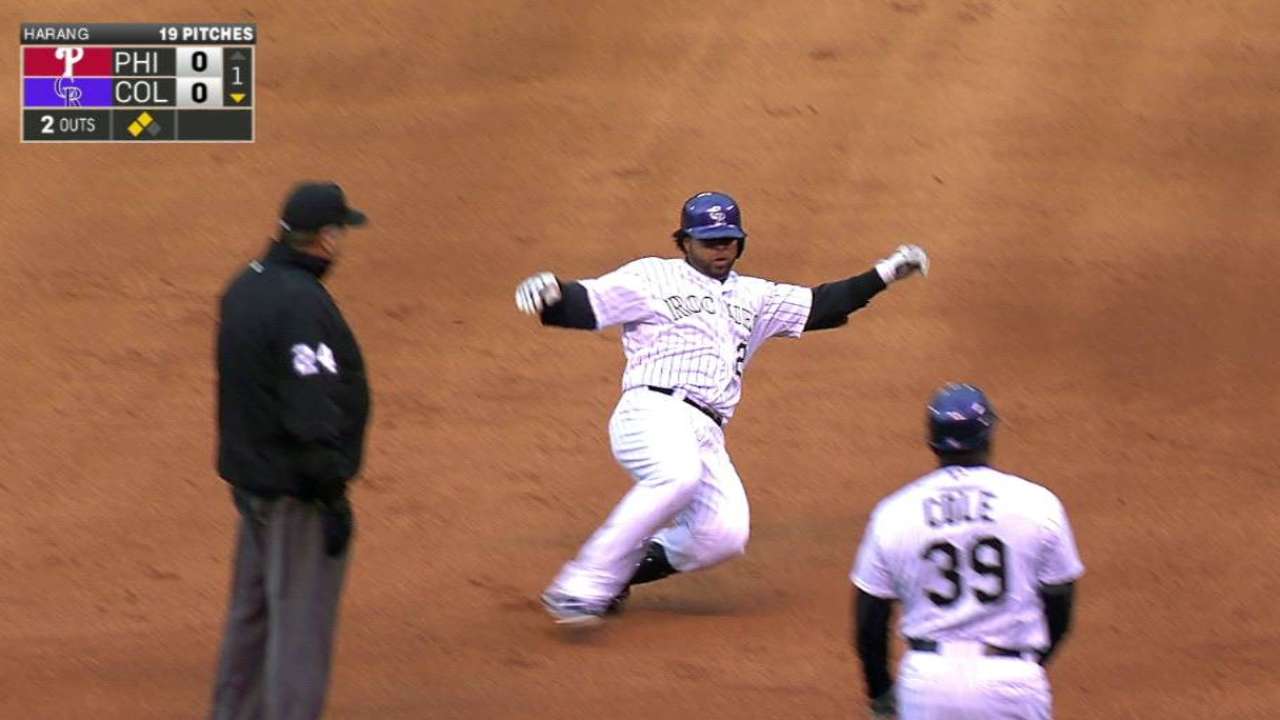 Fantasy owners who are hoping to stack their Week 8 rotation with two-start pitchers from the waiver wire may be disappointed with the available options. However, there are a few hitters and a pair of relievers who deserve special consideration right away. The 10 players listed below could spark a surge up the standings in the coming days.
o
Wilin Rosario, first baseman (Rockies): Rosasio has taken over as the starting first baseman while Justin Morneau is on the 7-day concussion disabled list. Morneau has dealt with serious concussions issues in the past, so there is reason to believe that his absence could be an extended one. As a career .275 hitter with plenty of power and catcher eligibility, Rosario should be owned in all leagues.
Chase Headley, third baseman (Yankees): A .236 batting average is likely the main reason that Headley has fallen to waivers in many mixed leagues. His current .271 BABIP is significantly lower than his career .328 mark, and better fortune on balls in play should allow him return to his career norm of being a .264 hitter. Headley is not the flashiest waiver-wire addition, but by the end of the season, he should exceed 20 homers and 75 RBIs.
Erick Aybar, shortstop (Angels): Aybar has hit .348 in May, and his excellent work has earned him a promotion to the leadoff spot. Hitting in front of Mike Trout, Albert Pujols and Kole Calhoun could allow the 31-year-old to score plenty of runs in the coming days, and he could pick up a few swipes as well. Those who are looking for an alternative to strugglers such as Jimmy Rollins should add Aybar and ride his recent surge.
Steven Souza Jr., outfielder (Rays): Owners should have more interest in a rookie who is on pace to exceed the 20-mark in homers and steals, but a .231 batting average has limited his appeal. Souza has compiled a strong walk rate, and the difference between a .231 hitter and a .269 hitter across 134 at-bats is just five hits. Because of his desirable blend of power and speed, the 26-year-old should be owned in virtually all leagues.
Rusney Castillo, outfielder (Red Sox): Fantasy owners have been growing impatient with the 27-year-old, who is still stuck in the Minors. In Triple-A this season, Castillo has hit .304 with a pair of homers and six steals across 69 at-bats, and he seems to be a superior option to Boston's other right-field candidates. He could be a difference-maker in mixed leagues by the end of the month, and he should be stashed in all formats right away.
David Phelps, starter (Marlins): The former Yankee has notched five consecutive quality starts, and he could continue to have success in the Senior Circuit with the aid of a spacious home park. Phelps should be used in almost all leagues next week when he pitches at a pair of pitcher-friendly road venues. He will face the Pirates and Mets, both of whom have fared poorly against righties this season.
Miguel Gonzalez (Orioles): Gonzalez has posted a 3.24 ERA and a 1.12 WHIP this season, and he has tossed at least seven innings in three of his past four starts. It may be time for owners to give more attention to a starter who is backed by a powerful lineup and boasts a lifetime 3.43 ERA. Because Gonzalez is scheduled to face an unimposing Rays lineup next week, this could be a good time to give him a chance.
J.A. Happ, starter (Mariners): Happ may have turned the corner during the second half of 2014, when he posted a 3.56 ERA and a 1.14 WHIP. The fly-ball-prone starter also seems to have benefited from an offseason relocation to Seattle, as a lower HR/9 rate has aided in producing a 2.98 ERA. He could continue to thrive next week when he faces the Rays in their pitcher-friendly home park before returning to spacious Safeco Field to face the Indians.
Shawn Tolleson, reliever (Rangers): Tolleson is the most likely candidate to work at the back end of a revamped Texas bullpen, and he finished off a 5-1 win over the Indians on May 17. He should not be owned in shallow formats, but those in deep mixed leagues who need saves would be wise to pick up this high-strikeout reliever with a career 3.34 ERA. The Rangers are unlikely to trade for an experienced stopper, and Tolleson could exceed the 20-save mark this season.
A.J. Ramos, reliever (Marlins): Ramos has officially been inserted as the Marlins' closer while Steve Cishek irons out his recent struggles. With a high strikeout rate and a lifetime 2.54 ERA, Ramos has the skills to keep the ninth-inning gig for the rest of the season. This is the likely the last chance for shallow-league owners to add the 28-year-old, who will likely be considered as a second-tier stopper by the end of the month. Of all the players on the above list, Ramos is the one who has the best chance to be a permanent difference-maker in all leagues.
Fred Zinkie is the lead fantasy baseball writer for MLB.com. Follow him on Twitter at @FredZinkieMLB. This story was not subject to the approval of Major League Baseball or its clubs.