MLB.com Columnist
Phil Rogers
Royals force changing of the guard in Central
Using momentum from last season's breakout, KC grabbing control of division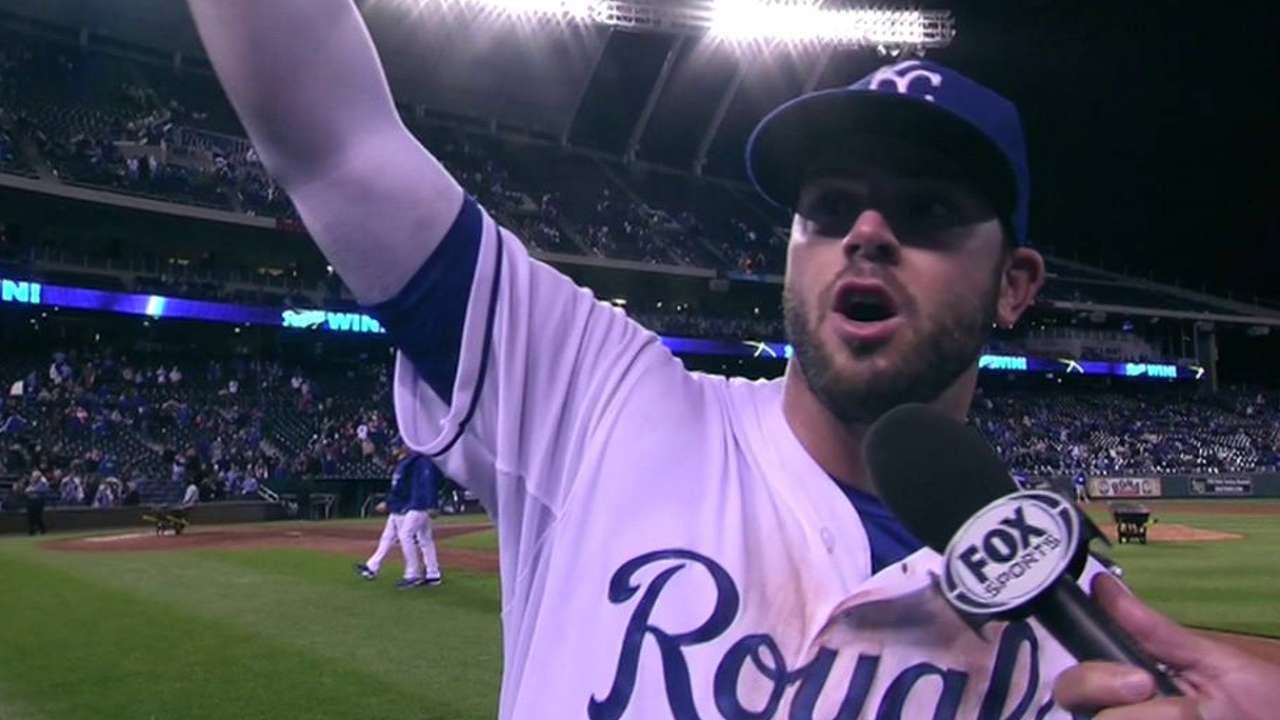 This is a new era in the American League Central.
As tempting as it has been to cling to the premise that the Tigers are the powerhouse, that they will eventually come out of hibernation to win a fifth consecutive title because that's what they always do, the reality is that ship has sailed.
The Royals are the team to beat.
They're no longer the surprising team with the athletic lineup and powerful bullpen. Until further notice, the conversation should be whether the Tigers can find a way to take them down, not the other way around.
We've known that on some level for awhile, but how can we overlook all that star power in Detroit, not to mention the way that Mike Ilitch and Dave Dombrowski keep the roster upgrades coming?
As the Tigers have aged and thinned out their farm system, the Royals have matured and continued to accumulate elite young talent. The developments on Tuesday underscored the switch in the balance of power.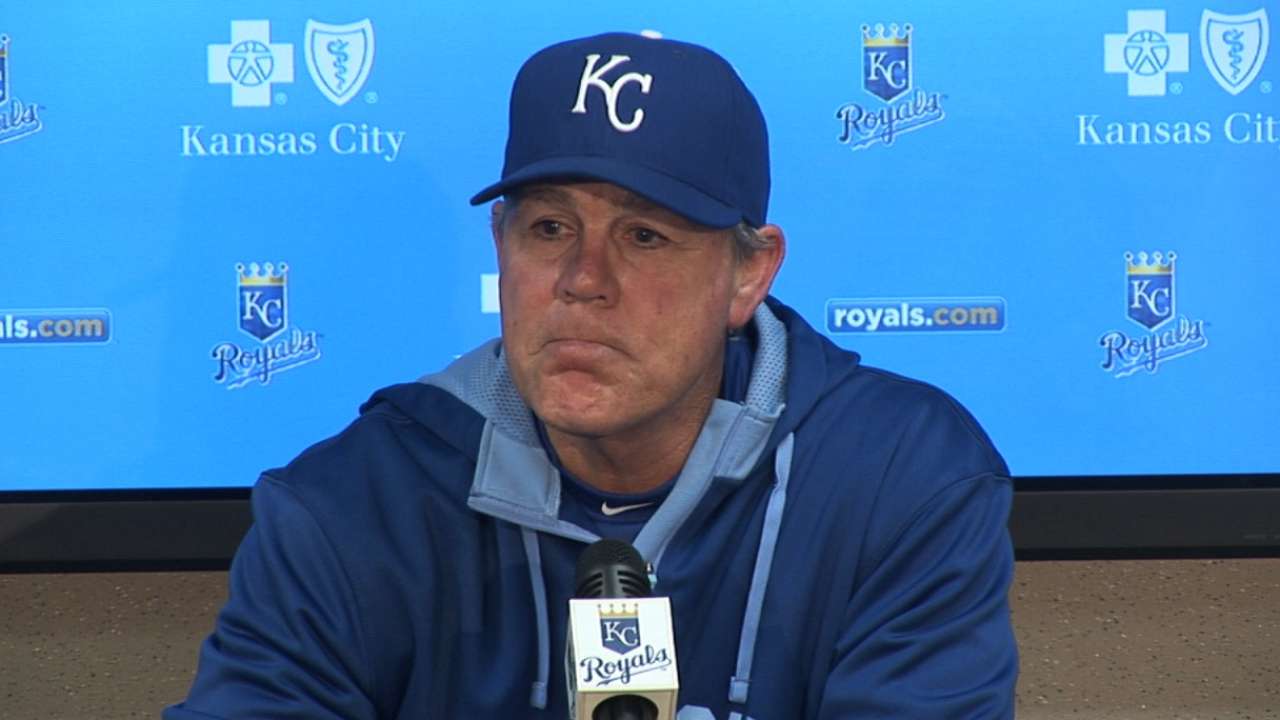 While the Tigers placed Victor Martinez on the disabled list with a left knee injury that has persisted after surgery in February, the Royals welcomed back their ace, Yordano Ventura. He never really left, of course, but he hadn't been pitching like the mellow 23-year-old who won 14 games with a 3.20 ERA last year; he did against the Reds on Tuesday, throwing seven scoreless innings while striking out six without a walk.
Kansas City has gained ground on Detroit three days in a row, taking a 2 1/2-game lead in the AL Central. But consider the longer view.
Since July 22 last year, the Royals have gone 66-37. That's 9 1/2 games better than the Tigers and a .641 winning percentage, which equals 104 wins over a full season.
Add in the 11-4 run that got Kansas City to Game 7 of the World Series, and it is 77-41 going back to its second-half turnaround. That's a .653 winning percentage.
Even when Justin Verlander, Miguel Cabrera and Martinez were at their best, with Detroit generating maximum respect, the Tigers were never that good over a full season. They always had a glaring weakness with their bullpen, which has contributed to them winning only half of their eight postseason series since 2011.
Maybe the Royals won't maintain their success long enough to be a 100-win team. But don't bet against them. They're second in the AL in runs, averaging 5.0 per game, and first in run prevention, allowing opponents to score only 3.5 per game. Their plus-58 run differential is the best in the Major Leagues and laps in the field in the AL, where Houston is second, at plus-24.
A longtime scout points out that the AL has been weaker across the board this year than he can remember. It's easy to see where he's coming from, with the Astros pulling away from the pack in the AL West and the AL East an open debate between five teams that will be challenged to get to 90 wins.
But this Kansas City team put together by Dayton Moore, Ned Yost and scouts like Art Stewart, Gene Watson and Jim Fregosi Jr. would command respect in any era.
The Royals haven't lost a step since October, when their team speed and smothering defense was on display in sweeps against the Angels and Orioles before Madison Bumgarner stopped them 90 feet short of a championship.
Perhaps the most telling stat about them is that they're already at 39 Defensive Runs Saved, according to Fangraphs, which is more than the second- and third-best teams (Blue Jays and D-backs) combined. Center fielder Lorenzo Cain and third baseman Mike Moustakas are the AL leaders at their position.
Then there's the bullpen, which didn't miss a step when Greg Holland was on the DL or when Kelvin Herrera was suspended. If anything, it's even stronger than it was last season.
Jason Frasor, who was wisely re-signed, and newcomers Chris Young and Ryan Madson have made major contributions to a relief corps that has compiled a 1.58 ERA and held opponents to a .181 batting average.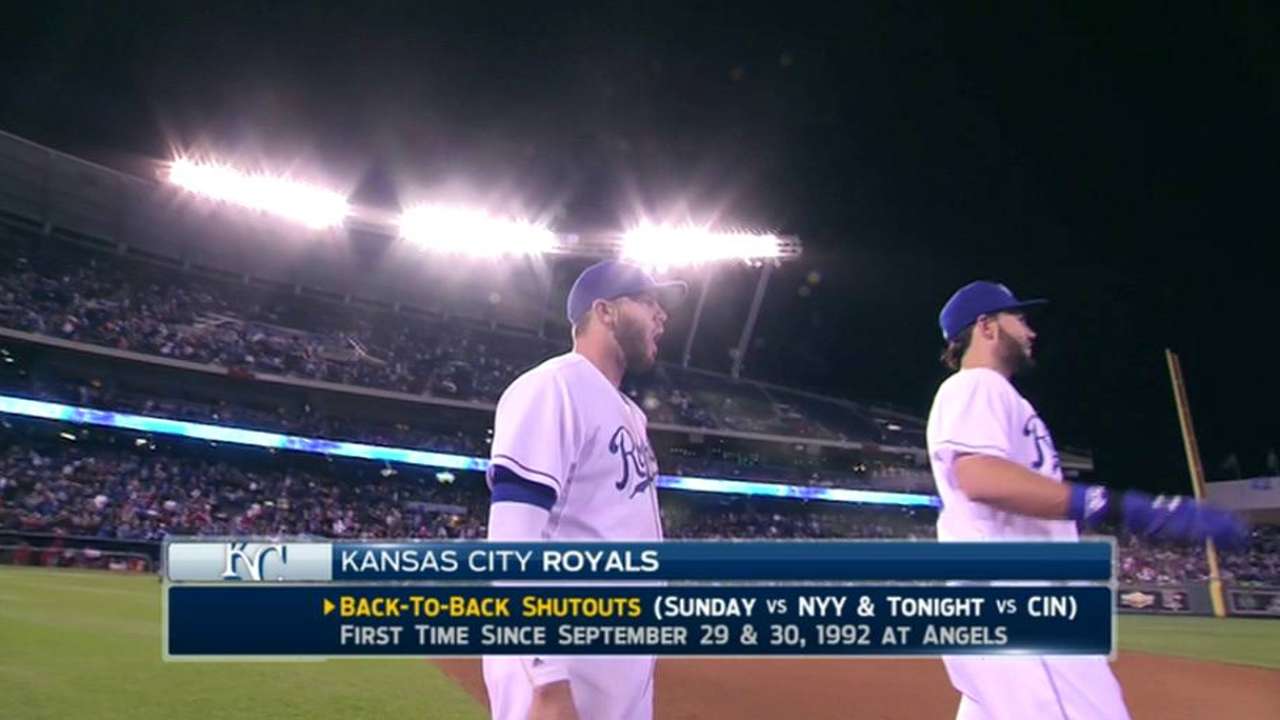 Davis, who emerged as a ninth-inning option when Holland was sidelined, has been an absolute beast. He's allowed only seven hits and four walks while striking out 19 in his 18 innings. Davis has matched Holland's seven saves, including one on Tuesday, when Holland was unavailable because of a stiff neck. Davis hasn't given up a home run since Sept. 4, 2013, working 101 innings in that time. It's the longest stretch for an active reliever by 31 2/3 innings, with Aroldis Chapman second.
As for the lineup, both Eric Hosmer and Moustakas are delivering like potential AL MVP Award candidates. Hosmer is seventh in the AL with a .945 OPS, which comes alongside a .322/.399/.546 slash line. Moustakas doesn't have raw totals that are as impressive, but he's a hot topic for scouts and opposing managers because of how he's become a pioneer in adjusting to defensive shifts.
The left-handed-hitting Moustakas was 3-for-4 against the Reds' Johnny Cueto on Tuesday night, including a soft single and a hard double to left field. He's historically been a pull hitter who swung for the fences, but he went to work in the offseason to gain the ability to drive the ball all over the park.
Moustakas has succeeded in a major way, with 22 of his first 45 hits going to left field. His slash line of .331/.388/.497 is partly the result of teams no longer being able to count on him hitting the ball to right field. It's a subtle thing, maybe, but it's impressive when players on pennant-winning teams actually get better.
That's what Kansas City has done.
The one area where the Royals are not as strong as in 2014 is the rotation, which is 11th in the AL with a 4.32 ERA. James Shields has been missed, but a return to form by Ventura and a healthy Jason Vargas will go a long way toward lowering that ERA.
Credit Moore with two solid additions in landing free agents Edinson Volquez and Young (2-0, 0.54 in three starts) as depth pieces. Don't look for a splashy trade in July, as that's not the Royals' style. The good news is that they're the class of the AL just as they are.
Phil Rogers is a columnist for MLB.com. This story was not subject to the approval of Major League Baseball or its clubs.