Frias provides silver lining in losing cause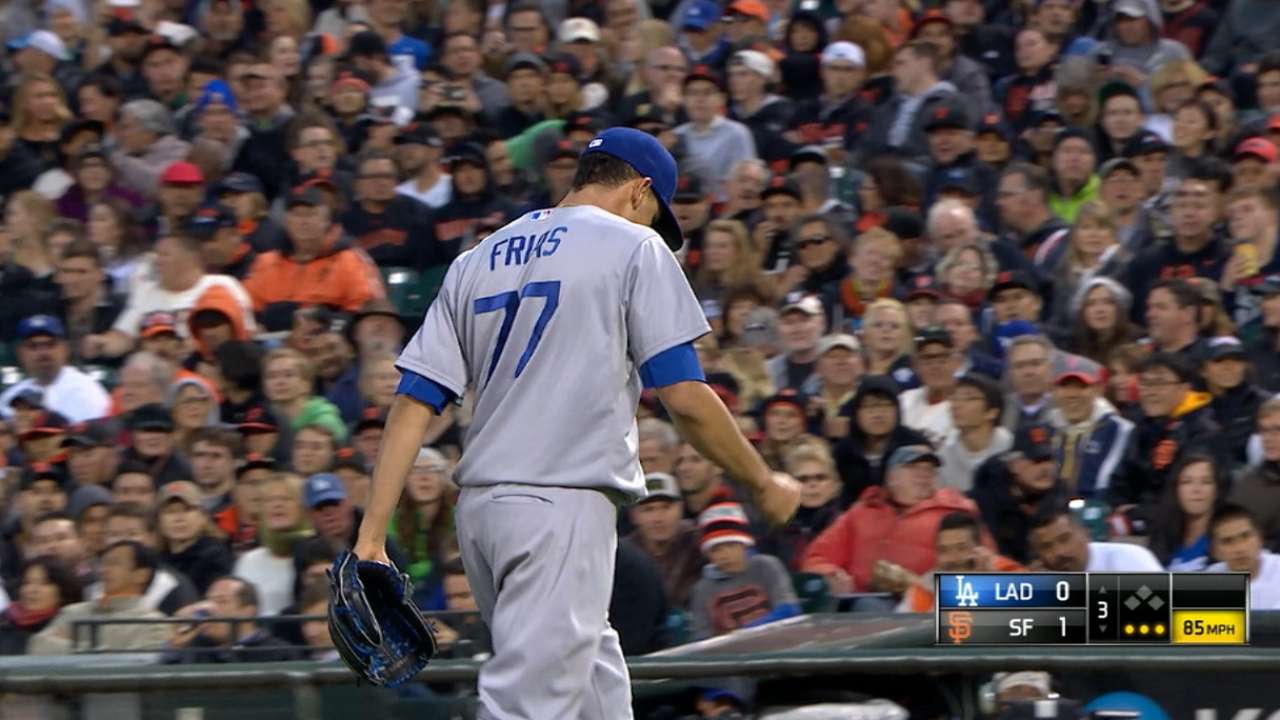 SAN FRANCISCO -- If the Dodgers get the bad news they expect regarding Hyun-Jin Ryu's possible surgery on Wednesday, they will need to keep getting starts like the one rookie Carlos Frias delivered in defeat Tuesday night.
Frias pitched well enough to win in the 2-0 loss to the Giants, allowing one run in six innings and displaying more of a pitching repertoire than the heat he's relied on previously.
Of course, Frias' ability to get through a Major League season as a starter is an unknown, as are the other five rookies who have given the Dodgers so many quality innings this season. The Dodgers will need so much more if they are to continue to win despite the absences of Ryu, Brandon McCarthy, Yasiel Puig, Carl Crawford, Pedro Baez, Joel Peralta and Brandon League, among others.
They will need to play better on the road and, specifically, AT&T Park, where they are winless in all four games already and didn't execute well enough to beat the defending world champs, who trimmed the Dodgers' National League West lead to 3 1/2 games .
"We haven't solved the 2015 riddle here yet," manager Don Mattingly said. "Obviously, you've got to give [the Giants] credit. They are making pitches, got a pretty good staff. The park is a tough park. You've got to hit it to get it out and you're always playing in [weather] conditions."
The Dodgers gave up an insurance run after rookie Kiké Hernandez misplayed an eighth inning fly ball to the left-field warning track that led to an unearned run. Hernandez had just entered in a double-switch.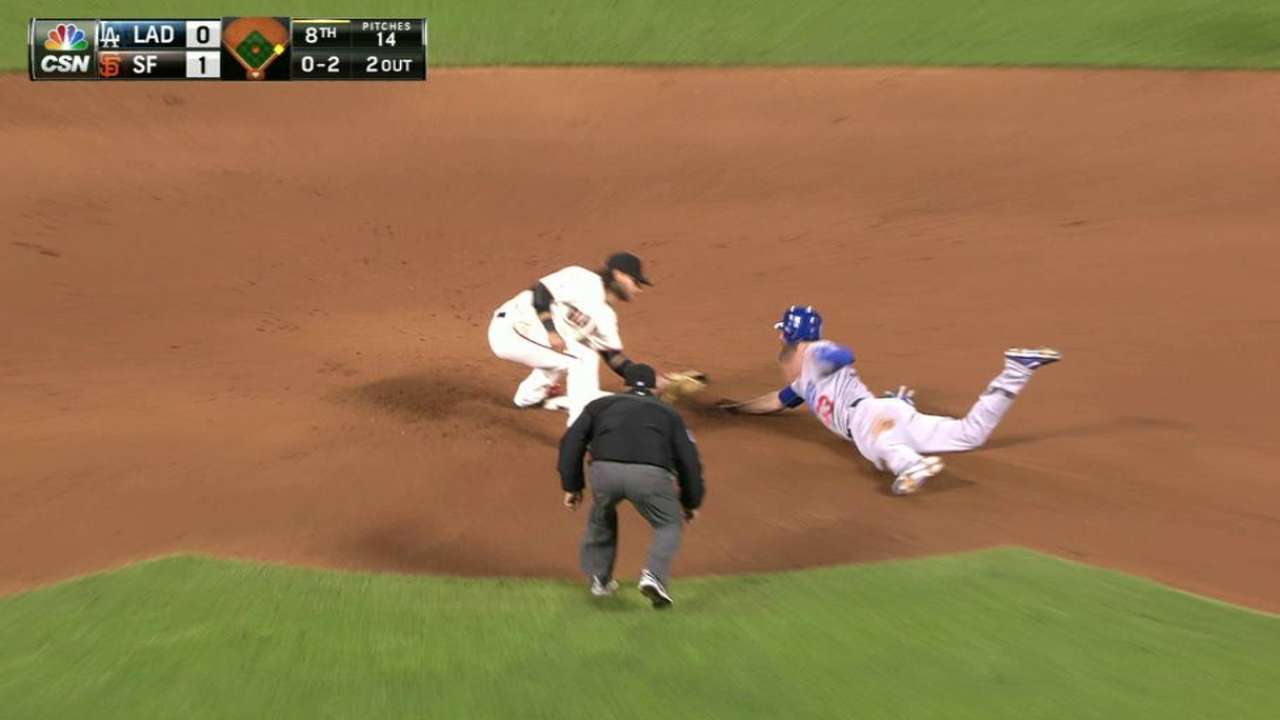 Scott Van Slyke short-circuited a late opportunity when he left first base before reliever Sergio Romo began his windup trying to steal second on an 0-2 pitch to Andre Ethier with two out in the eighth. Van Slyke, the tying run at the time, said he took off when he thought Romo had begun to move toward the plate.
Mattingly wasn't sure what to say about that play in that situation, but the Dodgers had several better opportunities and still went 0-for-6 with runners in scoring position, stranding 11.
Of greater immediate concern, the offense that was prolific for six weeks has ground to a halt, scoring two runs in the last three games that were started by Rockies pitchers Jorge De La Rosa and Kyle Kendrick and, in this game, 39-year-old Tim Hudson, who had lost his previous four decisions to the Dodgers.
"It's baseball, for the most part," Mattingly said of the slump. "There will be stretches where we don't look as good. You hope they're short, little stretches and we get back on track tomorrow."
The bright spot for sure was Frias, who lowered his ERA to 2.55 while pitching out of three jams with runners in scoring position. He dusted off a curveball he rarely used when relieving and struck out Hunter Pence with it to end the third inning with the bases loaded after Buster Posey singled in the only run off Frias.
Ken Gurnick is a reporter for MLB.com. This story was not subject to the approval of Major League Baseball or its clubs.