MLB.com Columnist
Lyle Spencer
Giants showcasing adaptability
Pitching, defense continue to thrive for San Francisco at AT&T Park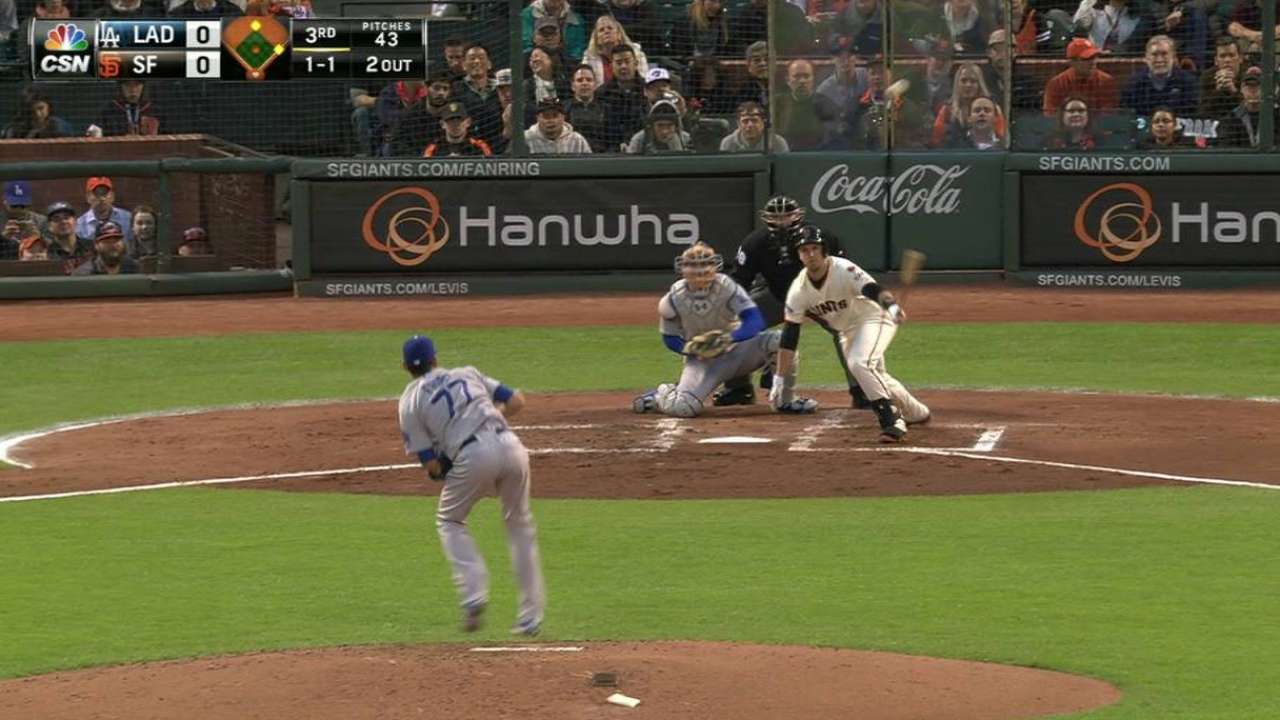 SAN FRANCISCO -- Judging by their home/road splits, you might conclude that the Giants have developed a split personality. It's actually more a case of this being a highly adaptable troupe of athletes capable of adjusting virtually overnight from one style to another without missing a beat.
Returning home after clobbering the Reds with 30 runs in the last three games of a four-game series in Ohio, the reigning World Series champions were back in customary AT&T Park form on Tuesday night: airtight and outta sight.
Tim Hudson threw strikes, the defense made the plays, the bullpen got eight outs and Buster Posey picked up a two-out RBI single behind singles by fellow Killer Ps Joe Panik and Angel Pagan for the only run required.
Beaten 2-0 despite a gritty effort by starter Carlos Frias, the Dodgers watched their eternal rivals move to 3 1/2 games back in what promises to be a wildly entertaining National League West race.
"They do a great job of executing here," said Dodgers catcher Yasmani Grandal, who hit several balls sharply in going 0-for-4. "At the same time, the ballpark is a pitcher's ballpark. A lot of balls you hit in the gaps here -- like Gonzo's today -- have different results in other parks."
Adrian Gonzalez's 400-foot out to right-center leading off the sixth, run down by Hunter Pence with a backhanded grab at the wall, was symbolic of the Dodgers' frustrations. They stranded 11 runners and were 0-for-6 with men in scoring position.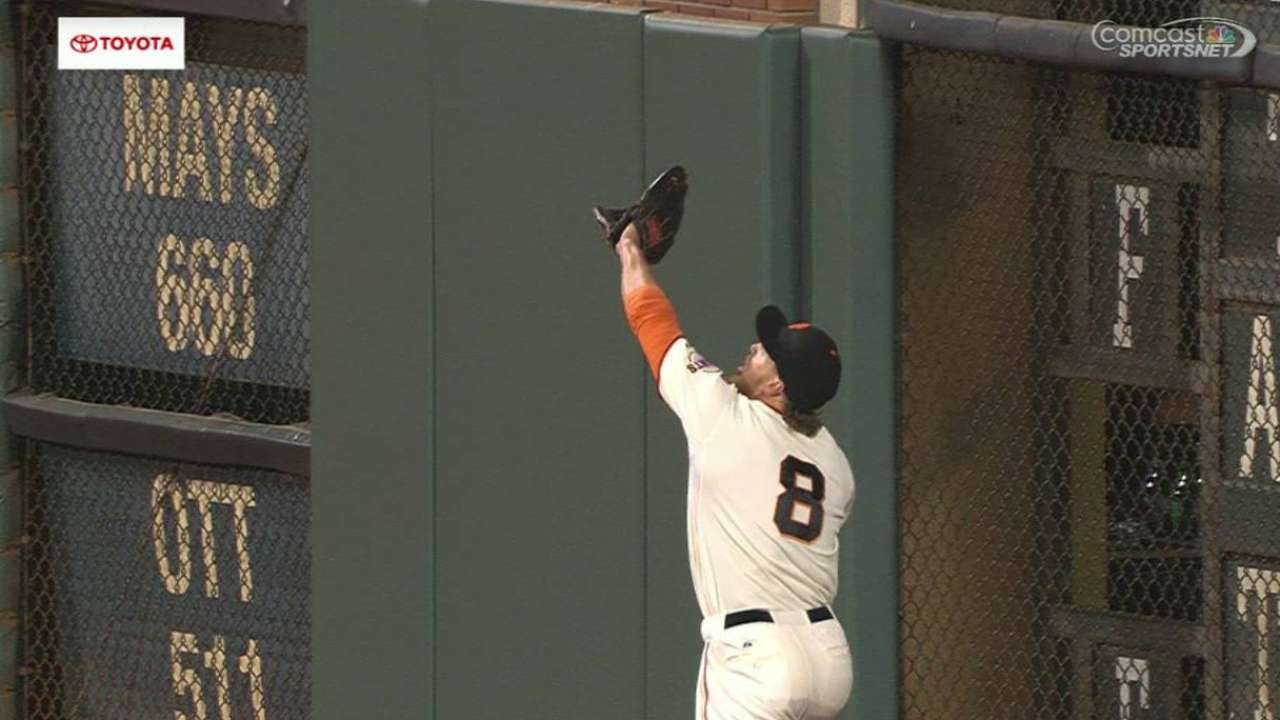 The Giants, from personal experience 81 times a year, know too well how challenging the elements and dimensions on their home grounds can be for hitters.
"I think they understand when you leave a small ballpark like Cincinnati that we might not have the power and score the way we had there," Giants manager Bruce Bochy said. "I think it's a little adjustment knowing you're not going to score as many runs. But if you play good baseball, you're not going to give up as many either."
Since April 21, when Tim Lincecum dispatched Dodgers lefty Brett Anderson at 24 Willie Mays Plaza, the Giants own the best record in the NL at 17-8. Only the 19-8 Astros have been better in the Majors over this stretch.
With spiritual guide and all-purpose force Pence back in action, his broken forearm healed, San Francisco is determined to prove it can win in an odd-numbered year following championship runs in 2010, '12 and '14.
"We have a really strong all-around unit," Pence said. "That's why in baseball you play 162 games. It's a matter of just sticking with the process, learning each day. At the end of 162, we'll see. In this game, you never know."
Pence was hitless in his 2015 home debut, but his play on Gonzalez's drive was one of several key moments for the Giants. Another came when Sergio Romo stabbed Howie Kendrick's bases-loaded comebacker to close out the seventh. It ended with first baseman Brandon Belt beating Jimmy Rollins to the bag at first to strand two runners in the ninth.
The Dodgers, averaging 4.9 runs per game in going 24-14, are 0-4 with a total of six runs scored at this unfriendly venue. San Francisco took two of three when the club visited Dodger Stadium, a hitter's haven this season.
Scoring a shade more than three runs per game at home, the Giants are 12-9. On the road, where they average 4.67 runs, they are 9-9. The pitching is measurably better at home, where long drives go to die in gloves.
"That catch definitely wasn't an easy one," Pence said of Gonzalez's blast. "That's one of the toughest balls, in that part of the ballpark. There's the wall there in the Bermuda Triangle, and wind is different every day. Normally it would be a little easier because it knocks it down, but it was carrying tonight."
Belt's opposite-field drive off the glove of late-game replacement Kiké Hernandez deep in left field led to an unearned insurance run in the eighth. Belt, with nine hits in his past 17 at-bats, has come alive in a lineup that would rank among the game's best if San Francisco played in a neutral park.
Brandon Crawford, who leads the Giants with 25 RBIs and shares with Posey the club lead with six homers, hit one the other way for an out against Frias that would have reached the seats in most parks. No shortstop in the league has been as good as Crawford through the season's first seven weeks.
At home, the Giants are batting .257. On the road, they rise to .280 and have 18 homers. Only 10 have come in front of the hometown fans.
"This ballpark," Pence said, "is a special place."
Learning to take the bitter with the sweet, the three-time champions have memories here visitors can only imagine.
Lyle Spencer is a national reporter and columnist for MLB.com. Follow him on Twitter @LyleMSpencer. This story was not subject to the approval of Major League Baseball or its clubs.