Night after ejection, Hundley hits decisive HR
Rockies score all six runs in win with two outs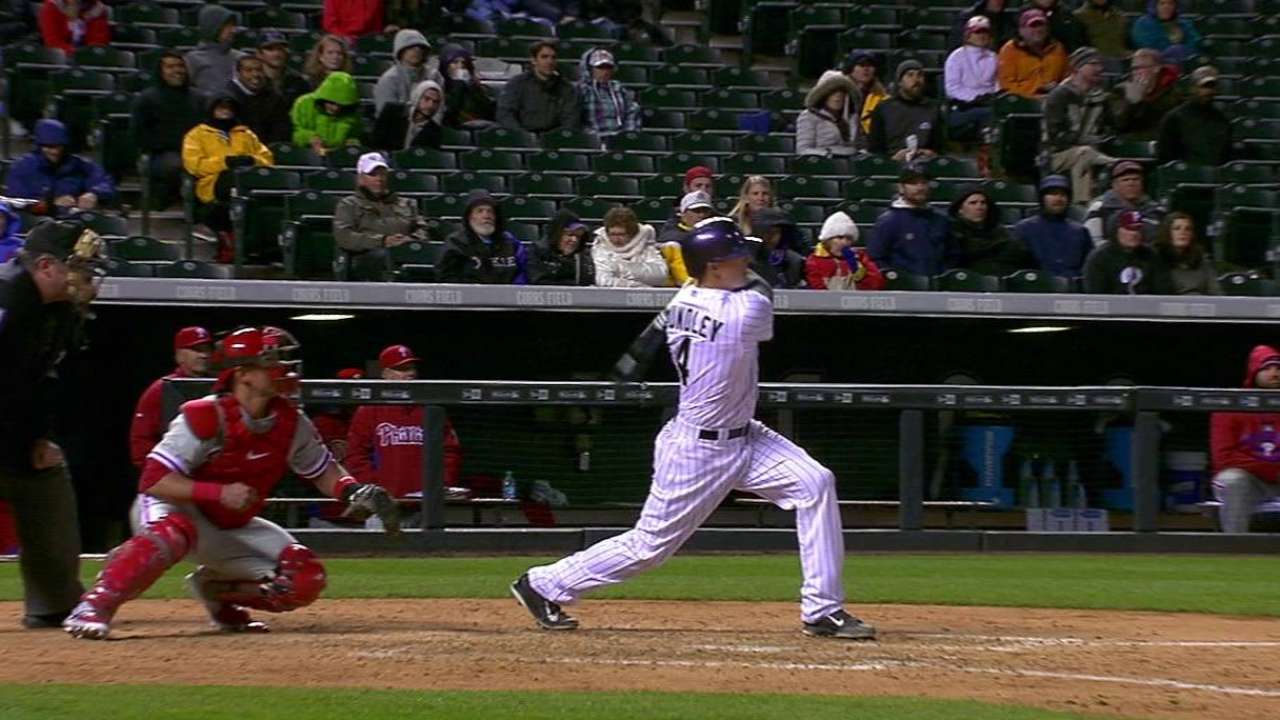 DENVER -- For the second straight night, Rockies catcher Nick Hundley batted in the eighth inning and ended up shouting as he left the field. But Hundley will take the screams of Tuesday over the yells of Monday.
Hundley launched a two-out solo homer to give the Rockies a 6-5 victory over the Phillies on Tuesday to end a six-game home losing streak. The winning swing came a night after Hundley flied out in the eighth before being thrown out of the game for arguing a check-swing call with first-base umpire Hunter Wendelstedt.
Hundley said he and Wendelstedt squashed their beef quickly on Tuesday. It was a good move, since Wendelstedt worked as home-plate umpire in the second game of the series.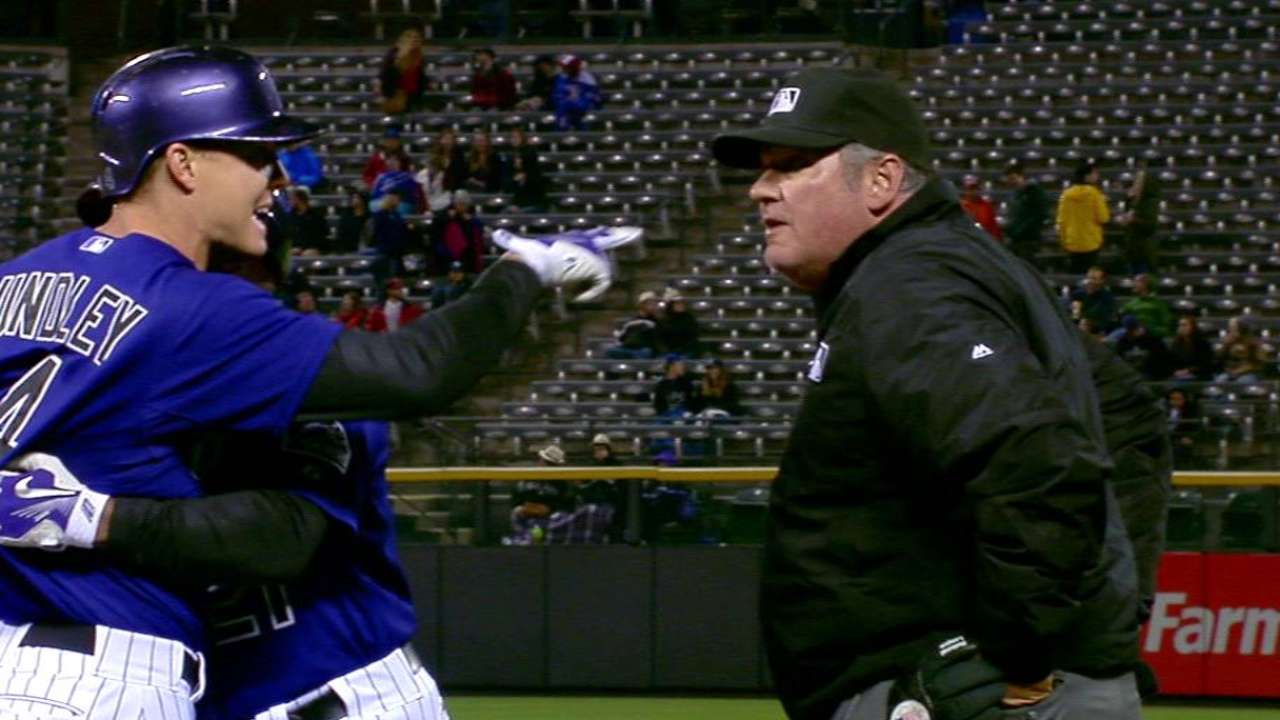 "You never want to get thrown out," said Hundley, who said the video backed Wendelstedt's call, but he still felt he didn't warrant an ejection. "Hunter is real professional. We laughed about it before the game.
"A different situation, they'd maybe hold a grudge. I respect him as an umpire and a person even more now after I got in his face and he treated me well."
The homer, Hundley's third of the season, came on Justin De Fratus' 1-2 slider. The drive cut through the damp night air that felt colder than the temperature, which was in the low 40s by game's end.
"I was running hard out of the box, for sure," Hundley said. "I definitely didn't know. It wasn't a no-doubter, for sure."
A struggling Rockies offense struck out 10 times for its seventh straight game in double figures in that category -- one shy of the Major League record (since 1900) owned by the 2011 Padres. But Wilin Rosario's two-run triple and Hundley's RBI single in the first, Troy Tulowitzki's two-run double in the seventh and the winning homer all were two-out hits.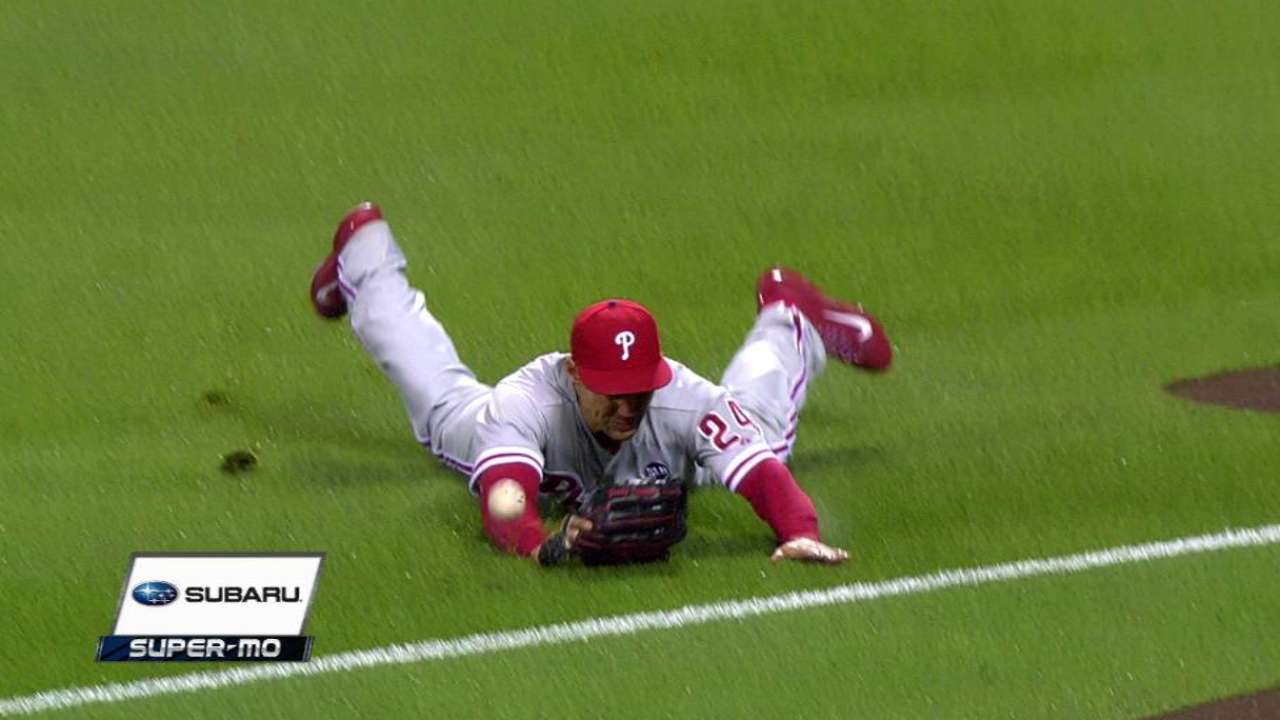 "We got some timely hits -- we didn't get a bunch of them but they came at big times," Rockies manager Walt Weiss said.
Thomas Harding is a reporter for MLB.com. Follow him on Twitter @harding_at_mlb, and like his Facebook page. This story was not subject to the approval of Major League Baseball or its clubs.