Correa, Santana among top performers in Minors Tuesday
Astros' Nos. 1 and 3 prospects display power, combine for 3 homers, 5 RBIs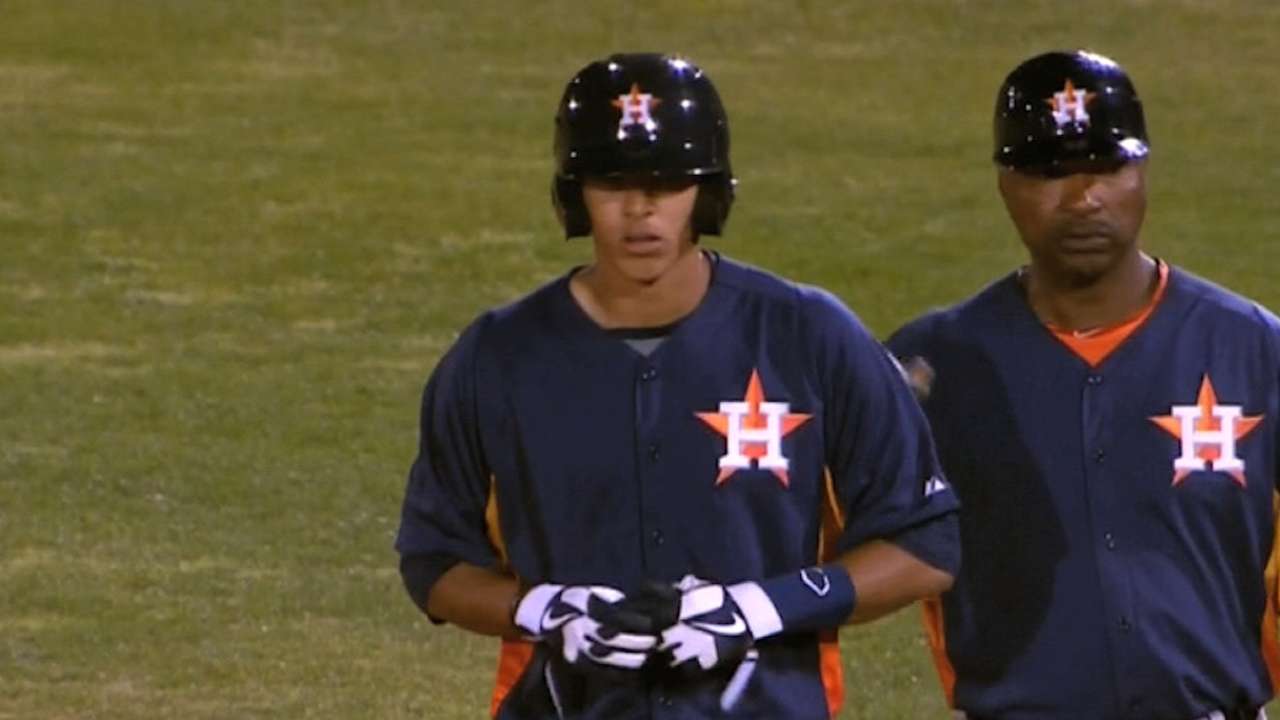 Tuesday's action featured a power surge across the Astros organization.
Houston's No. 1 prospect (No. 3 overall) Carlos Correa and No. 3 prospect (No. 67 overall) Domingo Santana teamed up to lead Triple-A Fresno to a 12-2 victory over El Paso. Correa notched his first Triple-A homer -- a two-run shot -- while Santana swatted two fourbaggers and collected three RBIs.
Down in Class A Advanced Lancaster, No. 12 prospect A.J. Reed and No. 20 prospect Danry Vasquez put in a strong performance for the JetHawks. Both players homered, combining to go 7-for-10 with two dingers and three RBIs.
On the mound, No. 4 prospect (No. 80 overall) Vincent Velasquez went 5 2/3 innings without giving up an earned run for Double-A Corpus Christi, scattering five hits while striking out four.
More standout performances from Top 100 prospects on Tuesday
• Twins No. 1 prospect (No. 1 overall) Byron Buxton hit his first grand slam since 2013, going 2-for-4 with four RBIs for Double-A Chattanooga. The center fielder previously hit a slam for Class A Cedar Rapids, and now has five homers on the year to go along with 29 RBIs.
• Red Sox No. 1 prospect (No. 9 overall) Yoan Moncada picked up his first hit of the season for Class A Greenville. The second baseman followed an 0-for-3, two-run Monday performance with a 1-for-5 game on Tuesday. Moncada picked up the hit in the eighth inning when he beat out an infield single.
• Rangers No. 1 prospect (No. 10 overall) Joey Gallo hit two homers, including an inside-the-park shot, and notched six RBIs for Double-A Frisco. One day after making his first career start in left field, the 6-foot-5 third baseman was slotted at designated hitter. And hit he did; Gallo went 3-for-5, and is now hitting .333/.455/.679 with six homers and 21 RBIs this season.
• Royals No. 1 prospect (No. 39 overall) Raul A. Mondesi hit his first home run of the season for Double-A Northwest Arkansas. The shortstop missed more than a month of action after an early-season back injury, returning May 15. Tuesday, he went 1-for-5 with the three-run shot.
• Pirates No. 4 prospect (No. 43 overall) Austin Meadows launched his second homer of the year for Class A Advanced Bradenton, his first dinger since April 12. The 20-year-old went 3-for-5 with the solo shot, and now has eight RBIs over the past eight games. On the season, Meadows is hitting .324/.393/.441 wtih two homers and 15 RBIs.
Other notable performances from around the Minor Leagues on Tuesday
• Rockies No. 6 prospect Forrest Wall swatted two homers for Class A Asheville, his first homers since April 30. The 20-year-old second baseman has now hit in six straight games, during which time he's also collected nine RBIs. On the year, he's hitting .275/.350/.500 with four home runs and 24 RBIs.
• D-backs No. 27 prospect Daniel Palka recorded his third straight game with three hits, and smoked two home runs in the process. The Class A Advanced Visalia slugger is now over the .300 hump for the first time since April 23, hitting .303/.374/.599 with seven homers and 29 RBIs. Over the past three games, he has nine hits with two homers and three RBIs.
• Giants No. 2 prospect Keury Mella tossed 6 2/3 scoreless innings for Class A Advanced San Jose. The outing -- which included three hits and a walk against four strikeouts -- was his best performance of the season, and his second straight win. The righty is now 2-1 with a 3.06 ERA in seven starts.
• Twins No. 23 prospect Chih-Wei Hu was mostly dominant in his Triple-A Rochester debut, surrendering just two hits and one run in six innings of work. The 21-year-old earned his start in New York by posting a 4-0 record with a 1.03 ERA in six starts -- including a 6-to-1 K/BB ratio -- at Class A Advanced Fort Myers this season.
• Orioles No. 11 prospect Jomar Reyes filled up the stat sheet with two doubles, a triple and a career-high five RBIs during a 4-for-4 night. The 19-year-old has been torching opposing pitchers lately, going 11-for-22 with nine RBIs over the past five games, and is now hitting .311/.372/.470 with two homers and 15 RBIs on the year.
• Nationals No. 21 prospect Matt Skole ripped two home runs for Double-A Harrisburg in his first multi-hit game since May 3. The third baseman has been struggling for most of the season, and is still batting .198, but Tuesday's 2-for-4 performance bumped him up to seven homers and 20 RBIs on the year.
• Yankees No. 7 prospect Gary Sanchez notched his third homer in seven games for Double-A Trenton, and he has 12 RBIs during the stretch. Tuesday, the Dominican catcher went 2-for-5 with a two-run shot, and has six multi-hit games in his past eight starts.
• Indians No. 3 prospect Bradley Zimmer continues to rake for Class A Advanced Lynchburg. A 2-for-3 night with a solo homer makes him 8-for-15 with two homers and two RBIs over the past four games. On the season, he's hitting a solid .296/.384/.500 with seven home runs and 20 RBIs.
• Cardinals No. 21 prospect Steve Bean went 2-for-3 with a home run and a season-high four RBIs. The Class A Peoria catcher has bumped his batting average from .218 to .265 since May 7, and now has a pair of dingers to go with 10 RBIs on the season.
• Cardinals No. 29 prospect Nick Petree was lights out for Double-A Springfield. The righty gave up five hits in seven shutout innings, and has not allowed a run in his past two starts (13 total innings). Petree added five strikeouts against a single walk, and now sits at 1-3 with a 3.86 ERA.
• Yankees No. 18 prospect Tyler Austin hit a third-inning grand slam for Triple-A Scranton/Wilkes-Barre. His four RBIs -- a season high -- were all the runs the RailRiders could muster in a 5-4 loss to Charlotte. Austin now has two homers with 17 RBIs on the season.
Alex M. Smith is a reporter for MLB.com. This story was not subject to the approval of Major League Baseball or its clubs.