Getting third out proves difficult for Phils' bullpen
De Fratus allows decisive homer with two outs in 8th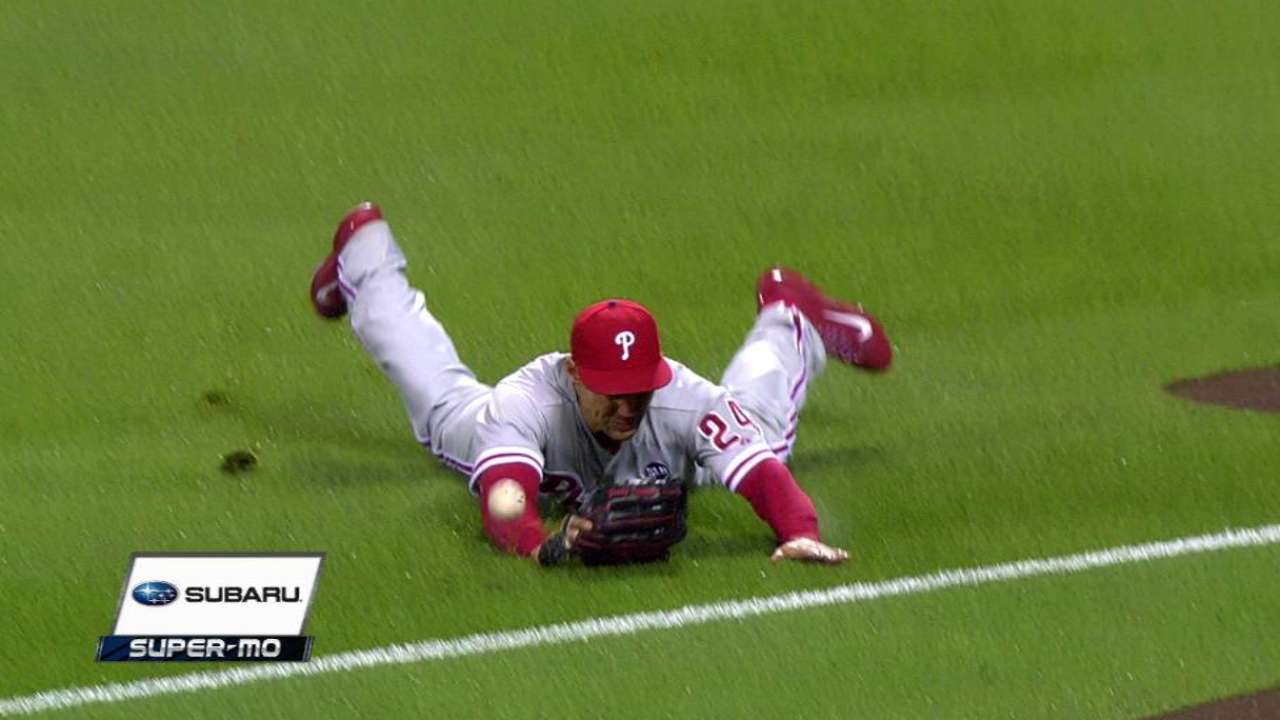 DENVER -- The third out proved problematic for the Phillies' bullpen Tuesday night at Coors Field.
Phillies left-hander Jake Diekman allowed two runs with two outs in the seventh inning to hand the Rockies a two-run lead in an eventual 6-5 loss, which snapped the Phillies' six-game winning streak. Everything in the seventh happened after Diekman struck out the first two batters he faced. Phillies right-hander Justin De Fratus then allowed a two-out solo home run to Nick Hundley in the eighth inning to give the Rockies the lead after the Phillies scored twice in the top of the inning to tie the game.
"I meant for it to go in the dirt and it just went to the one spot it could not go, you know what I mean?" De Fratus said about the 1-2 slider to Hundley. "It was right in his bat path. That's not where I wanted it to go. It's a pitch I'm trying to get in the dirt. It's a pitch I've thrown in the dirt hundreds of times and been successful with it, and it just did not go there."
The killer for De Fratus is that the Phillies had just tied the Rockies for the second time in the game.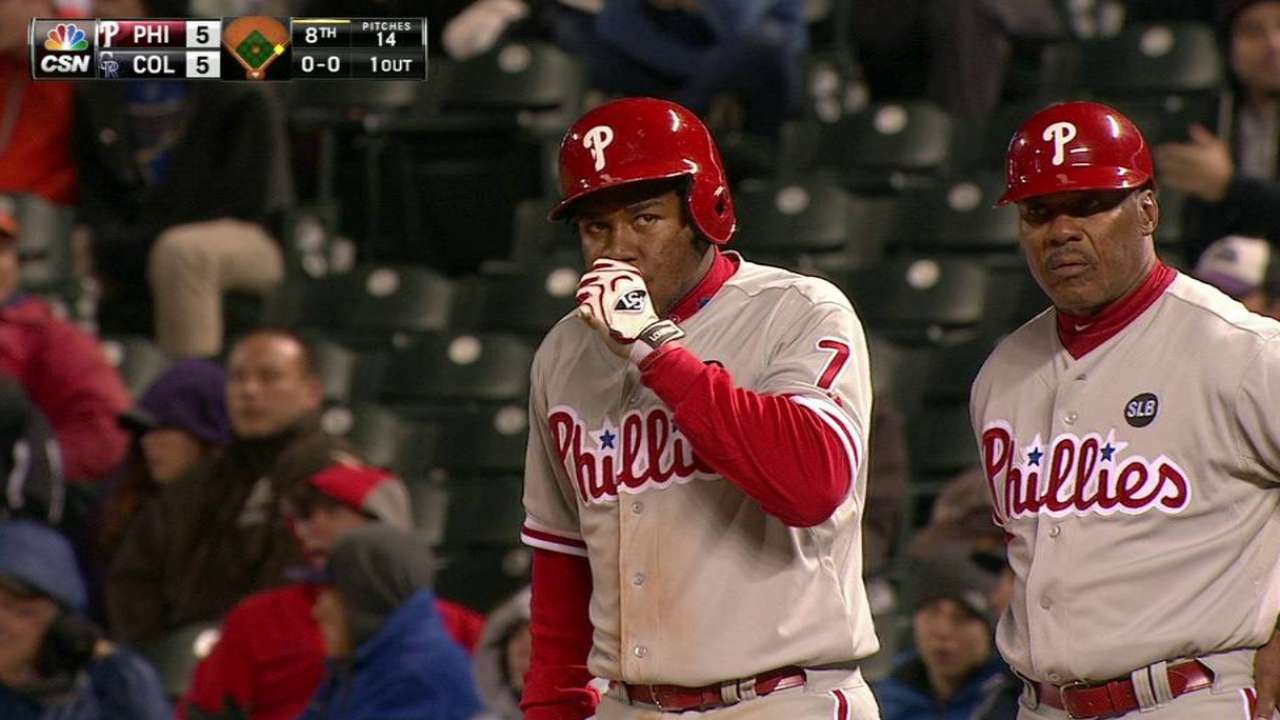 Of course, the Phillies actually could have scored more than twice in the eighth. They had the bases loaded with one out, but Carlos Ruiz grounded into an inning-ending double play. Ruiz has grounded into a team-high five double plays this season.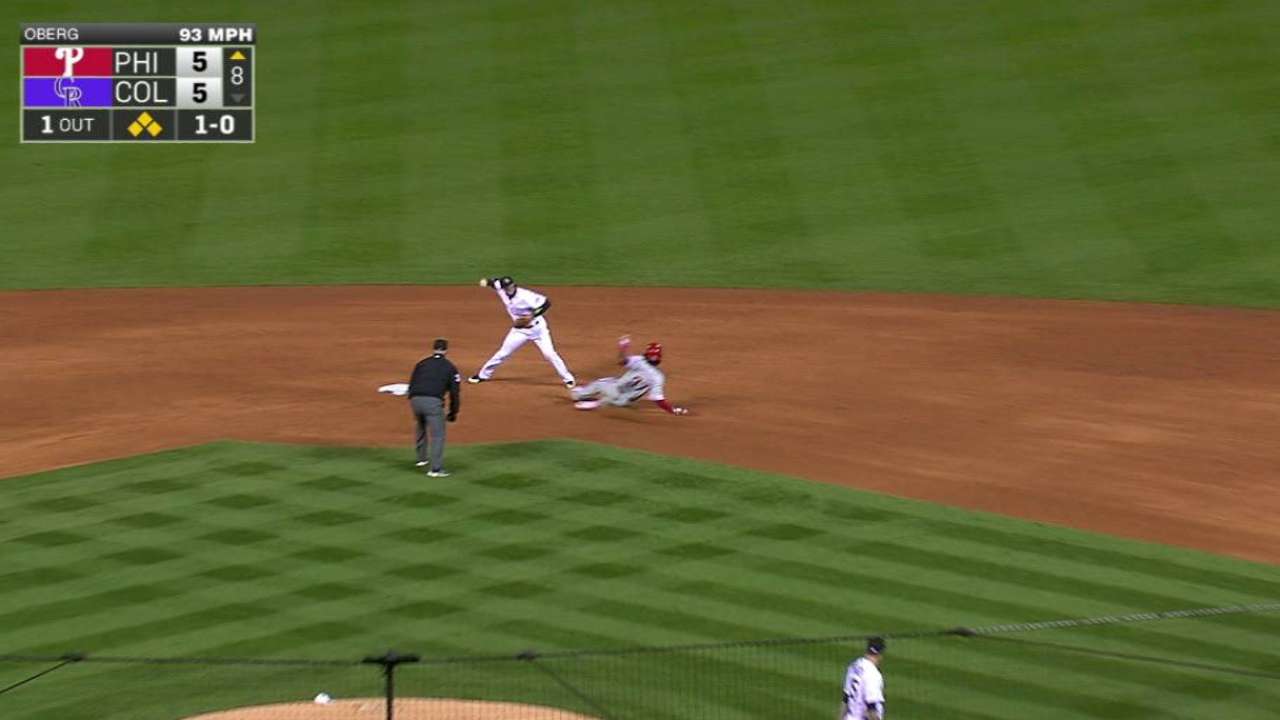 "I have a lot of confidence with him coming through there," said Phillies manager Ryne Sandberg, who did not consider pinch-hitting for Ruiz. "He drives the ball to the outfield. He's going to put the bat on the ball."
Sandberg also had right-hander Ken Giles warming up in the bullpen, but chose De Fratus to pitch the eighth. Giles had pitched five of the previous seven days, so Sandberg said he only wanted to use Giles in a "plus" situation, meaning with the Phillies holding the lead.
"But even that was questionable," Sandberg said.
If De Fratus buried that slider like he wanted, it might not have mattered.
"That's the most deflating part about it," De Fratus said. "Our offense grinded so hard all day and we were behind all day and they kept coming back and coming back. And then we tied it and you get two quick outs and you're feeling really good about yourself and then literally one pitch changes the entire game. It's just tough. But we'll be back here tomorrow fighting. There's a lot of good things that happened today."
Todd Zolecki is a reporter for MLB.com. Read his Phillies blog The Zo Zone, follow him on Twitter and listen to his podcast. This story was not subject to the approval of Major League Baseball or its clubs.