Bullpen sets stage for 10th-inning heroics
Five Nationals relievers toss five scoreless innings after Gio struggles through five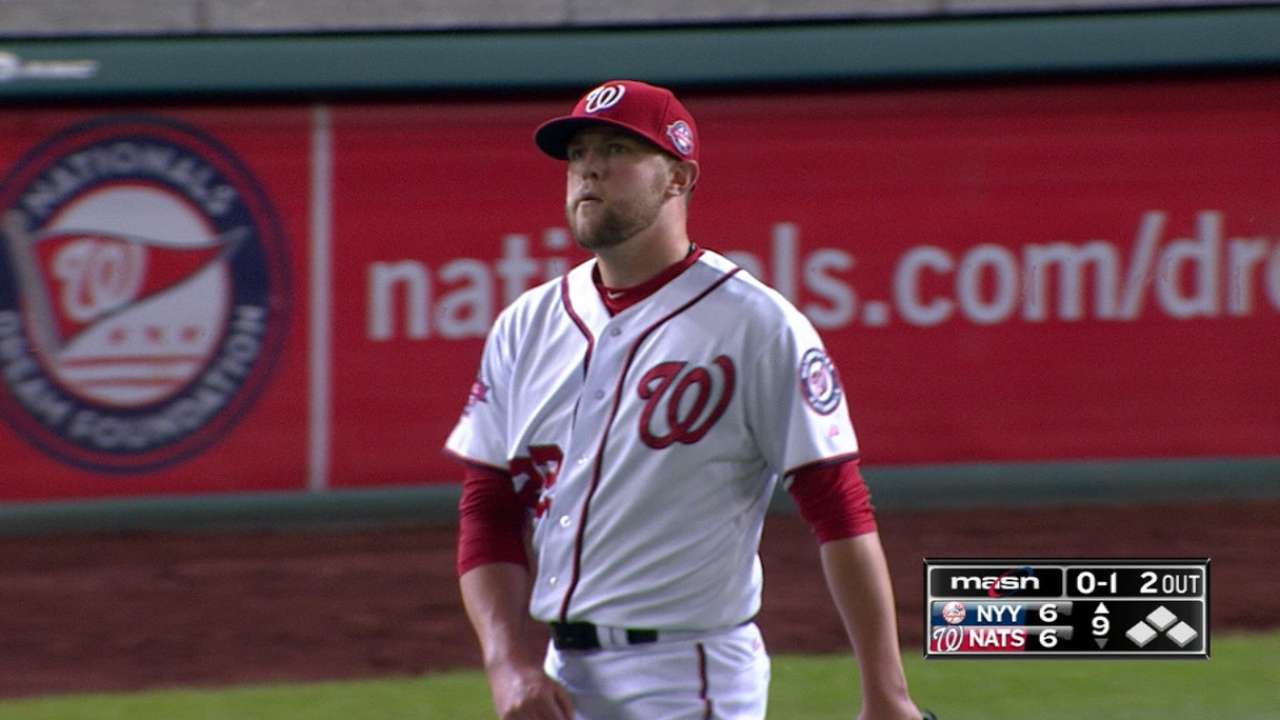 WASHINGTON -- Gio Gonzalez induced nine straight ground-ball outs to begin his Tuesday night but struggled mightily to record his next six outs. He exited after the fifth inning with a four-run deficit, leaving plenty of work for the Nationals' bullpen.
They were up to the task, though, working five scoreless innings before Ryan Zimmerman's walk-off home run capped an 8-6 win in 10 innings.
After the Nationals scored three runs in the fifth to pull within 6-5, manager Matt Williams called Blake Treinen's number. Treinen struggled early in the year, but he has been markedly better in May. He worked two scoreless innings, allowing a two-out single in the sixth to Stephen Drew and striking out two.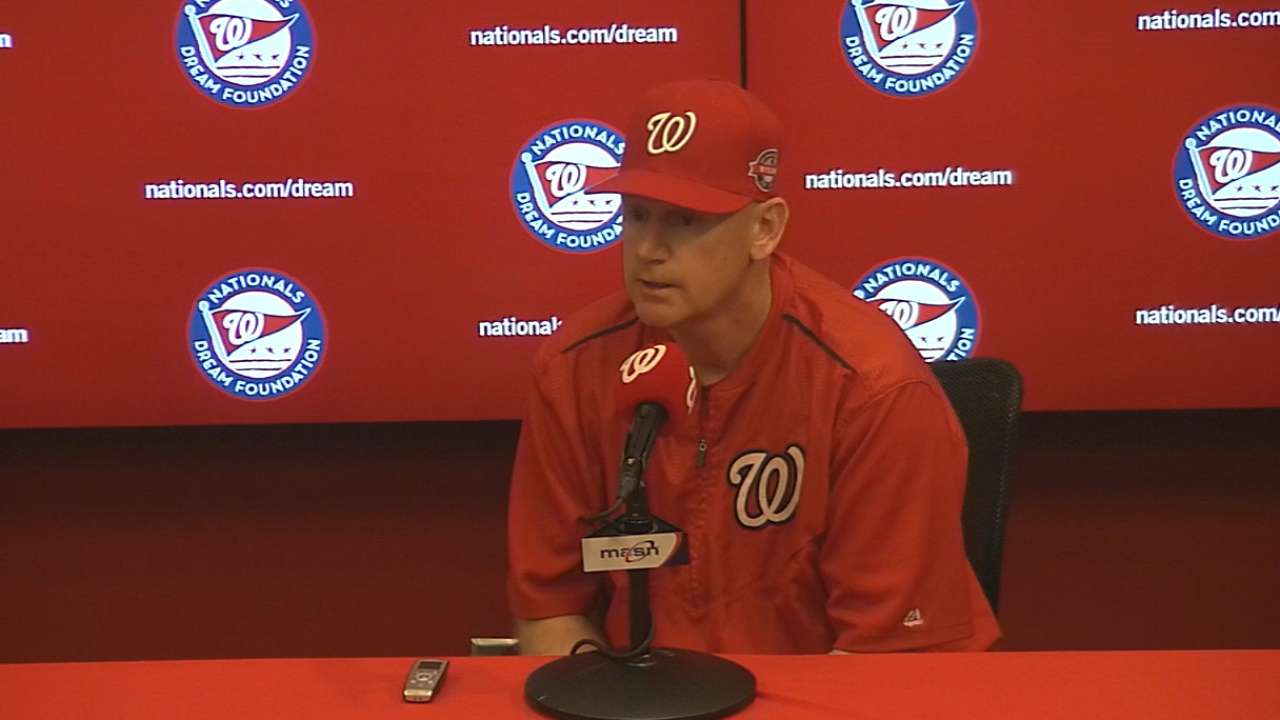 "It's just being able to put the pitch where I want to and simplifying," Treinen said. "Not trying to make the best pitch but making the pitch and executing the location of it. Everything else will take care of itself."
After Wilson Ramos tied the game with a solo shot in the sixth -- one of four Nationals homers -- Matt Thornton and Aaron Barrett combined to work the eighth. Mark Teixeira singled off the right leg of Thornton to start the eighth, but he remained in the game and recorded a pair of flyouts. Barrett retired Jose Pirela to end the inning.
"I think our motto is just hand it off to the next guy," said Barrett. "Just kind of keep the torch going and make pitches and get guys out and hand if off to the next guy. Tonight was one of those nights where everyone did great."
The bullpen combined for five innings, two hits allowed, five strikeouts and one walk.
Dating to last Wednesday, the Nationals' bullpen has worked 19 innings and allowed five earned runs. They've struck out 19 and walked six.
Alex Rodriguez entered the game in the bottom of the eighth in a double-switch and faced Nationals closer Drew Storen with one out in the ninth. The Nationals Park crowd of 37,355, which booed Rodriguez when he stepped to the plate, cheered just as loudly when he went down looking.
"I'm just trying to miss that barrel, because he does have the power to change the game," said Storen, who grew up a Mariners and Rodriguez fan. "I knew if I made a mistake I'd pay for it, so I tried not to do that."
Matt Grace carried the torch in the 10th, allowing only a two-out, bases-empty walk to Teixeira, who homered earlier.
Courtesy of Zimmerman's shot off the right-field foul pole, Grace's record improved to 2-0.
Jacob Emert is an associate reporter for MLB.com. This story was not subject to the approval of Major League Baseball or its clubs.