Home run trend continues to sting Sanchez
After 3 straight HRs in 3rd inning, righty has allowed 9 this season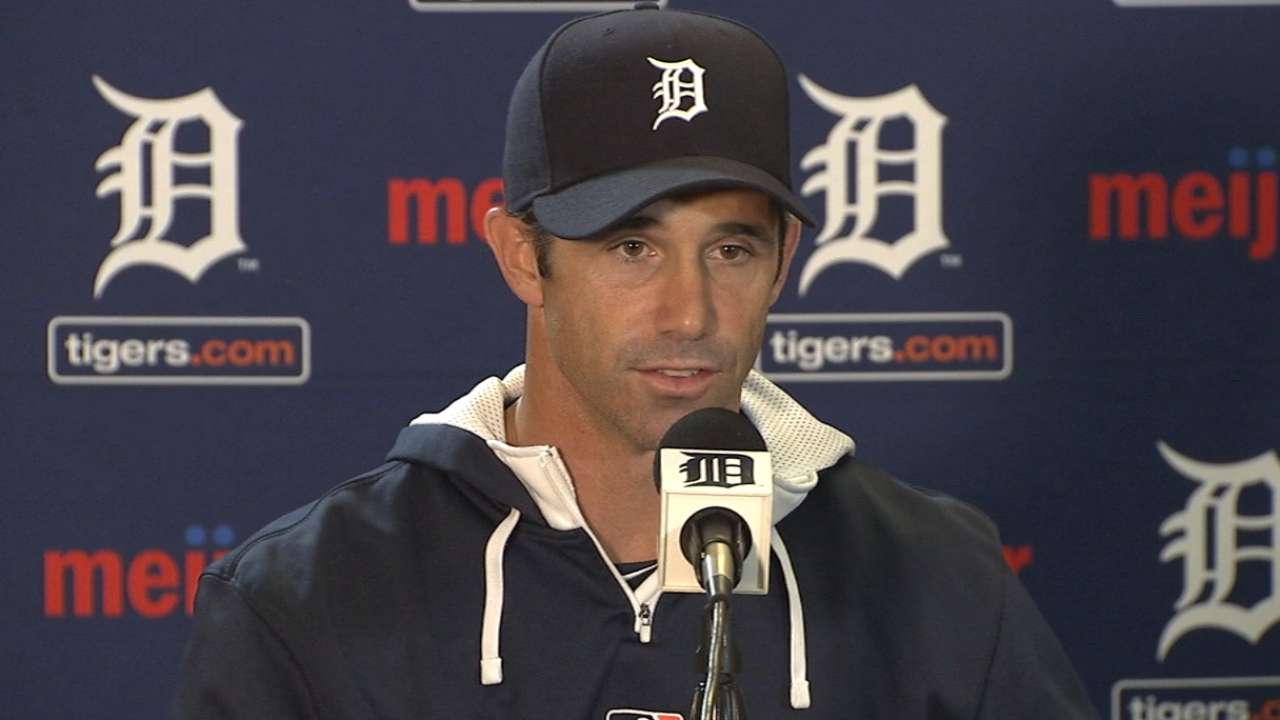 DETROIT -- The home runs came so quickly Tuesday, three of them in a nine-pitch span, that Anibal Sanchez was still struggling to digest it after the Tigers' 8-1 loss to the Brewers. He was ready to go to work on it, but he wasn't completely sure how.
"Today is one of those days where everything happens so fast, that you don't realize what happened," Sanchez said.
That's the game speed. The home run trend of Sanchez, on the other hand, has been longer, even if not consistent.
"It's been clearly something that is uncharacteristic for [Sanchez]," manager Brad Ausmus said. "The long ball wasn't an issue last year, but this year has been a little bit of a different story. Now, we've also seen some outstanding starts from Sanchie, but when he doesn't have his command down in the zone, his offspeed pitches especially, that's when they hit him."
They're hitting him at a rate Sanchez hasn't seen since his Marlins days. With back-to-back-to-back homers in Tuesday's third inning, Sanchez has given up nine on the year, the same total he had for his entire season in 2013, when he won the American League ERA title. A quarter of the way into the season, he's nearly halfway to his career-high of 20 home runs, set in 2011 and matched in '12.
Six home runs have come at Comerica Park in two three-homer outings. The season record is 16 homers, set by Jason Johnson in 2004 and matched by Armando Galarraga four years later.
Add in the seven Sanchez allowed in Spring Training, even in a noncompetitive situation, and there's a trend.
Yet, this is the same pitcher who quieted a red-hot Twins lineup for eight innings his last time out, and had allowed only one homer over his previous five starts.
"I'm working hard," Sanchez said. "I put all my heart, all my effort into every outing. Every day that I come here, I'm working so hard. Everything I can do to have a strong outing, I do. What happens in the game, I don't know. It's something right now that I face that I've never faced before."
The first of the three home runs was the crushing blow, a three-run shot from Ryan Braun that bounced off the right-field foul pole. It was a lucky bounce, but a punishment for a 93-mph fastball Sanchez left up and over the plate on a 2-1 pitch after walking Gerardo Parra with two outs.
"With Sanchie, sometimes out of the stretch he starts to rush and starts to pull down with his chest," Ausmus said, "and the arm kind of drags behind. Mechnically, he ends up leaving the ball up. So it's something that's fixable, but a lot of times, even when you're doing it, it's tough to fix on the spot."
The second homer was a splitter that caught too much of the plate for Adam Lind, who drove the 2-2 offering into the right-field seats. The third was a hanging breaking ball to Aramis Ramirez, who sent it out to left.
"Everything was up," said an exasperated Sanchez, whose spirits were clearly down.
Sanchez's next outing is scheduled for Sunday against an Astros team that leads the Majors with 57 homers.
"Everything I need to fix, I will do," Sanchez said. "Everything I need to make me strong for the next one, I'll do. I'm not going to stop today, I'm not going to stop tomorrow, I'm going to continue working. I've got a lot of work to do."
Jason Beck is a reporter for MLB.com. Read Beck's Blog, follow him on Twitter @beckjason and listen to his podcast. This story was not subject to the approval of Major League Baseball or its clubs.