Reliever Hudson earns first win since 2012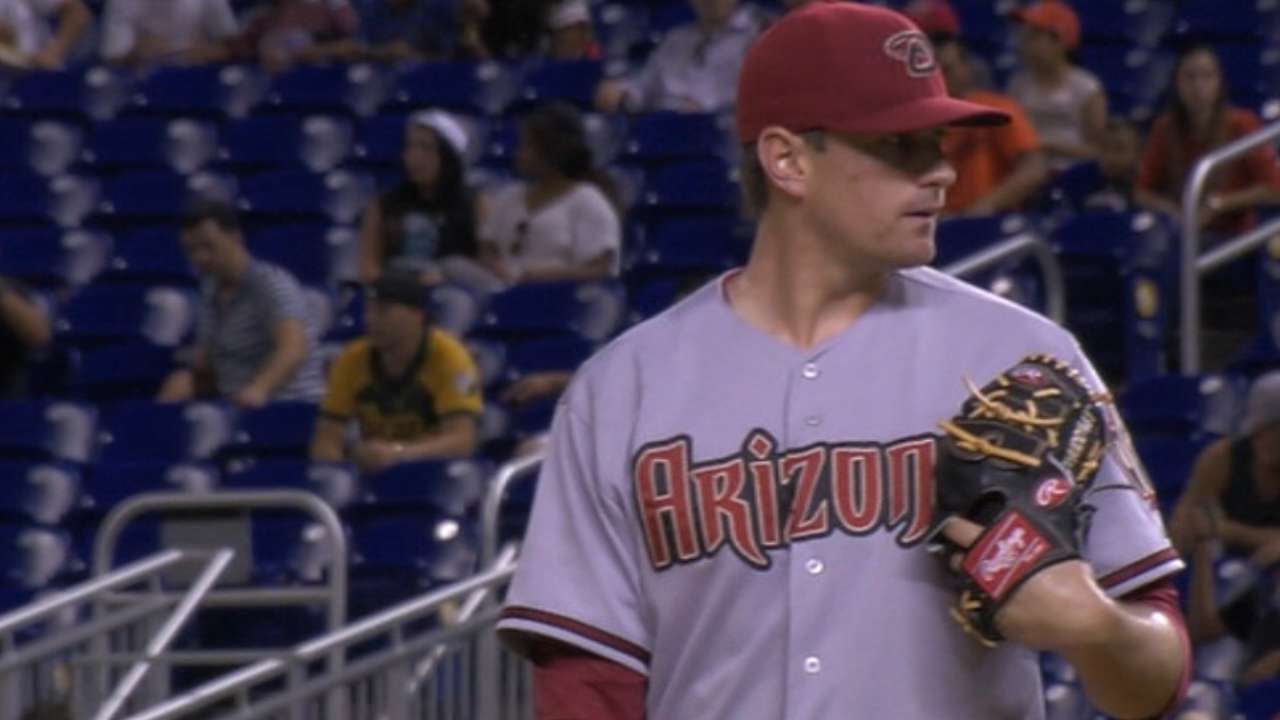 MIAMI -- It's been a long road back for D-backs righty Daniel Hudson, but Tuesday night's 4-2 win over the Marlins validated his journey.
Hudson picked up his first victory since June 14, 2012, by tossing two scoreless innings of relief, allowing just one hit with two strikeouts on 21 pitches (13 strikes).
Back-to-back Tommy John surgeries in 2012 and '13 kept him away from the big league mound until Sept. 3, 2014. He would make three appearances out of the bullpen upon his return, giving up four runs on four hits over 2 2/3 innings.
"It puts a little exclamation point on it," Hudson said of the win. "I've already gotten back to what I was, and I feel like that's an accomplishment in and of itself. At the same time, it's a little icing on the cake. It's just a good feeling to get that win for the team, especially late in the ballgame like that, and get out of here on a good note."
Entering Tuesday's outing, Hudson had surrendered 11 runs (10 earned) on 17 hits over 15 innings. During his rehabilitation, he had to change his mechanics in order to get back to the Majors.
After coming to Spring Training with a starter's routine, Hudson has tried getting comfortable in his new role out of the bullpen. He had to develop a new mindset as a reliever, establishing strikes with every single one of his pitches since batters wait on fastballs later in games.
Hudson, who started all but four of his first 76 Major League appearances, has finally begun to feel like himself for the first time in nearly three years.
On Tuesday, Tuffy Gosewisch caught Adeiny Hechavarria stealing to end the seventh inning and keep Hudson at 13 pitches, low enough of a count to throw him back out there for another frame and help the bullpen after Monday's 13-inning affair. Hudson worked a perfect eighth to set up righty Enrique Burgos' second straight save. Hudson lowered his ERA to 5.29 in 12 outings (one start).
"I've felt that way pretty much all season this year," Hudson said. "Just getting in the routine. I've always been a starter. This is my first time full-time in the bullpen. It's getting in that routine and figuring out what you need to do every day to get ready to pitch. Mentally prepare yourself to pitch every single night. I feel like I'm just about right there. My arm's bouncing back great and it's just a great feeling right now."
Christina De Nicola is a contributor to MLB.com. This story was not subject to the approval of Major League Baseball or its clubs.