Rookie Foltynewicz searching for consistency
Right-hander strikes out seven, allows five runs over five innings in loss to Rays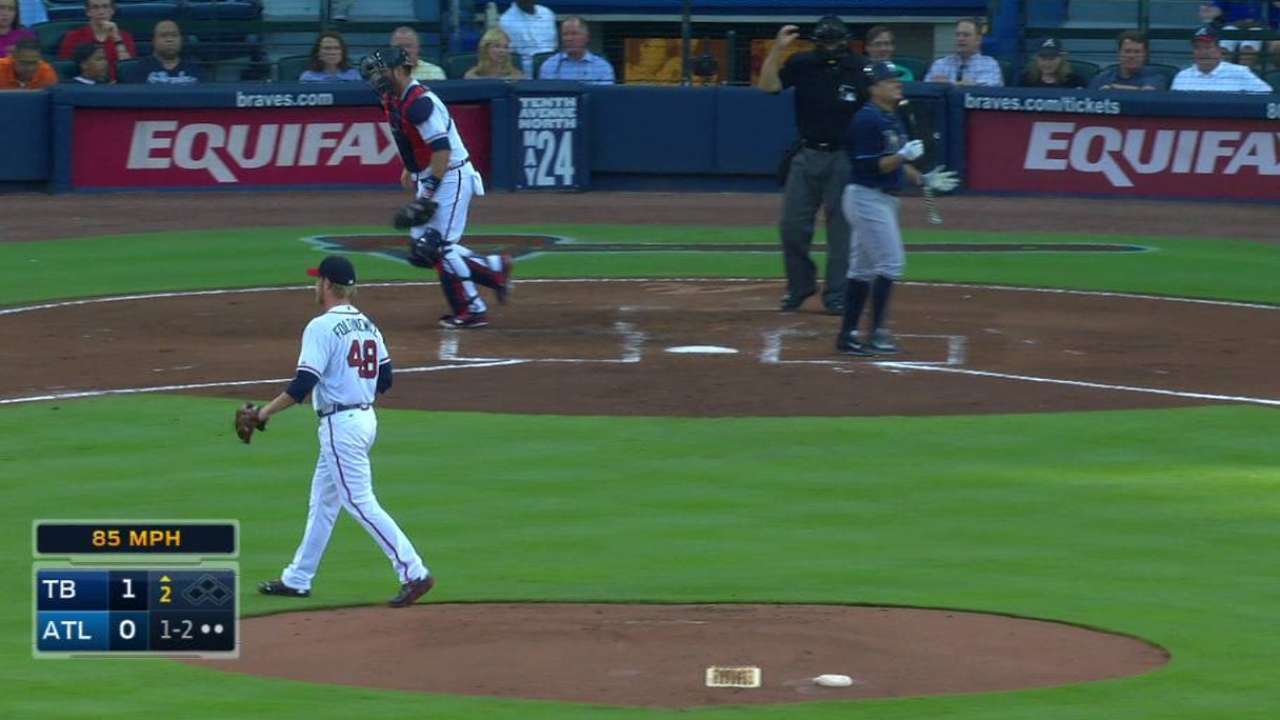 ATLANTA -- When the Braves brought Mike Foltynewicz to the Major League level earlier this month, they knew he was an unfinished product who would occasionally wow them with his powerful right arm and also frustrate them as he attempted to make the transition from thrower to pitcher.
In other words, the Braves were prepared for what they saw from Foltynewicz during Tuesday night's 5-3 loss to the Rays at Turner Field. The 23-year-old right-hander displayed flashes of promise, but ultimately paid for the mistakes he made after opening the fifth inning with consecutive strikeouts of Steven Souza Jr. and Evan Longoria.
"The fifth inning was the learning inning" Braves manager Fredi Gonzalez said. "You can't let your guard down, especially after striking out the first two guys that inning. But that's what you've got to live with as a young pitcher."
After notching his sixth and seventh strikeouts of the night, Foltynewicz extended the fifth inning by issuing his only walk of the night to James Loney. The young Atlanta hurler then uncorked a wild pitch before ending his night by surrendering Logan Forsythe's go-ahead single and David DeJesus' RBI double.
"I kind of started trying to overthrow stuff and trying to make things break a little more than I wanted to," Foltynewicz said. "So I've got to keep within myself next time and go out there and pitch."
Foltynewicz surrendered a career-high five runs and allowed eight hits over five innings. He used one of his breaking pitches -- a curveball and slider -- to complete four of his seven strikeouts. But his inconsistent command proved costly, especially when Asdrubal Cabrera turned on a 2-2 fastball and sent it over the right-field wall for a game-tying homer in the third inning.
"I got a lot of two-strike counts on guys and they got some hits, but other than that, you know it's baby steps," Foltynewicz said. "It was a good outing, but other than that I just have to go out and continue to work."
Foltynewicz acknowledged that he should have buried the 0-2 curveball that Kevin Kiermaier lofted into right field for a lead-off triple in the first inning. But for the most part, he was pleased with the action he created on his breaking pitches.
"I've just got to keep going out there and attacking the zone," Foltynewicz said. "It's baseball. I battled the whole night and I just have to go out there next time and get better."
The Braves are hoping Foltynewicz benefits from the opportunity to routinely watch teammate Shelby Miller, who just two years ago stood as a rookie pitcher who was considered more of a thrower than a pitcher. Miller took his lumps through most of his first two full Major League seasons before finally putting it all together shortly after last year's All-Star break.
"I think Folty is just going to keep getting better and better," Gonzalez said. "We're going to keep pushing him and he'll be better off for it."
Mark Bowman is a reporter for MLB.com. Listen to his podcast. This story was not subject to the approval of Major League Baseball or its clubs.