Top slugging prospect Gallo hits inside-the-park home run
Rangers' No. 1 prospect belts two homers, racks up six RBIs for Frisco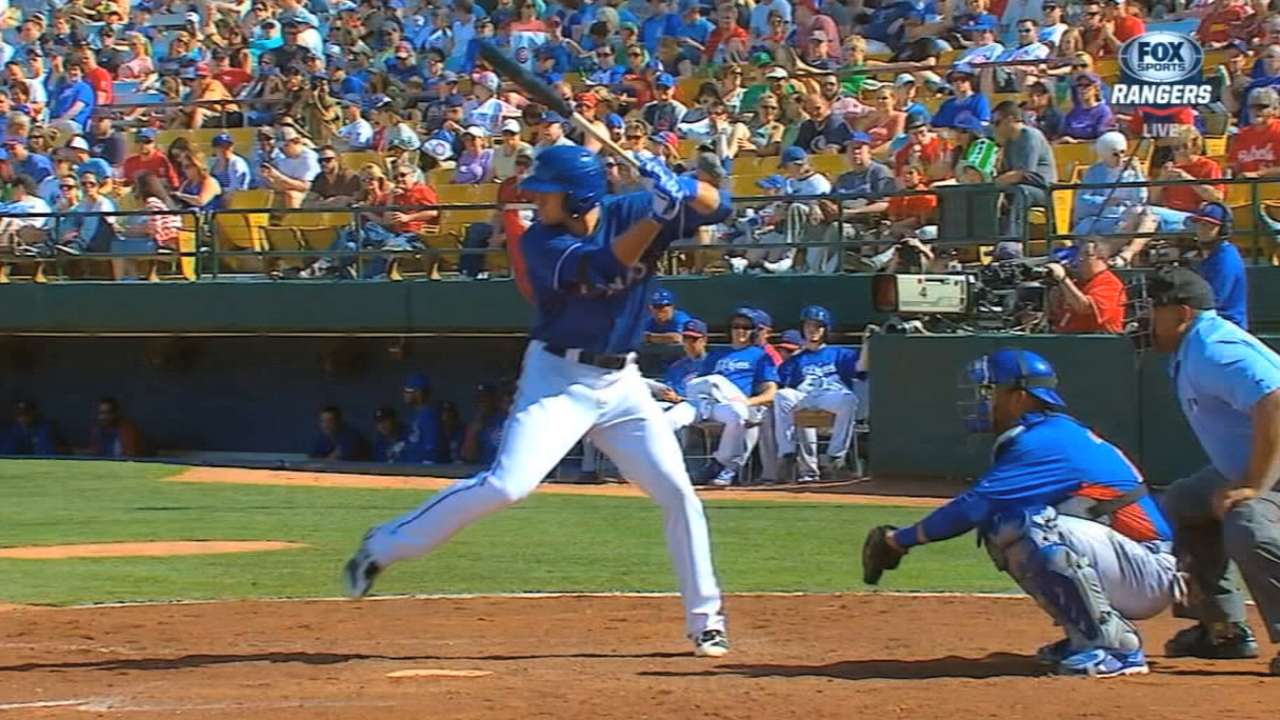 One day after playing left field for the first time in his career, Rangers No. 1 prospect (No. 10 overall) Joey Gallo was moved to designated hitter on Tuesday night.
It's safe to say he did his job. The 6-foot-5 slugger smacked two home runs for Double-A Frisco in a 15-7 win, collecting six RBIs and running his season totals to six dingers and 21 RBIs in 23 games since returning from foot surgery on April 25.
Gallo's first home run was a traditional two-run shot to right-center that scored Josh Hamilton in the first inning. His second was a high fly ball to left field that sailed over the head of Midland left fielder Jaycob Brugman, who appeared to never see the ball. Gallo was almost at third base by the time RockHounds center fielder Matt Angle picked up the ball, and he scored on his inside-the-park homer standing up.
"I know I hit it pretty high and the wind was coming across and pushed it a little further," Gallo told MiLB.com. "As soon as I saw the outfielder throw his hands up, I kept sprinting. He was pretty shallow, it landed pretty far behind him.
"The only time I used to do [hit inside-the-park homers] was when I played on fields with no fences when I was little. You'd hit the ball and it would just keep rolling."
Typically a third baseman, Gallo got some preparation for his potential future Major League role in the outfield the night before. In Monday's second inning, he fielded a line drive off the wall and threw a one-hop bullet to second to cut down Midland's Renato Nunez, who was trying to stretch a single into a double. Gallo also cleanly handled two consecutive fly balls in the fifth inning for his only two chances.
But all his Tuesday work came at the plate, where he collected a six-pack of RBIs and the 109th and 110th home runs of his Minor League career.
"When you miss a month of at-bats, it's hard to just jump back in and feel great as soon as you get in the box," he told MiLB.com. "Now I feel comfortable and I'm seeing the ball better and getting my routine and approach. It's been awesome so far. I hope I can keep it going."
Alex M. Smith is a reporter for MLB.com. This story was not subject to the approval of Major League Baseball or its clubs.