Nelson grounds Tigers, cruises to victory
Righty flashes dominant form in 8-inning outing to end winless string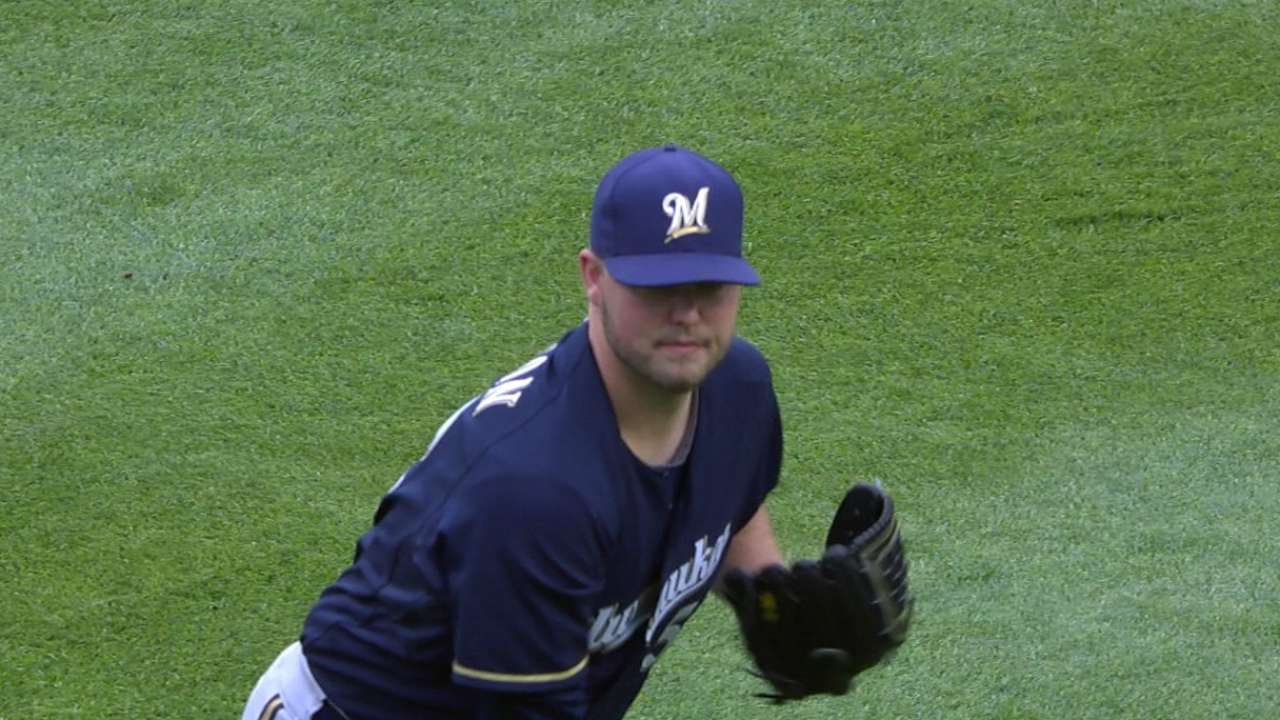 DETROIT -- By about the seventh inning Tuesday, a question started circulating in the Brewers' dugout at Comerica Park: When was the last time Jimmy Nelson surrendered a fly ball?
"They just started coming in bunches," Brewers manager Craig Counsell said of the ground balls induced by the Milwaukee right-hander. "I think that's who Jimmy is going to be."
Nelson won for the first time since his season debut by turning into a ground-ball machine, allowing no fly balls to the outfield after the third inning during a solid, eight-inning performance that carried the Brewers to an 8-1 win over the Tigers. Nelson scattered three hits and allowed his lone run in the first inning to win for the first time since April 11.
"That's what I need to be able to do from inning number one," Nelson said. "That's something I've battled a little bit before -- the first inning or two. It was nice to get out of that [first] inning with just one run. I got away with some stuff. Those guys picked me up big, offensively and defensively."
Brewers hitters backed him with a six-run third inning that included back-to-back-to-back home runs.
"I don't think he needed that many runs, the way he was throwing the ball," said Aramis Ramirez, who hit the third home run of that sequence. "That's good to see. He's got good stuff, he just has to put it together. We know how good he can be.
"It's just like I say, go out there and be consistent. One good start every three or four, he knows is not going to get it done. He knows he needs to be consistent."
Nelson, who turns 26 in June, improved to 2-4 and lowered his ERA to 3.73. He was the Brewers' best starting pitcher early in the season, with a 1.35 ERA through his first three starts, but he surrendered seven runs in 2 1/3 innings at Cincinnati on April 27 and fell into a funk. In his two starts prior to Tuesday, both losses, Nelson allowed five home runs to the Cubs and White Sox.
Against the potent Tigers, almost everything stayed on the ground.
"He dominated a great hitting team tonight, and that's not an easy thing to do in their ballpark," said Ryan Braun, who hit a three-run home run and finished with four RBIs. "That's an exciting thing for us moving forward, knowing you have a guy like that who's going to be somewhere near the top of our rotation for a lot of years to come. It was a great sign of what he's capable of."
Adam McCalvy is a reporter for MLB.com. Follow him on Twitter @AdamMcCalvy, like him on Facebook and listen to his podcast. This story was not subject to the approval of Major League Baseball or its clubs.