Santiago has earned Angels' trust as starter
Lefty impresses again with seven strong innings against Blue Jays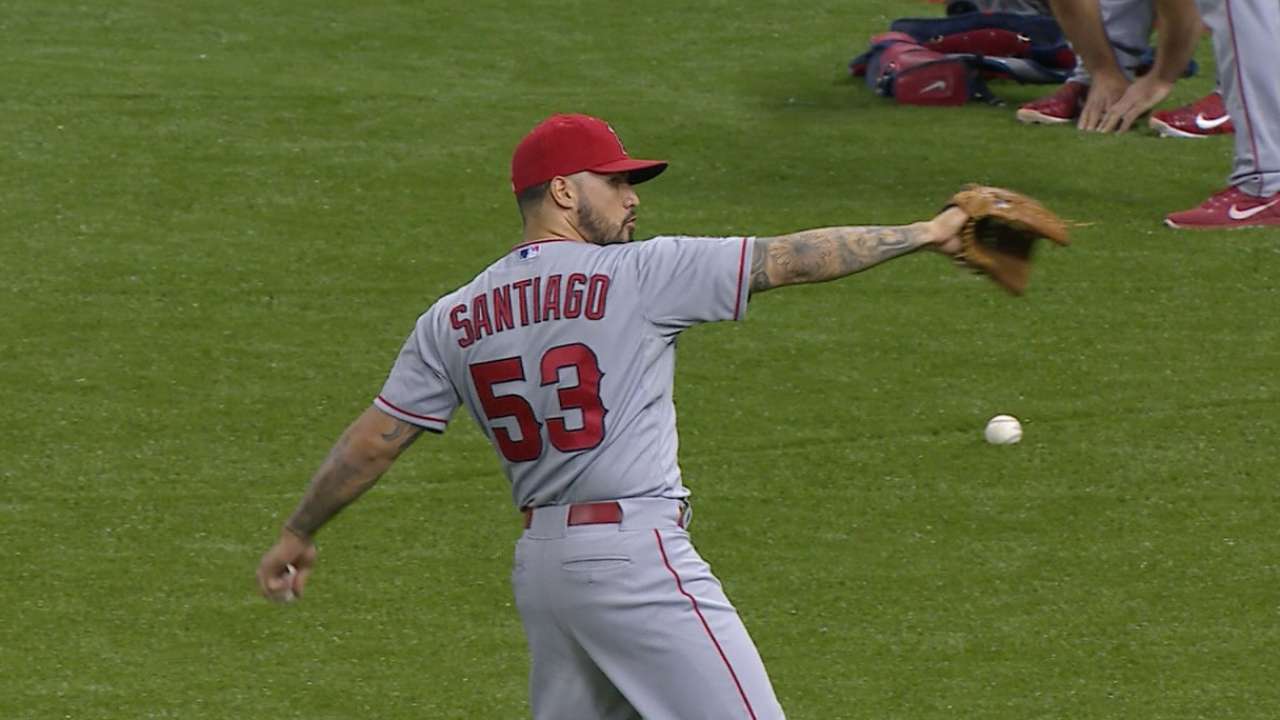 TORONTO -- The Angels acquired two young, Major League-ready starting pitchers over the offseason, and so Hector Santiago's return to the bullpen seemed like a foregone conclusion. He'd done it before, and if Andrew Heaney or Nick Tropeano proved themselves, the Angels were hopeful that Santiago could evolve as the lefty specialist they haven't had in quite a while.
But Santiago grew stubborn over the offseason. He worked only as a starting pitcher, which meant his intense offseason throwing regimen would occur only on a five-day schedule. And he went into camp eyeing his first full season in a Major League rotation.
"So far," Santiago said, "it's paying off."
So far, Santiago has the lowest ERA on an Angels rotation that is statistically the best in the American League.
The 27-year-old left-hander dropped it down to 2.25 during the Angels' 3-2 win over the Blue Jays on Tuesday night, in a traditionally hitter-friendly park and against a lineup that has beat up left-handed pitching like no other. He limited the Blue Jays to two runs (one earned) and completed seven innings for the second time this season.
Last year, Santiago recorded an out in the seventh inning just once -- partly because his high walk rate escalated his pitch count, partly because he hadn't yet earned the trust of Angels manager Mike Scioscia.
"I definitely have a little more leash than I did last year, that's for sure," Santiago said. "I think I've kind of earned that, enough to where he has that confidence in me."
The Blue Jays entered Tuesday's game leading the Majors with an .890 OPS against lefties, which is no surprise, considering they stack an imposing right-handed-hitting threesome of Josh Donaldson, Jose Bautista and Edwin Encarnacion at the top of their lineup.
Santiago started the game by giving up a homer to Donaldson, but he didn't allow much else. Erick Aybar started the fifth with a throwing error and the Blue Jays eventually put runners on second and third with one out for that fearsome top of their batting order. Santiago gave up only a Donaldson sac fly, shut Toronto out in the sixth and seventh, watched the Angels take the lead in between and handed the game to relievers Joe Smith and Huston Street.
"For some reason, I've always liked pitching with guys on base," Santiago said. "Being a reliever forever, I always came into games with guys on base. That situation came up a lot. I got comfortable with it and it didn't bother me. You just have to make sure you don't give in."
Asked what's the biggest difference between Santiago last year and this year, Scioscia talked about a delivery that is "much more in control," while Angels catcher Chris Iannetta pointed to "his ability to throw strikes."
Whatever it is, Santiago is stranding a lot of runners.
Heading into Tuesday's start -- when he scattered four hits and walked three -- Santiago's left-on-base percentage was 86.8 percent, fifth-highest among starters. The Major League average for pitchers was 72.4 percent. That could be a red flag for Santiago, because conventional wisdom says pitchers traditionally gravitate toward the average, which essentially means those runners will eventually score and Santiago's ERA will suffer.
Scioscia prefers to look at it a different way.
"You can look at it as just being able to make pitches," Scioscia said. "That's what you have to focus on. There's a lot of things you can slice or dice, but right now, what Hector is doing is really impressive. He's staying away of a lot of the trouble he got into last year. He's able to command the ball better. And he has good stuff. He has the stuff to pitch out of jams, and he's done it."
Alden Gonzalez is a reporter for MLB.com. Read his blog, Gonzo and "The Show", follow him on Twitter @Alden_Gonzalez and listen to his podcast. This story was not subject to the approval of Major League Baseball or its clubs.