Rays welcome return of 'Jake and The Box'
McGee, Boxberger finish off Tuesday's victory over Braves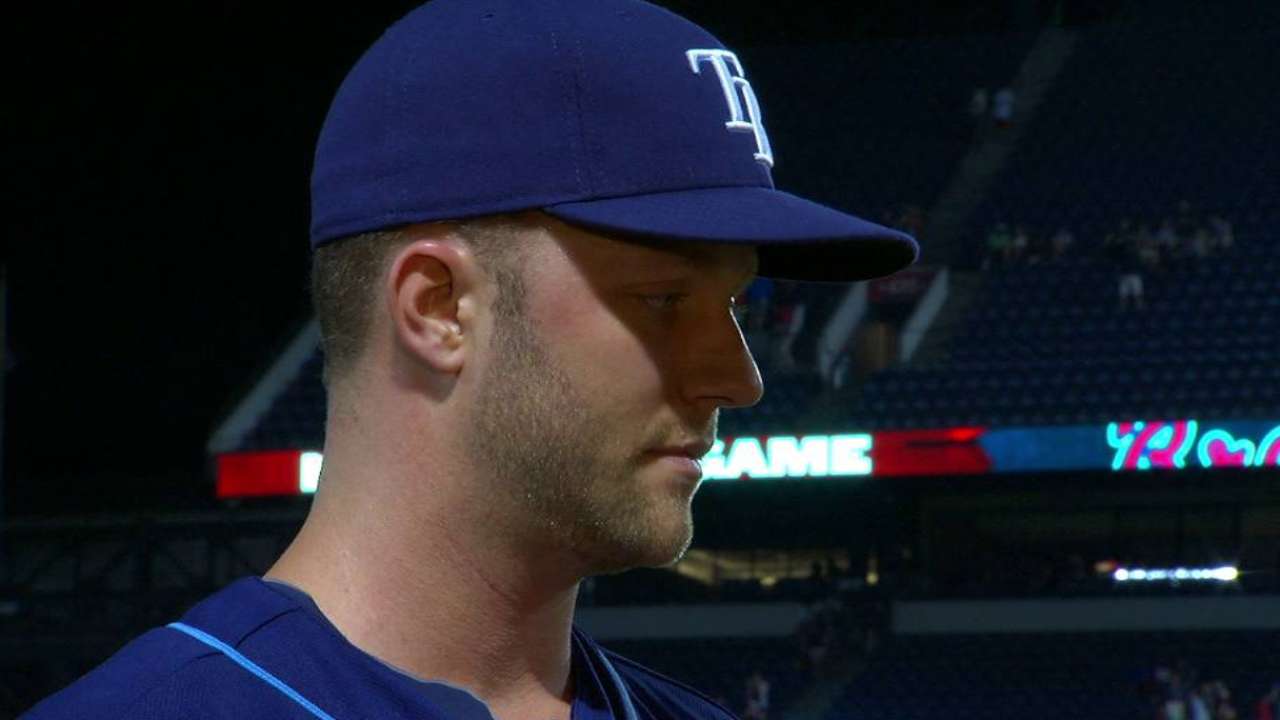 ATLANTA -- "Jake and The Box" are back and coming in from the Rays' bullpen to put games on ice.
At least that's the way it went Tuesday night in the Rays' 5-3 win over the Braves at Turner Field.
"It definitely worked out tonight," said Boxberger, who is clearly not enamored with the "Jake and The Box" moniker. "Seems like he's been comfortable the way he's jumped back into things."
McGee pitched a scoreless eighth in his second outing of the year and Boxberger followed with a scoreless ninth to convert his 11th save of the season in 11 tries.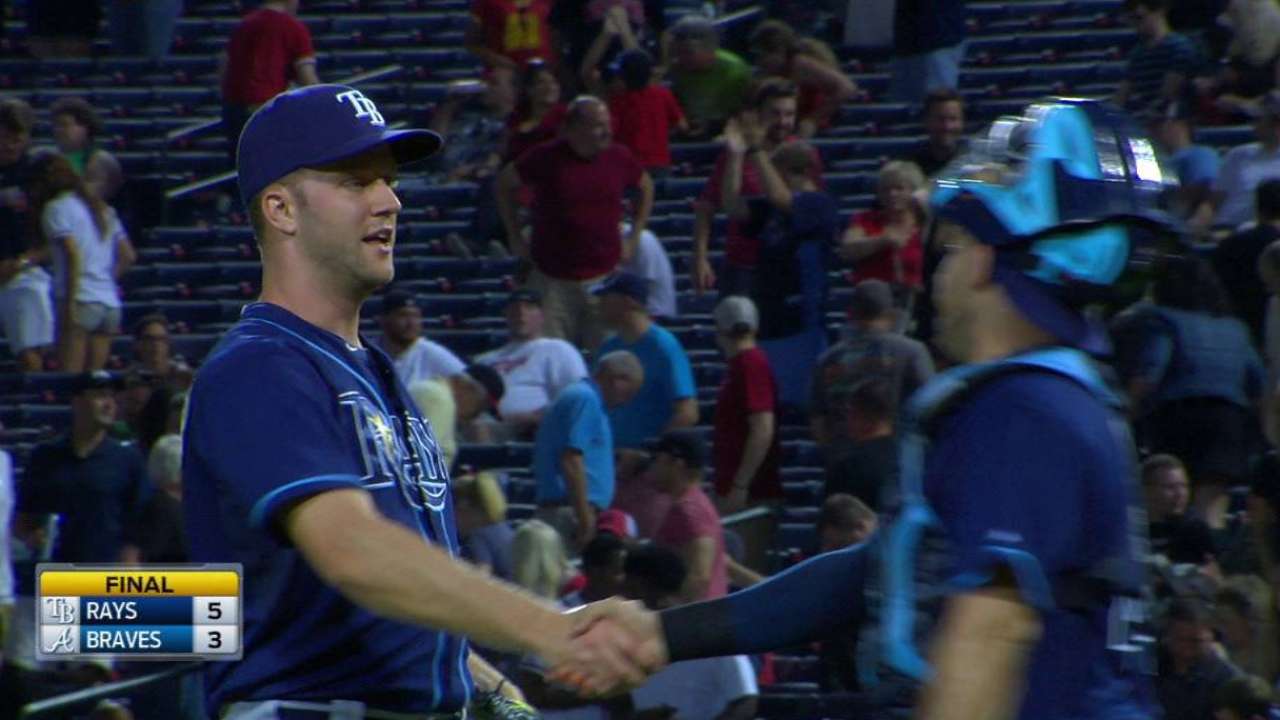 "My gosh," Rays manager Kevin Cash said. "Outstanding. Really nice to have Jake McGee back. ... Adding a pitcher like Jake McGee. I don't know how you can replace a guy like that. To get him back in here is really nice."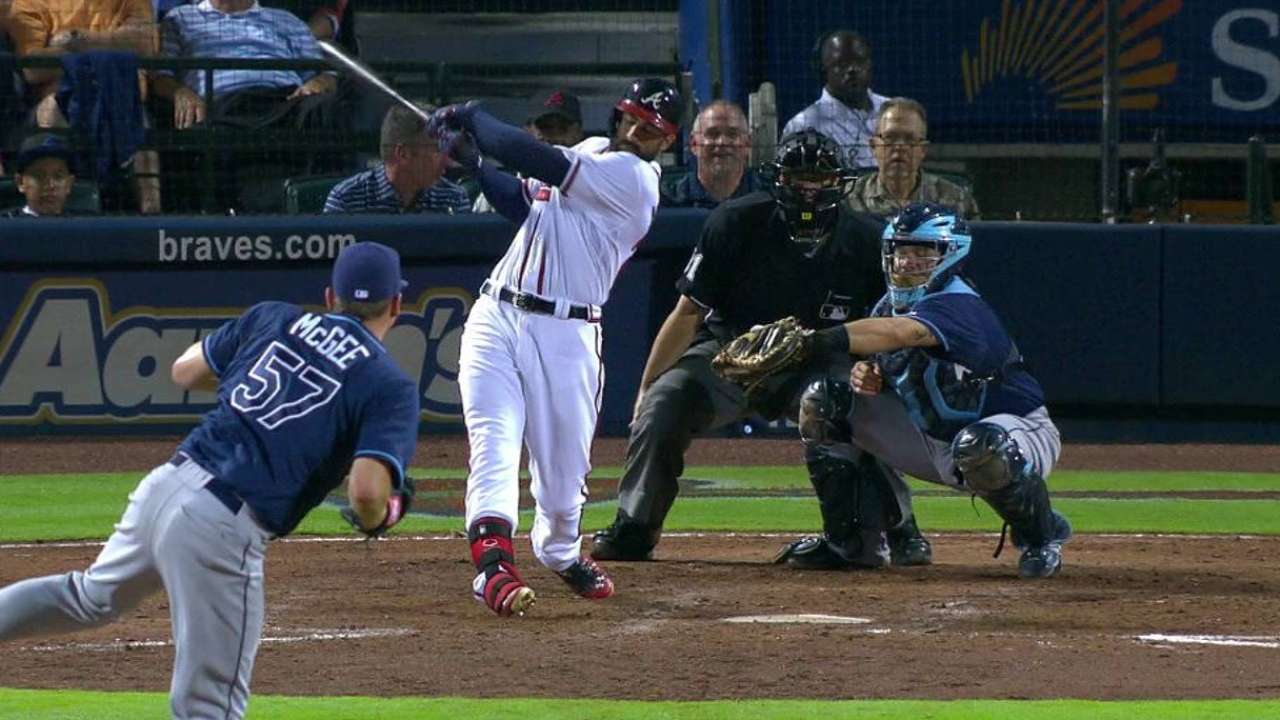 McGee faced three left-handers during his inning of work, which is why Cash opted to use him in the eighth.
"We had Jake ready to go for [left-handed hitting] Freddie Freeman," Cash said. "To us, it made sense to go with Jake. That's the nice luxury to have. At times, that can be flipped."
McGee's first appearance since coming off the disabled list came Sunday when he pitched a scoreless inning in the Rays' 11-3 win over the Twins. Tuesday night felt different to McGee.
"It felt good," McGee said. "Especially the situation I was in. It was a night game. It was a close ballgame. A little more adrenaline tonight than last time."
Games have definitely become a little bit shorter for the Rays. Not only have they added a quality reliever at the back of the bullpen in McGee, they are now able to bring in Kevin Jepsen in the seventh, which they did Tuesday night.
"When you add McGee, you definitely shorten those games," Cash said.
Bill Chastain is a reporter for MLB.com. Listen to his podcast. This story was not subject to the approval of Major League Baseball or its clubs.