Homers keep coming, but hits not falling for Fish
Stanton stresses focus after two-run shot was lone offense for second straight night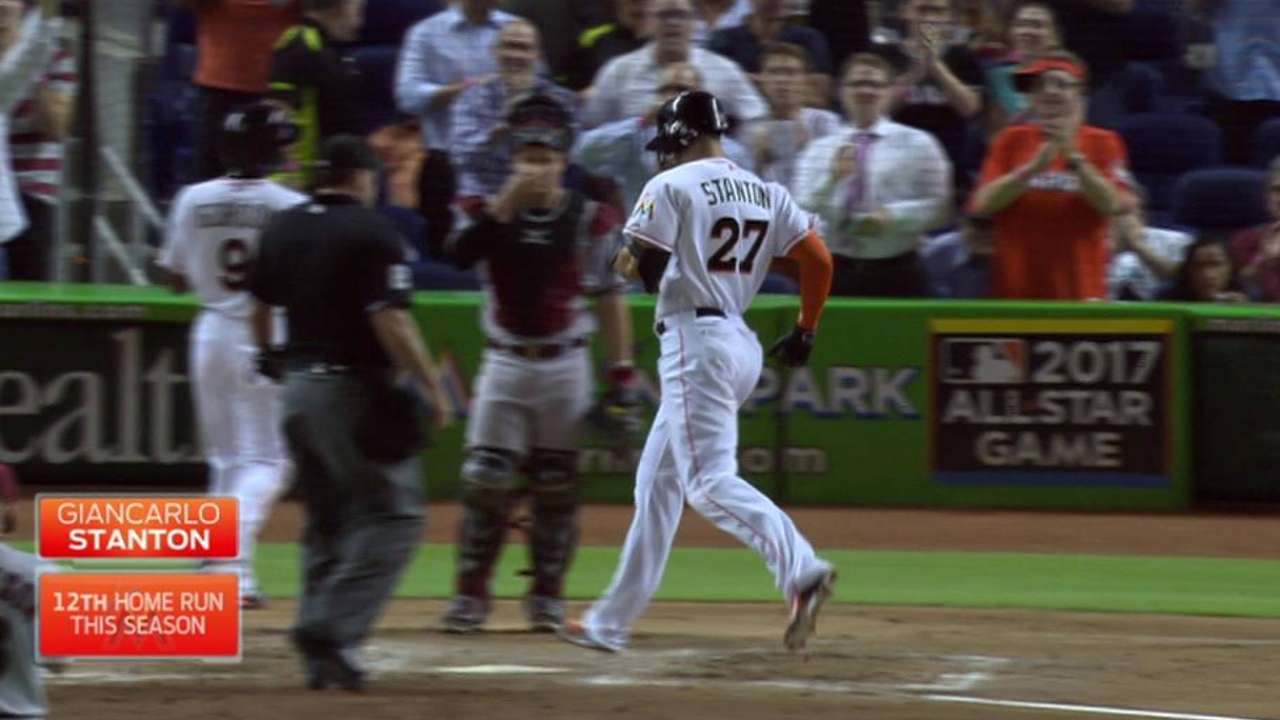 MIAMI -- Off the bat, it was a majestic drive to deep left field. It was another vintage Giancarlo Stanton blast, the slugger's fourth home run in the first five games of the homestand.
But once again, the tape-measured shot wasn't enough to snap the Marlins out of their slide. The D-backs claimed a 4-2 victory on Tuesday, extending Miami's losing streak to five.
The Marlins are dealing with frustration at a time they are hoping to reverse their luck.
"This isn't fun to keep getting beat late, or beat in general, but you have to stay positive," Stanton said.
During their losing streak, the Marlins have scored just 10 runs. They've also hit five home runs that accounted for seven of those runs. For the second straight night, the offense was limited to a two-run homer.
J.T. Realmuto had a two-run, game-tying homer in Monday's 3-2 loss in 13 innings. Stanton came through with a two-run blast in the sixth inning, that was tracked by Statcast™ at 458 feet, with an exit velocity of 111 mph.
"It was uplifting," manager Dan Jennings said. "We needed it, and that's why he's Giancarlo. It came at a tremendous time; tied it up. It gave us tremendous energy in the dugout. We had the opportunity to step forward and made it a ballgame."
Miami is going through a trying time, dealing with replacing Mike Redmond as manager with Jennings.
To get on track, Stanton stressed the importance of staying focused.
"Worry about what's going on on the field," the two-time All-Star said. "It's not, how are they going to play after this? How are they going to do after this? It's not going to come like that. Just worry about what's going on on the field and go from there."
The Marlins also are dealing with some tough luck. According to the team, they've had 25 hard-hit balls the past two days, but most of them have turned into outs.
In the ninth inning, the D-backs had three infielders on the left side, and first baseman Paul Goldschmidt positioned between first and second. Stanton lined right to Goldschmidt.
"We can't rely on breaks," Stanton said. "We are having good at-bats, just maybe not in the right situations, with people on base.
"You can't fault line drives to people. Guys have been at those positions for over 100 years. What are you going to do? Balls you don't hit hard drop in, too. It's just how it goes sometimes.
Joe Frisaro is a reporter for MLB.com. He writes a blog, called The Fish Pond. Follow him on Twitter @JoeFrisaro and listen to his podcast. This story was not subject to the approval of Major League Baseball or its clubs.