Liriano struggles against former team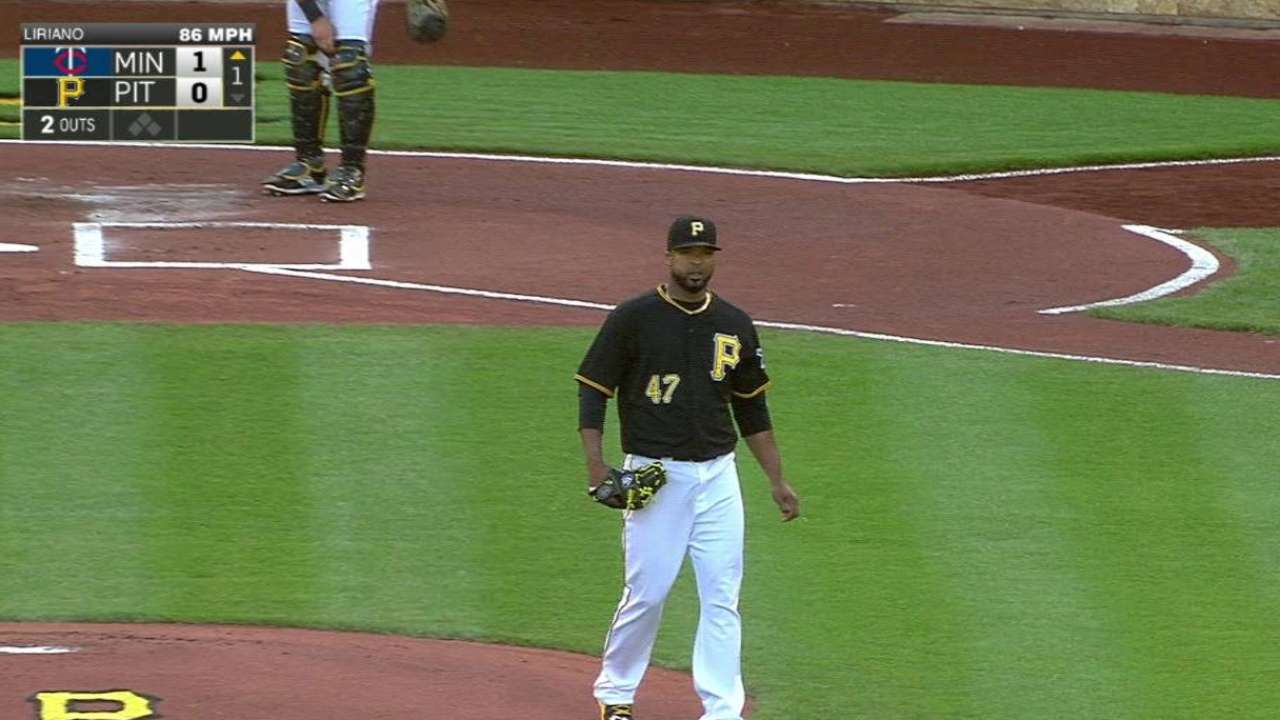 PITTSBURGH -- After seeing a second home run land in the PNC Park seats, fans started to boo Pirates starting pitcher Francisco Liriano.
It was the kind of performance Liriano delivered often at the end of his time in Minnesota.
And on Tuesday night, the Twins were just fine with him doing it in a Pirates uniform.
Liriano, who played for Minnesota from 2005 to 2012, lasted two innings in an 8-5 loss after surrendering seven earned runs on five hits, including a six-run second frame.
It wasn't just the two home runs allowed -- a solo shot by Brian Dozier and a two-run stroke from Trevor Plouffe -- that hurt Liriano. He also walked two, hit a batter, and tossed a wild pitch that plated a run.
Pittsburgh manager Clint Hurdle said whether he was hanging his breaking balls or his fastballs caught too much of the plate, Liriano's command was a problem.
"That start didn't work out well for him. He'll be back. He'll be better," Hurdle said after the game. "He's going to work. He's going to take ownership of it."
On May 8, he allowed five earned runs in a loss to the Cardinals, but still hung around for 6 1/3 innings and struck out 10. Tuesday was the least amount of pitches he's thrown, and was his worst start of the year.
However, the left-hander, whose season ERA inflated to 4.15, didn't receive too much help.
The Pirates closed the gap considerably with the help of their bullpen and an offensive spark, highlighted by Pedro Alvarez's towering solo home run in the fourth inning.
But in that six-run second inning, the Pirates yielded a run Hurdle thought was unnecessary.
With the bases loaded, Twins first baseman Joe Mauer singled to left-center where Pirates outfielder Starling Marte fielded it. Even with the Pirates' infield in a shift, Marte was slow to get the ball in, which gave Dozier enough time to score from first.
"I think he got caught unaware," Hurdle said. "That's not a run we needed to give up there. That's a run we could have defended better."
While saving the run would have helped, it ultimately wasn't the difference in Tuesday night's game.
Instead, that distinction belonged to Liriano's inconsistency on the bump.
The southpaw is scheduled to start Sunday against the Mets, giving him that opportunity to, as Hurdle put it, be back and be better.
John McGonigal is an associate reporter for MLB.com This story was not subject to the approval of Major League Baseball or its clubs.